Want to give your space an eye-catchy glow? A neon sign can help you in doing that. These lightings are growing popular in both house and commercial lighting. People are going crazy to add a personalized touch to their areas using these neon signs.
Though neon signs are typically used for commercial logo designs, you can get more creative with them. Thanks to the bendability of LED neon flex, allowing you to shape these lights to your desired design. They are available in a wide range of colors and are easy to cut and resize. Besides, LED neon signs are durable and affordable too. This makes them excellent for making glowing showpieces for your bedroom, drawing area, and logos for retail shops, malls, etc.
In this article, I brought to you 26 creative ideas following which you can design excellent neon signs. I have also added an LED neon flex buying and installation guide. So, following this, you can make your neon sign without professional help!
Creative Neon Sign Lighting Ideas
The glowing neon effect of the neon signs opens thousands of doors to use them creatively as a decorative pieces. You can set these neon signs in your bedroom, living area, or commercial spaces like restaurants, pubs, etc. So, here I bought you some amazing ideas to use these neon signs-
A. Small Table Piece Neon Sign
One of the most creative ways to use neon signs is as table pieces. You may have multiple small tables at your home. It could be the living room's bedside table, study table, or center table. Placing these glowing signs on the table will create a wow factor for your interior. So, here are some ideas to design neon signs for table pieces-
1. The Rainbow Cloud
The rainbow cloud neon sign is an excellent table piece ideal for bedrooms and living spaces. It creates a cozy and sweet ambiance making you feel more at home. To make this design, you will need white LED neon flex for the clouds and some colorful flex for the rainbow. However, you don't need to add seven of the rainbow colors to it. As the neon sign is designed for small table pieces, it will be small in size. Adding seven colors to this small piece will make it look messy. You can choose any four to five colors to create the rainbow effect. Here the color choice can be either a bright tone or a soft tone. Keep the lighting soft, as this piece will be installed in the bedroom. For this purchase, LED flex with a lower lumen rating; too much brightness will not feed the homely atmosphere.
2. Fishtail
If you want a personalized touch for your bedroom, a fishtail neon sign can be your go-to pick! Besides, if you have any girl babies at your house who live in the Disney world and fairy tales will adore this glowing neon piece. The design of this neon sign is very simple. All you need is two colors of LED neon flex- one for the water effect and the other for the tail. You can choose either white or blue neon light for the water; however, blue would be best. As LED neon flexes are bendable, you can easily shape them into small waves. Next, use colors like purple, pink, or red for the tail. However, if your baby is a die-hard fan of Disney mermaids, you can go for a sea-green tail to create an Ariel theme from 'The Little Mermaid'! No doubt your kids will love the light setting.
3. Dream
If you are looking for a neon design to place on the side table of your bed, a dream neon light is your go-to choice. It will create a positive bedtime ambiance so you can have sweet dreams. Besides just a designer piece, it will also act as a sleep light. Turn them on before you sleep; the lighting of these lights is enough to give a soft glow to your room. However, color and brightness are crucial in placing these lights as sleep lights. Keep the lumen ratings low so it doesn't disturb you in sleeping. When choosing light colors, most people keep the text in purple, pink, or blue. But as a light expert, I suggest you go for warm colors like- yellow and orange. It is scientifically proven that warm lights help in sleeping cycles. So, installing these lights in your bed sign can improve your sleep routine!
4. Aesthetic Human Figure Neon Sign
Are you fond of artistic pieces? If yes, you will love to have a human figure neon sign in your space. All you need is some thin LED neon flex of your desired colors. Shape them to the human face; no need to go for perfection; irregular shapes look more aesthetic. You can also add some creative strokes. For example- adding colorful lights on hair or creating a glowing flower behind the ear. The pen is in your hand; you will draw the magical effects here. You can set these types of neon signs on your vanity, bedside table, study table, or in the center table of your living area. However, you can make this in a big size and use it as a wall piece; this idea would also be amazing. Your guests will love seeing such artistic pieces in the entrance or hallways of your house.
5. Snowflake
Try adding a snowflake neon sign to your space for a fresh touch. You can place these lights on any corner table of your house. This shape will be perfect if you are decorating your home for Christmas. The glowing snowflakes will perfectly fit the chilling snowy theme of Christmas. You can use bright white LED neon flex to create these neon pieces. To emphasize more on the Christmas theme, why not add a red Santa cap on the flakes; fantastic idea, right? ( to get more ideas about Christmas lighting, check this- A Compressive Guide To LED Lights For Christmas) However, you can also go for this design for a kids' room. If you have a baby girl, you know what I am talking about; yes, the snow queen of Disney's Frozen. Use sky blue neon flex to create this snowflake design, and gift it to Elsa fan kids; trust me, they will not stop thanking you!
6. Mini Ghost
Looking for a Halloween lighting idea? What about mini neon ghosts? Great idea, isn't it? Color LED neon flex of different colors and shape them to ghost structure. For this go for 3D (vertical and horizontal bend) LED neon flex; this will help you structure easily. However, instead of choosing a multi-color, you can choose any color to match your Halloween theme. Placing these mini ghosts on your living room table, drawing room, or any corner table of your house will work great to create a horror effect. Besides, you can also place these mini ghosts on the Halloween dinner serving table; your guests will always remember these glowing souls!
7. Planet
Are you an astrophile lover of all celestial lights? And the sky, stars, and planets hold a special place of attraction for you. Then a planet-themed neon sign can be an excellent table piece to customize your bedroom or reading space. The making of this neon signage is very simple. All you need to do is bend the LED neon flex into a circular shape to make a planet. And then create a ring shape surrounding it to mimic the shape of Saturn. If your children love stars and planets, you can set such a piece in their room. To complement the ambiance, buy them a Galaxy light projector. Imagine the room's ceiling as the Milky Way and having the planet neon sign on the bedside table- a complete galaxy world! Having such a room setting, you will no longer need to scream at your kids for bedtime.
8. Cat & Dog
Being a pet lover, I assure you that you will love having a pet-themed neon sign for your space. A cat and dog-shaped neon sign will be excellent. Choose two different colors for the two figures. Blue and pink or red will be an ideal choice. In this case, you can place the two figures on a single plate or use two separate plates for the cat and dog. Besides using them as table pieces, you can also place them as wall decor or floor stand pieces. In this case, make the signage bigger to create a more prominent effect.
9. Hello Sunshine
Short text messages like- Hello Sunshine are quite a popular category of neon signage. People of all ages love to have inspiring glowing text on their desks, vanity, or study tables. You can design the light color and style of the text as you wish. Yet, yellow or orange goes well with the sunshine theme. You can also add a sun shape to the text; this will look excellent. A bright white, pink, or purple can also be a nice light color option for text message themes. Besides, Hello Sunshine, you can design any text neon signs like- Hi There!, Hello Beautiful, etc.
10. Good Night
A good night neon signage is an excellent creative lighting piece to set on a bedside table. As a good night theme signage is designed for bedtime, keep the light color in a warm tone. It would be best to choose warm white or yellowish LED neon flex. The soft, warm glowing lighting will create a cozy vibe in your room and help you to apple in peace. Add some scented candles beside the neon signage and enjoy a magical night!
11. Cactus
If you want something funky for your side table, a cactus neon signage can be your go-to option. You have to use green neon lights for the cactus. Yet, you have two options: a dark green color or a bright parrot green. However, for the tub of the cactus, you can experiment with different colors- red, orange, pink, whatever you want. The cactus's bright green color gives your space a quirky look. You can have this neon light on your bedside table or the drawing room's center table, where you hang out with your friends. Besides, if you have kids at home, they will also love such items. So, you can place this in the kid's playroom too!
B. Neon Sign Ideas For Bedroom
When it comes to bedroom lighting, neon signs can be a great choice to add a magical touch to your room. There are countless creative ideas for bedroom neon signage, yet I'm sharing with you those I found best-
12. Neon Quotes Over Bed
Quotes are the most popular category of bedroom neon signage. You can design the neon signage with any of your favorite quotes. It can be any inspiring words, lines from poetry, or anything inspiring. Purchase a 360-degree bendable LED neon flex for shaping the quotes. This will help you to structure the letters just as you want. And for the color of the neon light, the choice is all yours. Choose the color that makes you feel best; in this case, try to match the interior of your bedroom to get the best outcome. These glowing quotes look mesmerizing over your bed. Each time you enter your bedroom, you won't miss appreciating how wonderful it makes your bed look! Here are some popular quotes to place over your bed-
The World Is Yours
Dreams Come True
Let's Stay In Bed
On The Moon
Don't Quit Your Daydream
Good Vibes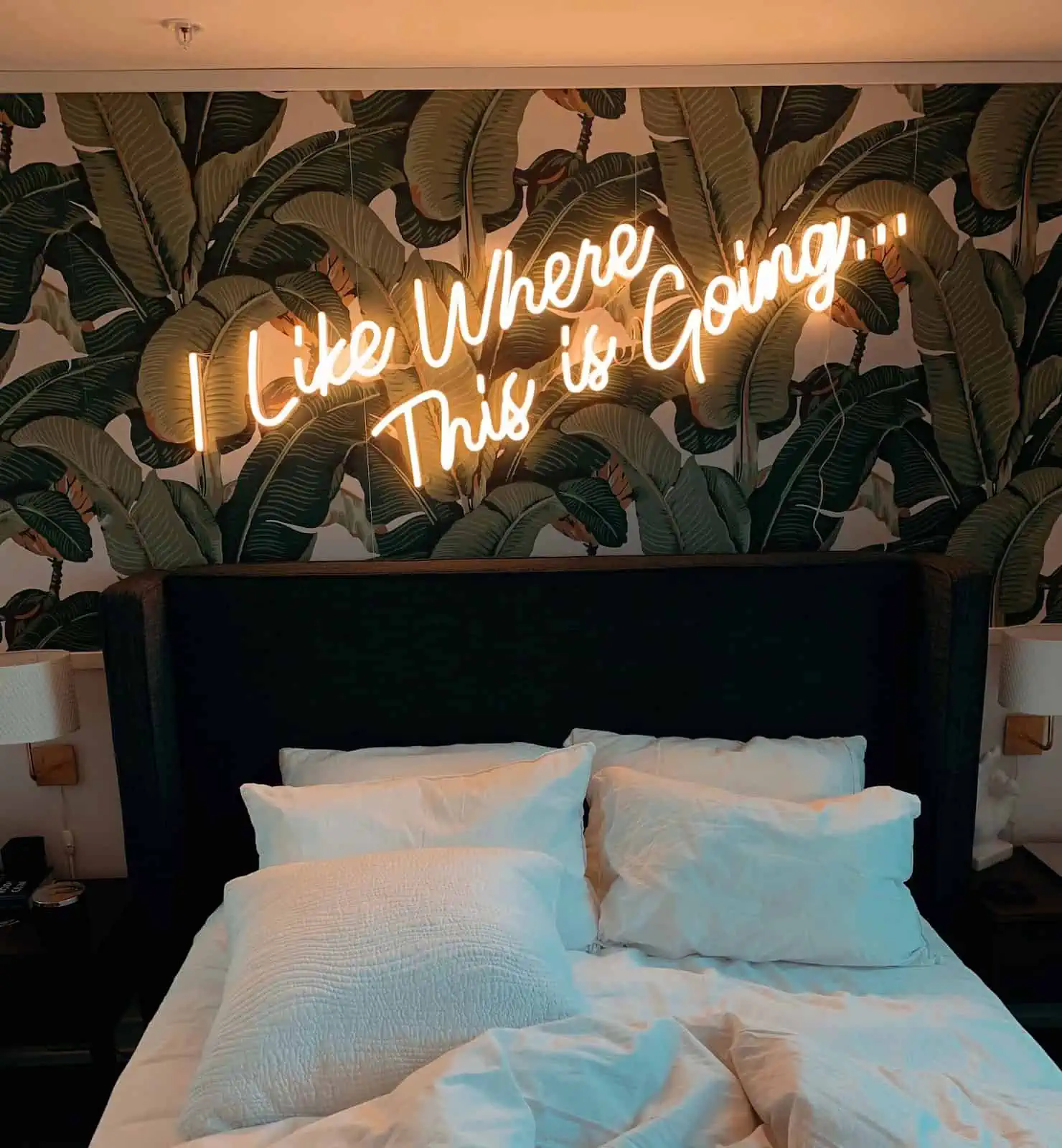 13. Moon Light
Proper sleep at night is essential to wake up energized in the morning. To create the best ambiance for nighttime, you can bring the moon to your bed with neon signs! Purchase soft-colored LED neon lights and shape them into a moon. Warm white or yellow flights are the best options here. You can add some clouds with bright white lights if you want. Place the neon sign right in the middle of your bedroom wall and see the magic! It will turn the entire outlook of your bedroom. However, choose the size of the signage keeping your bed size in mind. If the moon neon sign is too big compared to your bed, it will not look good.
14. Unicorn: Horse Head
Are you a unicorn fan? If yes, a horse head with a horn in the middle (alicorn) can be an amazing design for neon signs. This type of design suits best for girls' rooms, especially for kids; however, adults can also have them. Pink is obviously the go-to color for this theme. Yet, you can try blue, purple, or white colors for horse head neon signs. But the best idea would be going for multi-color LED neon flex to bring the real unicorn effect. Use white lights for the horse face and yellow for the horn. Then add your color bucket to its hair; pink, purple, blue, and orange are amazing options for light unicorn hair. Undoubtedly it is going to be the best option for the bedroom walls of your kids' room.
15. Twin Bed Theme Neon Sign
Sharing a bedroom with your sibling or friend? Then the twin bed neon sign is for you. In sharing rooms, usually, two beds are used side-by-side. You can install LED neon signs above both beds to create a connection. In this case, the best theme is to choose contrasting subjects. You can design the neon lights considering individual personalities. For one who is more extroverted, give a day-theme neon light for his/her bed. And for the one with a reserved personality, choose a night theme. For example- add the sun on one bed and the moon on the other. If you want to create the best impression, go for these personalized neon signs!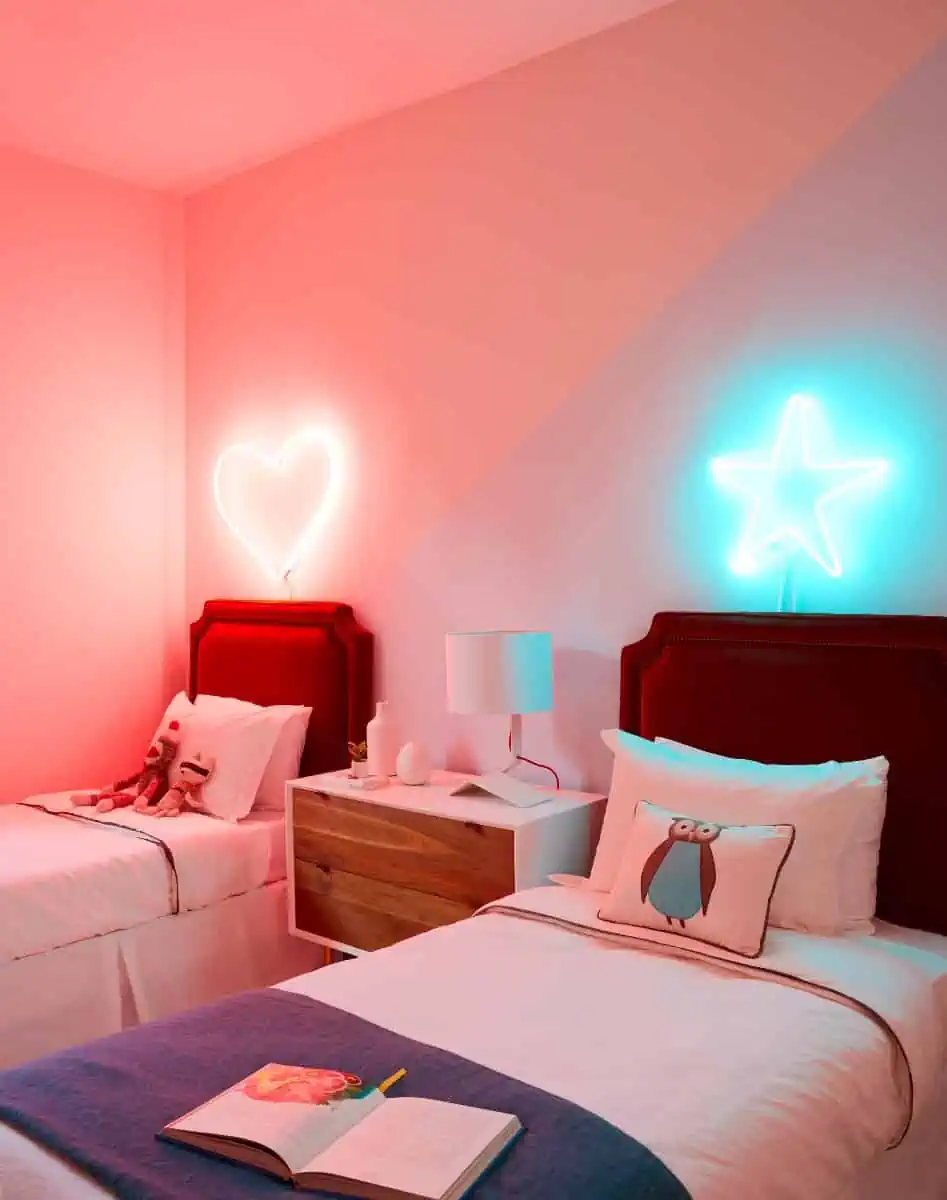 16. XOXO
Gen-Z is so fond of using shortcodes and social media terms. And if you are one of those, you are definitely familiar with the term XOXO, which means hugs and kisses. How about using this as neon signage? This will look excellent on the center of your bedroom wall. You can also minimize its size and place it above the bed head. A glowing pink or red color looks best for XOXO songs. To go creative, shape the O letter in a heart shape to give it a personal touch. You can also include some elements like kissing emojis to intensify its beauty. Besides the bedroom, you can place this neon signage in your dressing or makeup room too!
C. Neon Sign For Wall Decor
The most popular usage of neon signs is as wall decor pieces. This type of application fits both residential and commercial areas. So, here I bought you some creative ideas for wall decoration with neon signs-
17. Thunder Cloud
Thunderclouds are probably the first thing to catch your mind when thinking about unisex designs. Both males and females like these neon sign types widely used in bedrooms. You can use different colors for making these neon signs, but keep the blue lights in your list to emphasize the thunder effect. However, I have a brilliant DIY idea for you to take cloud neon lighting to the next level. Make a cloud structure with any cardboard or paper. Then attach sky-blue neon lights in random structures. Now cover the entire cardboard with plain white cotton. Turn on the lights and see the magic! This will give a heavenly thundering effect to your room.
18. Red Lips To Spice Up
Want to spice up your space with neon signs? Go for a red lip design. The design is very simple to make. All you need is bright red LED neon flex. However, if you want to include teeth in your design, get bright white neon light along with the red ones. Bend them to give a lip shape and hang them on the walls of your derided space. These quirky neon lights are best for spaces like- bars, pubs, etc. However, you can also install them in your studio, dressing, or makeup rooms.
19. Angel Wings
Angel wing neon sign is one of the most viral neon signages you will find while scrolling on TikTok! This is literally everywhere – restaurants, shopping malls, photo booths of events, or living rooms. People, especially photogenic ones, are going crazy for these neon signs! And why not? These angel wings are excellent for clicking photos. You can find many pre-made neon angel wings in marketplaces. But I suggest you go for a DIY one if you want to save money. It is very simple to make. Collect a background board and LED neon flex of your desired color. Now shape the lights as angel wings on the board. Hang them on the wall, and that is it! Too simple, right? But the size and placement of the wings are important here. Keep in mind that when anyone stands between the two wings, it looks symmetrically okay and matches human height. Making the wings too small will not give you this realistic look.
20. Your Hands Meet Mine
A hand design is a brilliant option if you want to give a sculpture effect to neon signage. You can place two hand structures face to face. I have given this design a romantic name: your hands meet mine. You can create this type of neon signage to create a sweet and romantic atmosphere. It can be placed in your living area, on the back wall of sofas, or in the staircase or hallway walls.
21. Butterfly
A butterfly is another excellent option for neon signage. If you want something colorful, this design can be a great choice. You can try making a large butterfly neon size for the wall of any open space of your hall room or living area. Use multi-color LED neon flexes like- red, orange, green, pink, yellow, etc., to bring a vibrant butterfly lighting piece. However, if you don't want many colors, go for any one or two colors of your choice. This type of neon sign is also great for kids' bedroom lighting.
22. The Classic Guitar Neon Sign
Are you a musician or love music? If yes, a guide-shaped neon sign is a go-to choice for you. You can install a medium-sized guitar neon sign on your bedroom or living room wall. And if you have a music studio, make this neon guitar signage the star of your studio. Select a particular wall, and mount a big guitar-shaped neon size. This will mesmerize everyone who visits your studio. Besides, it will also create a suitable ambiance to compose music or sing your heartiest!
D. Neon Sign For Commercial Area
Neon signs are widely used in the commercial sector. They can be an excellent medium for marketing your brand. These are commonly used as the name boards of shops, offices, or other commercial buildings. The main purpose of using these lights in commercial areas is their visibility from far distances. If you ever visit Hong Kong at night, these neon signs are everywhere.
23. Restaurants & Bars
Restaurants and bars are some of the most engaged commercial spots. To attract the customers, neon signs are an excellent lighting option for these places. So, to make the most use of it, you should add these glowing signs to both the exterior and interior areas of the restaurant. For outdoors, shape the neon flex like the logo or name of the restaurant. And for indoors, you can experiment with neon quotes, any special symbols, artistic figures, etc. But the best option is to choose the design of the neon sign matching the serving item of the restaurant. For instance, you can add a donut or pastry neon sign if it is a bakery shop. Again for coffee shops, a coffee cup neon sign would be excellent. Similarly, when you are lighting any bur, try a cocktail glass-shaped neon sign. This type of relatable neon sign gives the best output to create a suitable ambiance. However, to know more about restaurant lighting ideas, check this- Top 31 Restaurant Lighting Ideas.
24. Office
You should choose simple designs for neon signs for the office or other formal places. You can shape the company's logo with neon lights and place them in the reception area, hallway, outside the building, or conference room. You can also light up some inspiring quotes to motivate the employees to work their hardest. However, you can try something creative rather than keeping it boring. For example- the picture below shows an interesting text neon signage. It has dimmed the 'SH' of shit and illuminated just 'IT.' Such types of ideas can make your office look cool. For more office lighting ideas, check Office Lighting: The Definitive Guide.
25. Retail Stores
Neon signs are an excellent choice to enhance the beauty of your retail stores and make them pop in the crowd. When visiting any shopping mall, you will find hundreds of shops. But it is not possible to visit all of them. So, to ensure the costumes pay a visit to your outlet, go for bright neon signs to attract the passersby. You can simply design your shop's logo, add discount signs, indicate ladies' or gents' section, open/close board, etc., with neon lights. Many famous brands like NIKE, GUCCI, and LV use these types of neon signs in their outlets.
26. Auto-Mobiles
You can use neon signs for auto-mobile stores or garages to make the shop visible. Having a car-shaped neon sign will match perfectly with an automobile store. However, you can light up the shop name with neon lights too. However, hanging the neon service name outside your shop is its best application. For example- hang an Auto Service, Car Wash, Repair Your Car, etc. neon signboard outside your shop. This will help the customer detect your shop from miles away.
However, you can also use neon signs in other commercial establishments like- jewelry shops, yoga studios, barber shops, etc. To know more, check this- Commercial Lighting: A Definitive Guide.
LED Neon Flex Buying Guide
LED neon flex is available in different colors, IP ratings, and more. These factors may confuse you to pick the ideal type. So, here I listed some factors to consider before purchasing any LED neon flex-
LED neon flex comes with a wide range of color options. You can have any color using RGB neon flex. Besides, there are more advanced options like- DMX512 Pixel LED neon flex. You can control each pixel and channel of these neon flexes. And thus provide you with unlimited color mixes and variation.
As neon signs are shaped into different structures, the bending of the lights is a crucial factor here. LED neon flex can be bent in a wide range of angles. They have several varieties with individual bending features. These include-
These categories have varying price ranges depending on the bending flexibility. However, you must consider the design requirements before choosing any of these LED neon flexes.
Neon signs have unique light shape requirements. Some designs need slim-fit neon flexes, while others may need square neon lights. You will find LED neon flex available in a vast range of shapes to meet these demands. These include- slim neon, flat neon, square neon, round 360-degree neon, 3D bend neon, tri-view neon, and mini neon. So, first, decide which shape will suit your neon sign before purchasing any.
While choosing the brightness of the neon flex, make sure to consider its application. If you are purchasing flex for your house, keep the brightness minimal. Having too bright neon signs in your bedroom or study room will create irritation. But for outdoor usage or neon signage of commercial areas, brighter neon flexes are preferable. In this case, 360° Round LED Neon Flex can be your best option.
Usually, the LED neon flex comes in a reel of 5 meters. But you can customize the length based on your requirements. In this case, cutting length is also a crucial factor to consider. Going for smaller cutting lengths will allow you to size the neon flex effectively.
LED neon flex can be made of silicon or Polyurethane encapsulation (PU). Each of these has its benefits. For example- PU neon flex has features like- anti- UV, No yellowish, No breakage, and No smelling properties. On the other hand, silicon neon flex is super robust, has anti-corrosive properties, and more. So, check out which one suits your application and purchase accordingly.
The IP rating of LED neon flex determines its protection level against liquid and solid ingress. For indoor neon signs, use lower IP-rated fixtures. But for outdoor applications, a higher rating is a must. To know more about IP rating, check this article- IP Rating: The Definitive Guide. On the other hand, the IK rating determines the resistance of LED neon flex against impact. Usually, neon flex goes through an IK08 test. To know more about this, check out IK Rating: The Definitive Guide.
The warranty policies for neon flexes vary from brand to brand. However, LEDYi offers you 3 to 5 years of warranty on its neon flexes. Besides, we have a 12-hour response policy and ensure a solution to your problems within seven days.
Besides the above-discussed factors, there are more other things to consider before buying LED neon flex. To learn more, this guide- 15 Things You Need to Know Before Buying LED Neon Flex will help you.
How to Make a DIY LED Neon Sign?
DIY LED neon signs are getting more popular day by day. If you open Instagram or TikTok, you will find hundreds of videos on excellent DIY neon designs. Following the below three steps, you can also make cool neon signs by yourself-
Collect required materials: The first step to making a DIY LED neon signage is to collect all the essentials. You will require an acrylic sheet as the base of the signs, glue, some cutting and shaping tools, a drilling device, and LED neo-flex.
Design the sign: First, sketch the design of your signage on paper with the measurement of the acrylic sheet. Now place the paper on the sheet, drill holes, and attach clips on definite points to fit the LED strips.
Secure the LED neon flex and power them up: Place the LED neon flex in drilled clips to give it the desired shape. Now solder the lights and glue them for more robustness. Connect them to the power source and light them up. That's it; you are done with your DIY neon sign!
However, you can check this article- How to Make a DIY LED Neon Sign to get detailed instructions.
How To Install Neon Signs?
Installing neon signs is super easy. You will not be required to hire any professional to do this. Following the below five steps, you can quickly install them-
Step -01: Measure the length of the space you want to install the LED neon flex.
Step-02: Find the cut points on the LED Neon Flex and size them to your required length. Attach connectors if you need to extend the length, and then connect the power plug to LED Neon.
Step-03: Fix the mounting clip or mounting channel to the location of the LED neon flex installation. You may require drilling and screwing to do this task.
Step-04: Press the LED neon light into the mounting clip or channel and connect it to the power source.
Step-05: Light up the LED Neon to test. If the lights don't glow, check the wiring and try it again.
Glass Neon Lights vs. LED Neon Lights – Which Is Better?
LED neon lights are the advanced and updated variant of traditional glass neon lights. A glass tube is filled with different types of glasses in glass neon lights. When electricity is passed through these gaseous components, they glow, emitting light. The color of the emitted light depends on the gas used in the glass tube.
In contrast, LED neon flex uses semiconductors to produce light using LED technology. They are usually made of PU or silicon. This makes them super flexible; you can bend these lights as you want. But this option is not available for glass neon lights. They are bent in glass factories using heat to melt the glass. This procedure makes them too expensive. Besides, the glass material also makes them fragile and porn to break out.
Additionally, the gasses used in traditional neon lights are also harmful to the environment. But LED neon lights are robust in structure, don't contain any harmful gasses, and are highly energy efficient. Besides, LED neon flex is the best option for you regarding creative and DIY neon signage. All these factors make LED neon lights a better option than glass neon lights. To know more about the differences, check this-Glass Neon Lights vs. LED Neon Lights.
FAQs
The Bottom Line
The LED neon flex gives you full freedom to design neon signs as you want. Though traditional glass neon lights still exist, their popularity is declining gradually due to the approach of better LED technology in the neon field. So, to attempt creative neon signs, undoubtedly, LED neon flex should be your best choice. They are available in different bending angles, are cuttable, and have a wide range of colors.
Therefore if you want to give wings to your creativity in making neon signs, grab LED neon flex from LEDYi right now! We offer you all categories of neon flexes with extensive customization facilities and 3 to 5 years of warranty. So, why wait for any more? Confirm your order ASAP!