Bathroom lighting is often neglected when decorating interiors. But proper bathroom lighting can change the entire decorating game! That is why well-planned lighting for the bathroom is equally essential as other parts of your home.
To light up your bathroom, first, divide it into different zones. Then layer them up with ambient lighting, task, and accent lighting. For additional effect, go for decorative lighting pieces. Don't hesitate to prefer your taste while lighting up your bathroom. But remember to consider factors like- bathroom size, IP ratings, and brightness of your light fixture.
Here I've brought you 26 brilliant ways to get creative with your bathroom lighting. You will also find a complete guideline for choosing the ideal fixture for your bathroom. So, let's get started-
Best Bathroom Lighting Ideas
All the bathroom parts don't require the same type of lighting. So in lighting bathrooms, divide it into different sections and light it up as per the requirements. Below I have suggested 26 creative ideas you can implement in your bathroom:
Vanity & Sink Area Lighting
The Vanity and sink area is the most attractive part of the bathroom. It is where you do tasks like facials, shaving, makeup, skincare, etc. That is why this area requires sufficient lighting. Besides, it is where you set all your essentials, candles, flowers, and other design pieces. So, highlighting this place with proper lighting arrangement is a must. Here are some excellent ideas for your vanity and sink area lighting; check this out.
1. Add Task Lightings
Adding Task lights is a must when lighting your bathroom vanity. For this, you can go for recessed ceiling lights and sconce lighting on the side of your mirrors. It will brighten the mirror area and allow you to groom yourself in sufficient lighting. And if you are a makeup lover, you will love this light setting. But remember to avoid installing lights just above the mirrors; it will create shadows.
2. Go for Ceiling Mounted Pendant Lights
A ceiling-mounted pendant light works best to give a modern look to your bathroom vanity. Especially if you have a vast mirror in your bathroom, hanging pendant lights on both sides look great. Besides giving an uplifted look to your vanity, these fixtures will also work as task lighting. But don't overdo the pendant design; go for something basic. It will keep your vanity design trendy.
3. Install LED Mirrors
LED mirrors are trendy these days. You can install a square, rectangle, circle, or oval LED mirror, whichever suits your taste. The lights in LED mirrors brighten up the mirrors acting as a task lighter. You can do your grooming comfortably using this mirror. Besides these benefits, a LED mirror will bring uniqueness to your vanity design.
4. Farmhouse Style Lighting
Farmhouse vanity lighting can be a good option if you are practical and more concerned with simplicity. In this case, the lighting must match your bathroom's overall interior. Choose light fixtures with rustic and industrial detailing. Such lighting suits best if you have a wooden bathroom interior.
5. Double Vanity Lighting
The double vanity lighting is excellent for large bathrooms. And these are fun as you can come out with several experiments. For example- adding lighting above both sinks or on both sides of the mirror. You can also try hanging pendant lighting above the sinks. Wrapping the edges of both mirrors with LED strips is also a great idea. And for an extra touch-up, add some scented candles in the middle portion of the vanities. Besides giving a warm glow, it will bring freshness to your bathroom.
6. Under Cabinet Strip Lighting
The bathroom vanity has cabinets under the sink or beside the mirrors. Install LED strips below the cabinets and see the magic! It will change the entire ambiance of your bathroom. Besides, this will bring more light to the countertop area making your bathroom appear larger.
7. Multiple Fixtures for Vanities
If you are bored of plane vanity outlooks, bring versatility using multi-light fixtures. Combine different lighting solutions to pop up your vanity. For example- use recessed lighting in the ceiling above your vanity. Then add side lights beside the mirror. You can also experiment with LED strips. Choose a lifted mirror and surround the edges with flex strips. Here you can go for plain white or tunable white LED strips. You should go for tunable whites as they have color temperature-adjustable options. If you are doing your makeup or shaving, go for cool lights. And for relaxing tasks like massage or skin care, go for a warm tone. And if you are fond of quirky styles, you can try experimenting with RGB lighting too!
8. Bring a Sophisticated Look with Vanity Light Bar
A simple vanity light bar will work great to keep your bathroom minimalist. Using light bars gives seamless lighting without any visual interruptions. It gives your bathroom a modernized, sleek appearance. So, a bar light is a great choice to bring a modern look to your bathroom.
Shower Area Lighting Ideas
Remember, the shower area comes more in contact with water. So, always use fixtures with higher IP ratings for lighting shower areas. Check out these ideas I've listed to light up your showering section-
9. Use Spotlight To Keep It Subtle
Spotlights are your go-to solution if you have a small shower area. These small lights fit perfectly in the ceiling creating a focus lighting. Here you can use several spotlights based on the space of your shower zone. Besides, these spotlights complement your bathroom if you have a fancy hanging shower. In choosing the light color, you can go for warm or cool white, whichever suits your taste.
10. Lighten Up The Dark Areas
Usually, the showering area is narrower than the other part of the washroom. And natural lighting is not much available in these sections. Above these, dark fittings in your bathroom will make the shower look more gloomy. So, to avoid these situations, add sufficient lighting to these areas. Dark/black tiles complement well with bright white lighting. You can go for recessed lights or LED strips to light up the ceilings of your shower.
11. Highlight The Niches
Shine up your shower area with special lighting inside the niches. Niches are the shelves inside your shower area where you keep all your showering essentials like- shampoo, conditioner, soap, scrubs, etc. This part of the shower section requires focusing lighting. You can use small spotlights or LED strips to light up the niches. It will give a classy look to your bathroom. Besides, if you have marble tiles, these lights will work excellently to bring the wall's texture.
12. Go Modern With Diffused Lighting
Diffused lights are excellent for showering areas. They don't create direct glaring but bring a seamless lighting effect to your shower. You can also go for Passive Infrared Sensor (PIR) lighting. These lights have sensors, so the lights will automatically turn on when you enter the shower. Installing this lighting will bring a smart approach to your decor.
13. Choose An Innovative Shower Light
What is more impressive it can be when you have a shower with lights! Shower lights of different shapes and colors are available in the market. You can get one for your bathroom. These lights give you a heavenly showing experience. Some of these lights also have light color adjusting options. Besides, they also work as task lighting.
14. Set up Small Lights All Around the Shower Stall
If you have a large shower area, only going for overhead lighting won't be sufficient. In this case, try out experimenting with multiple small lights. You can include standing lamps, tea lights, candles, etc., to light your shower space. However, pick lamps with a low power output; one watt should be adequate. This will give a cozy spa setting to your bathroom.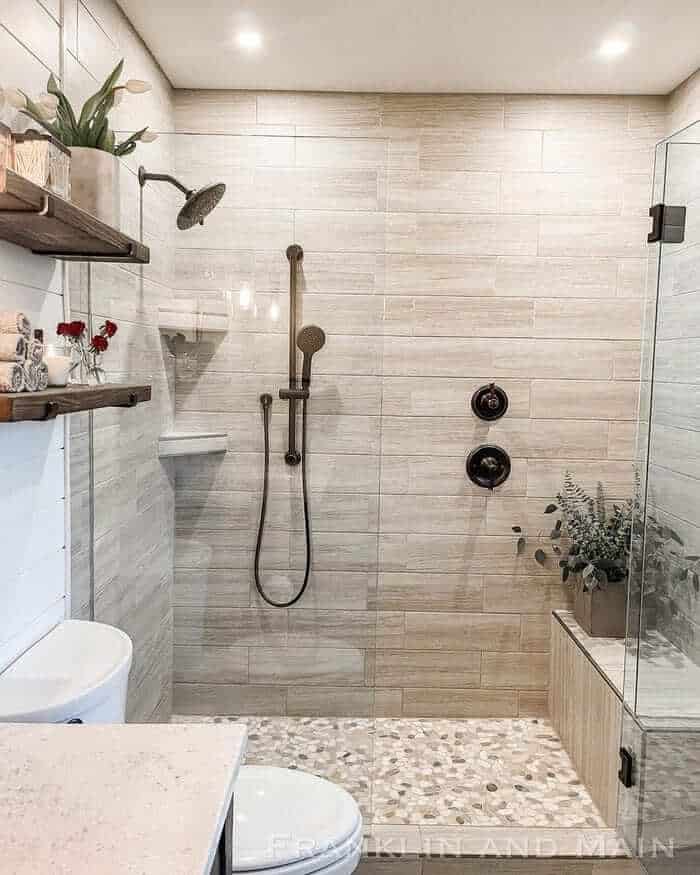 Bathtub Lighting Ideas
A bathtub is an integral part of your bathroom, where you relax for hours, relieving all your stress. That is why always be selective in choosing a light for this area of your bathroom. Give priority to your comfort zone and focus on creating a cozy lighting environment. Here I have presented some wonderful ideas to light your bathtub area-
15. Place Chandeliers Above the Tub
Adding a chandelier above your bathtub will uplift the entire look of your bathroom. Choose the chandelier design keeping your bathroom's outlook in mind. If you have a modern-style bathroom, go for a plane and a simple chandelier. But you can also try something fancy that matches your taste. But remember to put something suitable for your bathroom's interior. Additionally, keep your bathroom area and bathtub size in mind. Don't hang something too bulky that is much larger than your bathtub.
16. Bathtub Lights For Magical Bathing Experience
Bathtub lights usually use RGB chips bringing multi colors to your tub. It might be a new concept for you. But trust me, these lights will add a magical touch to your bathing. These are small waterproof lighting fixtures that you can immerse in the water. And thus, they light up the bathtub and bring fun to your regular bathing.
17. Give Preference To Natural Lightings
If you have enough natural lighting in your bathroom, use it properly. Placing the tube in front of the windows will bring a natural atmosphere to your bathroom. And having a forest-facing or sea-view house would be the cherry on top. You can enjoy this beautiful view while bathing and feel yourself among nature. Yet, if privacy is a concern, go for one-way or opaque glass windows. You can also choose smart curtains, keeping the window glass plain for sufficient lighting.
18. Get Romantic With Bathtub Candles
Who doesn't love bathtub candles? Adding these candles brings a romantic vibe to your bathtub. You can relax for hours bathing in warm water in candlelight settings. This sort of bathroom lighting is more prevalent in hotels for honeymoon packages. But you can quickly bring this atmosphere to your home.
Place candles in the corners of your bathtub to bring a soft glam. You can try candles of different sizes, shapes, and colors. Besides, these candles are available in different flavors. You can go for vanilla, floral, or any other scent of your liking. Lastly, don't forget to add some rose petals to spice it up!
19. Bring Fun With Neon Sign
Add neon signs to the walls to bring more fun to your bathroom design. The wall attached to your bathtub is the best spot to install a neon sign. You can add any character of your liking, text, or funny messages. For an easy and cost-effective solution, go for LEDYi neon flex. Using our neon flex, you can quickly customize and install your neon signs like a pro.
20. Give a Floating Illusion to Your Bathtub
Installing LED strips in the bottom of your bathtub can create a magical floating illusion. Choose tubs with tiny legs or those that rise slightly above the ground. Wrap the boundary of the bathtub with LED strips. Install them at the bottom of the tub from the inner corners. This step will ensure the strips are not visible from the outside. Now turn on the lights and see the magic- your tub will seem like it is floating in zero gravity!
Ceiling Lighting For the Bathroom
The ceiling lighting affects the overall ambiance of the bathroom. And to bring uniqueness to your bathroom lighting, go beyond plane tube lights or LED bulbs. Here I've listed some creative ideas to light your bathroom ceiling-
21. Cove Lighting
Cove Lighting is an excellent way to light the ceiling of your bathroom. This lighting requires a false ceiling that hides the light fixtures. Thus, light fixtures don't produce direct glaring. Instead, it directs light upward and reflects the light in the adjacent walls. And so cove lighting lights up the entire bathroom. Besides, this gives an aesthetic look to your bathroom. When choosing a light fixture for cove lighting, LED strips work best. You can go for tunable white LED strips to change the tone of your bathroom as per your mood.
22. Recessed Lighting
Recessed lighting is another option you can go for bathroom ambiance lighting. Here light fixtures are fitted directly into the ceiling. You can find recessed lighting of different sizes and colors. I suggest going for multiple small-sized lights rather than big ones. However, you can install a big-sized recessed light at the bathroom's center. It can be a cost-effective replacement for using designer pendant lighting or chandeliers.
23. Flush Mount & Semi Flush Mount Lighting
If you have a bathroom with a low ceiling height, installing a large/hanging light fixture is a big no. A flush or semi-flush mount light will work best in such cases. These lights are small yet not too simple, like spot/recessed lights. You can set a semi-flush mount light in the center of your bathroom as an alternative to chandelier or pendant lights. Thus, it will cost-effectively add balanced lighting.
24. Go For RGB To Play With Light Color
Are you tired of that same boring white bathroom lighting? Bring some fun using RGB light fixtures. You can use these colorful lights for ceiling lighting. They are also great for lighting mirrors, niches, and showering.
Take this color game to the next level with adjustable RGB fixtures. For the most premium RGB lighting option, check out LEDYi's RGB LED strips. Our strips with smart controllers offer you light color customization options too. So, hold your breath to have new experiences in every bath with LEDYi RGB flex!
Bathroom Floor Lighting Ideas
If you want to bring uniqueness to your bathroom lighting, go for floor lighting. This uplifts the entire look of your bathroom. Check the below ideas to light your bathroom's floor-
25. Ground Recessed Light
Go creative with your bathroom lighting by adding ground-recessed lights to your floor. Placing these lights in the corner walls of your bathroom will work as accent lighting. Besides, you can add small ground lighting around your bathtub. Installing these lights on the showering area's floor is also a great way to illuminate your bathroom. The reflections from the ground light on the showering glass will create an appealing effect. Besides, you can use soft, colorful floor lights like blue or green to add a twist to your lighting.
26. Use Aluminum Profile
LED strips are your best solution for the most aesthetic bathroom floor lighting. Insert these strips in an aluminum profile and pin them to your floors. However, you need professional help to install such lighting. These aluminum profiles are pinned inside the bathroom floor, so lighting installations should be done during construction. For designing floor lighting, you can go super creative. Yet, creating light borders around your bathroom floor, keeping space from the walls, looks sleek and innovative. If you have a large bathroom, this design will work best.
Therefore, these are the top 26 creative ideas for lighting your bathroom. These ideas will help you give your bathroom an aesthetic appearance.
What Kind of Lighting Is Best For Bathrooms?
When finding the best type of lighting for a bathroom, you can't go for one kind. An ideal bathroom lighting is created using multiple lighting. Each part of the bathroom has its specific lighting requirements. For example, the vanity section needs more prominent lighting than other bathroom parts. That is why you need to come up with a solution matching and mixing a variety of light fixtures. Here are the lighting effects that every bathroom should have-
Ambient Lighting
Ambient lighting means general lighting. It mainly indicates the lighting that glows the entire bathroom. LED bar lights and bulbs are typically used in most houses for ambient lighting. But if you want to be creative with your bathroom lighting, go beyond this usual lighting. Instead, try LED strips, recessed lights, or flush mount lights for ambient lighting.
Task Lighting
Task lighting is essential for the vanity of the bathroom. It is the place where you do your shaving or makeup. This area needs to be lit with sufficient lighting. Here you can use multiple lighting fixtures. Adding lights on both sides of the mirror or bounding it with LED strips also works. You can also add hanging pendant lights over the sinks. But this may be less appealing as it will create shadows.
Accent Lighting
Accent lights are great for creating a special effect to your bathroom lighting. This lighting enhances the bathroom's outlook and highlights its special elements. You can use recessed lights, pendant lights, candle lights or as accent lighting.
Dimmable Lighting
Dimmable lights are popular these days. Using dimmable lights, you can adjust the brightness of your bathroom lighting. For example- set the lights to brightest mode while using the vanity and dimming them while showering. Thus it gives you complete control of your lighting. Install them on the ceiling as ambient lighting or under your vanity cabinets. These lights are also great for highlighting the niches.
For more information, you can read
Everything you need to know About Triac Dimming for LEDs
Everything You Need to Know About DALI Dimming
Dim To Warm – What It Is and How Does It Work?
Decorative Lightings
Decorative lightings are jewelry for your bathroom lighting. They are not a need for your bathroom but create a statement. These pieces of light bring out your design sense and taste. Adding decorative lights in your vanity area brings elegance to the bathroom. Besides, a chandelier on top of the bathtub is also an excellent idea for designing your bathroom. Many decorative light pieces are available in the market; you can choose any of your likings. But ensure they are suitable for bathroom installation.
Therefore, keep these lighting requirements in mind when lighting your bathroom.
Small Bathroom Lighting Ideas
If you have a small bathroom, be smart and wise in choosing light fixtures. First, analyze the space of your bathroom and then decide what kind of look you want. Here are some tips and tricks I'm sharing with you for lighting small bathrooms-
Lighting plays a vital role in creating the illusion of space. So, you can make your small bathroom appear big with planned lighting. Keep the floor free as much as possible. Add a border to the floor and ceiling using LED strips; use the same for under-cabinet lighting. This will create an illusion of space and make your bathroom look large.
Say a big no to large light fixtures; go for small and simple ones. Adding bulky light, like a chandelier, will occupy your bathroom's open space and make it look smaller. Besides, if your bathroom has sufficient natural lighting facilities, use it well.
Go for multiple can lights or pot lights. Install them all around your ceiling. They look good in small bathrooms. You can also go for flash mount or semi-flush mount lights.
Instead of hanging pendant light in your vanity, use vertical lighting on both sides of your mirror.
Planning your bathroom lighting following these guidelines can make your bathroom look more prominent.
Considerations For Choosing Bathroom Lights
The bathroom environment is different from other areas of your house. It is the portion that comes more in contact with water. That is why bathroom lighting has some specific requirements that you must know. Here are the factors to consider for choosing bathroom lights-
Light Color
The ambiance of the bathroom is directly affected by its light color. A warm-tone light gives a cozy vibe to your bathroom. Again using colorful lights also brings a unique outlook to your bathroom interior. But for vanity lighting, white light suits best, as makeup in colorful lights can go wrong. So, keep the practical use of the bathroom while choosing a light color. Yet, adjustable color-changing lights are a great option to experiment with.
Brightness
All parts of the bathroom don't require the same brightness. For instance, task lighting in the vanity needs the most bright light. Lights with 3000 – 3200 kelvin color temperatures are ideal for this section. Yet, the brightness of the lights also depends on the size of your bathroom. For ambiance, the lighting of the master bathroom, 75-100 watts, is ideal. But if you are lighting half-baths or powder rooms, 45-60 watts is ok. Again, for accent lighting, go for minimal brightness; 1 watt would be enough.
For information, you can read
Lumen to Watts: The Complete Guide
Kelvin and Lumens: Understanding the Differences
IP Rating
The IP rating is the essential factor for choosing bathroom lighting. IP rating stands for Ingress Progress, the degree of protection against solid or liquid ingress. So, the higher the IP rating, the better its security against water and dust. Resistance against water is mandatory for bathroom lights. But not all zones of bathrooms have the exact IP rating requirements. The table below shows you the ideal IP ratings for different areas of the bathroom-
| | | |
| --- | --- | --- |
| Bathroom Area | Recommended IP Rating | Description |
| Inside Shower OrBath | IP67 | This zone is frequently immersed in water, requiring a water-resistant fixture. |
| The area directly above the shower or bath(up to 2.25 meters tall) | IP44 or IP65 | The space above the shower remains far from water, so an IP44 or 65 rating is sufficient. |
| Outside the shower or bath (up to 0.6 meters away) | IP44 | This area remains away from direct moisture contact, so IP44 is ok. |
| Other zones | IP22 (at least) OrIP65 (analyzing contact with moisture) | Areas far away from water should have at least an IP22 rating. Yet, experts suggest going for IP65 when installing fixtures for the bathroom. |
So, analyze the IP ratings before choosing the right fixture. To know more about IP ratings, check this out- IP Rating: The Definitive Guide.
Size & Shape Of Lights
You should choose the size and shape of the light considering the interior and area of the bathroom. If you have a small bathroom, going for a bulky light fixture will ruin your impression. So, analyze your bathroom area, and get light fixtures that suit your bathroom's outlook.
Energy Efficiency
Going for LED lights is the ultimate solution for energy-efficient lighting. They use about 90% less energy than traditional incandescent bulbs. And regarding durability, LED lights last 25 times more than incandescent. So, with LEDs, you are getting quality and saving your electricity bills too!
FAQs
Conclusion
You should know about different bathroom zones and their lighting requirements to light your bathroom like a pro. And you have already got these ideas from the above discussion of this article.
The first and foremost thing to do for your bathroom lighting is layering up. Analyze the space of your bathroom and light it accordingly. Choose fixtures that are water-resistant and give a modern, sleek look. In this case, LEDYi LED flex strips are your best solution.
We provide premium quality LED strips with various IP ratings and customization options. So, if you plan to light up your bathroom, contact us soon!