Regarding stair lighting, LED strips are the most reliable option to give your stairs a modern and aesthetic outlook. These strips come in various colors and are super flexible for shaping and sizing. And this is what makes them ideal for stair lighting. Besides, they are energy efficient, durable, and resistant to water and shock. So, you can use them for both indoor and outdoor stair lighting.
Choose the ideal LED strip and start with the ceiling lighting of your staircase. Cove lighting with LED strips works best for creating an elegant ambiance. And try lighting up the side walls of the stair. As LED strips are shockproof, you can install them beneath your stair railings too. However, you will get endless options to design the pattern with LED strips here.
In this article, I've covered 16 brilliant ideas to light your stairs with LED strip lights. You'll also learn about various LED strips to use in different sections of stairs. So, without any delays, let's get into the discussion-
Best Stair Lighting Ideas With LED Strips
While lighting the stairs with LED strips, dividing stairs into different sections is best to ensure proper illumination. So, check this out-
Stair Ceiling Lighting
Ceiling lighting works as general or ambient lighting for your staircase. It allows you to watch the steps properly so one doesn't slip from the stairs due to insufficient lighting. However, instead of going for traditional tubes and hanging lights, you can light up the ceiling with LED strips. Here are some LED strip stair ceiling lighting ideas for you-
1. Cove Lighting In the Stair Ceiling
Cove lighting is always an excellent option for ceiling lighting; the same goes for stair ceilings. It brings an aesthetic appearance to your stairs along with the entire interior of your space. Yet, this lighting technique works best on the stairs of duplexes or triplex houses. You can choose plain white, tunable white, or dim-to-warm LED strips for lighting stair ceilings. These adjustable color temperature strips provide multiple ambiances to your stairs and make you feel more at home.
However, cove lighting is also excellent for restaurant and hotel stairs. To add an extra height to your stair ceiling lighting, go for hanging pendants or chandeliers in the center of your cove ceiling. No doubt, this lighting outcome will mesmerize you.
2. Experimenting With Colorful Lighting
Add colorful LED strips to your stair ceiling to bring more fun to your staircase. In this regard, RGB LED strips are your ultimate choice. You can add these strips as cove lighting or create geometrical patterns in the stair ceiling using aluminum channels. Such a colorful stair-ceiling ambiance would be perfect for a hotel, motel, bar, pub, etc. Besides, you can go for DIY ideas to use these flexible strips and bring life to your stair space ㅡ
Stair Wall Lighting
While lighting the staircase, walls are often neglected. But by illuminating this section, you can effectively elevate the exposure of your stairs. Here are some creative ideas to light-up your stair walls-
3. Lighting Up The Staircase Walls
Lighting the staircase ceiling is common. But what about lighting the walls too? You can light up the side walls of the staircase using LED strips to bring a unique effect. In this case, you can use aluminum panels with a diffused casing to hide the strip. Thus, the LED strips won't be visible when the lights are off and will provide an even glow. You can also add some paintings or hanging pieces to the stair walls for extra touch-ups and highlight them with LED strips. This will make the elements pop up and uplift the entire outlook of your staircase.
4. Create a Dynamic Structure In The Stair Walls With LED Strips
Go creative with your staircase lighting, shaping the flexible LED strips into different structures. Instead of installing the lights in straight lines, bend them to different angles to create an exclusive visual effect. How about outlining the walls following the gradual incline or decline of the steps? Undoubtedly, it would be an eye-catching move to implement. However, you can experiment more with designing the strips with aluminum channels. This will definitely bring a modern and sleek look to your staircase.
5. Highlight Textures Of The Stair Walls
If you have textured side walls along the stairs, don't skip a bit to pop it up. It could be a brick wall, stoned wall, or paperwork patterns; the option for highlighting them is endless. You can mount the LED strips in the upper walls outlining the ceiling area or the bottom wall lining the foot area. This will highlight the wall's textures, enhancing the space's appearance. You can also try mounting LED strips from both sides of the walls in a vertical direction. Such lighting will not only bring out the wall patterns but also create an illusion of space and make your stair area appear more prominent.
6. Illuminate The Staircase From Underneath
When lighting the stair walls with LED strips, most of us target the top or upper portion of the wall. But you can go differently. Instead of mounting the strips at the top of the sidewalls, go for the bottom part. Line the stripes along the wall following the decile step of the stairs. This will give a unique and aesthetic look to your staircase. Besides, if you have brick walls, this will also work great to highlight the textures.
Step Lighting
Step lighting is the most attractive part of lighting stairs. Though there are many options for step lighting, LED strips work best. Check the below step lighting ideas for your stairs that will blow your mind-
7. Horizontal Step Lighting With LED Strips
Regarding stair lighting, horizontal step lighting is the first thing that will knock your mind. It is the most common step lighting technique yet considered the most attractive option. Add the LED strips below each step; that is all you need to do. No designing or lining hassle is required for this technique. If you want something basic for stair lighting, horizontal step lighting with LED strips is your go-to choice.
8. Vertical Step Lighting
To bring uniqueness to your stair lighting, go for the vertical placement of LED strips throughout the steps. It will bring a creative touch to your staircase. You can choose to install strips to the edges of the stairs from top to bottom. Besides mounting the strips vertically, keeping some distance from both sides of the steps will also work great. However, the flexibility of LED strips makes it super easy to design however you want. Cutting facilities also reduce the worry of sizing it to the length of stairs. Again, if you are lighting long stairs of restaurants, shopping malls, or commercial areas, super-long LED strips of constant current are also available. With these strips, you can cover up to 50 meters of stair area without the hassle of cutting or reconnecting!
9. Installing LED Strips In The Middle Of Each Step
If you want to bring some newness to horizontal step lighting, try placing them in the middle of each step. The LED strip doesn't run throughout the stair step in this lighting technique. Instead, they are placed just in the middle, keeping a gap from both sides. This type of stair lighting brings a sophisticated outlook and saves your lighting cost as fewer strips are required.
10. Create A Hidden Lighting Effect Below The Step
If you have an open riser staircase, a hidden lighting effect is the best option for creating a soft floating effect. Install LED strips below each stair tread so the strips aren't visible from the top. Such hidden stair lighting will create a shadow beneath the open riser providing an outstanding ambiance. This will also bring a dramatic effect on the wall below the stair. So, implement this technique to make a statement with your stair lighting.
11. Light Up The Sides Of The Stair Treads
Stair treads are the horizontal plane where you set your footstep. Lighting these treads is very common. But you can take this to the next level by outlining the sides/edges of the treads with LED strips. This will create a hidden glow from the corner of the stair, making your stairs appear like they are floating in gravity. You can experiment with such lighting using cool or warm white LED strips or colorful ones; both options will work great.
12. Use RGB Strips To Add A Colorful Effect
If you are tired of plain stair lighting and willing to bring some color to your stairs, go for RGB LED strips. These strips have 3-in-1 chips with red, green, and blue light-emitting diodes. And combining these three basic colors can produce about 16 million colors! Besides, with a smart LED controller, you will also have DIY color customization options! That is installing RGB strips to your stair; you can bring any color to your stairs, just like a magician. These stair light setups will work great on the stairs of pubs, discos, bars, amusement parks, etc.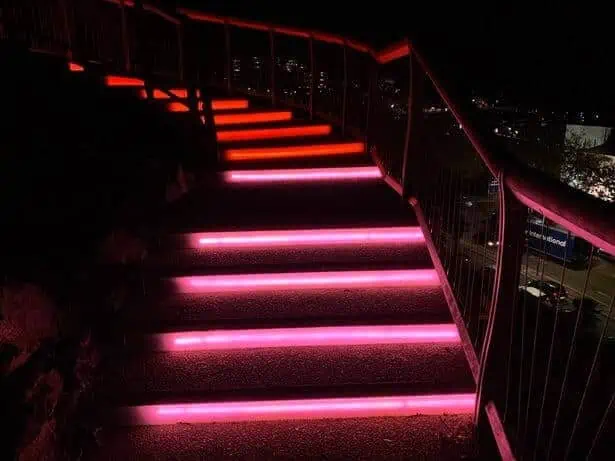 13. Bring Multicolor Effect To Your Stair
Want to make the stair lighting game more playful? Go for multicolor LED strips. Here you are getting two options: choose different colors for each stair tread or a single strip that shows a multicolor effect. For the first option, purchase LED strips of different colors and install them on the stair, matching the color palate. In this case, you can go for LEDYi single-color LED strips. Here, you will find a wide variation of colorings, including- red, green, blue, yellow, amber, pink, and UV. Combining these, you can quickly bring a multicolor effect.
However, addressable LED strips work best to take the light coloring to the next level. They will bring a continuous rainbow effect to the staircase. Besides, it allows you to change the color of the strips whenever you want. So, if you are planning to bring a multicolor effect and budget is not a concern, undoubtedly, addressable LED strips are all you need. Yet, if you are looking for an affordable option, you can purchase different colors of single-color strips and create colorful effects using them.
14. Try Creating a Magical Watery Stair
Having glassed or transparent open stairs? Go for creating a magical watery effect by lighting them up with LED strips. In this case, choosing a cool-tone white strip works best. The bluish effect of these lights gives a pleasant seawater vibe. You can place these stripes in horizontal or vertical directions throughout the stair's treads. But the best way would be, placing them beneath the treads. Such a hidden lighting effect will add a floating effect that best compliments your glass stairs.
If you have such transparent stairs in your house, lighting up in this way would blow the mind of visitors. And your guest won't be able to take their eyes off these stairs. Thus it will highlight your stair area and build a statement for your entire indoor decoration. However, this magical effect can also be brought to the stairs of commercial spaces to boost engagement. For instance, in restaurants, glass stair lighting can be a major attraction for photogenic customers.
15. Bring Magical Effect With Motion Sensor Strip
Motion sensor strips are the latest lighting technology you can add to your stairs to bring the most magical effect. Each time you step on the stairs, they will glow, and on the second instance you remove your feet, the lights will turn off automatically. This is possible because such LED strips have a motion detector that identifies infrared or heat waves that radiate from moving things. They can respond to warmer objects like- people, cars, animals, etc., and glow up, detecting their motion. And when there is no motion, it turns off automatically. Thus, it brings a mesmerizing visual and saves your electricity bill too. So, if you want automation for your smart home, motion sensor LED strips are your ultimate choice for stair lighting.
Stair Railing Lighting
The railing is an important part of the stair, so don't skip to light up this section. Here are some ideas following which you can illuminate your stair lighting using LED strips-
16. Illuminating Stair Railings
You can add LED strips to the back of the stair railings to give a hidden lighting effect. This works best if you have transparent or glass railings. They complement excellently with the LED strip lights to create a floating illusion. Besides, warm-tone LED strips will suit you best if you have wooden stair railings. The yellowish tone of these strips brings comfy and vintage lighting to your stairs. You can also play with cool-tone LED strips for steel, black, or other plain railing designs; the choice is all yours.
17. Add Creative Touch
You can creatively experiment with LED strip patterns with a structured stair railing. For instance, installing colorful LED strips below the railings will be brilliant if you have a glass railing. You can also try DIY strip lighting to fly in your creative world. How about bringing an ombre effect by mixing different color strips? Won't it be fantastic? Take blue and green LED strips and install them side by side in the lower portion of your glass railing. You will be amazed by the color combination it will bring out. This way, you can experiment with other color palettes, i.e., pair up yellow and green, red and blue- options are endless.
Best LED Strips For Stair Lighting
You must know about different types of LED strips to light up your stairs. Here are the options available for stair lighting with LED strips-
Single Color LED Strips
Single-color LED strips are the most common variants. If you want DIY stair lighting, these strips would be best. They are available in various colors, including- red, green, blue, yellow, amber, pink, and UV. They are highly customizable; you can choose strip lengths, voltage, IP ratings, color temperature, and more.
RGB LED Strips
RGB LED strips bring a colorful effect to your stairs. They combine the lighting of three basic colors- red, green, and blue to produce millions of hues. Installing these strips to stairs of commercial areas like- restaurants, amusement parks, and pubs work best. Besides, with a smart controller, you can take the entire control over the light colorings.
Dim-to-Warm LED Strips
Dim-to-Warm LED strips are excellent for lighting stairs of your house. They give you a warm and cozy candlelight effect on your stairs. You can dim them as per your mood to create the appropriate ambiance for your stair area. So, if you have stairs inside your apartment, you can choose these strips. It will create a more homely atmosphere and welcome your guests with warmth.
Tunable White LED Strips
Tunable white LED strips are color temperature adjustable strips. They allow you to change the lighting from warm to cool anytime. The adjustability of color temperature for these strips usually ranges from 1800 K to 6500 K or 2700 K to 6500 K. Placing these strips in stairs, you can quickly change the entire atmosphere of your stair area instantly from yellowish lighting to a bluish one!
Addressable LED Strips
Installing addressable LED strips can be a game-changing move to your stair lighting. These strips have IC installed in the PCB, which controls the illumination of each segment separately. Using these strips, you can bring multicolors running throughout the stairs. If you want a rainbow effect on your stairs, addressable LED strips are your best option.
Motion Sensor LED Strips
These LED strips have the latest technology that can detect motion and glows responding to it. Motion sensors in these strips allow it to turn on automatically when you step on the stairs. And it turns off as soon as you remove your feet from the stairs. These functions complement the best smart homes. So, go for these strips if you want to bring uniqueness to your space.
How To Install LED Strips In Stairs?
Installing LED strips to your stairs is not rocket science; anyone can do this. Here is the stepwise procedure, following which you can install strips to your stairs by yourself-
Step-1: Selecting The Suitable LED Strips For Stairs
The first step for lighting up the staircase with LED strips is purchasing the ideal ones. You will find many LED strips, from single colors to digital color-changing strips. Besides, here are the facts that you should consider in selecting the strips-
Brightness: Go through the lumen ratings; the higher the rating, the brighter light it will provide to your stairs
LED Density: Going for highly dense LED strips will give an even seamless lighting effect. But if you go for low-density ones, they will produce dots when lighted up.
Color: LED strips are available in a wide range of colors. Besides going for plain colors, you can go for adjustable color temperature strips like dim-to-warm or tunable white. And for bringing more color to your stair, RGB strips are best, But for more advanced lighting options, go with addressable LED strips.
Voltage: The 5-meter/reel LED strips are available in two voltage ratings- 12 V, and 24 V. Yet, the long strips of constant current and voltage have higher voltage ratings.
IP Ratings: If you are lighting outdoor stairs that face weather conditions like- dust, rain, and flood, go for higher IP ratings- IP65, IP67, and IP68. Higher the rating better protection it will provide. For more information, you can read A Guide to Waterproof LED Strip Lights.
So, consider this factor and give preference to your taste to get the one that suits your stairs best.
Step-2: Taking Stair Measurements & Sizing The Strips
After selecting the strip, it's time to determine how many strips you require to cover the stairs. Place measurement tape on the top step to the bottom of your stair if you want vertical lighting. But, if you place the strips along the tread, measure each step horizontally.
LED strips usually come in 5 meters/reel. But the super-long series can get as long as 60 meters/reel. However, choosing the strip length is easy because they are easily cuttable, and you can reconnect when needed. Yet, for large-area installations joining multiple strips together is complicated; in this case, going for long strips is a wise move. To know more about the strip lengths, check out What Are the Longest LED Strip Lights?
Step-3: Polarity Matching
Once you have sized the LED strips to your desired length, lay out the LED strips, connectors, channels, wirings, and other parts. In this case, you must keep the polarity of all the elements accurate to ensure continuous current flow through the strips, connectors, and power source. The lights will only glow if the polarity is ok. So, arrange the parts so that the positive ends meet the positive and the negative ends meet the negative.
Step-4: Soldering / Connecting & Testing
After matching the polarity, you can connect the strips using an LED strip connector or soldering. Connectors are the most convenient and quickest way to join the strips. Yet, soldering is always the best option for a robust and more stable connection, especially when lighting outdoor stairs.
Once your soldering is done, connect it to the power source and test whether it glows. This testing phase is essential. That is because fixing the wiring would be a massive workload if any issue is found after installation.
Step-5: Preparing the Installation Area
LED strips have an adhesive backing for flexible installment. And to ensure the adhesive seats are properly to your stairs, give them a proper clean to remove all dust and debris. You can use a wet cloth and rub the area neatly for this. And let the installation section of the stair dry. Now, your stair is ready for LED strip mounting.
Step-6: Mounting The LED Strips To The Stairs
Remove the adhesive backing of the LED strip, and place it in the targeted area. Press the strips to the surface to ensure it sticks properly. To strengthen the mounting, you can clip and secure the LED strips. It will seal the strips completely to the surface and prevent falling off. You can also use aluminum channels to install the strips. Know more about LED strip mounting techniques from this- Installing LED Flex Strips: Mounting Techniques.
Step-7: Power Up The Strips
After mounting the strips, connect them with the driver; now turn them on and see your stair glowing. If the light doesn't glow up, check the connections; and polarity. Solve if you find any issues, and your strips will surely glow.
Thus, following these simple steps, you can quickly install LED strips on your stairs.
FAQs
The Bottom Line
With LED strip lights, you can quickly illuminate the stairs in the most effective way possible. Experimenting with different light colors and color temperatures adds more fun to your stairs.
However, choosing a quality LED strip is essential for the best lighting results. In this regard, LEDYi can be your ultimate choice. We have a wide range of LED strip lights suitable for all types of stairs, indoor or outdoor. All our stips are laboratory tested, certified, and of premium quality. What is more impressive about our LED strips are customization, OEM, and ODM facilities. So, if you plan to light up your stairs, contact LEDYi dynamic sales team soon!