Wondering how to light up your coffee shop to grab customers' attention? No worries, you are just at the right place!
Start with the outdoor lighting of your coffee shop by illuminating the entrance area. Go for neon signage or glowing name boards that customers can see from a distance. Regarding interior lighting, you must first ensure proper ambient lighting targeting the shop's ceiling. Next, go for task lighting in the areas like the Barista station, billing counter, dining area, etc. Besides, accent lighting and decorative play a crucial role in enhancing the outlook and thus increasing engagement in your cafe.
Read the entire article for more ideas to light up your coffee shop. Here I've added 27 brilliant ideas and some tips and tricks to implement in your cafe. So, let's get started-
The lighting requirement of all sections of a coffee shop is not the same. Some parts require task lighting, while others require accent lighting. And to bring the proper lighting effect to your shop, it is better to divide the interior and exterior of your cafe according to its purpose and usage. Then light them up as per the requirement. But you don't need to take the hassle; I've sorted this out. Check the below discussion; you will find numerous coffee shop lighting ideas for each section-
A. Exterior Lighting Of The Coffee Shop
The exterior lighting of a coffee shop is crucial as it grabs the customers' attention. And encourage them to enter your coffee shop and take service. Here are some amazing exterior lighting ideas for coffee shops. Check them out-
1. Pop-Up The Name Of The Coffee Shop
A name board is an essential element for branding a coffee shop. Here choosing an illuminated name board can change your shop's entire outdoor lighting game. Choosing LED neon flex to create excellent signage is the best way to get a glowing shop name. These are excellent alternatives to traditional glass neon lights. (To know the difference between LED flex lighting and traditional glass neon lighting, check this article- Glass Neon Lights vs. LED Neon Lights.)
LED neon flex is super flexible; you can bend them at different angles for the desired shape. So, you can quickly structure letters or logos of your coffee shop using these flex. The bright and popping color of these lights will make your shop visible from a distance. And thus welcome customers in the most attractive way possible.
Besides, IP68-graded PU and silicon LED neon flexes can resist extreme weather conditions like wind, storm, or heavy rain. And this makes these fixtures ideal for outdoor usage. Besides, you don't need any professional help to install these fixtures. They are cuttable and straightforward to mount; you can do it yourself. Thus, these will save your installation cost too. To get a neon flex customization idea, check out – How to Make a DIY LED Neon Sign.
2. Use Focus Lights On The Entrance
Installing directional lights facing your entrance area is an excellent move to highlight your coffee shop. You can use hanging fixtures, spotlights, track lights, etc., to brighten your shop entrance. Famous coffee shops like- Starbucks, Catawba Coffee Co., etc. have this kind of focus lights on the entrance. Besides, LED strip lights are also a great option here. Install these light fixtures outlining the name board to pop them up. You can also mount them on your shop doors and windows. This will create indirect accent lighting for your shop that will look great at night.
3. Add Open Or Close Signage
Adding open or close signage is a wonderful way to interact with your customers about your shop's state. You can quickly design these types of signage with LED neon flex and install them outside your coffee shop. If you have a glass-walled shop, install them directly on the walls. You can also create such signage on a board and hang it before the coffee shop. However, you can also go creative by adding coffee cups or coffee bean signage outdoors. This will enhance the ambiance of your entire coffee shop.
B. Counter Lighting
A coffee shop's counter section includes billing, ordering, and Barista stations. So, undoubtedly it is the most crowded section of the cafe where every customer has to approach. And that is why proper lighting in this section is a must. Here I brought you some fantastic coffee counter lighting ideas.
4. Using Neon Signage In The Back Wall Of the Counter
Besides installing coffee shop names outside your cafe, you can also try putting them on the back wall of the counter. This will not only work as a branding strategy but will also enhance your cafe ambiance. For instance, when customers take pictures at your cafe, the popping neon shop name will be a smart marketing move. Besides, you can also shape your shop logo using LED neon flex – this will also look amazing.
5. Illuminate The Coffee Station
The coffee station is one of the most attractive sections of a coffee shop, especially when you have a professional live Barista setup. You have several lighting options in hand to light up this section. For instance, add small recessed or pot lights above the station. You can also experiment with hanging halogen lights to give an aesthetic vibe. Next, add LED strips under the shelf of your coffee station. Try adding these strips under or behind your coffee machine. The hidden lighting effect will look great. You can also add these lights to your cup section.
However, when lighting coffee stations, ensure adequate task lighting as this is the spot where the real magic occurs. For this purpose, spotlights or track lights work best. You can also light up the menu and hang it behind the Barista station; this will look great.
6. Add Accent Lighting Using LED Strips
To highlight the counter station, go for accent lighting with LED strips. Install these strips along the edge of the counter table. Try making a hidden lighting effect; this gives your counter an elegant ambiance. You can also add these lights on the shelves of the counter or behind the computer screen of the ordering and billing section. Small hanging pendant lights will also look great to complement this light setting.
7. Mount Decorative Lighting On The Counter
Want to give your coffee shop a fancy outlook? Go for decorative lighting fixtures like pendant lights or hanging smoked lights. Adding multiple small decorative lights to the counter station looks great. Depending on your cafe's interior, you can go for a warm or cool light color. However, small lantern lights will also look great to bring a vintage vibe to your shop. Go creative to add wow effects to your lighting. For instance, combining antique light fixtures with mirror artwork will bring fantastic outcomes.
C. Coffee Menu Lighting
Menu lighting is a creative approach to highlight the food items of your coffee shop. This will help the customer to check the menu from a distance and decide what to order. Here are some fantastic menu lighting ideas for your cafe-
8. Go For Rainbow Lighting Around The Menu
If you have a colorful-themed coffee shop, rainbow lighting around the menu will look amazing. In this case, the best option is going for LED strips. Here you can choose different colors of strips and line them following the rainbow sequence. It is optional to use all seven colors of the rainbow; 3 to 4 colorful strips will also look great, creating an ombre effect. However, the best option for rainbow lighting is an addressable LED strip. They have individual circuits controlling different strip parts, creating multicolor lighting. That is, you will find all colors in a single strip flowing one after another, just like a rainbow.
9. Use LED Display Menu
LED display menu is the most typical menu lighting for cafes and other fast food shops. This includes a LED screen that displays the menu brightly. Even the customers seated far from the menu can clearly check the pricing of food. Besides, this type of menu is easier to maintain. However, you can outline the display menu with an LED strip or neon flex from underneath to add an extra dimension. It will give a hidden floating effect to the menu and enhance the cafe's interior outlook.
10. Hanging Lights Over Menu
Having a simple, traditional, or rustic-patterned coffee shop? Try hanging lights over the menu to complement the shop's interior. Here you will find a variety of options for choosing the light fixture. For instance, hanging lamps, small pendants, or wooden-case halogen lights will work excellently. Besides being a modern touch, you can install spotlights, track lights, or angle-adjustable recessed light fixtures to direct light toward the menu. This will focus the menu and brighten it to pop up.
D. Dining & Seating Area Lighting
The lighting of dining and seating of regular coffee shops are kept very simple and plain. Unlike fancy restaurants, bulky light fixtures like chandeliers are usually not used in cafes. So, keeping the atmosphere of a coffee shop in mind, I've listed some trendy lighting ideas for the seating section. Here they are-
11. Give Preference To Natural Lighting
Giving preference to natural lighting is a crucial factor that you must note while lighting your coffee shop. Don't miss utilizing the beautiful daytime light to your cafe's ambiance, especially when you have a glass-walled shop. This will bring a natural glow to your coffee shop and save electricity costs too. Besides, at night, the reflections of street lights and cars will also connect the interior lighting to the outside.
12. Installing Big Hanging Lights Over The Table
You can experiment with big hanging fixtures to create a statement with your coffee shop interior. Placing such lights over the tables will add uniqueness to your cafe decoration. Numerous hanging fixtures are available; these include pendant lights, lanterns, smoked glass lights, and more. Besides, you will find a wide range of designs in these categories. You can also go for bamboo or paper-made decorative lights to bring a more artistic ambiance to your coffee shop. This will be a great move to boost your decoration and attract customers.
13. Side Wall Lighting
Usually, ceiling lighting is given preference for coffee shop lighting. But to bring uniqueness, try adding side wall lights too. You can go for wall sconces for each side table. This will bring a dimension to your cafe interior. Lantern side wall lights are also excellent for creating a vintage look. The warm colors of these lights bring a cozy atmosphere to your space. However, if you don't want much drama; and want to keep lights simple, a plain globe light can be your go-to move. But I suggest going creative and bringing some wow factor into the lighting that pulls customers toward the cafe.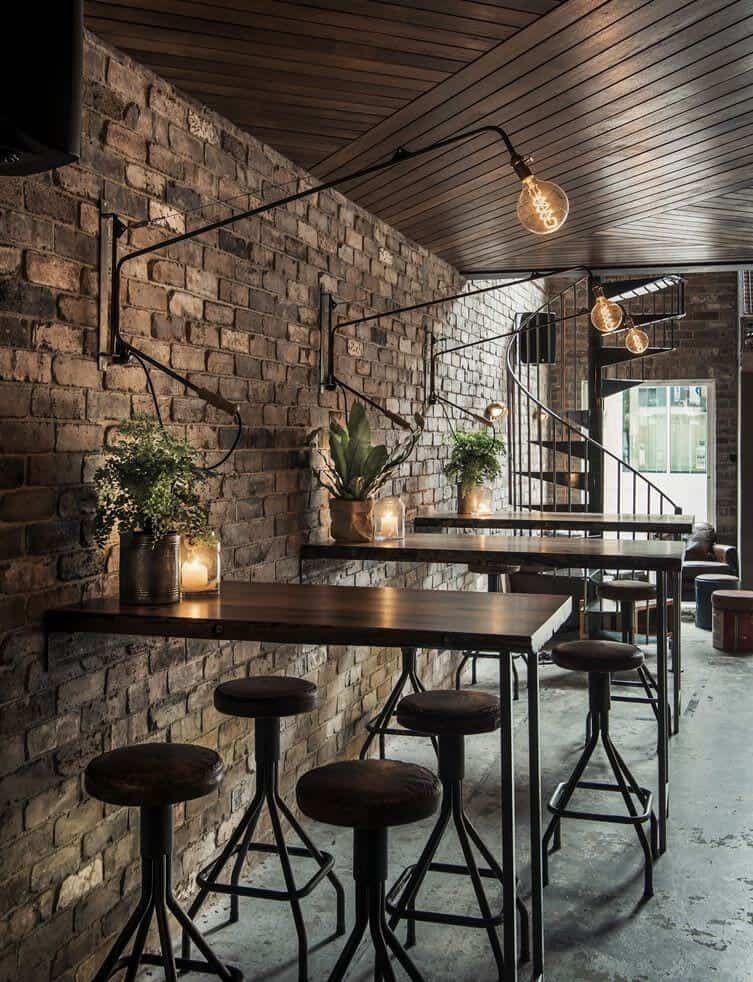 14. Adding Small Table Lamps For Each Table
Setting small LED table lamps will create a romantic ambiance in your cafe. This type of lighting suits outdoor cafes best. Imagine a moonlit night, an open sky, and having hot coffee with your favorite person in this outdoor light set. Won't it be amazing? Using such creative lighting ideas, you can grab couples' attention and make your cafe a famous dating spot. Undoubtedly these will be an excellent move for your business. In fact, why not try decorating your space with a love theme? This will complement the table lamp setting the most. Instead of table lamps, you can also try the same setting with LED candles. To add an extra effect, get decorative string lights into your lighting bucket too!
15. Go For Designed Pendant Lights
Do you want to give your simple cafe a gorgeous outlook? Designed pendant lights are your go-to option. First, decide on a theme or pattern for your cafe design, then choose the light fixture. For example- if you have wooden tables at your cafe, try wooden cut pendant lights that match your cafe theme. Or, if you want to bring a dramatic effect, try mirrored pendants or bamboo-made fixtures. This will work great to attract photogenic customers. You can also add designer lamps or signage to create a photoshoot site for visitors.
16. Add Circular Lights To Bring a Casual Vibe
When it comes to choosing designer lights, the option is non-ending. You can select fixtures of any pattern for your cafe table to make a statement look. In this case, cylindrical or circular hanging lights are excellent choices. Hang multiple circular lights above the table, mix-matching different sizes. This will add an extra dimension to your cafe area. However, you can also go DIY to bring this lighting effect. Take some hanging bulbs, and surround them with flexible plastic boards. Now, paint both sides of the board; here, you can use contrasting colors for the inner and outer sides. This will create an artistic vibe rather than going for the same color on both sides. Doing such DIY hacks for lighting your cafe will save your decoration cost and give your space a casual ambiance. Undoubtedly, this cafe outlook will fit having coffee timing with friends, family, or even casual business meetings.
17. Bring a Minimalist Coffee Table Look With LED Strips
LED strips are excellent for ceiling lighting, but you can install them to highlight your coffee shop tables too. Install these strips on the side walls of the cafe; mount them either on the top or from the bottom to create a magical lighting effect. You can also add LED strips on all four sides of the walls. To experiment more, add these fixtures right underneath your cafe's seating sofas and tables. This hidden lighting effect will work excellently to enhance your cafe's ambiance. However, warm lights suit such lighting best. Yet, you can go for cool lights considering your cafe's decoration and furniture.
18. Try Smokey Warm Lights
Want to give your coffee shop an elegant look? Go for glass-smoked lights. These lights can have black, golden, or colorful smoked effects. Hanging these lights in layers in the dining area will look amazing. The soft yellow light passing the smoked glasses will give your cafe an aesthetic ambiance, especially at night. Besides table lighting, you can also install these fixtures on your coffee counter. And to complement the lighting, add mirror work pieces or paintings on the side walls. Try finding a more exclusive design idea that blows customers' minds. And with such lighting, customers won't resist clicking and posting photos on social media. This will work as a marketing strategy and help you recognize your cafe.
E. Coffee Shop Restroom Lighting
You might not know how much girls love to click mirror photos in the cafe or restaurant's washrooms! So, to keep up with your customers' expectations, don't skip a beat to light up the restroom in the best possible ways. Here are some ideas that you can implement for your cafe-
19. Mirror Lighting With LED Strips
To bring uniqueness to your coffee shop's washroom, go for mirror lighting. Install LED strips behind the mirrors; here, you can mount the stripes on any parallel sides or wrap the strips around the mirror, covering four sides. Both ideas would look brilliant, giving a floating mirror effect. Regarding light colors, I suggest you go for warm tones. This will create a cozy and welcoming atmosphere. However, you can also exp[eriment with LED neon flex to give your restroom a quirky vibe.
20. Add LED Mirrors
Usually, restaurant or cafe washrooms have multiple mirrors arranged in a serial. Instead of repeating the same, use a large LED mirror that covers single or numerous sinks. This idea would be excellent for bringing a modern touch to the restroom. However, you can also choose multiple small LED mirrors rather than a big one. They are available in circular, oval, square, or rectangle shapes – select the one that suits your cafe washroom best. Install small recessed lights to the ceiling to complement the LED mirrors' glow. Avoid bulky or fancy fixtures; keep them as minimal as possible to make a sleek statement.
21. Install Designer Pendant Lighting
Installing any hanging fixture before your mirror would be an excellent move to enhance the beauty of your cafe's washroom. Here the options are unlimited; you can go for simple glass smoked lights to gorgeous pendant fixtures. Undoubtedly your customers would love the ambiance implementing such decor. And Gen Z now love to make Instagram or Tik Tok reels on restaurant restrooms, and I bet this would be the most attractive zone for them.
F. Theme-Based Coffee Shop Lighting
Instead of random lighting, you can create them based on light settings. This will provide a compact and organized outlook to your coffee shop. Here are some theme-based coffee shop ideas that you can implement-
22. Elite Style Lighting
Simple but modern pattern light setting is given preference to bring an elite style look to a coffee shop. To implement such a theme, choose light fixtures like- LED strips, recessed lights, simple pendant lights, smoked glass lights, or fashionable flush mount lights. LED strips work best for elite-style coffee shops; the hidden light effect created by these fixtures brings a soft and aesthetic ambiance. You can also go for cove lighting for the ceiling. Complement the look with minimal furniture; avoid loud color when decorating the interior. To give your coffee shop an air of aristocracy, neutral colors like white, black, and brown are great. And for light color, warm or cool, both will work fine, based on the interior decoration.
23. Rustic Coffee Shop Lighting
Rustic-style coffee shops are the easiest category to design. Here you are free to add any accessories that suit your choice. Generally, this type of face has brick walls and wooden furniture or interior that gives them a rustic look. Lamp-style hanging lights, wooden case lights, or halogen bulbs suit rusticness best. Always go for warm color light while designing for a rustic theme; this brings an antiqueness to your interior and intensifies the cafe theme. However, to complement the light setting, go for some additional lighting decorations. For instance, add spotlights on the menu board, long hanging lamps to the coffee station for sufficient task lighting, and more.
To bring aestheticism, try attaching artistic pieces to the cafe wall. How about hanging an old model cycle on the wall? Won't it be cool? Install LED strip lights underneath the cycle tire to create a floating effect; neon flex works great here. And for further decoration, mount some antique or black and white photo frames on the side walls. You can add track lights above to focus the wall. This way, you can design an effective rustic theme cafe on your own.
24. Floral Theme Coffee Shop Lighting
Floral theme cafes are now on trend. This type of themed cafe focuses on single-color flowers or multi-colors and is designed based on it. Pink, blue, and white colors are the most common approach for flower theme coffee shops. The interior design of this type of coffee is mainly based on fairy tale inspiration. And to complement this fantasy ambiance, lite fixtures like crystal lamps, designer pendants, glass lights, or simple globe lights work best. For floral-themed coffee shops, soft and whitish warm-tone lights suit most rather than going for too orangish or bluish lights. You can also use fairy lights to intensify the blooming flowers around the cafe. Add LED mirrors to any cafe wall, especially in front of the entrance area, or create a photo booth to add uniqueness to your decoration. This will attract customers to your cafe. However, don't only focus on lighting and flowers; the furniture of the coffee shop should also match the theme, so keep that in mind.
25. Funky Coffee Shop Lighting
Funky coffee shop interior design is about building a relaxed and playful atmosphere for spending quality time with friends and family. Here, colorful and vibrant lights are given preference to match the cafe theme. RGB LED strips would be an excellent selection to light up casual theme cafes. You can add them on the ceiling as cover lighting, below the tables, or use them for menu and counter lighting. Recessed lights on the ceiling and using spotlights to focus on specific cafe areas will be a great decision. Add neon signage on different shop sections to make your cafe more attractive. Besides, using neon flex strips, you can light up funny and cool quotes or signage on the wall. This will complement the quirkiness of the theme.
26. Library Theme Coffee Shop
Coffee and books are the best combinations ever! And to give a shout-out to this combination, you can design your coffee shop with a library theme. Bookshelf is the focal point of a library-themed coffee shop. So don't skip any beat to light up this section as best as possible. Go for pot lights on each self to highlight the books. Using LED strip lights to outline the self from the inside will also be brilliant. This will create a hidden lighting effect and make the books feel like floating in the air. Besides, add sufficient lighting facilities to each table so that the customers don't feel discomfort while reading books and having coffee. To complement the library setting, use minimal light fixtures for ambient lighting. And for accent lighting, try installing track lights, spotlights, or simple wooden case lights. You can also experiment with halogen bulbs to give a warm touch to the cafe. Book lovers would love to spend hours in your cafe, and such decoration will also attract photogenic customers to click artistic photos.
27. Outdoor Coffee Shop Lighting
The concept of an outdoor coffee shop is getting popular day by day. If you have an open space outside your shop or on the rooftop, use it in the best way to uplift your cafe service. While choosing the light fixture for outdoor use, always check the IP ratings. Light fixtures with higher IP ratings are a must for exterior lighting. This saves your light fixtures from extreme weather conditions like heavy wind, dust, and rain. Fairy lights are the best option for outdoor coffee shop lighting. Besides you can also add LED strips to your lighting; they will look great at night. Including these fixtures will undoubtedly create the most beautiful ambiance to go for a date or have coffee with your friends.
Types Of Lighting For Coffee Shops
While lighting up your coffee shop, you must combine different techniques to bring a compact outcome. Here are the most common lighting types for coffee shops-
Ambient Lighting
Ambient lighting refers to general lighting. It indicates the overall illumination of the space. While doing ambient lighting for your coffee shop, target the ceiling. Go for recessed or pot lights, LED strips, hanging fixtures, etc., to ensure proper lighting around the cafe.
Task Lighting
In a coffee shop, tasking areas include the coffee or Barista station, dining area, and counter. This area requires sufficient lighting to do the work properly. Here you can install spotlights or angular track lights. Hanging lamps or pendant lights are also famous for task lighting in cafes.
Accent Lighting
Accent lights must be brighter than general lighting. These lights are used to highlight a specific area of a room. LED strips, wall washers, and track lights are good options for accent lighting. You can add these fixtures to your coffee shop for accent lighting on the menu section, photo booth, or stairs to highlight the wall's texture or any art piece.
Decorative Lighting
The inclusion of decorative lighting fixtures enhances the outlook of your coffee shop. The main intention of a well-organized cafe is to attract customers' attention. And adding decorative lighting to your space will make the half work done. It will beautify your shop and encourage people to visit your cafe and thus boost your business. There are tons of options when it comes to decorative lighting. You can select pendant lights, hanging lamps, lanterns, smoked glass fixtures, halogen lights, and more. You can also go for DIY options to bring aesthetic lighting to your cafe; for example- try paper or bamboo lamps.
Logo Lighting
The logo or the name of the coffee shop is a mandatory section to light up. Using LED neon flex, you can quickly shape your shop's logo and install it outside the cafe to let customers notice from a distance. You can also use these strips to make quirky shapes or quotes to decorate the interior of your cafe.
Tips & Tricks To Follow While Lighting Coffee Shop
To bring the most effective lighting to your coffee shop, here are some tips and tricks that you should follow-
Give emphasis on daylight: Natural lighting is essential to lighting a coffee shop as it brings a sun-kissed effect in daylight. To ensure proper daylight inside your cafe, go for glass walls. This will allow enough light to pass into your space and glow it up. Going for such lighting will also save your electricity bills as you will not require to light the cafe in the daytime.
Choose either warm or cool tone light: Combining warm and cool lighting will create a mass. The ambiance of the entire cafe will be disturbed doing this. So, go either for warm or cool lighting.
Lighting must match with the interior decor: All fixtures don't go well with every cafe decoration. For instance, adding rustic lamps will not work here if you have an elite-style coffee shop. These settings require modern fixtures like LED strips, pendant lights, etc. Likewise, cafes with rustic wooden or brick infrastructure will not complement well with fashionable fixtures. Here you should add halogen bulbs or wood case lamps. So, keep the interior decoration in mind before installing any light fixture.
Avoid direct glare: Installing light fixtures pointing toward the eyes can disturb the customers. Mount fixtures so that it doesn't cause any issues to the visitor. For this, hidden lighting effects with LED strips are the best solution. For information, you can read What is Anti-Glare Light and How To Reduce Light Glare?
FAQs
The Bottom Line
Coffee shop lighting is not just about providing general lighting to the service providers and customers; it is more than that. Attractive lighting is, in fact, a marketing strategy to grab public attention. Customers will love to spend time at your shop if you have a wonderfully lightened cafe with stylish decorative lamps. Thus, it will increase engagement and boost your business.
There are different types of light fixtures to use in your cafe. For instance, use LED strips, recessed lights, or pendant lights on the ceiling. Install spotlights or track lights for accent lighting. However, LED strips are the most flexible and trendy light form among all these variants. You can include these fixtures in any area of your shop; ceiling, bottom, sidewalls, or to highlight areas. And to get premium quality LED strips, LEDYi is your ultimate solution.
We have LED strips with higher IP ratings and huge customization options for indoor and outdoor cafe lighting. Besides, if you want to add neon signage to your coffee shop, we also have LED neon flex. So, without further delay, contact us to take your cafe lighting to the next level!