A barber shop is just not about haircutting. It's a place where you relax and have your massage, spa, and skin care done. And for all these activities, lighting plays a crucial role.
When choosing a light fixture for a barber shop, you should divide the shop into different sections. And then select lights based on the activities and tasks for a specific zone. For instance, in the hair-cutting section, cool white light works best. Again, warm and cozy light suits excellently for the massage and spa section. Apart from all this, you should also consider the CRI ratings of the bulb, shop's height, light quality, etc., in mind.
As a lighting expert, I have worked with many clients who want to decorate their barbershops with proper lighting. That's why I made this blog to help you. So, let's explore choosing the perfect lighting for your barber shop-
Importance of Proper Lighting in a Barber Shop
Due to inappropriate lighting, haircutting, and shaving can significantly hamper. But how? Suppose you have installed beautiful hanging light fixtures in such a way that creates a direct shadow on customers' faces. Won't it be troublesome while providing the grooming service on such lighting? Of course, you will face issues with shaving and haircutting with this light setting. Shadows or inappropriate lighting will ultimately result in uneven trimming which will upset the customer. But with proper lighting, you can visualize everything accurately and give your clients a better hair grooming service. And this will allow barbers like you to offer a top-notch grooming service to your clients.
Furthermore, proper lighting can improve the barbershop's atmosphere. For example, warm and cozy lighting will make customers feel more comfortable. They would love a massage, facial, or spa in your salon. And so, the tendency of customer repetition will also increase. Besides, the lighting can also produce a polished, welcoming environment that attracts new clients.
Also, good lighting can impact the perception of space. The color of one's hair can also change and seem accurate. The space may appear more prominent when lit brightly. Furthermore, it helps smaller barbershops look posh and big. Additionally, proper lighting can improve hair color by highlighting the true shade. Therefore, it can help your clients in making knowledgeable choices regarding their hair care.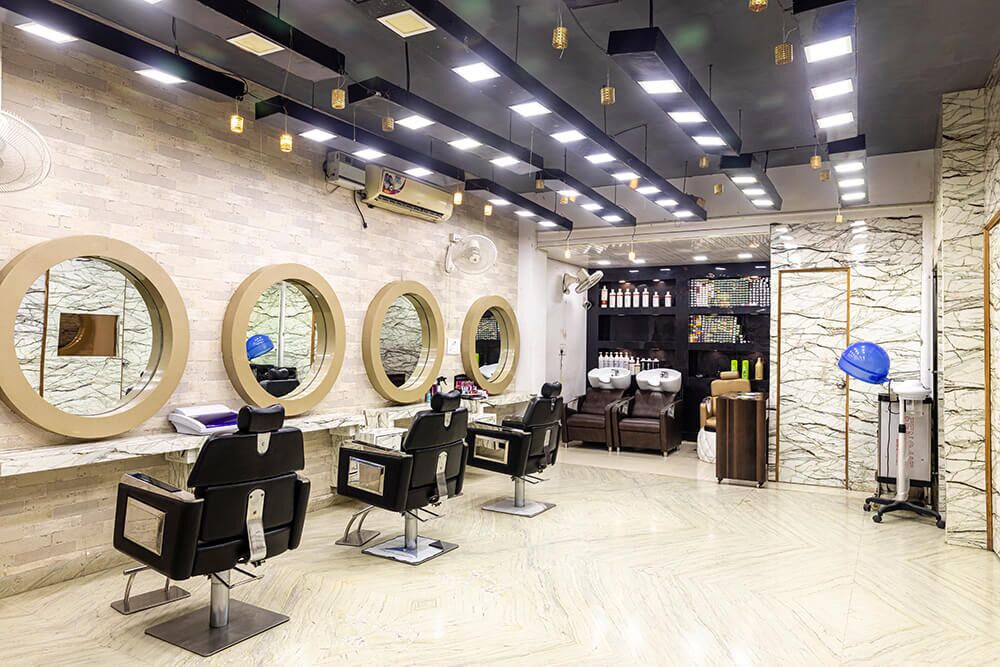 Considerations for Choosing Lighting in Barber Shop
Appropriate lighting for a barbershop gives customers a warm and inviting environment. Here are some factors to consider when you choose lightings for your barber shop:
A. Identify Your Lighting Requirements
The lighting requirement for every zone of a barber shop is not the same. For example, the shaving area's lighting requirement will not match that of the spa area. For massage and other relaxing services, soft light is preferable. If you install a bright light in this section, the clients won't feel their best. That is why you should identify the lighting requirements for each task and choose the brightness accordingly. Here I've suggested some recommendations that you can follow for your shop-
| | |
| --- | --- |
| Recommended Brightness Level (lux) | Area |
| 200-400 | Reception area |
| 100-200 | Waiting area |
| 300-500 | Shampooing stations |
| 500-1000 | Hair-cutting stations |
| 200-300 | Restroom |
B. Proper Light Layering
Layering light is essential to ensure your shop has even lighting all around the shop. And to ensure that, take the following points into consideration-
Consider shop size: Lighting requirements will vary based on the size of your shop. For instance, large shops need more light bulbs with higher brightness to provide adequate illumination. On the flip side, you can bring sufficient lighting in small shops using a few fixtures. Besides, you should also consider the comfort of the customer. In particular, installing a high-intensity light that creates direct glare will irritate your client. So, note these facts before choosing any light.
Determine the height of the ceiling: A higher ceiling can give the store the impression of space and openness. High-voltage lighting may be required to illuminate such a room. In this case, hanging light fixtures work best for proper task lighting. And if you have a low-height barber shop, recessed or pot lights are your ultimate choice. However, you can also use LED strips for accent lighting in high- and low-ceiling shops.
Placement of the lighting fixtures: You should place the light fixtures wisely because a wrong placement can create shadows. And this can hamper the entire ambiance of your shop. So, concentrate on the general lighting first and then highlight the essential sections like- workstations and mirrors. Additionally, you must pick the appropriate light color to make the customer feel comfortable.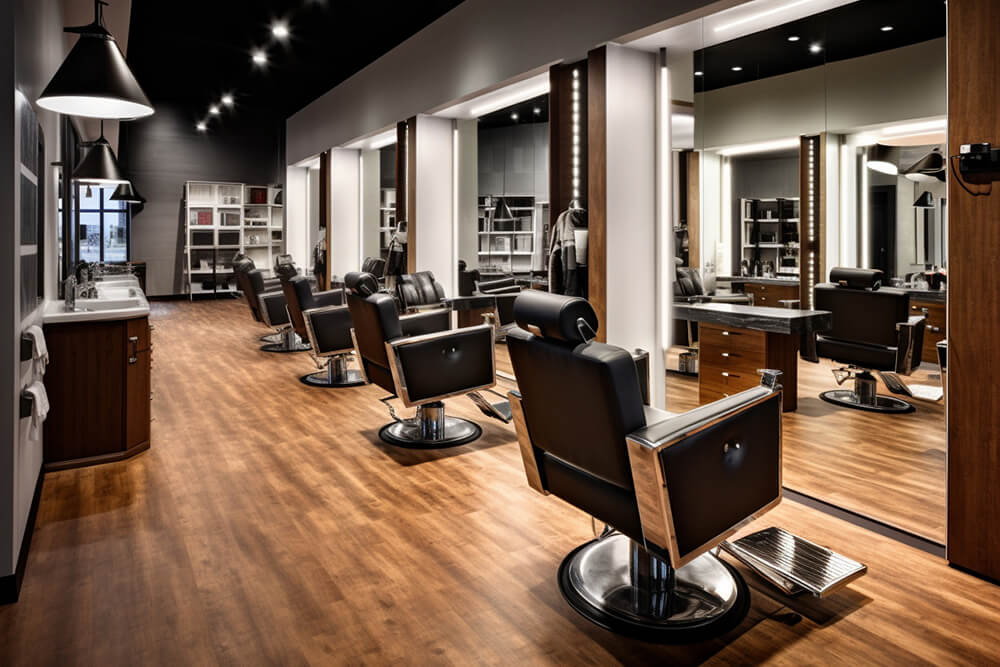 C. Choose the Right Type of Lighting
The right type of lighting creates the desired ambiance and sets the mood in any space. Here are some facts you must consider for selecting the right variant of lightings-
A. Color temperature: To choose the best lighting, you must consider the light fixture's color temperature, and brightness. Because light can have a warm or cool color temperature. And each kind is suitable for specific zones of the barbershop. Like- a cool color temperature of about 4000K is ideal for skin treatments. You can use these fixtures in the hair-cutting, shaving, and coloring area. Again for spaces that require a cozy ambiance, like the massage and facial section, warm white lighting (3000K) or extra warm white lighting (2000K-2700K) suits best.
B. CRI ratings: The hair color may appear different due to inappropriate lighting. That's why you should always go for higher CRI-rated light fixtures. Now, what is the CRI rating? CRI stands for Color Rendering Index, which deals with color accuracy. By installing fixtures of higher CRI ratings in your shop, you can provide better hair coloring services. Any rating above 90 will be perfect for your shop. So, be wise and choose the best option for you!
D. Quality Check
Before finalizing any light fixture, you must check the quality. Now, how do you determine if the light is of good quality? No, worries, I'm sharing with you some criteria observing which you can guess the quality of the product-
Look for certifications and safety ratings: Before choosing light fixtures for your barbershop, you should know about important certifications. Here are some certificates and safety ratings that will give you the surety of light quality-
Energy Star certification to get clarification on the energy efficiency of the light fixture. This will save the electricity cost of your barber shop.
UL and ETL certifications ensure the product complies with safety requirements.

Look for safety ratings such as Ingress Protection (IP) ratings as well. You can check IP Rating: The Definitive Guide to learn more about IP ratings.

If you want to install recessed lighting, check IC ratings. It is essential to have IC-rated lighting if your shop is insulated.
Check the warranty and return policy: The warranty of a light fixture directly or indirectly indicates the product's quality. So, choosing a light with an intensive warranty policy will be a wise decision. Namely- the LED strips of LEDYi come with a warranty policy of 3 – 5 years. By this time, you can contact us if you face any issues with the fixture. And such opportunities, of course, indicate the premium quality and reliability of our brand.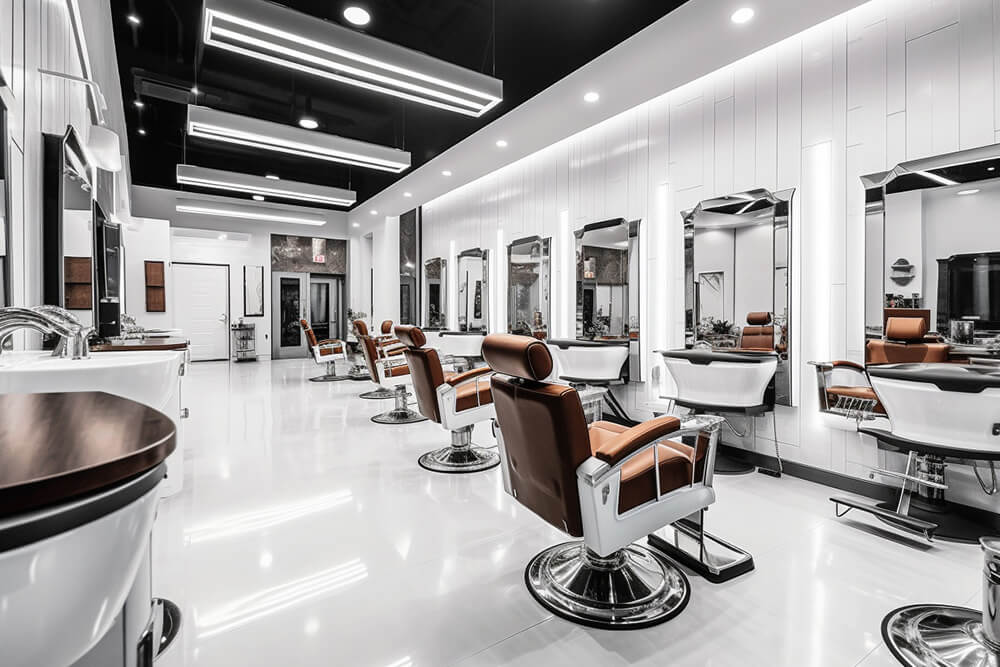 E. Think About the Cost
There are different types of light fixtures and brands in the market. Research them and find out the average cost for the entire process. Here are the two most important aspects of finding out the cost of light installation-
Calculate the total cost of installation: Once you have a budget, calculate the total cost of the installation. You should include the cost of the LED lights and any extra materials that are needed for the installation. Besides, you may need a technician for wiring and installation. Therefore, remember to add the cost of hiring an electrician. For more information, you can read How to Wire LED Strip Lights(Diagram Included).
Compare prices from different suppliers: Search for reputable LED light manufacturers by checking the reviews and ratings online. You can also browse user reviews to assist you in choosing the correct fixture. Besides, checking the pricing of the local shops is a brilliant idea to get an idea about the price.
However, visit our website at https://www.ledyilighting.com/ to find high-quality LED strips for lighting your barbershop. We offer a wide range of varieties and extensive customization facilities. You can also ask for a free sample to test our products.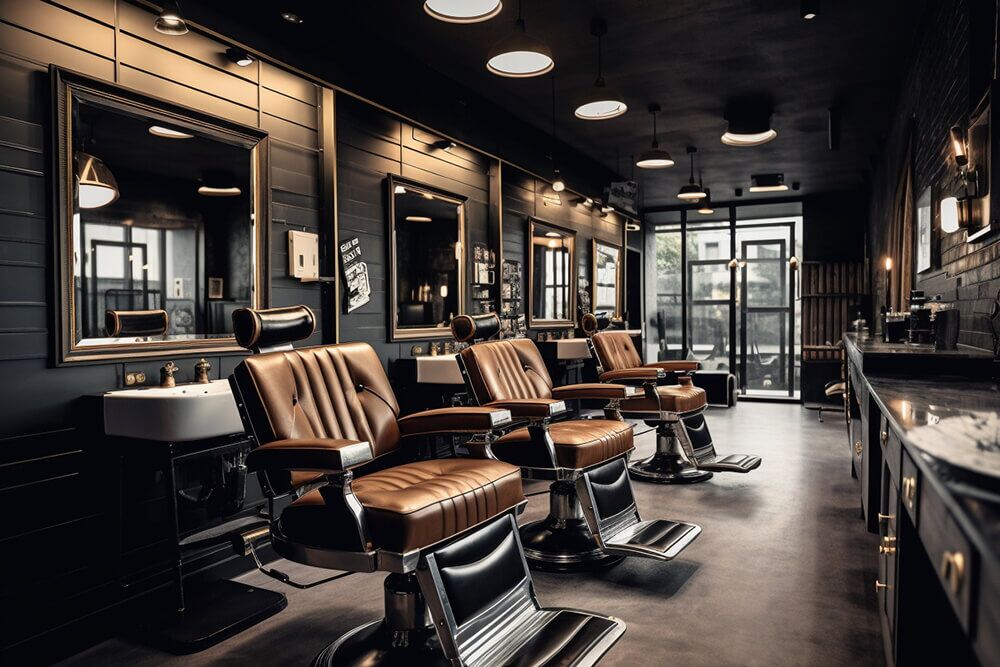 F. LED Lighting Fixture Installation and Positioning
Let's review installing and placing LED lighting fixtures in your barber shop.
Select an ideal location to install a light fixture: Before putting your LED lighting fixtures, make sure the location is perfect. First, check the setting of your barbershop. And decide which areas—such as mirrors, workstations, and the reception desk need more lighting. Once you have determined additional lighting requirements, select the LED fixtures that best fit your needs.
Ensuring secure and safe installation of the fixtures: Safety must come first when installing LED lighting in your barbershop. Here are some steps you should follow to maintain safety-
Make sure the fixtures are compatible with your store's electrical system.

Consult a licensed electrician for advice on installing the fixtures properly and securely.

Ensure the wiring is connected correctly and inspect if any exposed cables are dangerous.

To install recessed lights, you must check the IC ratings. A non-IC-rated bulb can be dangerous for insulated shops that may lead to unexpected fire outbreaks. Go through this article to learn more about IC Vs. Non-IC Rated Recessed Light Fixtures.
Testing and adjusting the lighting system: You should test the system after installing the LED lighting fixtures to ensure it works. But how to do that? No worries, check the below point to check whether the light fixture is installed correctly-
Look for any light flickering or fading illumination. This can point to a problem with the wiring or a broken fixture.

If you find this issue, contact an electrician ASAP. Change the fixtures' direction and angle to ensure the barbershop is lit equally.

If brightness is an issue, dimmer switches might also be an excellent addition to the lighting system. It will help you to change the brightness according to the time of day or the activity in the barbershop.
However, you might face some other issues with LED lighting. Read this article to learn more about them and also get the guidelines to fix them- 29 Common Problems with LED Lighting.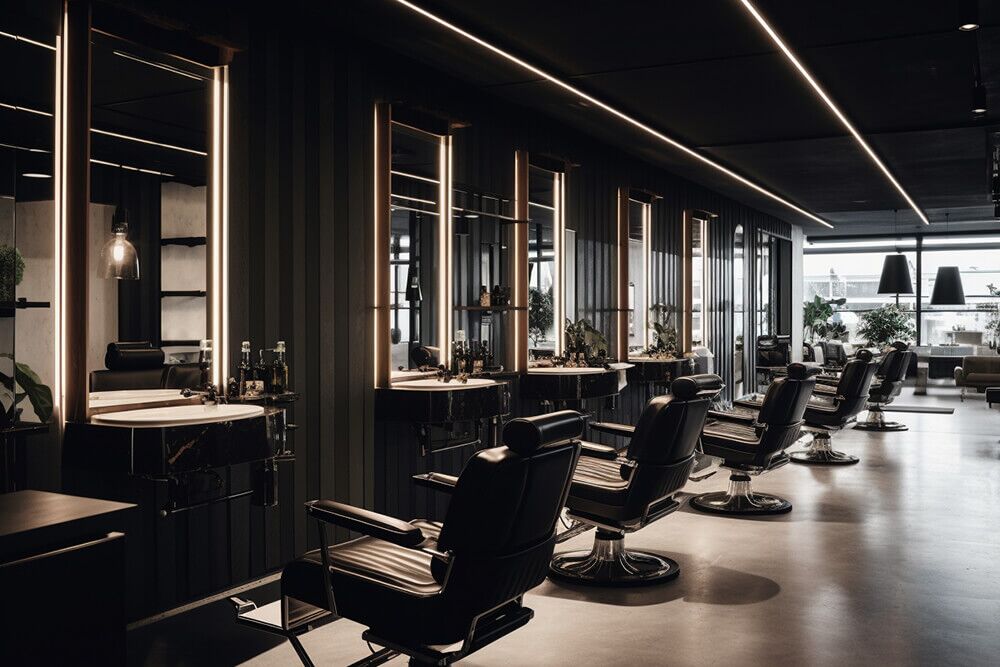 6 LED Strip Lights Ideas For Barber Shop
LED strip lights are excellent for your barber shop's general and accent lighting. Here are the top 6 ideas you can implement to give a sleek and modern look to your shop-
Accent Lighting For Mirrors
One of the best ways to use LED strip lights in a barber shop is to place them behind the mirrors. Doing so will create a dramatic backlighting effect. You can also install them in a pattern above your mirrors or on the edges. It will enhance the visibility of your clients' haircuts. This approach also works great when highlighting other features in your shop. It can be the shelves of your shop or the display cases. Thus you can provide adequate lighting for clients to see themselves during their haircuts.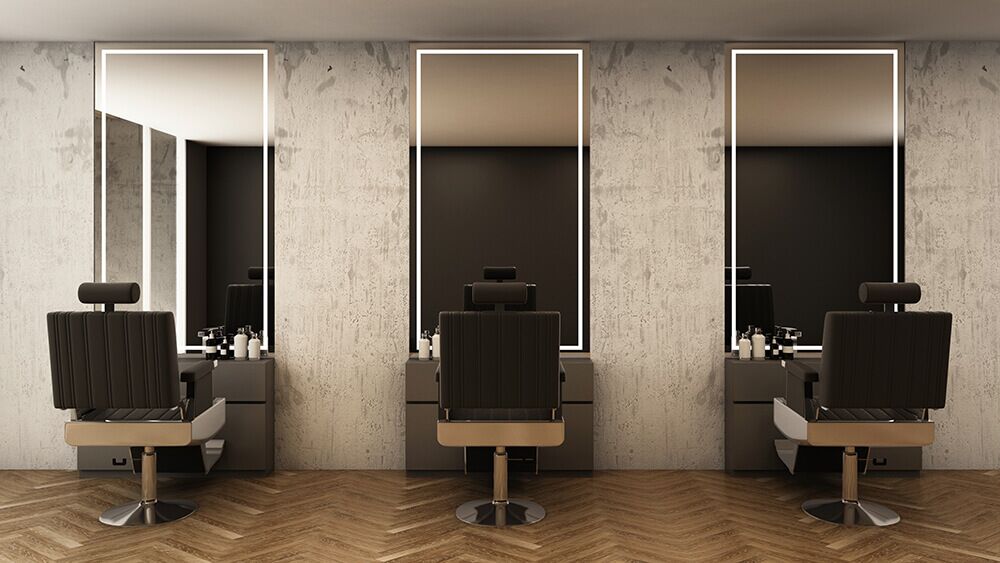 Backlighting For Shelves and Display Cases
A barber shop requires several shelves to arrange their products; it could be a hair gel, facial mask, and more. And to find your desired item in the mass of a thousand products can be troublesome. But if you arrange the shelves with adequate lighting, finding products will be much easier. And for lighting shelves and display cases, LED strips are the best options. Add them behind the stands and on the edges of the cases. This will enhance your shop's beauty and allow your customer to see the branded and high-end products you use for services.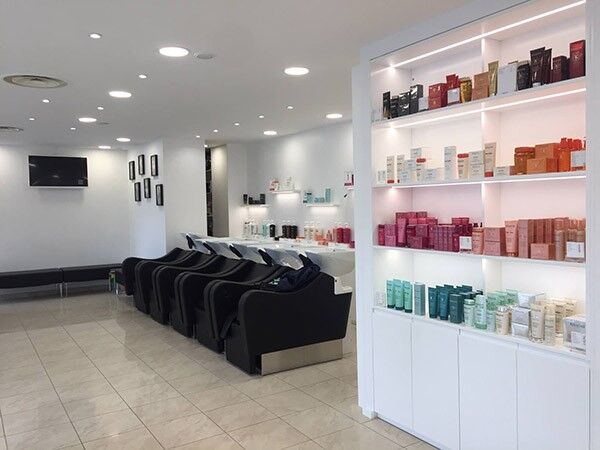 Illuminated Barber Poles
RGB LED strip lights are excellent for glowing up the barber shop poles. Start by wrapping the LED strip lights around the pole. You must evenly distribute and secure them with zip ties or adhesive tape. And finally, connect it to the power source, and it's all done!
Place the illuminated barber pole in a prominent location in the shop. It can be near the front entrance or reception area. Undoubtedly, this will add a visually striking element to the space. You can also customize the illuminated barber pole to match the shop's color scheme or branding. It will make a unique and memorable feature that customers will remember.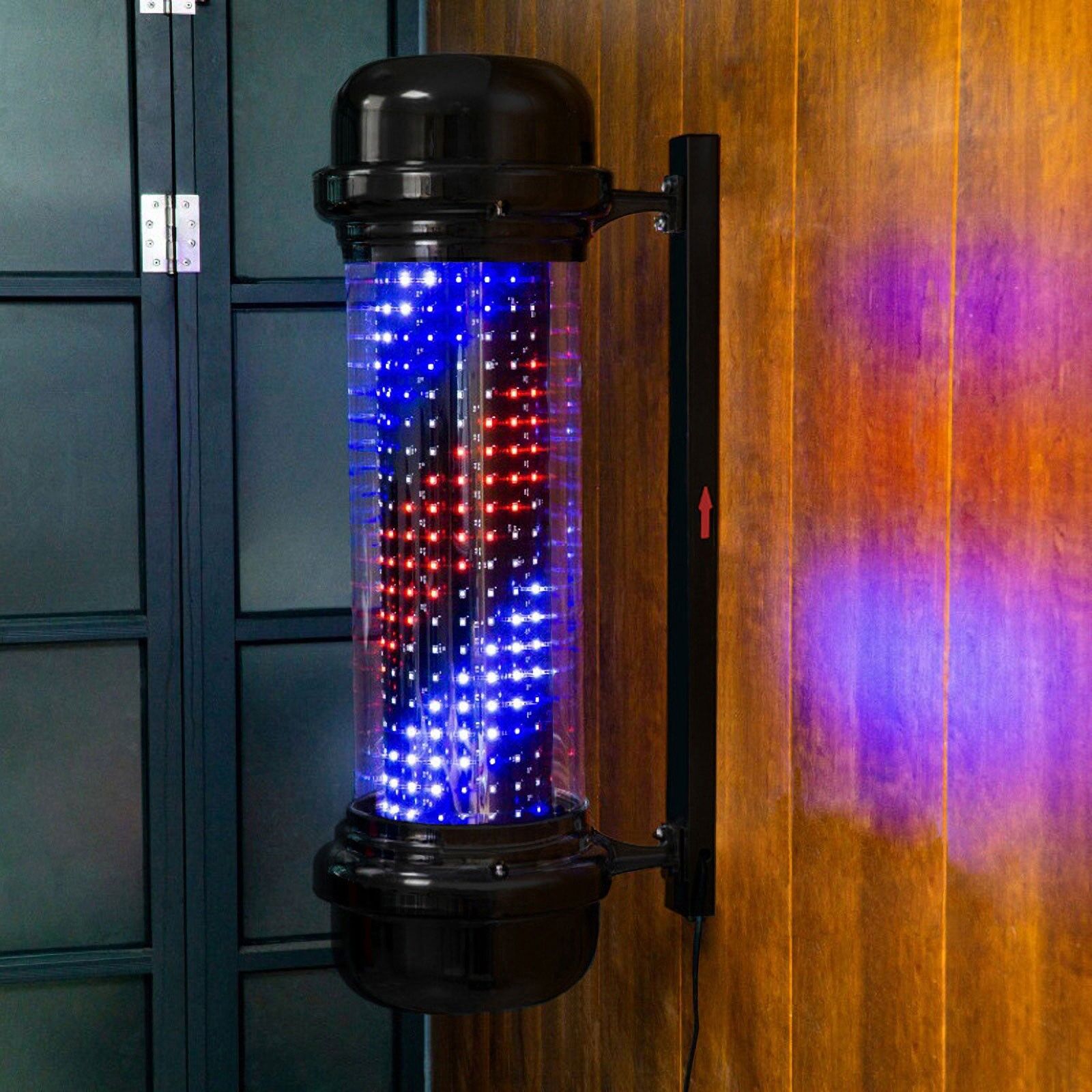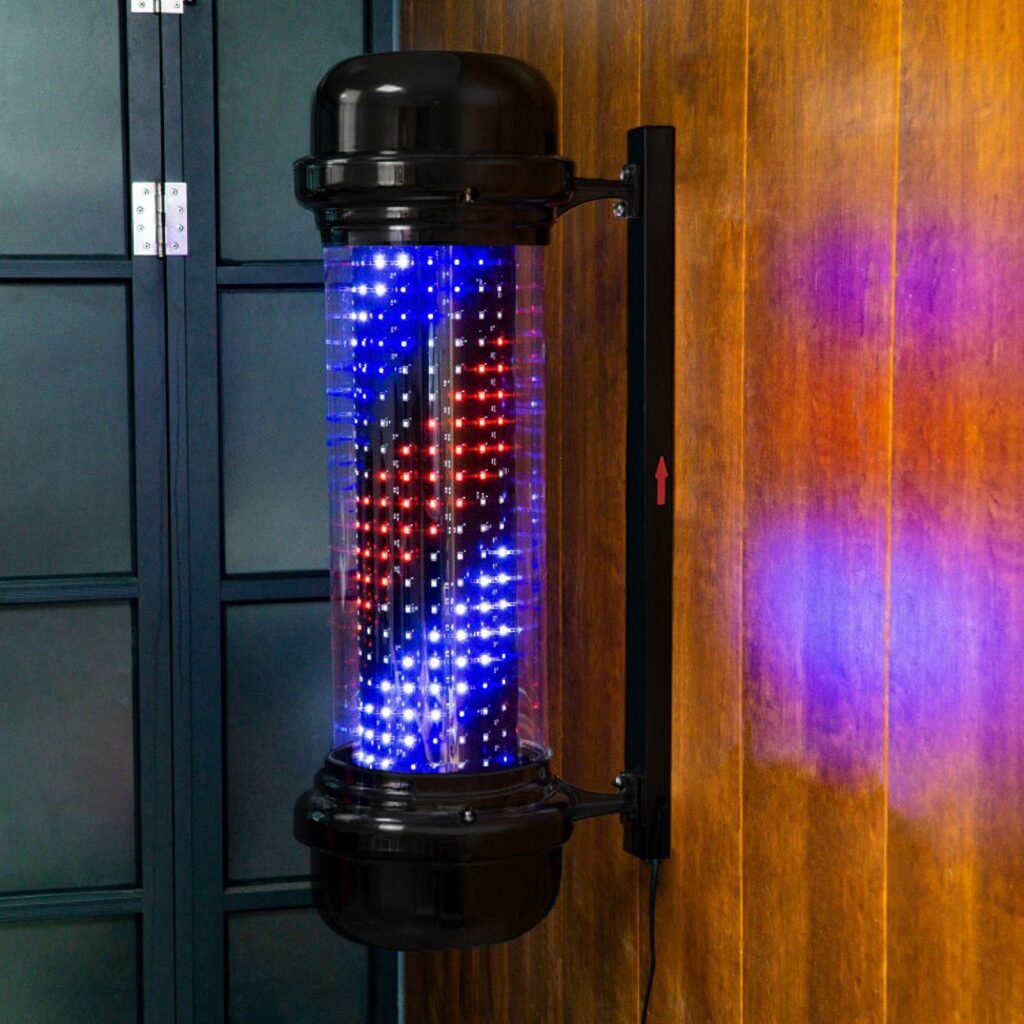 Signage With Neon Flex
Neon signage can give an attractive and quirky vibe to your barber shop. You can install them both indoors and outdoors in your shop. For instance, try designing your shop logo using LED neon flex. The popping color of these flex will attract customers to take service from you. Besides, you can also use these signage in the reception area or waiting room.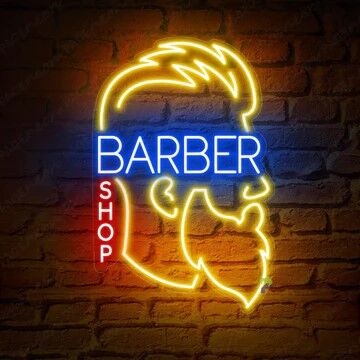 Task Lighting For Cutting and Styling Stations
For the ceiling, go for cove lighting with LED strips. And then, go for task lighting in specific zones of your barber shop. For instance, wrap the LED strips around the mirror. This will work as task lighting for haircuts and shaving. Besides, you can also add these strips in the reception for taking orders from your customer and more.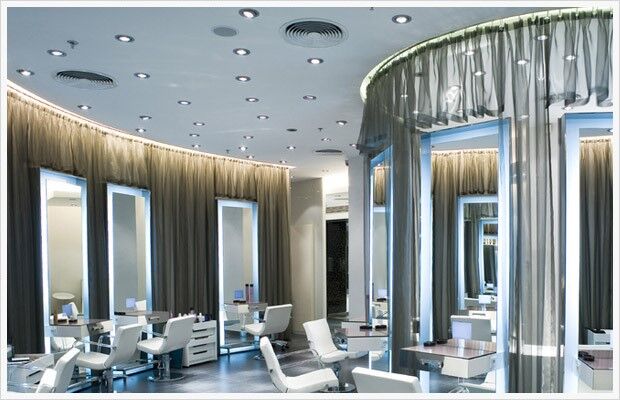 Highlighting Artwork or Decorations
LED strips work great for accent lighting. You can use them to focus on the special decorations of your shop. It can be any art piece or decorative piece. For example- think of outlining various hairstyle catalogs or hair color patterns with LED strips. This will allow the customers to select hairstyles from the display. And it will also let them decide what they want quickly. So, your customer will surely choose your shop for the next service.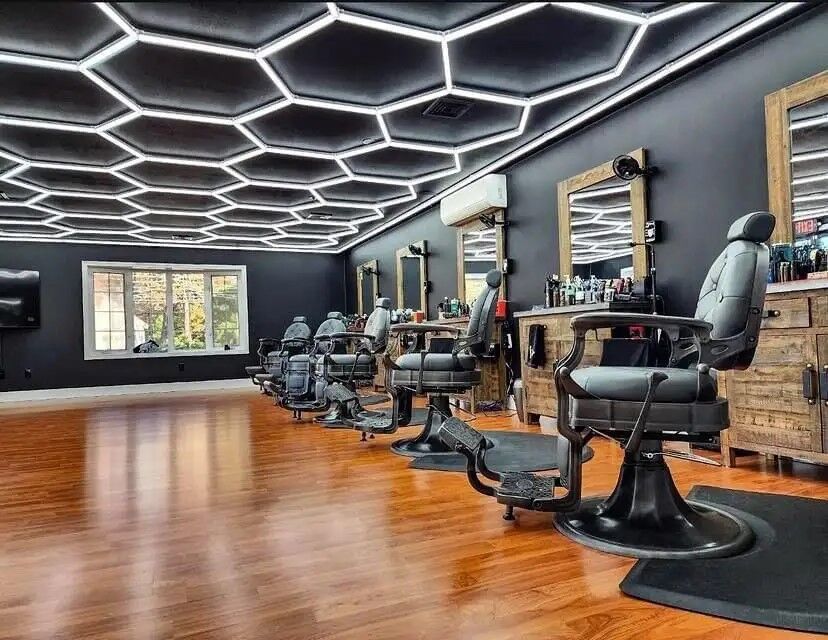 FAQs
The Bottom Line
From the above discussion, you already got a clear idea about choosing the ideal light fixture for your barber shop. Yet, I am summing it up for you. First, consider the area of your shop to determine how many fixtures you require. Then identify the dark areas or the parts that require task lights. You should also keep the services in mind to decide on the brightness and color temperature. In this way, you can select the ideal light fixture.
However, there are several lighting options to choose from. But among all these, LED strips are most famous for their soft and indirect lighting effect. So, LEDYi is here to provide you with premium quality LED strip lights. We have a wide range of varieties, including color temperature adjustable features. So, check them out to get the best deal!