There's nothing like creating a cozy and inviting atmosphere in your bedroom. And what better way to add unique and creative flair to your bedroom than with LED strip lights?
These versatile and colorful lights can add a pop of color, create a relaxing ambiance, or enhance the overall aesthetic of your bedroom. There are endless ways to incorporate LED strip lighting into your decor. You can use them as cove lighting, ceiling lighting, under-the-bed lighting, and many more in your bedroom. These tiny but mighty lights can significantly impact any room, from subtle accents to statement pieces.
So if you're ready to take your bedroom to the next level, buckle up and get ready for 35 LED strip ideas. It will inspire you to create your oasis of calm and comfort.
Top 35 LED Strip Ideas for Bedroom Decor
LED strip lights are affordable and easy to install. They can help you create a one-of-a-kind and customized ambiance in your bedroom. And this is what makes them suitable for bedroom lighting. Here are 35 innovative LED strip bedroom lighting options for you to try:
Ceiling Lighting Ideas
Ceiling lighting is crucial to the general appearance and ambiance of a space. It brightens the area and establishes the atmosphere and ambiance. Many ceiling lighting concepts are given below based on your style, requirements, and money.
1. Indirect Lighting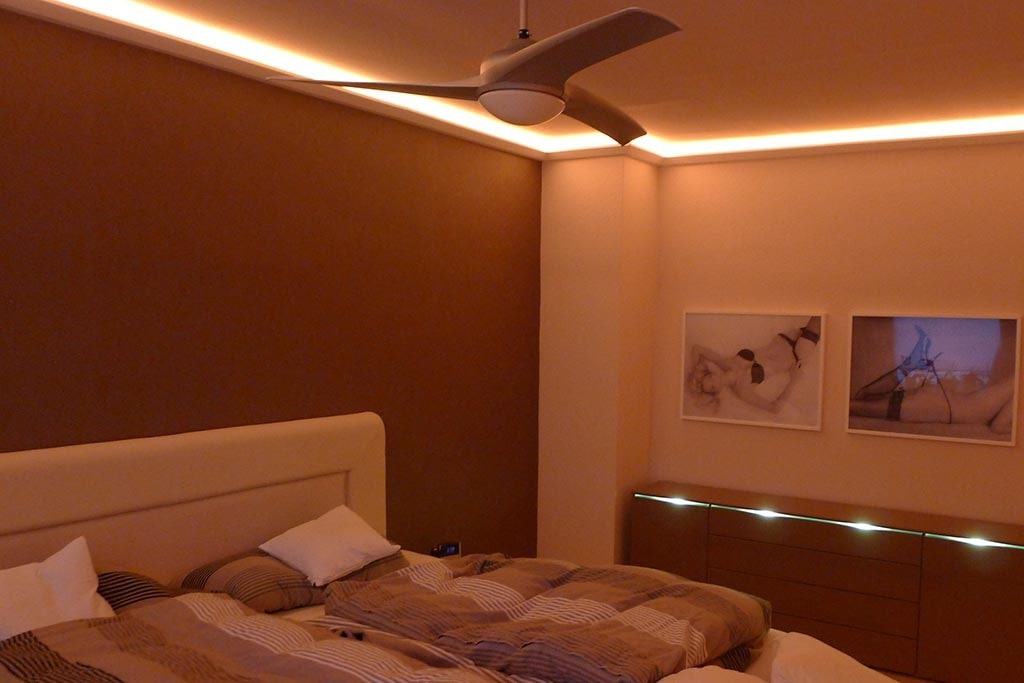 For creating indirect lighting in your bedroom, place the LED strip lights along the margins of the ceiling. Or place it on the walls to produce a gentle radiance. These lights are available in various hues and can be controlled via a remote or smartphone software. Allowing you to customize the ambiance of your area to fit your mood or event.
Another option is COB LED strips. You can attach them to the walls or ceiling. It diffuses the dots of the LED strips without needing any extra diffuser. Thus, it brings out a more oblique and diffused lighting.
2. Cove Lighting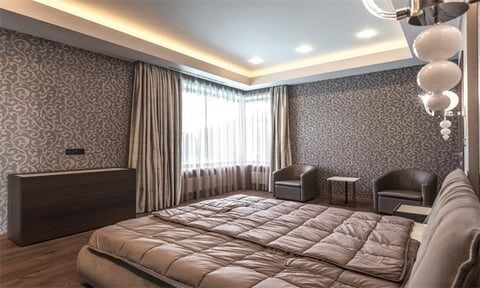 Installing LED strips in a recessed ceiling area, such as a cove or ledge, produces a soft, indirect radiance. Using these strips as cove lighting brings a hidden lighting effect to your bedroom. In this case, you can go for dim-to-warm or tunable white LED strips. These strips' adjustable color temperature features will make you feel more at home.
3. Starry Night Lighting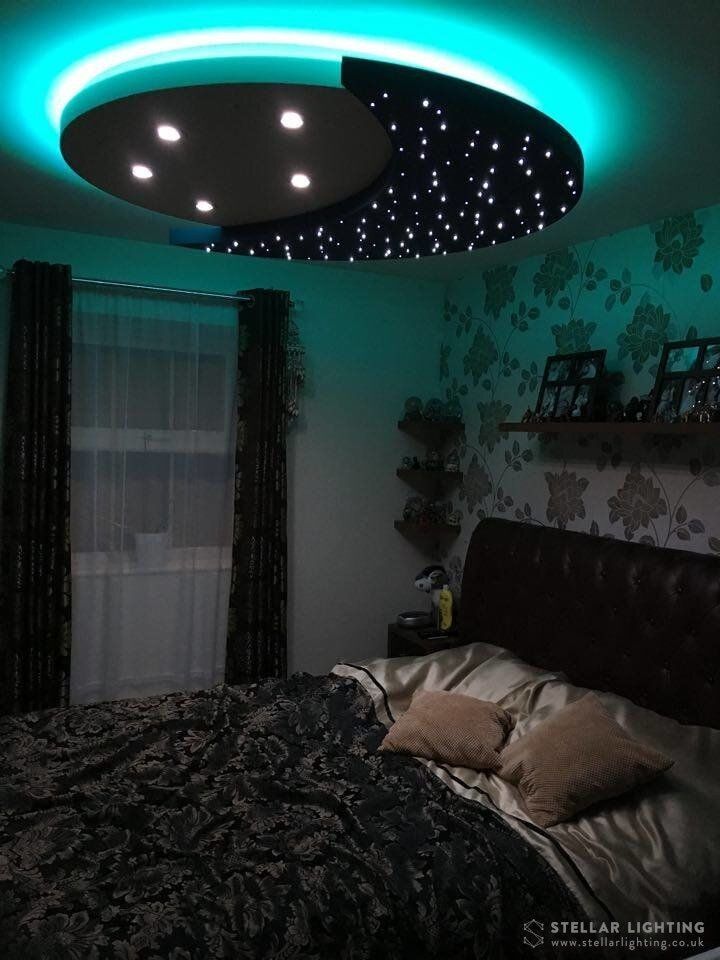 Starry night lighting is a distinct and eye-catching type of ceiling lighting. It can add a dreamlike and ethereal quality to any room. You can achieve this by combining LED strips with a fiber optic ceiling panel. Also, you can easily modify them to imitate various stars, a method to accomplish this effect. Another option is carefully positioning LED lights to create a sparkling starry effect across the ceiling.
For this, you have to find the most diffusing LED strips and attach them as cove light behind the fiber optic panel. As you can see in the picture, it looks ethereal. There are vast categories of LED lights available in LEDYi. I guarantee you will find something that matches your preference. Our product list includes bedrooms, guestrooms, living areas, and even business spaces like eateries or motels. Thus, you can create a relaxing and calming environment. Even my room's ceiling has lighted up like a starry night. Every night I see them, it creates a beautiful relaxing mood to sleep quickly.
Wall Lighting Ideas
Bedroom wall lighting is a great way to illuminate your area, adding style and elegance.
4. Accent Wall Lighting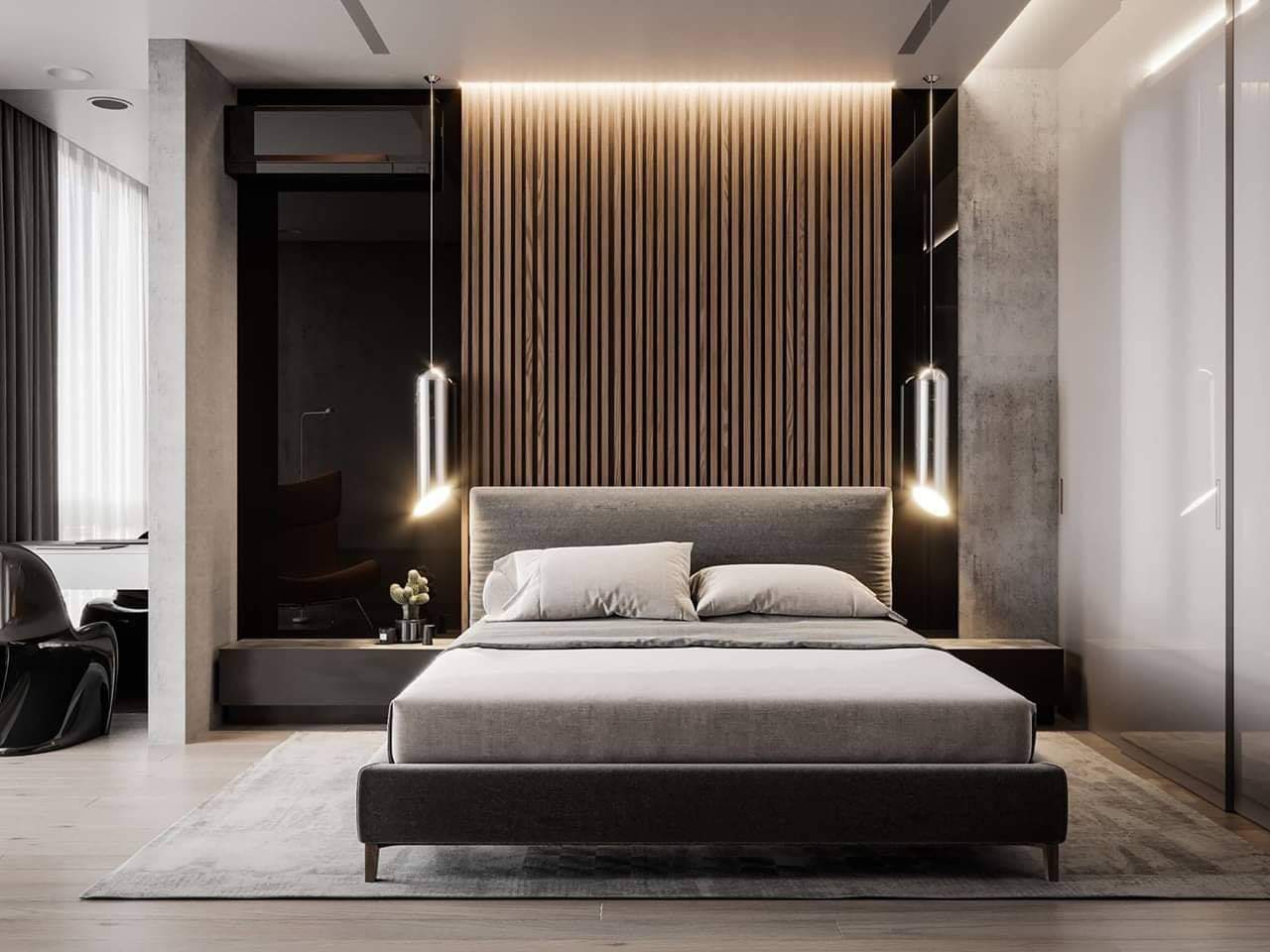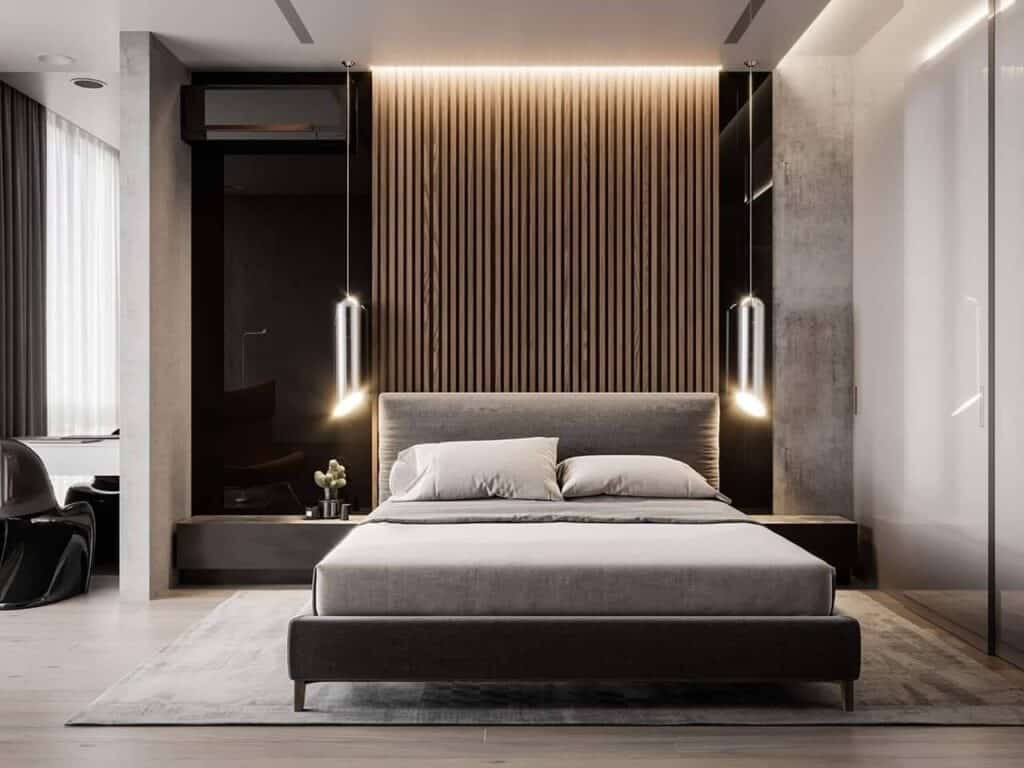 Accent wall lighting is a form of illumination that draws attention to a particular wall section. It can be a work of art or a textured surface. You can position the light source at an angle, cast shadows, and add dimension to the wall. This lighting can also attract attention to specific sections of space. Providing a focal point and adding visual interest.
LED strip lights are a common choice for accent wall illumination. These versatile lamps can be placed in various forms and designs. Making them an excellent choice for accent lighting. LED strip lights can create a soft radiance. It can also add ambiance to a space by placing them behind a headboard or along the borders of a wall.
5. Reading Lights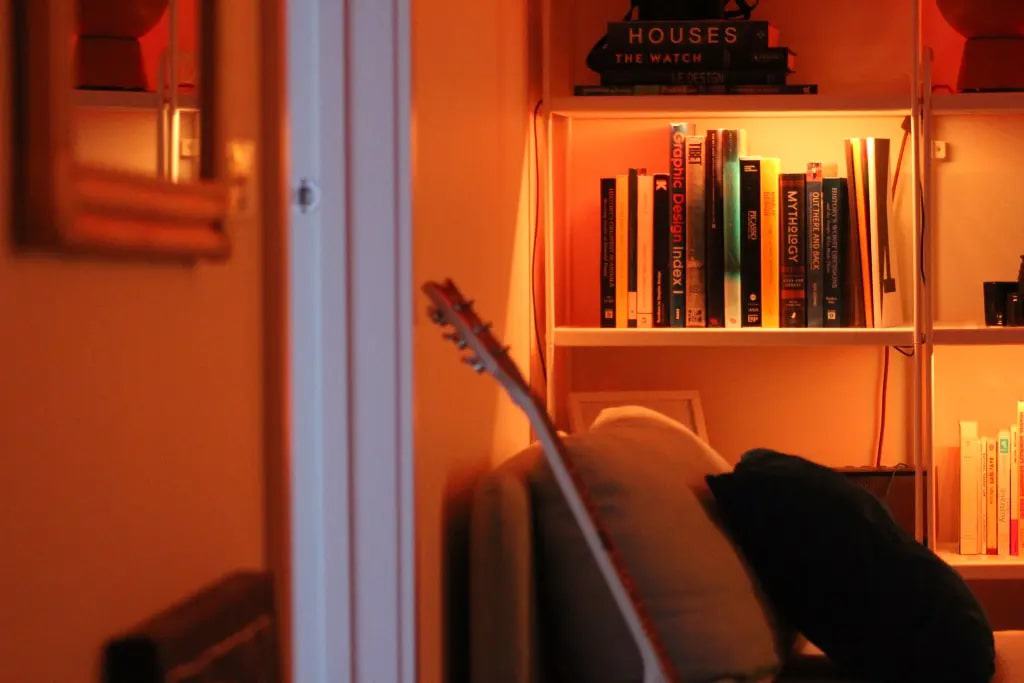 Install LED strips on the wall behind your couch or reading recliner for a contemporary and sleek appearance. This will make the space where you read comfortable and welcoming. For a uniform and bright light source, wrap LED strips around the desk. By doing so, you'll experience less eye fatigue and be better able to concentrate when working or reading.
You can also try putting LED strips along the borders of your book shelves to make it inviting and cozy. This will light your books and give your study area a bit of elegance. Besides, attach LED strips to the top of your headboard for a comfortable and helpful reading area. This will give you the ideal lighting for perusing at night without waking your companion.
6. Gradient Lighting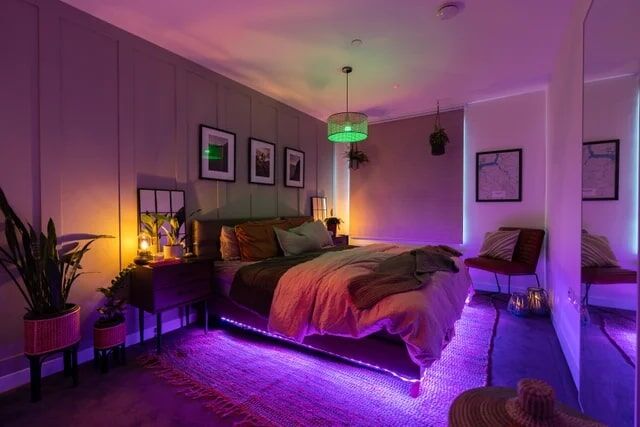 Gradient lighting, or ombre lighting, creates a delicate gradient effect on your bedroom walls. It is created by combining multiple light sources. This can be anything from a gentle, subtle glow to a more spectacular, multicolored show.
Addressable & RGB LED strip lighting is an outstanding choice. You can place these flexible LED light strips around the circumference of your bedroom walls. It can create a lovely glow that fades from one color to the next. You can also program these lights to change hues and designs. Thus it makes a lively and ever-changing show.
When choosing your color scheme, consider using calming hues. For example, blues, greens, and purples promote relaxation and restful sleep. You can also play with warmer tones like yellows and oranges to create a cozy and inviting atmosphere.
Headboard Lighting Ideas
A fashionable headboard can significantly improve the appearance of a bedroom. You can make it more functional and aesthetically attractive by adding lighting.
7. Backlit Headboard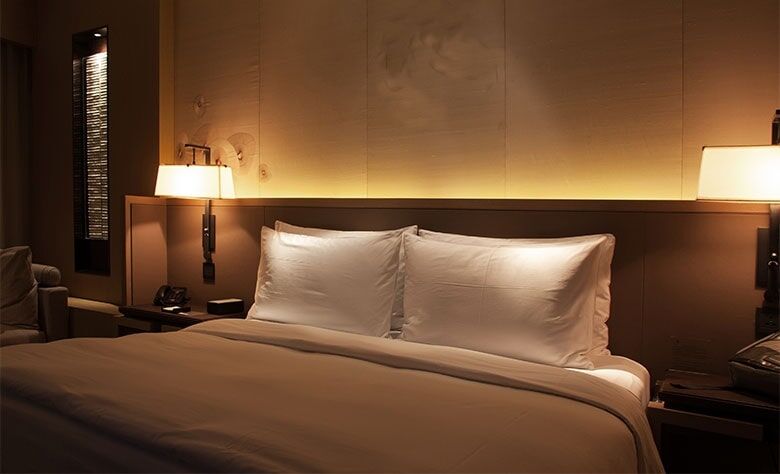 Numerous methods exist to create illuminated headboards depending on your preferences and resources. You can place LED strip lights along the top of the bed. It will create a gently diffused light to highlight the structure and contour of the headboard. And using a dimmer, you can control the light intensity of the LED strips behind the bed.
The color of your bed with backlighting is most important in this sector. A cool white light will give off a more modern and clean appearance. At the same time, a warm white light will create a comfortable and relaxing atmosphere. Select LED strip lights that change color and use a remote to select the finest tone if you want to add a dash of color that fits your mood. You can find a bunch of color-changing LED strips in LEDYi. Do check out the Dim-To-Warm and Tunable White Series.
8. Shelf Headboard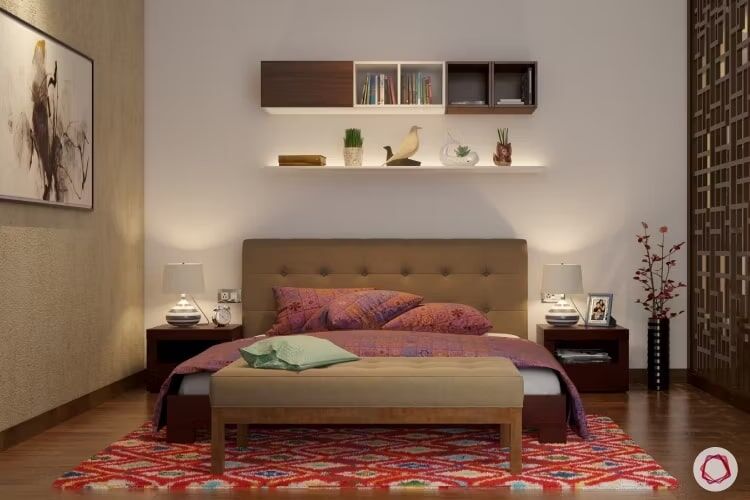 A shelf headboard has one or more built-in racks. It usually spans the length of the headboard. In addition to holding lights or other lighting devices, these racks can showcase ornamental items, artwork, or other items. This headboard is ideal for those who want to add a bit of refinement to their bedroom while making the most of their storage space.
There are many choices when choosing illumination for a headboard with shelves. Others prefer to install built-in lighting fixtures recessed into the headboard. At the same time, some prefer small table lights that can be put directly on the shelves. LED strip lights are also popular in this sector. They can be easily installed and provide a soft, warm glow that creates a cozy and relaxing atmosphere. My bed has a self-headboard. I prefer the COB LED strips for more diffusing warm lighting on the sections. And I can assure you it creates a mesmerizing effect in my bedroom.
9. Integrated Lighting Headboard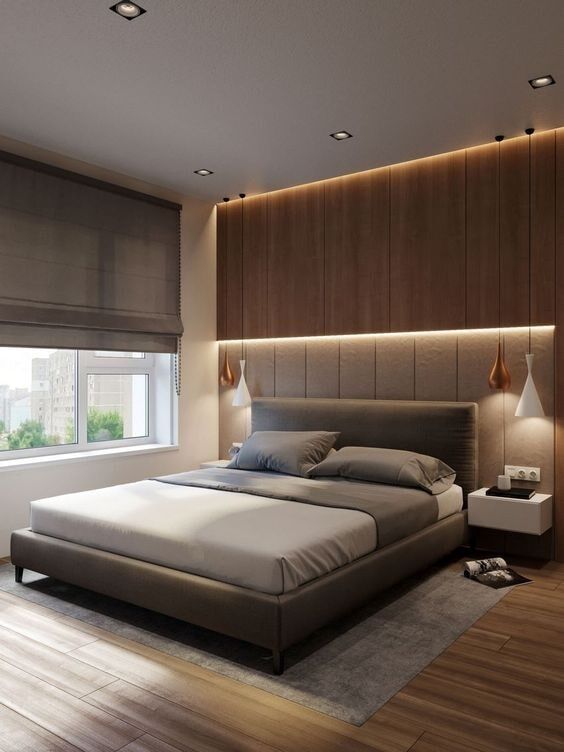 Consider an elegant white panel with LED strip lights along the top border. This will produce a soft, dispersed glow that will make your chamber feel cozy and inviting. You can also use LED strips in striking, bright colors for a bold and fun accent to draw attention to a headboard. The base of the headboard could be painted or covered in brightly colored fabric, and the edges could be finished with LED strips.
Closet Lighting Ideas
Several options for closet illumination can enhance the room's usability and aesthetic attractiveness.
10. LED Strip Lights in the Closet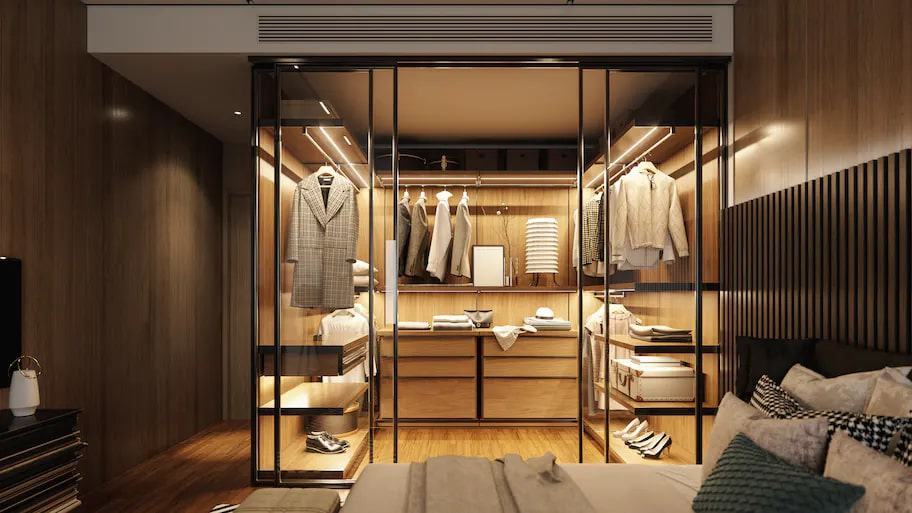 One of their main benefits is that LED strip lights are bendable and can be trimmed to suit the length of your wardrobe precisely. As a result, you can adjust the illumination to your preferences. And ensure all of your closet's corners are lit. These lamps also have a long lifetime and are energy-efficient. This can help you save money on your energy bill and lessen your ecological impact.
The fact that LED strip lights are available in various hues. This means you can pick one that goes well with the design of your wardrobe. For instance, you can choose cold white lights with sharp and clean lighting. It will complement your contemporary wardrobe that has a sleek and minimalist design. On the other hand, if you have a warm and cozy closet with wood accents, you might choose warm white lights. It will create a relaxing and inviting atmosphere.
11. Overhead Lighting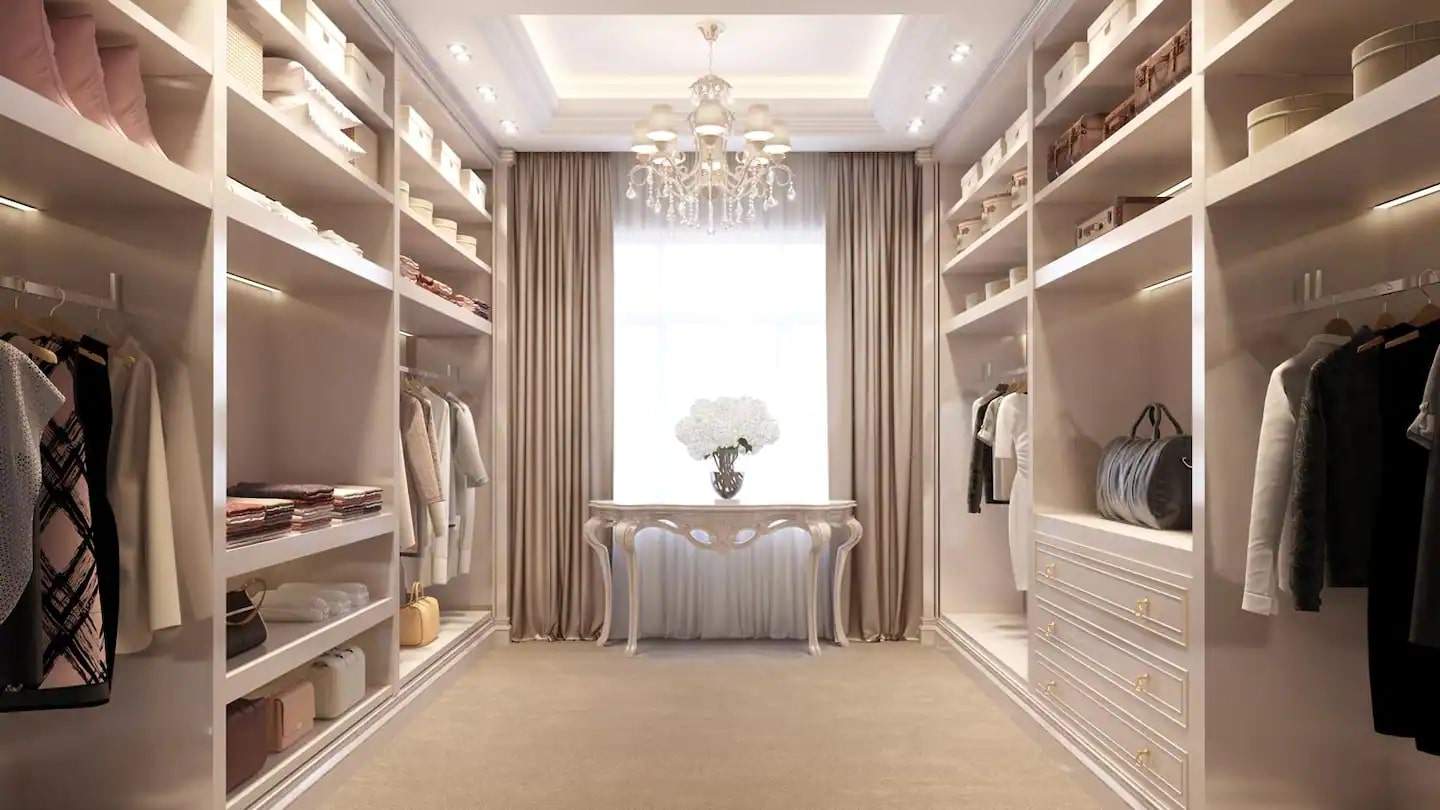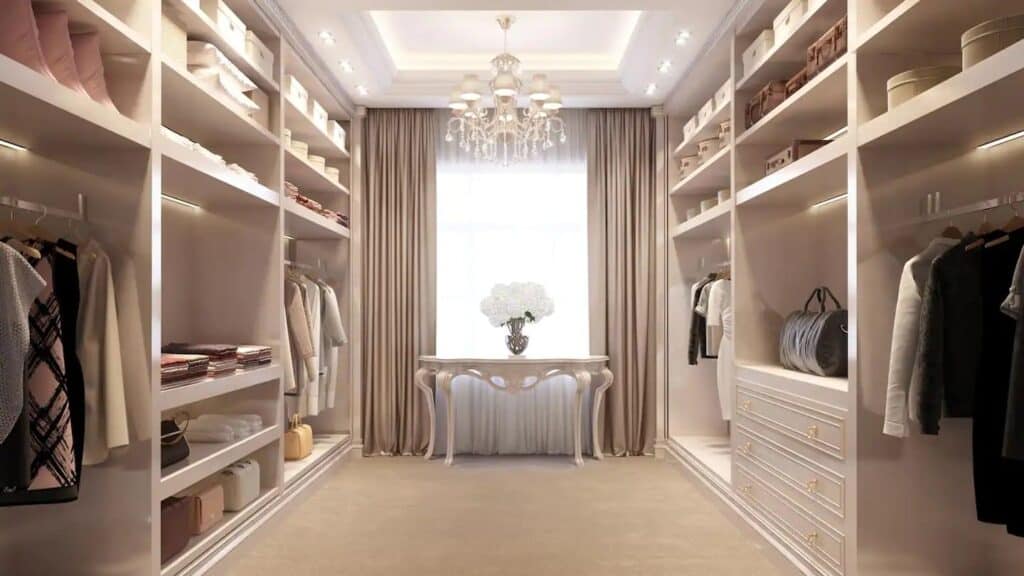 Install LED strips on the closet roof to produce an overhead lighting effect. They can be mounted immediately to the top or moved around easily using a track system. Additionally, you can use LED strips to draw attention to particular wardrobe components, like a hanging pole or a showcase stand. This can have a dramatic impact and highlight your best pieces of clothing.
Moreover, install motion-activated LED strip lighting in your wardrobe to conserve electricity and make it simple to find what you need. When you enter the closet, the lights will instantly turn on, and when you exit, they will turn off. Additionally, to create a unique illumination impact in your wardrobe, think about using dimmable LED strips. The luminance can be changed based on the time of day or your attitude.
12. Under-Shelf Lighting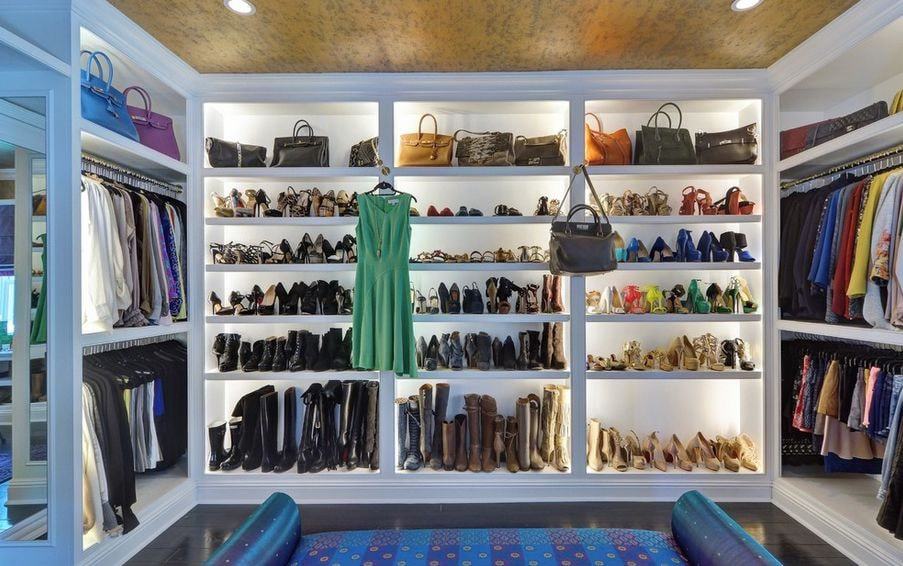 You can see the things in your wardrobe more clearly thanks to under-shelf lighting. It can be challenging to locate what you need when rummaging through a dimly lit, disorganized wardrobe. You can see everything more clearly and find the clothing or items you're searching for using under-shelf illumination.
LED strip lights suit best for lighting under shelves. These are simple to trim to adjust any height shelf. However, consider the color tone of the lights when selecting under-shelf illumination. Cool white LED strips give off a brighter, more contemporary appearance. In contrast, warm white LED strips foster a welcoming ambiance. Dimmable lights, which you can alter to fit your tastes, are also something to consider.
Dresser and Vanity Lighting Ideas
A well-lit dresser and vanity area can help you see clearly. And ensure that your makeup, hair, and outfit look their best. Here are some lighting ideas to consider when setting up your dressing space:
13. Mirror Lighting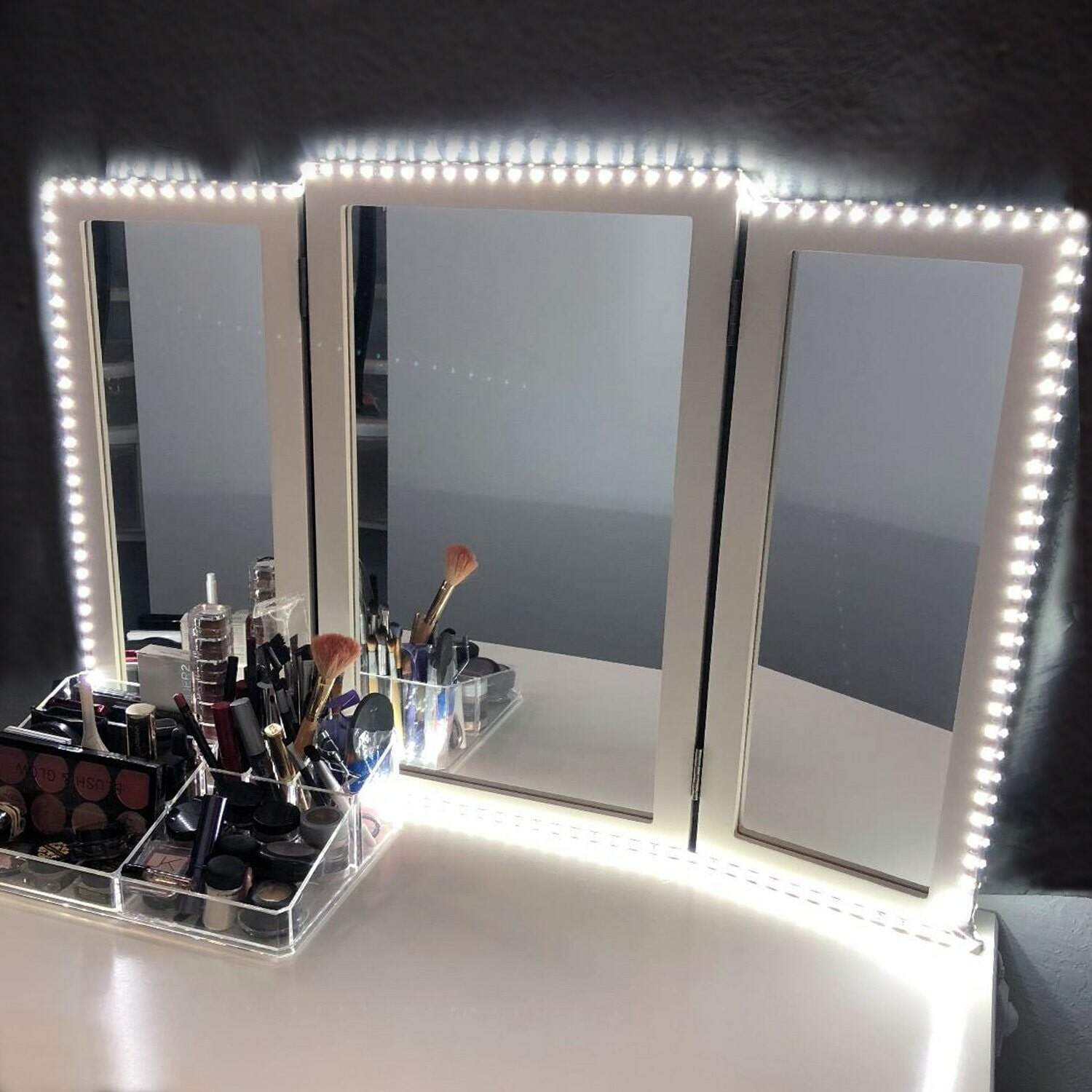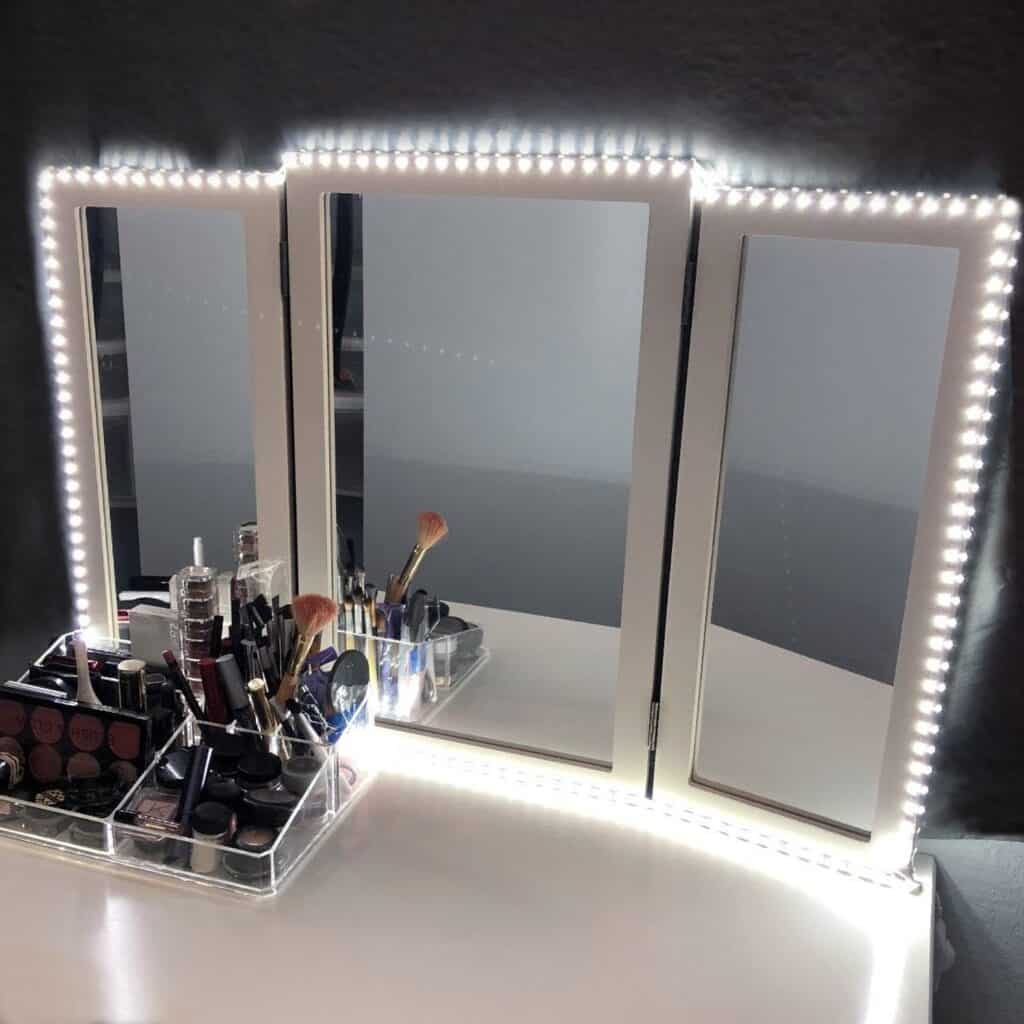 Your mirror can be framed with LED strips. The parts can be mounted directly on the glass or around a frame. Applying makeup will be made more accessible by the gentle, even glow produced around the glass. Installing LED strips behind the mirror is a further use for them. This will produce an illuminated effect perfect for making a vanity mirror in a Hollywood manner. You can use diffusers or frosted glass to disperse the light and produce an even radiance.
Choose warm white or gentle white LED strips when choosing LED strips for your bathroom mirror. These will give off a more natural and attractive glow, enhancing skin tone. LED strips that are cold white or in daylight should be avoided as they may make your complexion look washed out. Besides, any vanity mirror would benefit from having dimmable LED strips. When applying cosmetics in various lighting situations, they are accommodating because they let you customize the brightness of the light to your preferences.
14. Under Vanity Lighting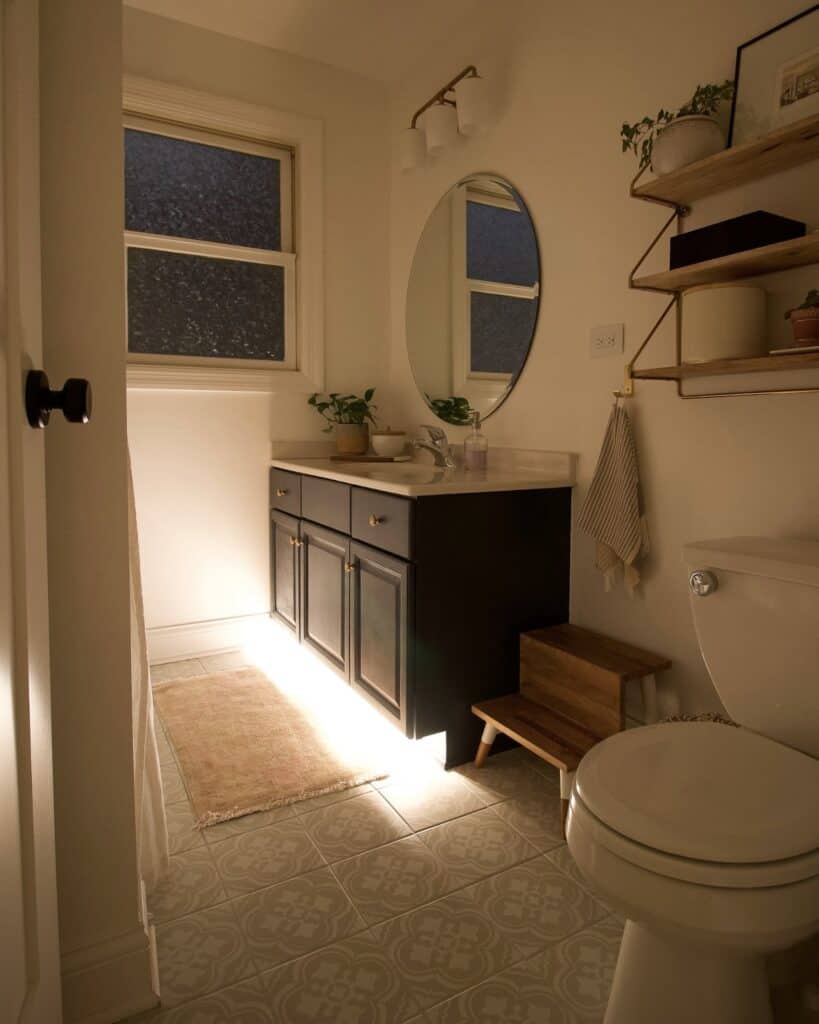 Under vanity lighting is a form of lighting placed beneath your vanity or makeup table. It gives your face a gentle, subtle radiance from below. Decreasing harsh shadows and producing a more even, flattering light. Numerous under-vanity lighting is available, ranging from LED bars to recessed lighting.
LED strips are a common choice because they are simple to place and produce a lot of light. They appear in various hues, so you can find one that matches your skin tone. Recessed illumination is another alternative, ideal for achieving a minimalist appearance.
15. Drawer Lighting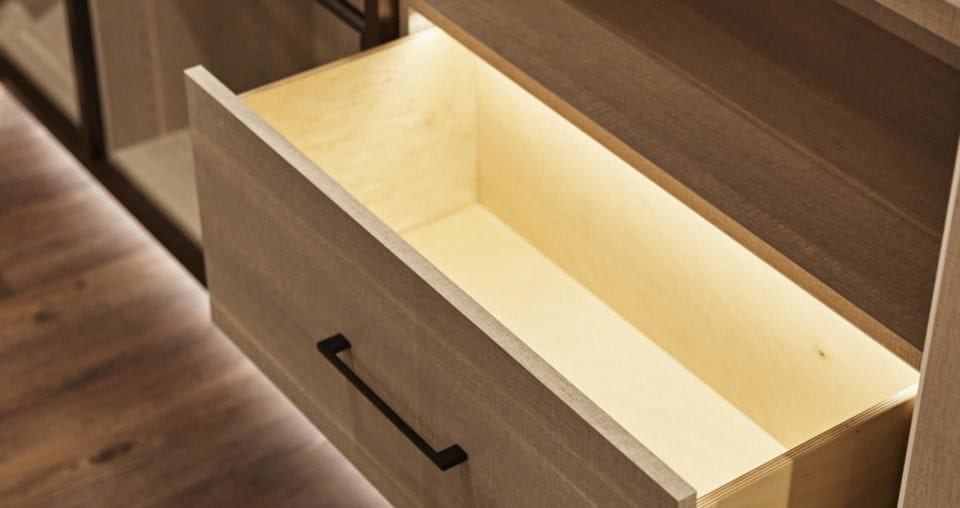 Drawer lighting illuminates the interior of your drawers. Making it simpler to locate what you need and adding a stylish addition to your decor. LED strip lighting is one choice for drawer lighting. This type of lighting can be placed beneath the border of your chest—or vanity drawers to provide a gentle radiance that lights the contents. LED strips will allow you to quickly find makeup products like brushes and lipstick by lighting your vanity drawers. You can match your decor's hues and brightness levels to create the ideal atmosphere.
Desk Lighting Ideas
Various desk lighting options are available. And choose the right one can enhance your productivity and well-being.
16. Under Desk Lighting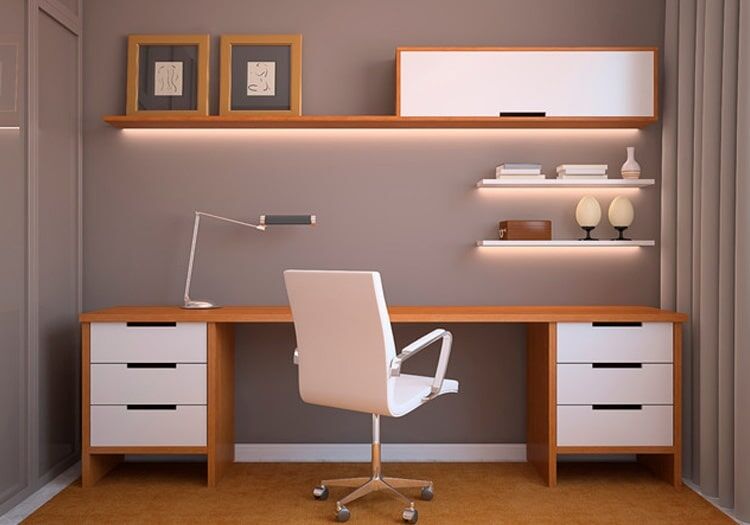 LED strip lights, fluorescent tubes, and puck lights are available under-desk lighting. Among these, LED strip lights are standard because they are simple to install. They are adaptable and come in various hues and brightness levels.
You can place LED strips under the shelves of your desk. Such lighting can help reduce eye strain and tiredness. This is particularly essential if you spend a lot of time at your workstation. Because harsh overhead illumination can be hard on your eyes and cause pain over time. Besides, lighting beneath the desk's shelves provides a more natural and subtle light that can help alleviate these problems.
17. Over Desk Lighting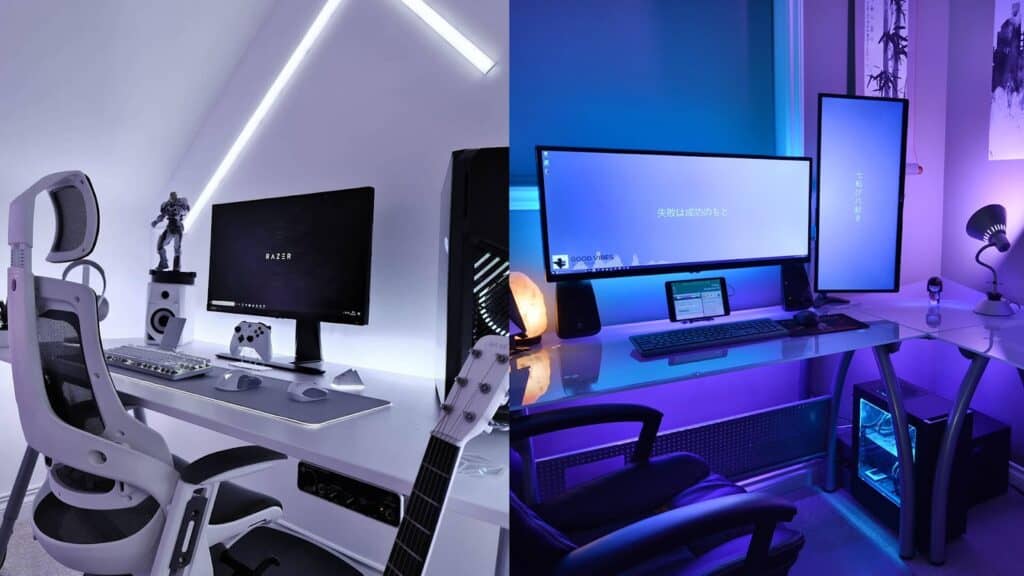 Install LED strips behind your workstation or over your shelves to create a gentle, ambient light. This will make your workplace appear better and lessen eye fatigue. To concentrate illumination in your workplace, you can also fasten LED strips to the top of your desk. This will allow you to see things more clearly and work on intricate chores or projects. Try to invest in dimmable LED strip lighting to regulate the illumination in your workplace. You can then change the illumination to suit the time of day or the job you're working on.
18. Backlighting Your Desk Elements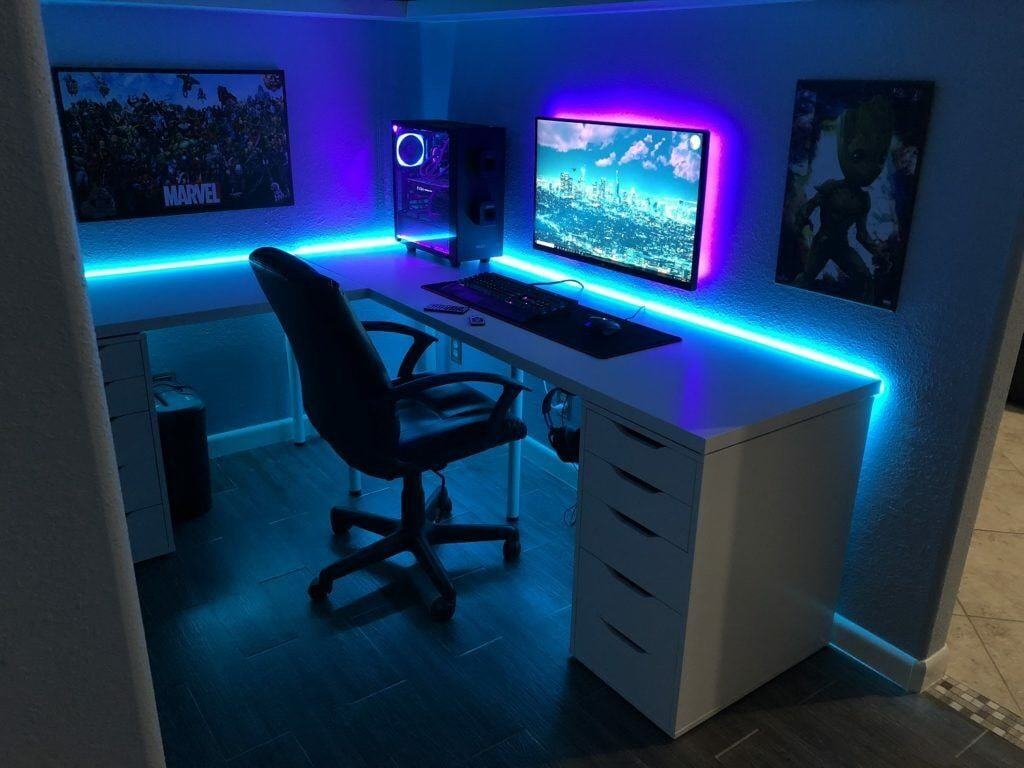 You can use LED strips to highlight the elements of your desk, like your monitor. Install the light strips to the back of your computer screen, CPU, soundbox, etc. In such lighting, colorful strips go best. However, you can also try plain white or soft colors as your preference. But if you are a gamer, going for RGB LED strips is undoubtedly your best choice. It will take your computer set up to the next level, giving a gaming room vibe to your bedroom.
Floor Lighting Ideas
Using floor lighting can be an excellent way to add ambiance, style, and functionality to any room in your home.
19. Under the Bed Lighting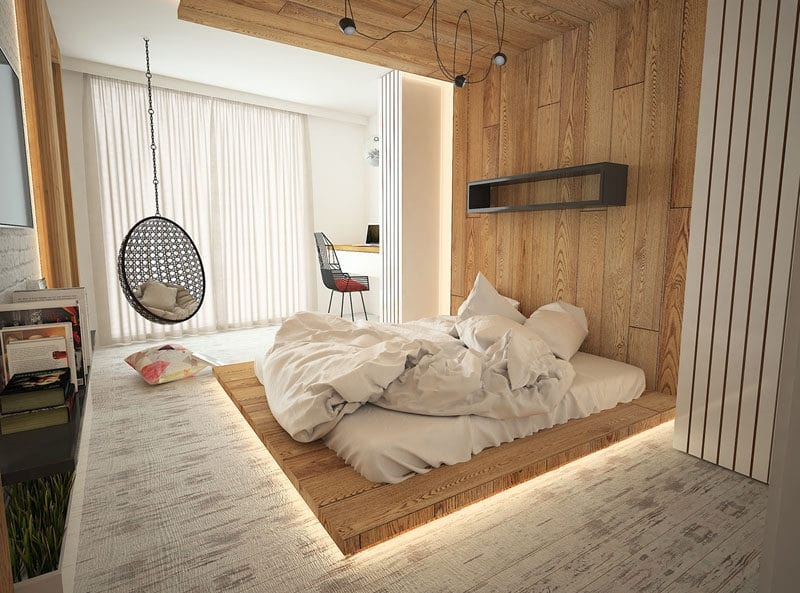 LED stripes, string lights, and even battery-powered puck lights are a few options for under-the-bed lighting. The lights are usually positioned along the bottom of the bed frame or under the bed foundation. It creates a soft and cozy glow on the floor, making it look like a floating bed.
LED strips are the best lighting option here as they can be trimmed to suit any size bed. They also come in various hues, allowing you to pick one that goes well with your decor. Besides going for plain white, you can experiment with colorful stripes.
20. Baseboard Lighting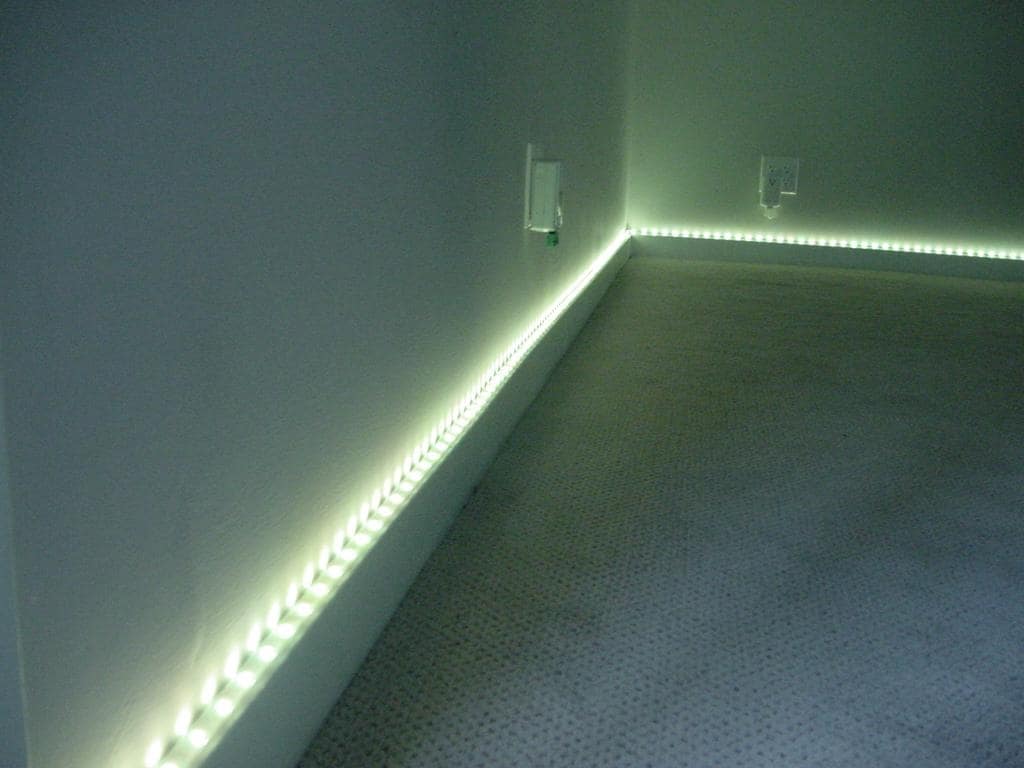 Baseboard lighting is the term used to describe lighting devices placed on or close to a wall's baseboard that project a soft, warm radiance on the floor.
Use LED strip lighting to draw attention to ornamental or building features in your bedroom. For instance, you can attach the strips to the baseboards of an accent wall or built-in bookcase. Consider installing color-changing LED strip lights along your baseboard to create a more fun or lively effect. And to adjust the hue of the lights to your mood or taste, use a smart home device or remote control.
Moreover, Install LED strip lights underneath your baseboard to bounce light off the floor for a more understated effect. This produces a gentle, diffused light that can give the impression of more space in your bedroom.
21. Stair Lighting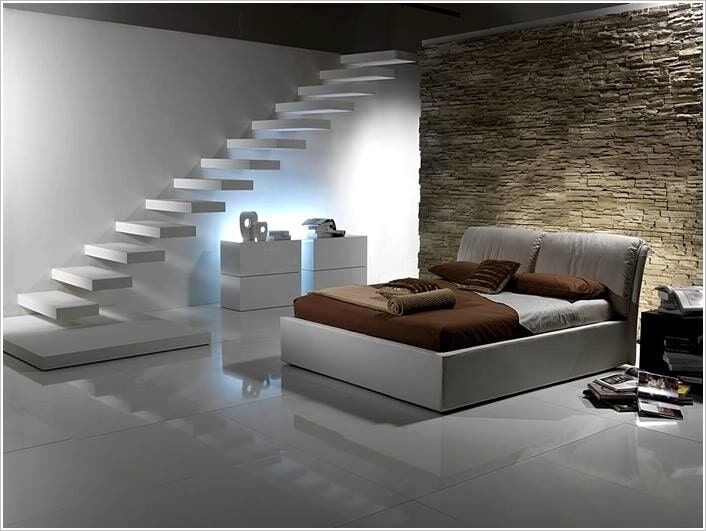 If your bedroom has stairs, you can try adding LED strips along each stair's border. This can produce a more striking effect. These pieces can be mounted on the riser confronting the stairs or the bottom of the stair. You can select a color palette that goes well with your decor because LED strip lights are available in various hues. Warm-toned LED strip lights cast a gentle and welcoming radiance along the edges of the steps. They are an option if you prefer a more natural appearance.
Window Lighting Ideas
Windows can be a great source of natural light in a room. However, you can use them as a creative element in your interior design.
22. Window Frame Lighting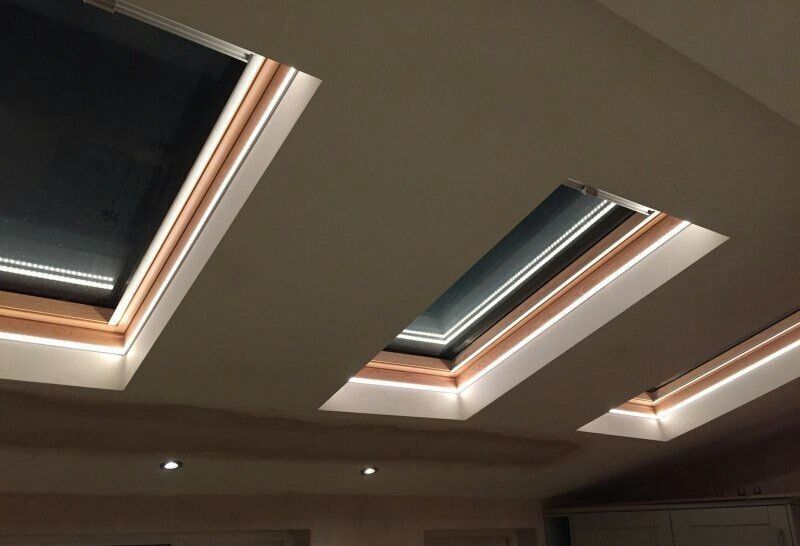 Your window frames can be illuminated in various ways thanks to the adaptability of LED strips. You can attach the LED strips inside your window frames to create a backlit effect. These strips can make designs and forms and outline window frames.
Solar-powered lights are also a green choice for illuminating window frames. These lights use solar energy to recharge during the day and come on autonomously at night. Neon LED lights are also stylish and entertaining for window surround illumination. The hue and tone are your choices. Besides LED strips, in LEDYi, there is a significant collection of neon LED lights too. Look them up.
23. Window Accent Lighting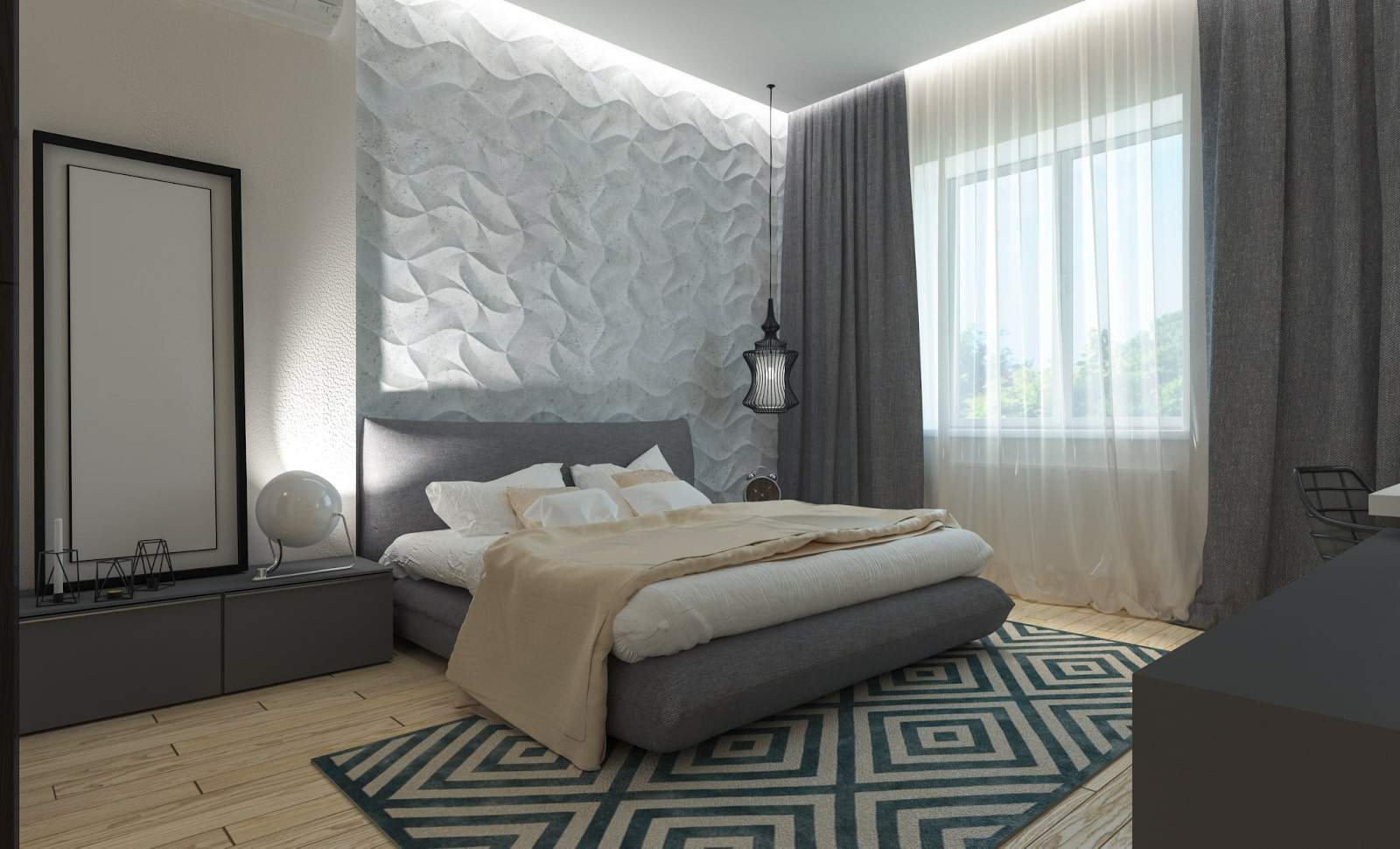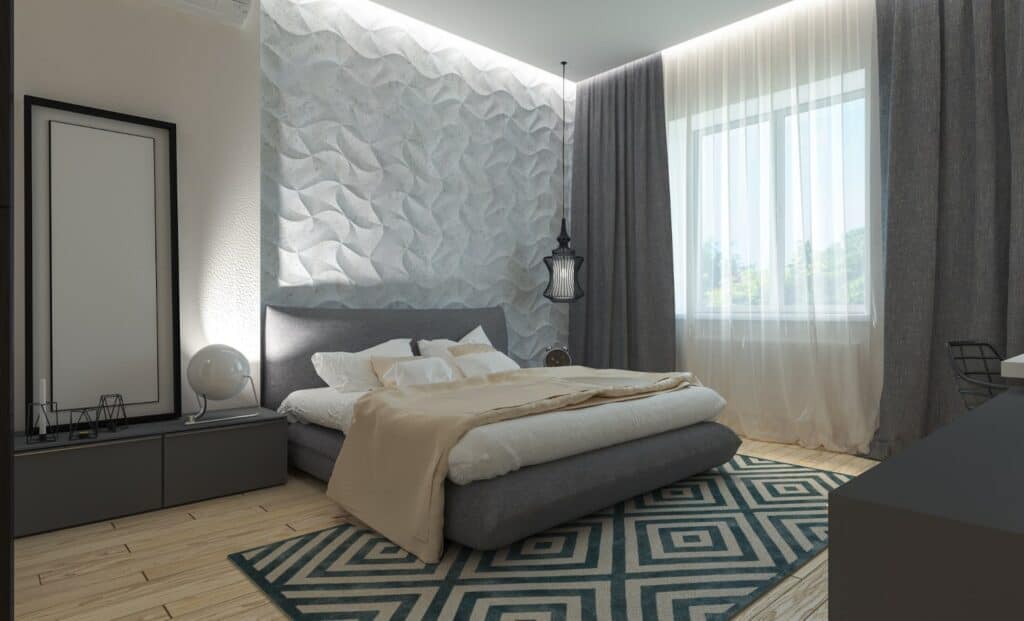 Install LED strips beneath the window ledge to create a pleasant and inviting atmosphere. The light will bounce off the windows, casting a soft radiance throughout the area.
If your bedroom has curtains, you can place LED strips behind them to produce a soft light. This will give the drapes depth and create a warm and welcoming ambiance. You can place LED strips across the headboard if your bed is near a window. This will produce a stunning and one-of-a-kind illumination effect, making your bed the room's main point.
Finally, place LED strips along the wall near the window to create a gentle and discreet accent. This will give the space dimension and produce a cozy atmosphere ideal for resting and unwinding.
Creative Bedroom LED Strip Ideas
Here are some creative bedroom LED strip ideas to inspire your imagination:
24. Canopy Bed Lighting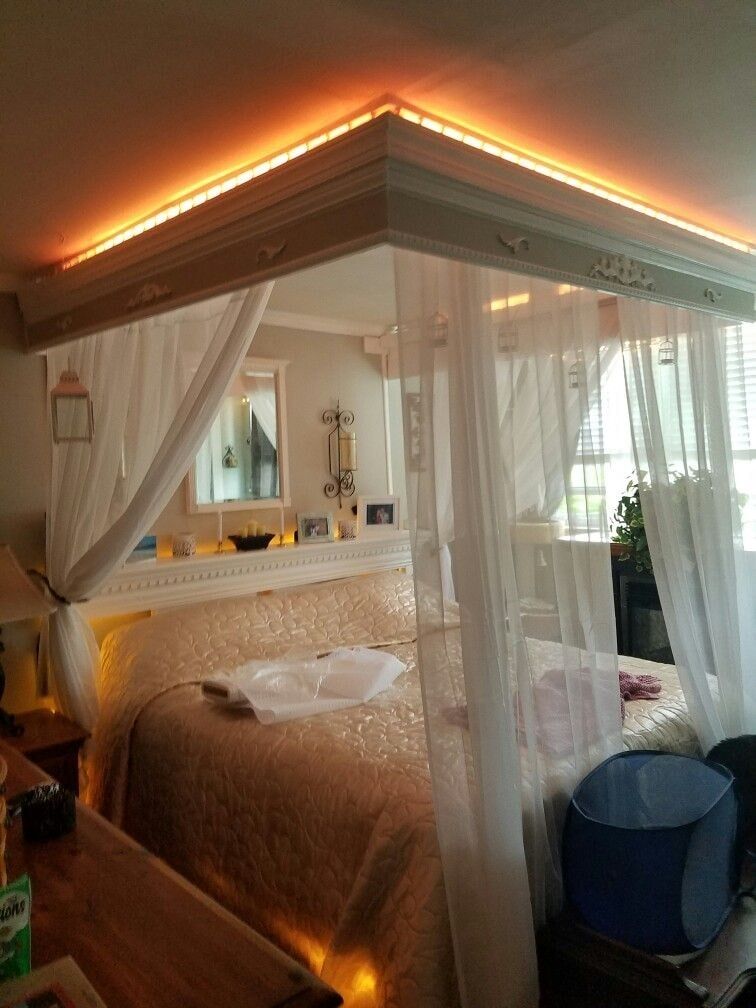 LED strip lighting can be installed in various ways on a canopy bed. One choice is to drape the lights around the bed frame. It can be an excellent way to draw attention to the bed's form and give the room more depth. The lamps can also be fastened to the ceiling, producing a softer, diffused light. It can enhance the room's warmth and texture.
The correct LED strip lighting selection is crucial to achieving this appearance. Instead of lights with harsh, brilliant light, choose ones with a warm, gentle radiance. Consider lighting options that can also be dimmed, allowing you to change the brightness to match your attitude. In this case, dim-to-warm LED strips will suit your canopy bed best.
A few basic instruments are required for the installation, which is fairly straightforward. To start:
Determine the length of your canopy or bed frame and buy enough LED strip lighting to encompass that length.
Fasten the lights to the frame or canopy with sticky strips or fasteners.
Turn on the lights and savor the warm, romantic ambiance they produce.
It is easy and doesn't cost you that much.
25. Wall Art Lighting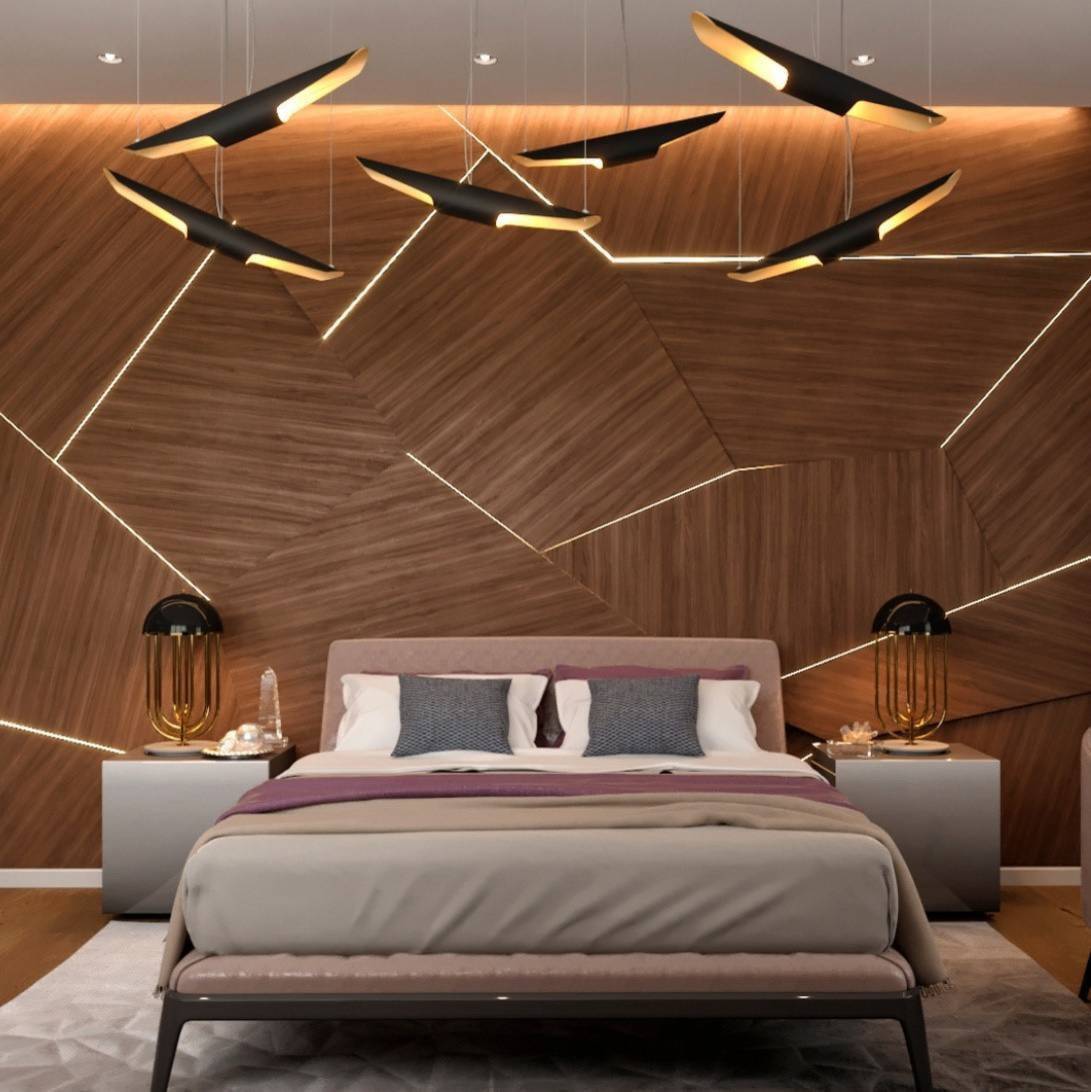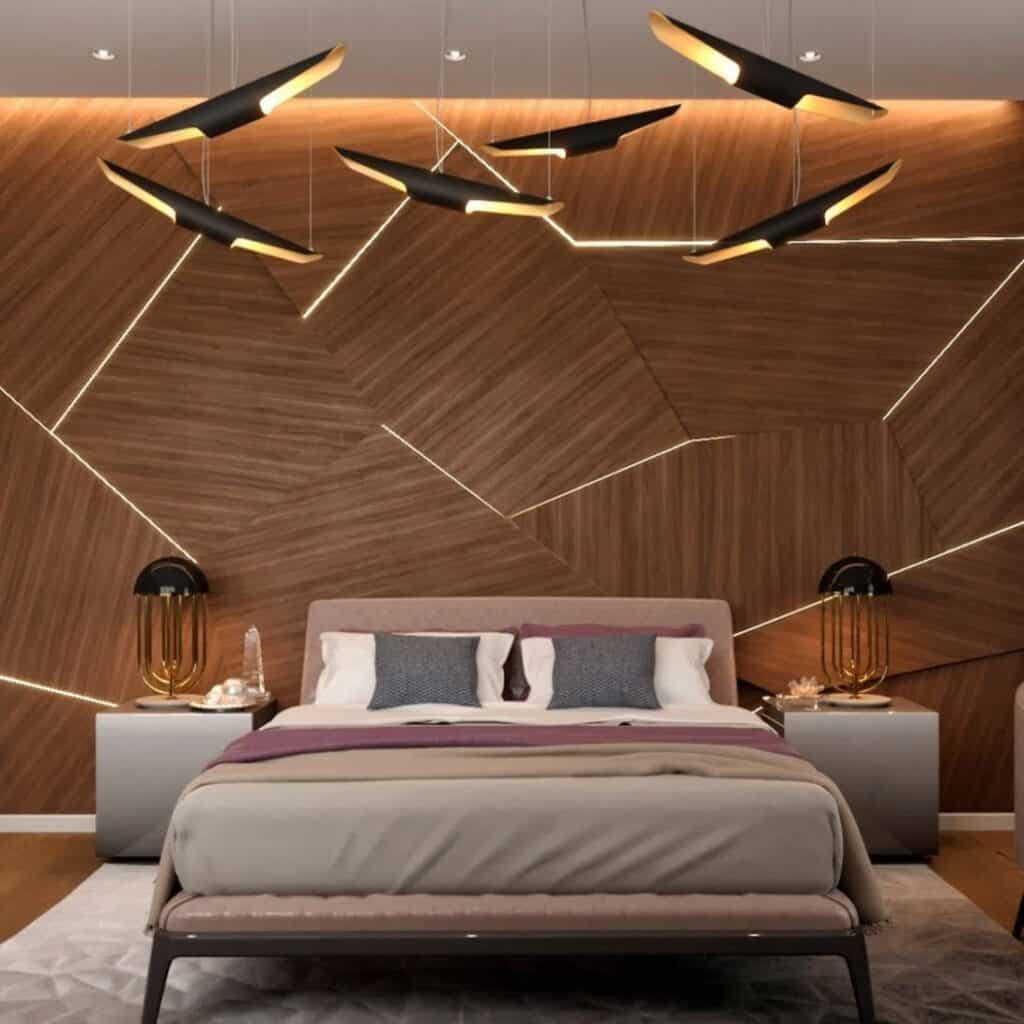 LED strip lights can emphasize wall art and give your bedroom a contemporary and distinctive appearance. You can create a striking and captivating effect with these. It improves the room's ambiance by putting the LED strips behind the artwork.
Using various LED strip light colors produces a gradation effect on your wall. You can produce a multicolored or more subdued effect using different tones of the same hue. Create a feature wall in your bedroom using LED striped lights. You can create a straight line. Or you can use the lights to draw attention to a particular spot on your wall.
26. Geometric Patterns
By shaping the LED strips into different geometric patterns, you can create a statement for your bedroom lighting. Some of such creative ideas are as follows-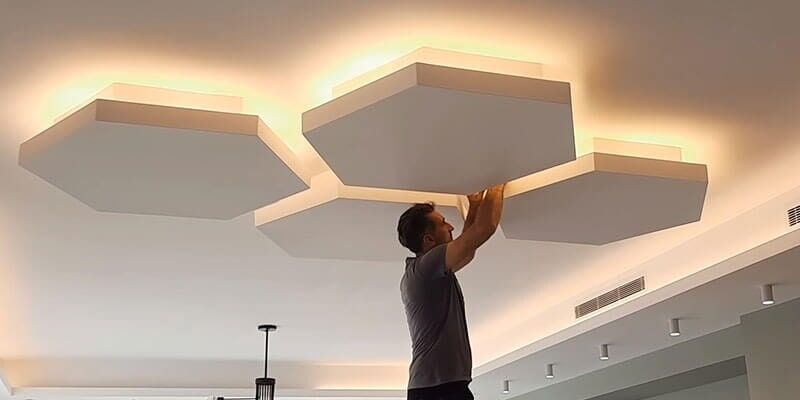 Place diagonal LED strips on the ceiling or walls to make a diamond pattern. To create a vibrant and aesthetically attractive effect, organize the strips in an alternating color design.
A hexagon pattern can be made by arranging the LED strips in a honeycomb design on the ceiling or walls. This design is more complicated, but it can produce a striking and one-of-a-kind effect.
A primary but efficient method to use LED strip lights is in a zigzag pattern. Place the pieces in a zigzag design along the walls or ceiling to create a colorful and playful effect.
Place the LED strips on the walls or ceiling in a pyramid design to make a triangle pattern. This design is ideal for achieving a futuristic and sophisticated appearance.
A grid design is a versatile choice that can be used in various applications. To create a minimalist and sophisticated effect, arrange the pieces in a square or rectangle grid design on the ceiling or walls.
27. Shelf Edge Lighting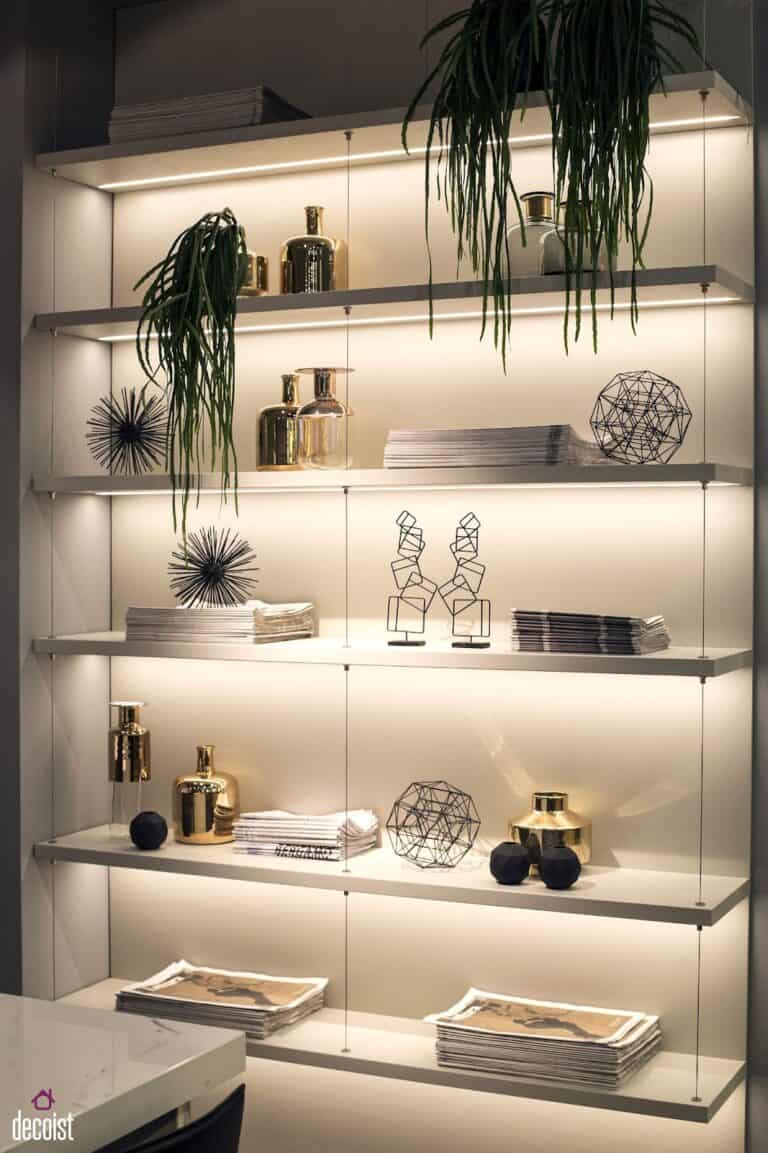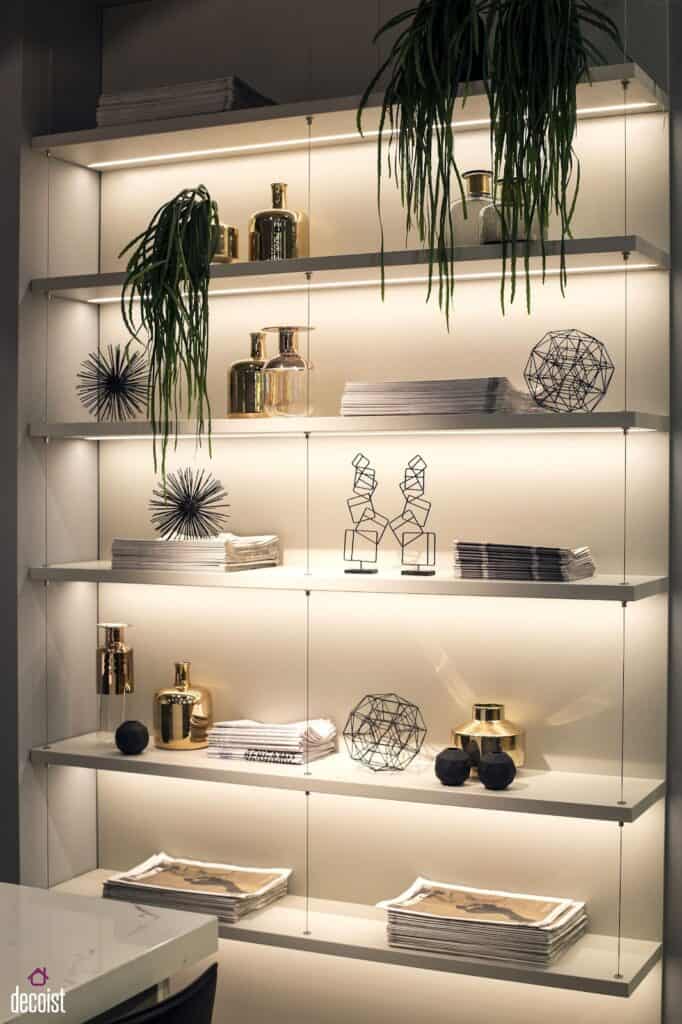 Install LED strip lighting along the border of your shelves to make your items stick out uniquely and thrillingly. The light source will produce a warm, welcoming environment in your bedroom Moreover, Install LED strip lighting beneath a floating bench to give the impression that it drifts mid-air. This effect will add a magical addition to your boudoir and make your shelves pop.
You can also make a focal point in your Bedroom with LED strip lighting. Thus, you can draw attention to a particular shelf or decor item. Therefore, it can emphasize and create an aesthetically stunning exhibition.
Theme-Specific LED Strip Ideas
Choose a particular theme or style using LED lights. Here are some theme-specific LED strip suggestions to get you started:
28. Draped Lights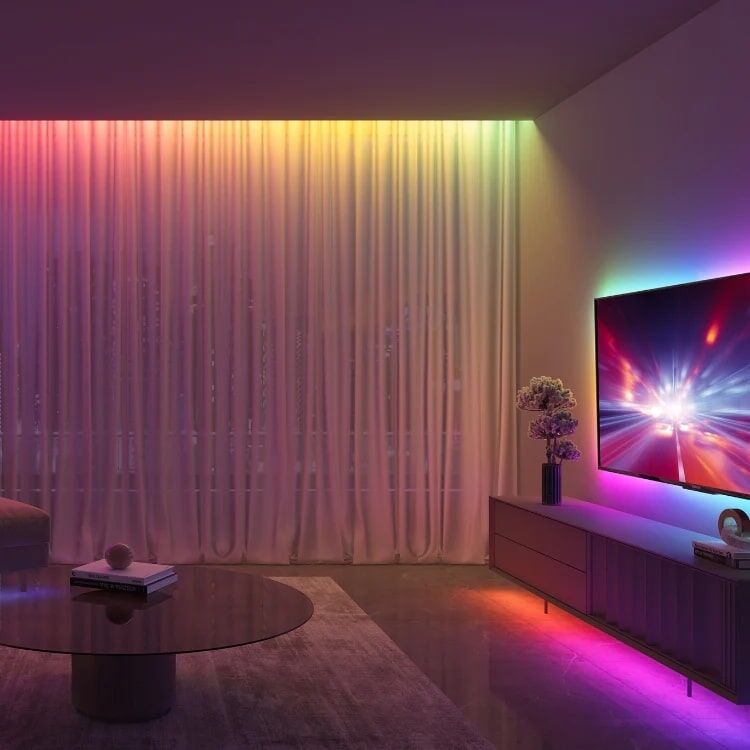 One of the theme-specific suggestions for using LED strip lights is draped lighting. This can give any area a bit of class and atmosphere. Depending on the hue, brightness, and location of the lights, draped LED strip lights can produce various effects.
One popular application is making a light curtain that can be suspended from the ceiling or wall. It gives a space a soft radiance. This works particularly well in a bedroom or living area. There you can lower the lights to create a soothing ambiance. Besides, you can use addressable LED strips to bring a rainbow effect to your bedroom.
Another use of draped LED lights is to draw attention to specific building details or ornamental components in a place. For instance, you could use them to draw a dramatic border around a piece of art or a bookcase. Or to define the borders of a ceiling.
29. Tapestry Lighting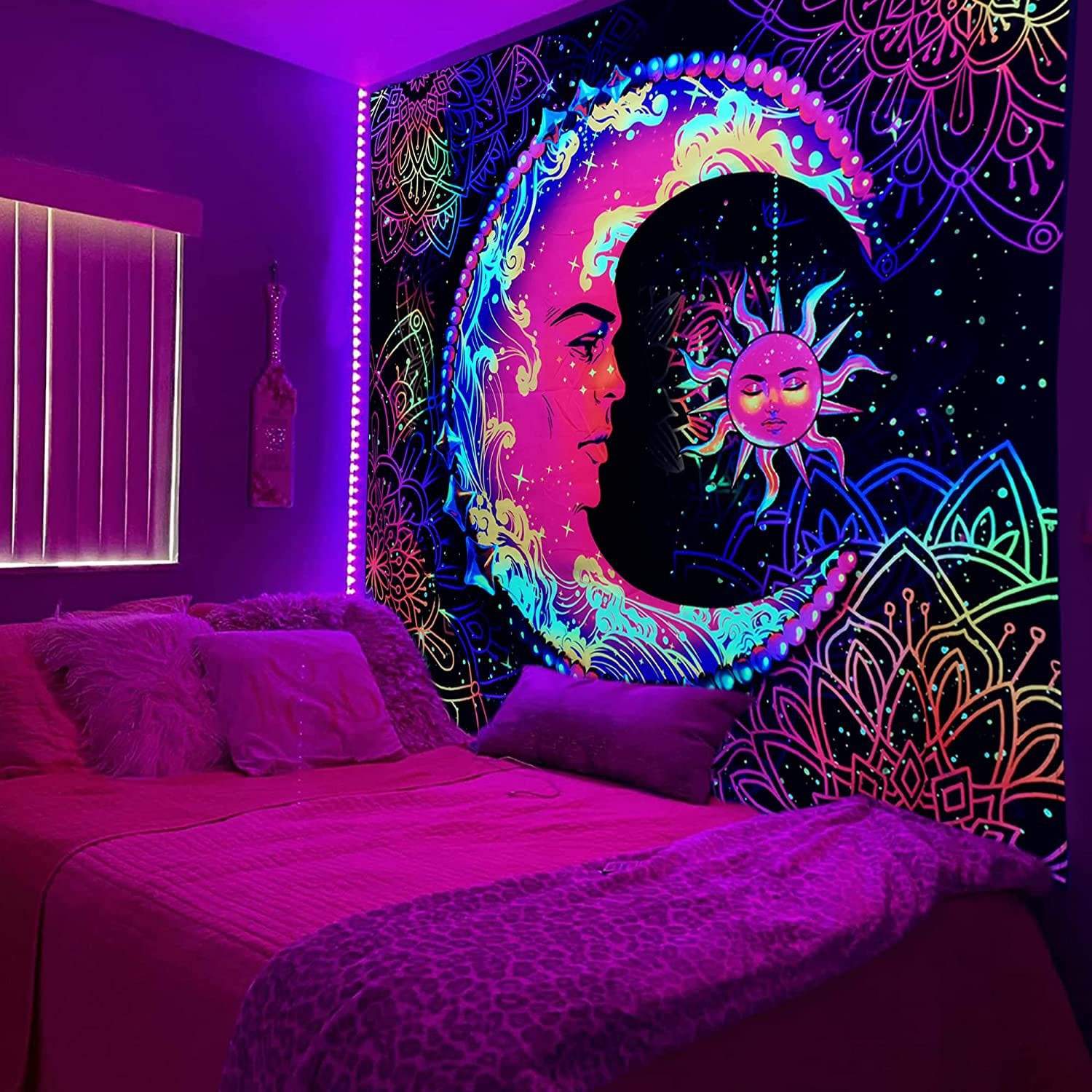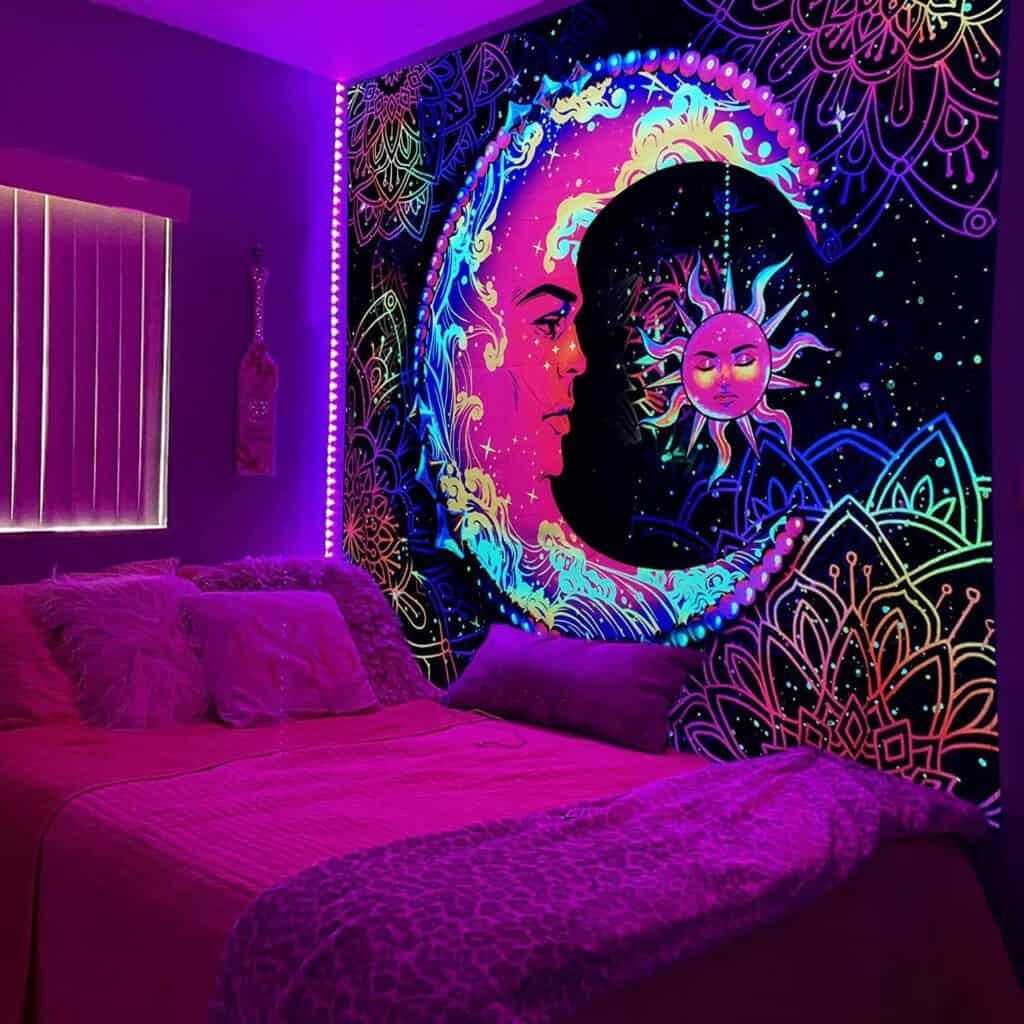 To emphasize the texture of the tapestry, use warm-colored LED strip lights, such as those in a yellow or orange hue. The warm light will also make the space feel comfortable.
Select LED strip lights that compliment the tapestry's hues. Consider using calm blue or white LED strip lights to create a unified appearance if the tapestry is primarily blue.
Create a layered effect using numerous LED strip lights of different intensities. This will give the tapestry more depth and character, making it stick out even more.
Consider using LED strip lights in a symmetrical pattern. It can be along the tapestry's borders or in a geometric pattern that ties in with its design.
Lighting that is Concealed
Hide the LED strip lights behind the fabric for a more understated effect. This will produce a subtle, diffused glow, highlighting the tapestry without being overwhelming.
30. Hidden Lighting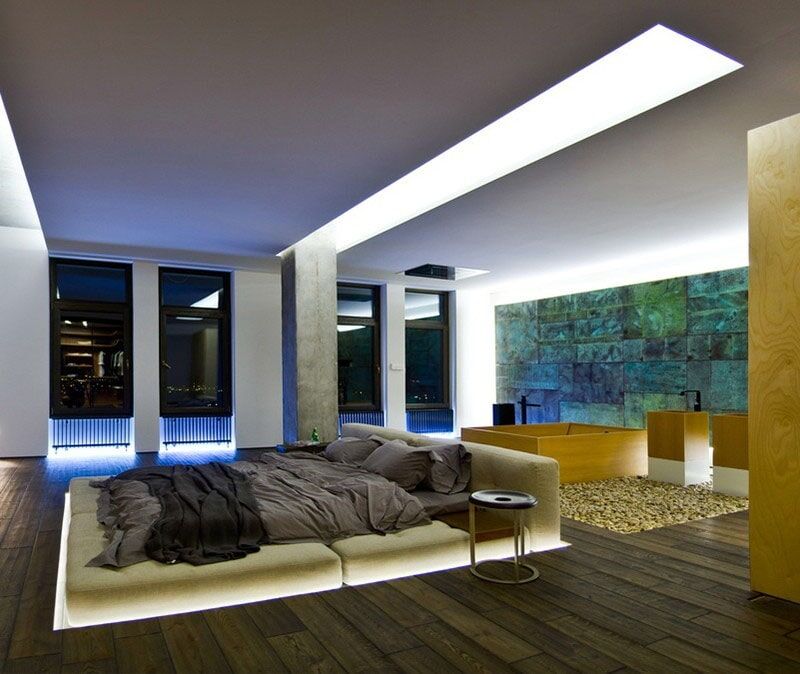 One popular approach is to install LED strips around the perimeter of the ceiling. It creates an illuminated cove effect. This technique creates a soft, ambient glow perfect for relaxing in bed. It also adds a touch of sophistication to the bedroom. To create the effect, you'll need to install a channel around the edge of the ceiling and then insert the LED strips. At first glance, the lights are not visible. Thus it creates a hidden effect when you turn on the light. You can also use a dimmer button to change the luminance. To alter the hue of the light according to your mood, you can add RGB or single-color LED panels.
If your bed has an elevated base or a box spring, think about putting LED strips underneath. This generates a soft radiance that can warm up and enliven your space. To add more ambient lighting, you can also place LED strips under other pieces of furniture like a bookcase or chest.
31. Clean Lines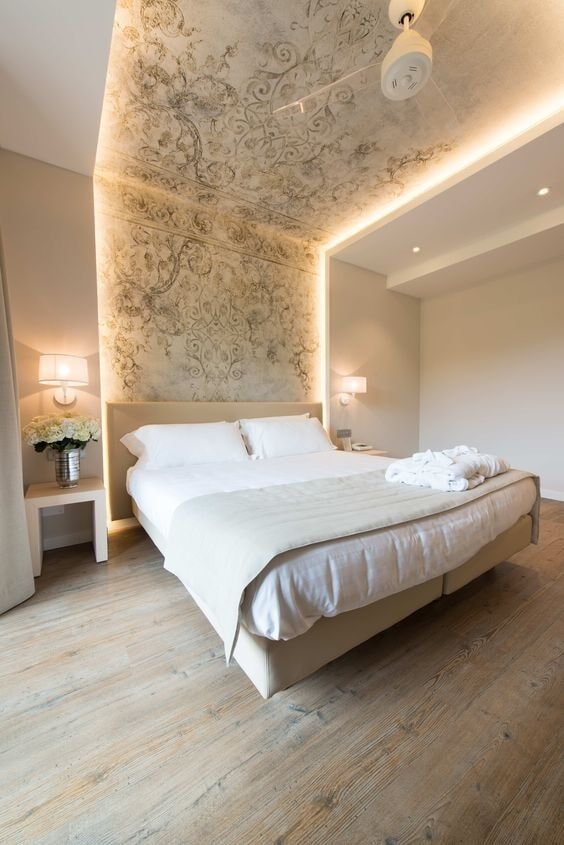 Clean lines in bedroom lighting create a sleek and uncluttered look. Focusing on minimalism and simplicity. LED strip lights can enhance this aesthetic by providing subtle and unobtrusive illumination.
Install LED strips along the perimeter of your ceiling or wall. It accentuates the clean lines of your room. This will create a subtle yet impactful lighting effect. Making your room feel more spacious and sleek.
32. Rustic Lighting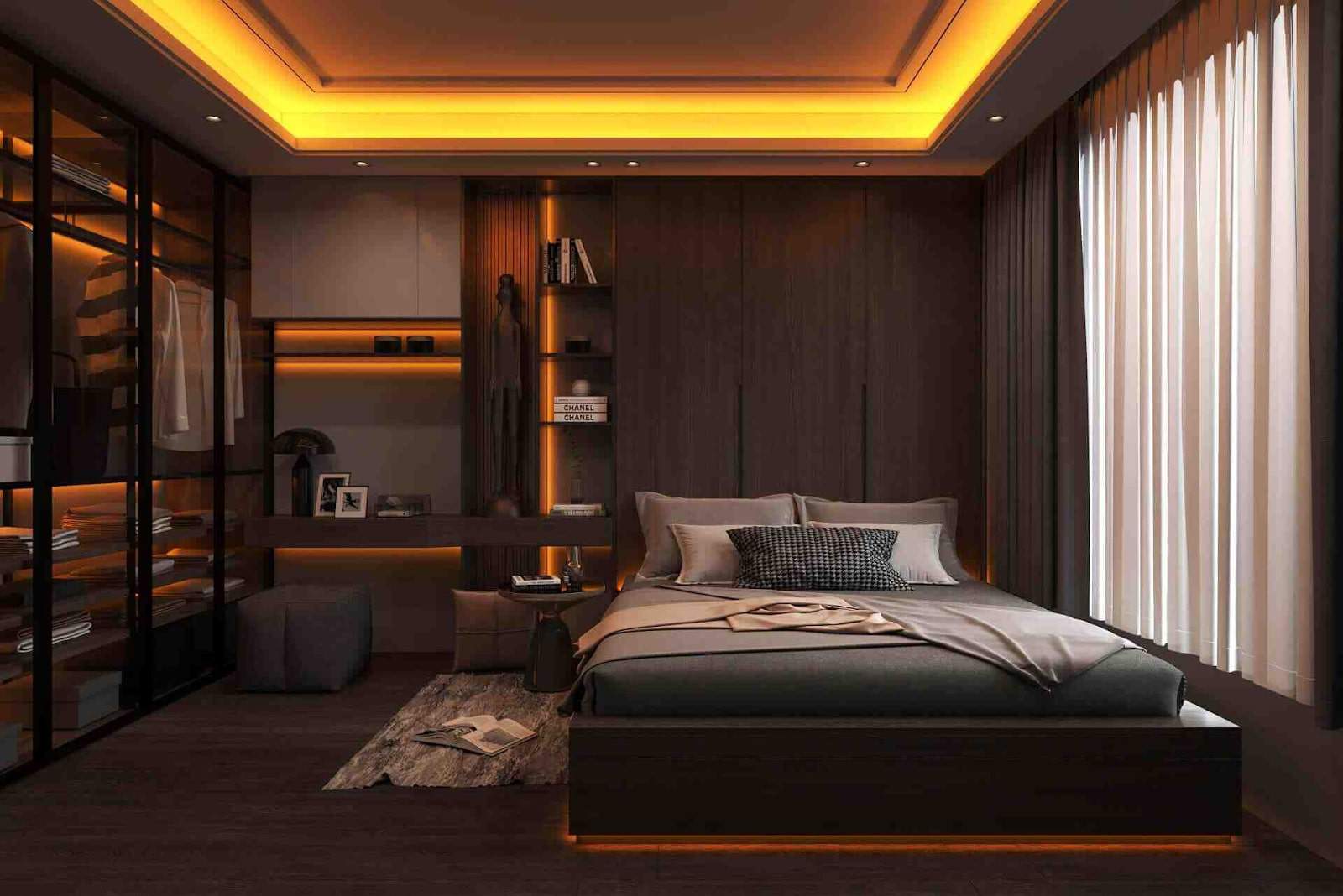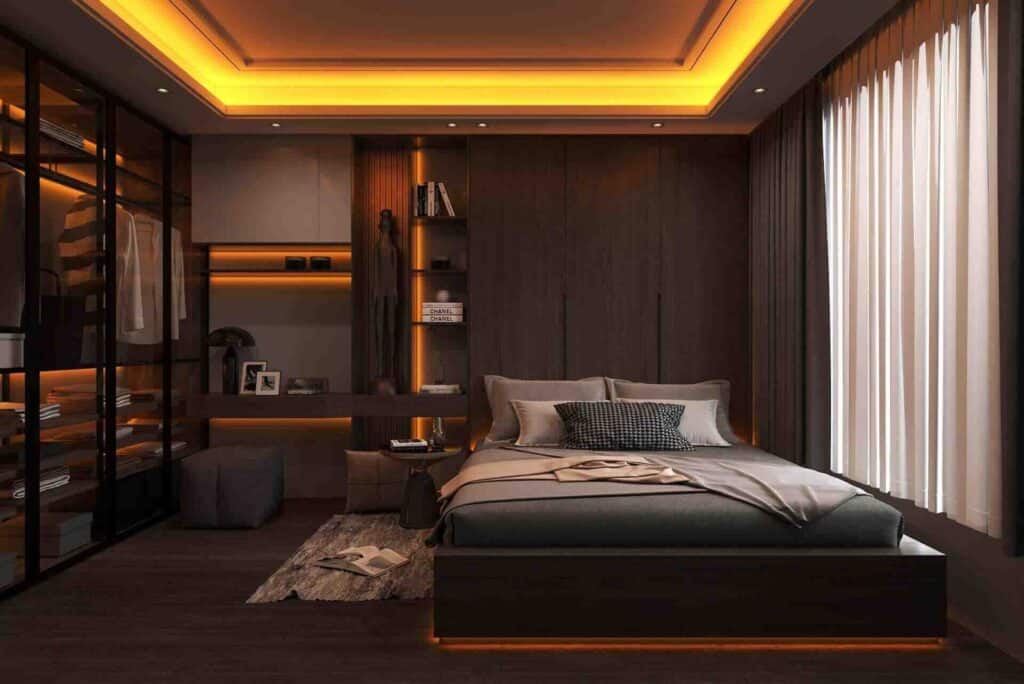 Adding LED strip lights along the ceiling beams in your rustic bedroom can produce a cozy and welcoming radiance. For a more realistic appearance, pick soft white or amber lighting.
Consider using mason barrels as light fixtures. It produces a distinctive and rustic atmosphere.
Put LED strip lights inside and attach them from the roof to add a charming, rustic accent. Rustic shelves with LED strip lights can enhance the natural attractiveness of the timber. And add a cozy, welcoming glow to the space. To create a delicate, natural appearance, use warm white lighting.
Use LED strip lights to highlight rustic accents such as wooden signs or antique furniture. This adds a warm and welcoming touch to the room and creates a focal point for the eye.
Smart LED Strip Ideas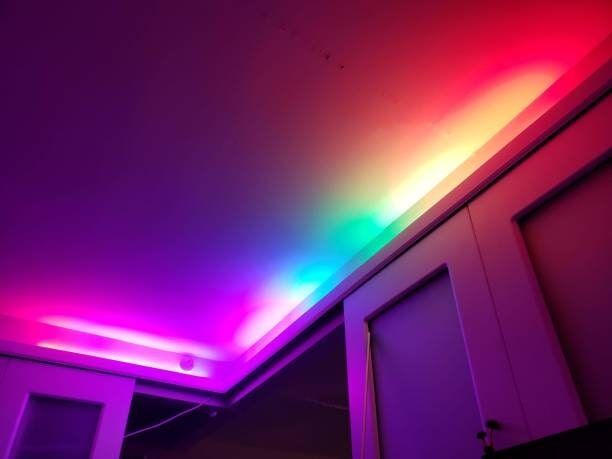 Smart LED strips are connected to a controller. This can be programmed to create various lighting effects. Here are some smart LED strip ideas to help you get started.
33. Voice Control
You can use smart LED strip lighting with voice control to enhance your bedroom's functionality. For example, you can set up task lighting for reading in bed or working on a laptop by directing the light where you need it. With voice control, you can easily turn the lights on and off. Or you can adjust the brightness without interrupting your workflow.
You can integrate smart LED strip lighting with smart home devices, like smart speakers or thermostats. Using voice commands lets you control all your smart devices from one central location. Making it effortless to create the proper ambiance for your bedroom.
34. Color Control
The color hue of the light can be changed from chilly to warm using tunable white LED panels. This kind of illumination is perfect for establishing a tranquil and soothing ambiance in the bedroom. You can change the color tone with adjustable white LED strips to fit the occasion. You can adjust with your state of mind or your activity. For instance, warmer tones may be appropriate in the evening to encourage rest and slumber. At the same time, colder tones are preferable for reading or getting ready in the morning.
Another fantastic choice for establishing a pleasant and welcoming atmosphere in the bedroom is dim-to-warm LED strip lighting. These lights naturally fade and change color to a warmer hue. You can progressively change the color temperature by lowering the lights with dim-to-warm LED strips. Resulting in a soft and cozy ambiance.
The most adaptable type of LED strip for color control is RGB. Since RGB strips let you choose any color in the spectrum, they're excellent for giving your bedroom decor a splash of color. Additionally, you can select from various pre-programmed color schemes. It Includes fades and flashes to give your area a fascinating visual aspect. With RGB strips, you can regulate the color and brightness of the lights with a remote device. You can also control them with a smartphone program.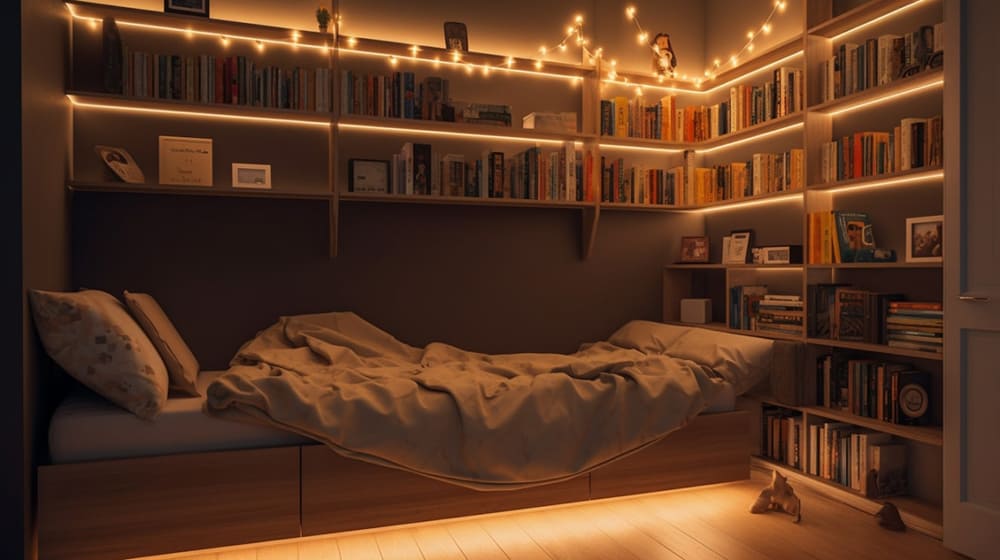 35. Music Syncing
LED strips with music-syncing features can produce a unique and immersive illumination experience that syncs the beat of the music. Attach LED strip lights to the top of your headboard to create a luminous halo effect around your bed. For this purpose, addressable LED lighting is an option. To make an ambiance that is calming, sync them with music.
A musical celebration can be organized as well. Set the sound to your liking and watch the LED strip lights move to the rhythm. Using music-syncing software, you can change the hues and designs of the lights. It matches the tempo and rhythm of the music. When shopping for LED strip lights, search for those that work with music-syncing applications such as Philips Hue, Govee, or LIFX. These applications let you customize and sync the lights with your preferred audio.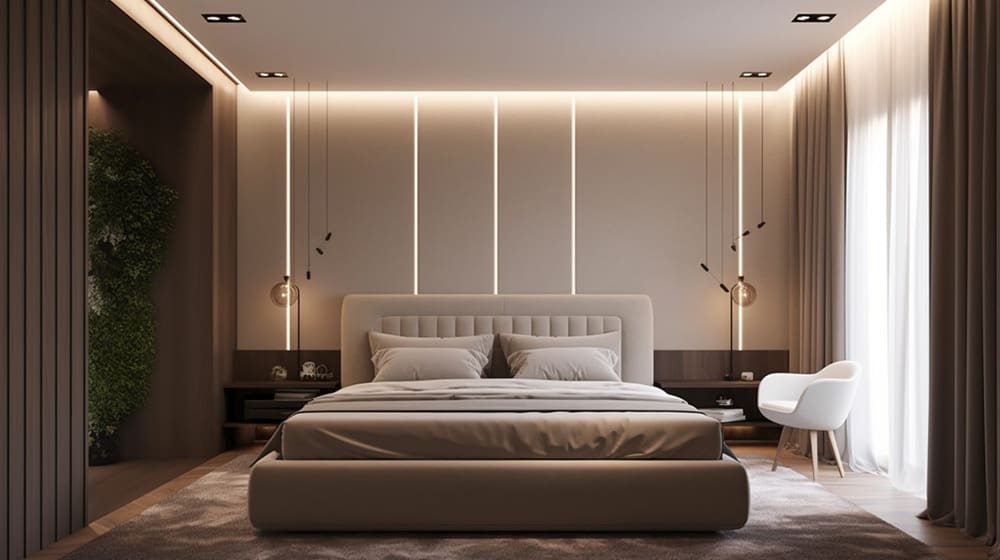 Benefits of Using LED Strips in the Bedroom
There are numerous advantages to using LED strips in the boudoir, some of which are mentioned below:
LED strips use less energy than conventional incandescent or fluorescent lights. LED lights use up to 80% less energy than traditional lamps. Resulting in substantial savings on your power cost. LED strips in the bedroom let you keep your chamber well-lit while remaining ecologically conscious.
LED strips come in a variety of hues and designs. Making them perfect for producing mood lighting or accent lighting in your bedroom. They can highlight your bedroom's building details, artwork, or other ornaments. LED strip color choices can be controlled virtually. Enabling you to alter the color and brightness of your bedroom lighting at the touch of a button.
LED strips are incredibly flexible and can be placed in various methods. They are easily affixed to walls, ceilings, or furnishings and can be bent or cut to suit almost any area. Because of their adaptability, LED strips are perfect for personalizing your bedroom illumination.
LED lights last up to 25 times longer than conventional bulbs, so you won't have to change them as frequently. This also means you'll save money in the long run. Because you will have to purchase replacement lights less frequently.
Studies have shown that blue light can disrupt your body's sleep-wake pattern. Standard light bulbs and technological devices produce them. On the other hand, LED strips produce much less blue light and can help encourage good sleep habits. If you use LED strips in your bedroom, you may fall slumber more quickly and sleep better.
A dimmer switch can regulate LED strips. Enabling you to change the brightness of your bedroom lighting to your preference. This is helpful if you like to read or watch TV in bed. Because you can change the lighting to your liking without any special effort.
FAQs
Final Thoughts
Ultimately, LED strip lights are a game changer in bedroom decor. The options are limitless, from establishing a cozy atmosphere to set the tone for a romantic evening. With these 35 LED strip concepts, you can turn your bedroom into a visual masterwork.
LEDYi has you covered whether you favor a subtle light or a vibrant explosion of color. We provide vast ranges of LED strip light, from RGB to tunable COB strip lights. So, refrain from settling for a dull and uninspired bedroom. And spice things up with LED strip lights from LEDYi and watch your space come alive. Let your imagination run wild and create a space that reflects your personality and style. So what are you waiting for? Start exploring the world of LED strip lights and give your bedroom the makeover it deserves!