Hallway includes the entrance area of an apartment or any commercial building. So undoubtedly, this section grabs the utmost attention of a visitor. And to create the best impression, outstanding hallway lighting is a must.
The first step to light your hallway is to use ambient lighting, then add accent lights for additional effect. You will find several lighting fixtures suitable for hallways. These include- chandeliers, pendants, wall sconces, LED strips, recessed lighting, and more. However, consider the style & pattern of your hallway before choosing any light fixture. Besides, the wall & light color, furniture, height, and width of the hallway must be kept in mind while lighting it up.
In this article, I've brought you 27 creative ideas for lighting your hallway. You will also get a guide to choosing the right hallway fixture. So, without any further delay, let's begin the discussion-
Best Hallway Lighting Ideas
Hallways can be of different styles, and not every lighting suits all of them. That is why well-planned lighting is essential. So, here are 27 unique hallway lighting ideas you can implement based on your taste and hallway pattern-
1. Natural Lighting from the Ceiling Height
If you are building a new home or renovating your hallway, prioritize natural lighting. The natural lighting falling directly into your hall area will create a mesmerizing atmosphere in your house. To develop such lighting, go for glass windows/doors; it will provide sufficient natural lighting to your hallway.
Having a glass portion on the ceiling also works excellent for hallways. In the daytime, you can get sunlight entering your home. And take in the splendor of the stars and moon at night. You will surely enjoy this light setting, especially on moonlit nights! The soft glam of the moon will soothe you, removing all the tiredness of the busy day.
2. Create Daylight Illusion With LED Strips
LED strips are excellent for creating a daylight illusion in the hallway. Here you can go for bright white LED strips with a color temperature of 6500K, which resembles natural lighting. You can also choose warm lights as per your preference. Yet, the best choice would be installing tunable white LED strips. They have color temperature adjusting options. So, you can change the natural ambiance of your hallway as per your mood.
Set the LED strips on the ceiling of your hallway. You can do cove lighting; they create a fantastic lighting effect. Want to experiment more with the LED strips? Go for floor lighting. Create a boundary around the floor of the hallway with LED strips. They will create an illusion of space and add dimension to your area.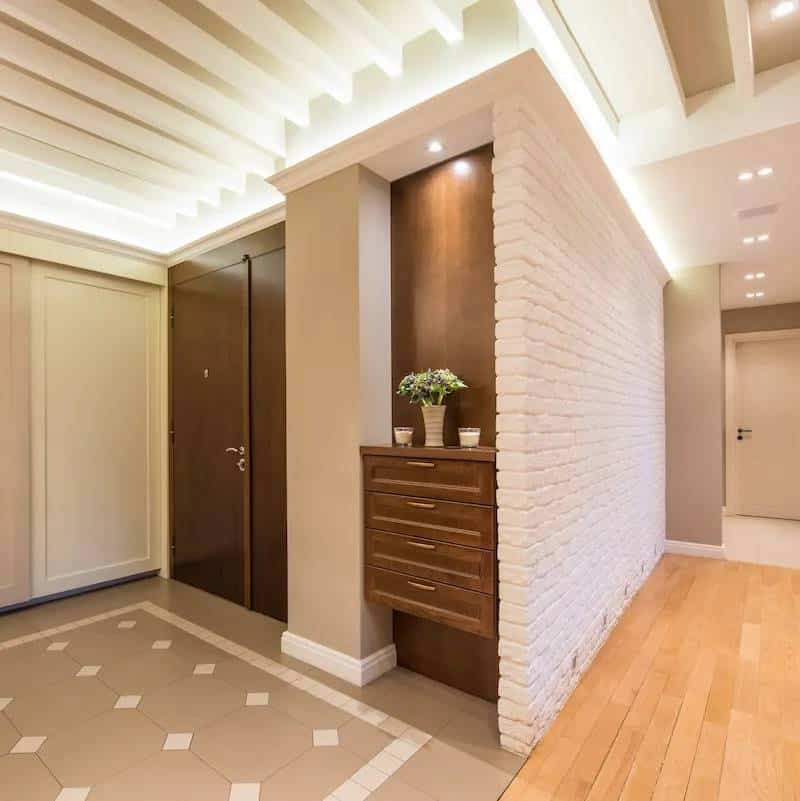 3. Make a Focal Point
The hallway is the very first area of your home to step in. So, it is the best area to create a statement. To stand out in the design of your hallway, go for a light piece that makes a focal point to your space. Usually, the hallway is narrow and only provides a little room to experiment with designer pieces or furniture. The smart move would be selecting a unique light fixture to meet your hall area's lighting and aestheticism. Go for pendant lighting or bare chandeliers. You can also add lamp stands to create a focal point in your hallway.
4. Add Console Table & Lamp
If you have a narrow hallway, console tables, and lamps are your best option for accent lighting. It's not just about illumination; this setting is part of your interior decor. Place a fine console table attaching one of the hallway walls. Put a table lamp over the table with some plants. You can here include candles of different sizes to add dimension. A standard or designer mirror will complement the console table's look. Going for an LED mirror will also be a brilliant idea. It will add a touch of innovation to your hallway.
5. Experiment with Oversize Fixtures
Oversize fixtures are brilliant for hallways. It will mesmerize your guest just the moment they enter your house. Go for a designer hanging lighting piece. It could be a bulky pendant light or other modern fixtures. Such a lighting setting will work best to outstand your hallway. You can also go for multiple pieces, maintaining design consistency.
6. Light up Dark Zones To Create Shading
If you have a large hall area, you may need help with dark spots. Utilize these dark zones to bring contrasting shading to your hallway. Installing wall sconce lights in these areas is a great idea. You can also place barn lights or armed sconces for a stylish look. These fixtures' stylish casing and decorative handles will add a vibe to your interior. Yet, if you don't want much drama, pot lights/ recessed lighting is your ultimate solution.
7. Use Step Lights To Welcome Your Guest
Having stairs around your hallway offers you a fantastic scope to play with the lighting. Adding step lights on the stairs will give an elevated look to your hallway. You can go for either LED strips or recessed lighting. Placing LED strips in the lower part of your stairs will create a floating illusion. However, with recessed lighting, you can set the light fixtures below, on the outer section, or on both edges of the stairs. You can also include colorful lighting to your stairs to add extra fun. In this case, an RGB LED strip will work great!
8. Go With a Paper Lamp For an Artistic Look
A paper lamp is your go-to option to bring an artistic touch to your hallway. It brings a minimalistic yet standard appearance to your hallway. It works as a light fixture and a creative piece of your interior. Besides, paper lamps are environmentally friendly and recyclable. If you are an environmentally-conscious person, these lights are an ideal option.
9. For a Sophisticated Appearance, Go for Smoked Glass Light
Smoked glass lights are ideal for hallway lighting as they don't produce direct glare. These lights come in different designs and textures. You can go for plain smoked glass lights or a textured one, whichever suits you. Besides, smokey fixtures give a diffused lighting effect making your hallway stand out. If you don't want too much yet want to add a bit of drama to your hallway, these lights are a great choice.
10. Install Smart Lighting, Be a Game Changer
The concept of smart homes is popular these days. You can also bring these to your home, installing smart lighting in your hallway. These lights are automated; they will turn on automatically when you enter your hallway. Besides, you can control these lights through a mobile app. Turn them on before you enter your home, and you won't have to stagger in the dark. These lightings also offer a timer option, where you can decide when to turn off the lighting. Thus, smart lights give an innovative appearance to your hallway and save electricity wastage.
11. Vintage Vibes with Lantern Lights
Vintage decors are never out of date. And if you want to bring these vibes to your hallway, lantern light fixtures can help you out. These fixtures bring a sophisticated approach to your hallway. However, with lantern lighting, you can go for two options- a lantern with a bulb setting or a candle-like setting. If you want to keep it purely vintage, go for the candle-effect lantern lights. But bulbed lantern lights are your go-to option if you are concerned with modern streams yet want a vintage look.
12. Accent Lighting For Highlights
The most appropriate approach for narrow hallways is installing multiple accent lighting. In this case, you can go for recessed lights for the ceiling or cover lighting with LED strips. Setting spotlights and track lights for highlighting showpieces on the wall is also brilliant. You can also go for floor lighting to bring depth to your hallway. Besides, wall sconces are also a viable option for accent lighting. These lights come in various designs that can add a statement to your decoration.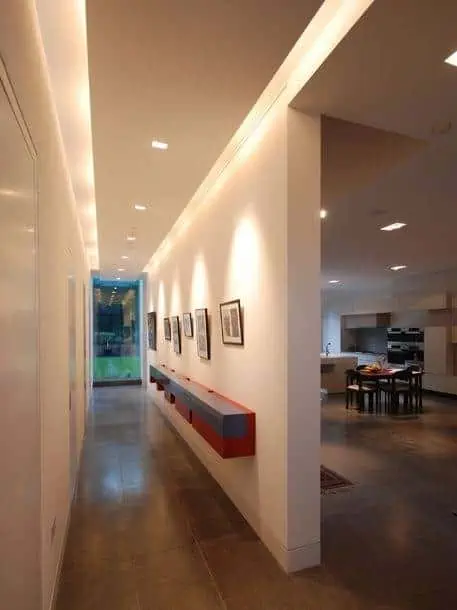 13. Ground Recessed Lighting
Don't skip your floor when lighting the hallway. Go for built-in recessed lighting from the entrance area to the end of your hallway. It will create a welcoming ambiance to your house. Both warm and cool tones work well for the hallway's light color. Yet, I suggest going for warm lighting; it will bring a cozy vibe to your hallways, making the guest feel at home.
14. Add LED Mirrors To The Entrance Wall
A head-to-toe LED mirror would be an innovative way to light up your hallway. Placing these mirrors on the side walls will enhance the interior if you have ample space in your entrance area. LED mirrors are available in various shapes and sizes; round, oval, square, and rectangular; you can choose the one that fits your hallway style. However, I suggest you go for a larger one that gives a view of your whole body. Besides, the soft Lighting around the mirror adds a soothing ambiance to your hallway. The bright Lighting of these mirrors complements tile floors well, especially with dark walls.
15. Add Dimension With LED Strips
"The first impression is the best impression"- the same goes for interior decoration. And for your house, the entrance begins with the hallway. So, it is undoubtedly the area to create a statement. Go out of the box to bring innovations to your hallway outlook.
What about creating a dimensional structure for your hallway? Sounds difficult? No worries, LED strips will help you out. Insert the LED strips in the aluminum channel to bring them into a shape. You can join the strips from the walls to the floor and ceiling, creating a quadrilateral structure. Such lighting will give a unique dimension to your hallway. Further, it creates an illusion of space. No doubt your guest is surely going to mesmerize by this light setting.
16. Hang Lights of Different Heights to Create Interest
If your hallway feels too feminine to go for an industrial look, there are many other ways to give it a trendy appearance. A large and wide hallway opens up several options for installing chandeliers, pendants, and other designer lights. But what about narrow hallways? When lighting small and narrow hallways, keeping them minimal yet eye-catching is essential. And for that, you can experiment with hanging lights of different heights in the hallway.
A trio-cascade downlight hanging from the ceiling would be a fantastic option. You can also try individual light pieces of various sizes. Position these lights at the end of the hall to make your area look more prominent. Go for a golden or brass combination to bring a modern look. You can also try antique light pieces that compliment your hallway interior.
17. Combine Multiple Light Sources To Build an Effect
The first step to lighting your hallway is to decide the ambiance you want to create. Combine different light sources to build an effect. If you have a window or glass door, use it properly for sufficient natural lighting in the daytime. And for artificial lighting, you have numerous fixtures to combine. For example- go with LED strips for ceiling and floor lighting. You can also choose can/pot lights for the same purpose. These light fixtures will provide general lighting to your hallway.
Use chandeliers, pendant lights, or other hanging light fixtures for decorative lighting. You can also choose wall lights like- sconces for an extra touch. Again, how about a lamp and a console table on the hallway walls? It will bring a warmness to your hallway decor. Moreover, adding a mirror will complement this look. Mirrors are a great option in the hallway as they beautifully reflect the lighting bringing a glow. And it will be excellent if it's an LED mirror. Thus, by combining multiple light sources, you can create a fantastic ambiance in your hallway.
18. Big Chandeliers For a Royalistic Look
Installing chandeliers is the easiest way to bring a royal appearance to your hallway. These light fixtures are often bulky in size, creating a statement to your interior decor. However, modern chandeliers are sleek in design compared to classical ones. So, the pattern of chandeliers is a crucial factor to consider.
If you want to give a classic appearance to your hallway, go for crystal chandeliers with traditional designs. You can choose warm and cool tones for light colors, but I suggest using warm lights. Yellow-tone lighting complements traditional chandeliers best in bringing a royal look. However, it must match your interior. Including a chandelier in your hallway lighting would be your house's most eye-catching element. So, choose wisely.
19. Hang Simple Pendant Lights For Modern Vibe
Pendant lights are your go-to choice to give your hallway a modern and sleek appearance. Chandeliers may be the first thing that hits your head when adding drama to your lighting. But these days, pendant lighting is more in trend. You will get thousands of options in pendant lighting design and patterns. These pendant lights are small in size and minimal in design. So, you can add multiple pedants in your hallway, maintaining design consistency. Besides, they are not as expensive as chandeliers.
20. Go for Woven Lamps For Hallway
Who doesn't love being artistic with house interiors? And when it comes to hallway decor, a light fixture is the ultimate attraction. So, to bring more fun to your hallway lighting, go for woven lamps. Installing these lamps in your hallway will be the most unique and creative approach. The patterns of the woven lights create an illusion of texture to the ceiling. Thus, it creates a mesmerizing ambiance in your hallway.
21. Choose a Standing Light Piece For Visual Effect
When it comes to lighting your interior, it goes beyond just illumination. Lighting is, in fact, an art that you can present as a masterpiece of your house. For making such a statement, the hallway is the perfect location. Place an artistic standing lighting figure in your hallways. Thus, make your guests stunned the very moment they enter your house. In choosing standing lighting pieces, you will find many options. It could be any illuminating sculpture or even a long-leg lamp. Set the light piece that matches your taste and give your hall a unique look!
22. Take Advantage of Architectural Details
Spotlights are excellent for bringing out the texture of your hallway walls. If you have brick, stone, wooden, or walls with unique patterns, lighting is the best way to highlight them. In this case, you can go for spotlights, floodlights, or pendant lighting. The light rays falling directly to the walls create shadows bringing out the textures of the walls. So, if you want to bring out the architectural details, go for this type of lighting.
23. Add A Quirky Neon Light
Neon lights are always fun to play with. So, why skip your hallway? Go for a quirky neon sign with any logo, symbol, or text to add to the hallway walls. This will bring a welcoming warmth to your house. Each time you enter your home, the glowing lights will energize you, relieving all tiredness of the busy day. However, you can also place these neon lighting on the ceiling of your hallway. It will look great at night time. So, for excitement in your hallways, go for LEDYi LED Neon Flex. These are super flexible and customizable. You can shape them however you want and install them just like a pro! To get the guidelines, check out this- How to Make a DIY LED Neon Sign.
24. CandleLight For Creating a Cozy Atmosphere
Who doesn't love a cozy and warming atmosphere at home? And to make you feel more at home, nothing can beat candle lighting. Including candles will give a soft illumination to your hallways. You can go for antique or gold stands as candle holders that will provide a vintage look to your hallway. Lantern pendant lights will best complement these candle lights.
But if you want to bring a modern and sleek look with candle lighting, go for hallway console tables. Add candles to the table; you can choose multiple shapes and sizes. However, LED candles are an excellent replacement for traditional candles. This type of lighting would be best for Christmas eve. It will give your house a festive vibe; children can play around without the risk of fire hazards.
25. Use Globe Lights To Keep it Minimal
Modern lighting is all about keeping it simple and making it big! Installing small and simple light fixtures can create a fantastic impression on your hallway. And globe lights are your go-to lighting solution to bring this modern ambiance. These lights can be of many types. It can be flush mount, semi-flush mount, or even pendant style. The plane and simple structure of the globe lights brings a standard outlook to your hallways. These globe lights complement best will colorful and designed walls. When you feel adding designer light would be too much for your hallway interior, always go for these globe lights. They pop up in your area without creating much drama.
26. Layer Your Lightings For Wide Hallway
A wide hallway can give you the vibe of – 'something's missing.' But there isn't much to experiment with furniture in hallways. So, the best solution is choosing Lighting that makes your hallway come alive. The foremost thing to do is add a prominent light fixture, chandelier, or pendant lighting in the center area of your hallway. You can also go for multiple fixtures if you have a vast hallway. To add more, go for cove lighting with LED strips or pot lights. If the hallway still feels empty, add flood lights to the walls. You can also work on floor lighting if it doesn't overdo it. That is it! Now you can make your wide hallway feel complete.
27. Reflect Light in a Narrow Hallway
Lighting up a narrow hallway may confuse you as it doesn't fit attractive fixtures like chandeliers or pendant lights. So, how to bring uniqueness to narrow hallway lighting? No worries, the solution is too simple to blow your mind. All you need to do is set multiple spotlights on the walls. And the technical point is placing a full-length mirror to create reflection. The flowing light of the limelight will bring a soft glow to your hallways. And the mirror will give an illusion of space and make your narrow hallway look bigger.
Different Types Of Lightings For Hallways
When lighting, you should have some basic knowledge about different light fixtures to use in your hallways. Here is the light fixture to light up your hallway-
LED strip lights: If you want to bring a modern outlook to your hallway, LED strips are your best option. These tape-like light fixtures are flexible and versatile to use in your hallway. You can use these strips for cove lighting and floor or staircase lighting. Besides, they are available in different colors and effects. So, choose the one that suits your taste.
Semi-flush mount lights: These suspended downlights leave a small gap between the ceiling and the fixture. They are small and basic in design. If you have a small or narrow hallway and want something moderate yet classy, semi-flush mount lights would be excellent.
Decorative flush mount lights: In design, they are very similar to chandelier lighting. Unlike hanging chandeliers, these lights are attached to the ceiling. So, if you are looking for an alternative to chandeliers, decorative flush mount lights are best for your hallway.
Wall sconces: This light fixture is fantastic for hallway wall lighting. They come in different shapes and structures. You can use them to brighten up the dark areas of your hallway. They also work excellent as accent lighting. Besides, these wall sconces' designed handles and casing add elegance to your hallway.
Chandeliers: The lighting of a large hallway is never complete without a chandelier. These lights bring a sophisticated look to your entire house. A giant chandelier is enough to be the centerpiece of your home. And if you have a duplex or triplex house with a vast hallway, a chandelier is a must-have lighting. You can also go for multiple chandeliers for long walking passages in hallways.
Hanging pendants: Pendant lights are a modern, simple version of bulky chandeliers. These lights can be big or simple in size. So, whether you have a big or small hallway, you can always go for pendant lights. However, you will get thousands of options in choosing pendant lighting. So, first, consider the interior of your hallway before deciding on the patent design.
Recessed lighting: These lights are directly installed into the ceiling or floor. Recessed lights are also known as pot or can lights. They are an excellent option for creating a hallway ambiance.
Artistic lights: Use crafty light fixtures to bring a creative touch to your hallway. Paper pendant lights, boho rattan (bamboo), or woven lamps would be excellent choices for this. These will bring a soft and fresh vibe to your hallway.
Smoked glass lights: If you are tired of light glaring and looking for diffused lighting fixtures, smoked glass light is for you. Nowadays, plain gray or ash-smokey glass lights are on trend. However, they can also be textured or tinted. So, go for the one that suits your hallway best.
Lantern lights: Are you a vintage lover? If yes, lantern light fixtures are your go-to option for hallway lighting. These are lightings with tin/iron glass casing that give a vintage vibe. You can use them in the center or go for multiple lanterns if you have a long hallway.
Spotlights: In highlighting the walls' texture or focusing on any unique element of your hallway, spotlights work excellently. For example, if you have paintings or photos on hallway walls, go for spotlights to focus them.
Things To Consider For Choosing Hallway Lighting
Different zones of your house have specific lighting requirements. The same goes for hallway lighting. I've included some factors in the below section which you must consider when lighting your hallway-
Height Of The Hallway
The hallway height is essential for installing hallway lighting, especially when you have a duplex or triplex house. This type of house has big hallways with vast ceiling height, ideal for installing large chandeliers or other hanging fixtures. You can also experiment with multiple chandeliers. But for small height or narrow hallways, simple pendant lights, semi-flush mounts, or other small fixtures will be great. You can also go for Ceiling and floor lighting to create an illusion of height.
Availability Of Natural Light
Turning on the lights all day is nothing but a waste of electricity. So, the availability of natural Lighting is essential for your hallway, especially in the daytime. Besides, you can go for low-lumen rating bulbs with sufficient natural Lighting. And if your hallway doesn't have enough natural Lighting go for light layering. For example- recessed or LED strips for ambient Lighting and pendant lights for accent lighting.
Structure Of The Hallway
To outstand your hallway lighting, you must consider the hallway's style and structure. For example, if you have a traditional-style hallway, vintage light fixtures will complement you best. Here are some hallway styles based on which you can choose the correct fixture for your hallway-
Victorian Style Hallway: Victorian-style hallways have a royal touch, including mosaics, patterned floor tiles, and carpets. To complement these types of hallways, chandeliers or pendant lights suit best. As far as the light color, warm-tone lighting will fully bloom the Victorian style of your hallway.
Modern Hallway: Always use simple and sleek light fixtures when lighting a contemporary hallway. Recessed lights, LED strips, wall sconces, and pendant lights go well with modern hallways. You can also go creative with artistic light pieces to bring an aesthetic look to your hallway.
Dark & Narrow Hallway: A hallway with no natural lighting requires multiple fixtures for illumination. In this type of hallway, implement cove lighting with LED strips to bring an illusion of space.
Low Ceiling Hallway: For lighting low-ceiling hallways, avoid hanging light fixtures. Instead, focus on sidewall lighting. You can go for spotlights or wall sconces for this type of hallway. Mirror installation would be a brilliant move to reflect the lighting.
Brightness Of The Fixture
For ambient hallway lighting, fixtures with 1200 – 2500 lumens are ideal. It will provide enough illumination for the entire hallway. And as for accent lighting, the brightness of the light would be three to four times higher than the ambient lighting. So, choose wall sconces or spotlights with higher lumen levels.
Color Of The Light
White lights are best for hallway lighting. Here you can go for three options, warm tone, natural white, or cool tone lighting. Usually, warm, toned yellowish lights are preferable for hallways as they give a cozy ambiance making you feel at home. Besides, you can also go for cool light tones. However, color temperature plays a crucial role in deciding the light coloring. Different color temperatures bring out specific lighting output. Here is the color temperature range for white color lighting-
| | |
| --- | --- |
| Tone Of White | Color Temperature |
| Warm White | 2700-3300K |
| Cool white | 3300-5300K |
| Daylight | 6500K |
Lighting Matches the Interior Decor
The interior decoration includes the furniture, wall color, floor & ceiling pattern, and the overall outlook of your hallway. So, to choose the right light fixture, consider these elements. If you have simple and plain furniture, go with a modern fixture. Spotlights, LED strips, and recessed and pendant lights are excellent for a trendy look. Again if your house has a vintage-inspired interior, chandeliers or lantern lights would be best.
FAQs
End Quote
There are endless ways of lighting your hallway, but choosing the wrong fixture can bring down the entire ambiance of your hallway. So, analyze your hallways area, interior, and ceiling height before choosing a light fixture.
However, if you plan to give your hallway a smart and modern outlook, LED strips would be your best pick. And for getting premium LED strips for your hallway, LEDYi is undoubtedly your utmost choice. Our strips are durable and customizable. You can effectively use them in multiple ways to light up your hallway. Again if you are looking for a neon effect for your hallway, we have LED neon flex too. So, contact LEDYi ASAP!