What's the first thing that hits your mind thinking of Christmas Eve? Santa Clause, right? But what else? You can't miss recalling Christmas's bright and drizzling lighting, welcoming Santa's blessings! So, here I bought you a compressive guide for lighting your Christmas decorations.
LED lights are your best choice when it comes to Christmas lighting. These lights are highly energy efficient, so keeping them on throughout the festival will not cost much on your electricity bills. Besides, they come with some amazing Christmas theme designs like- snowflakes light, icicle lights, fairy lights, etc., making your Christmas decorations magical. Xmas tree lighting is another major attraction for Christmas lighting. However, there are some more facts you must consider in selecting lighting for indoor and outdoor areas.
No worries, I'm here to help you out. In this guide, you will get to know all about Christmas lighting. In the last segment of the article, I have also shared some creative ideas to decorate your Christmas lights! So, why delay? Let's begin-
What Are LED Christmas Lights?
LED Christmas lights are, also known as LED holiday lights, mainly used for Christmas decoration. Earlier, incandescent lights were used for holiday decoration, but now with the advancement of LED technology, LED Christmas lights are more popular. These lights use light-emitting diodes to produce energy-efficient lighting.
You will find a wide range of designs in LED Christmas lights that make them suitable for festive decoration. The theme of Christmas relates to snow, red and white Santa clauses, colors, joy, and fun. Keeping all these facts, LED Christmas lights are designed to bring a fairytale ambiance to your place. String lights, icicle lights, Opticore, and LED snowflakes, LED star lights are the most popular category of LED Christmas lights.
LED Christmas Lights Vs Incandescent Christmas Lights – Which Is Better?
When it comes to Christmas lighting, the most popular option you will find is – LED and incandescent lights. Now, which one is better?
Incandescent Christmas lights are precedents of LED Christmas lights. With the popularity of LED technology, incandescent lights are not much used nowadays. Yet they are well-known for traditional or vintage Christmas decorations. Below I have added a differentiating chart that will help you to choose the best option-
| | | |
| --- | --- | --- |
| Criteria | LED Christmas Light | Incandescent Christmas Light |
| Energy-Efficiency | Highly energy efficient; uses less energy compared to other traditional light forms | They consume more energy than LED Christmas lights and so are less energy-efficient. |
| Life-span | LED Christmas lights can last up to 50,000 hours or even more. | Incandescent Christmas lights typically last around 1,000 to 2,000 hours. |
| Safety | It doesn't overheat; safe to use | It becomes hot and has the chance of fire breakout. |
| Environment-friendly | LED Christmas lights don't produce any toxic gases. | Incandescent lighting produces toxic gases like mercury. |
| Design & Functionality | With LED Christmas lights, you get a wide range of designs suitable for holiday decorations. It also offers you automation, dimming, and other advanced functions. | These lights are more traditional and don't have many options in design. Besides, incandescent lights don't offer advanced options like LEDs. |
| Durability | Requires less replacement and is more durable. | Requires frequent replacement and is less durable than LEDs. |
| Color & Brightness | LED lights are available in a wide range of colors and can be brighter than incandescent lights. | Incandescent lights offer a warmer, traditional glow and are less bright than LED lights. |
| Cost | LEDs are more expensive than incandescent, but low maintenance cost offsets the initial investment over time. | It is cheaper than LEDs but has a high maintenance cost as it requires frequent repair and replacement. |
So, from the above chart, we can see that LED Christmas lights are more energy-efficient, better in performance, and more durable. These features make them a better option than incandescent Christmas lights. However, in terms of pricing, though LEDs are expensive, they offset the overall running and maintenance cost of incandescent ones. For more information, you can check Halogen vs. LED Bulbs: How To Choose?
Why Choose LED Lights For Christmas Lighting?
LED technology is far better than any other lighting technology for Christmas lighting. The reasons for choosing LED lights over other options are as follows-
Energy-Efficient: LED technology used in LED Christmas lights makes them highly energy efficient. These lights consume almost 85% less energy than other traditional lighting. Thus, using this fixture in your Christmas decoration will not cost much for electricity bills.

Wide Range Of Colors: LED light fixtures offer millions of coloring options. Besides, warm white, cool white, red, green, and other colors popular for Christmas themes are available for LED lights. You will not find such variation in other traditional lighting.

Versatile: Nothing can beat the designs available on LED Christmas lightings. You will find different shapes of light fixture that portrays the Christmas theme, like- icicle lights, start shape lights, snowflakes LED, and more.

Shock-Proof: As LED lights produce minimal heat and are shock-proof, you can use them for creative lighting. For example- using LED fairy lights, you can highlight the dummy of Santa Claus or reindeer.

Less Heat Production: LED Christmas lights produce minimal heat. They have effective heat sink designs that prevent the fixtures from overheating. This allows you to use them anywhere; you can also touch them with no worries.

Bright Illumination: LED Christmas lights' high brightness or intensity makes them suitable for outdoor lighting. You can use them to light up your house or commercial and public areas like parks, restaurants, shopping malls, streets, etc.

Can Resist Cold Temperature: As Christmas is celebrated in December, it is the coldest season for most of the country. Besides, the theme of Christmas is also related to the snow theme. So, you can easily install these light fixtures outdoors where the temperature is minus degree Celsius.

Durable: LED lights are durable and last for years. They can glow for 50,000 hours or more if properly maintained. So, purchasing Christmas lights once, you can use them every Christmas for sure. For more information, you can check How Long Do LED Strip Lights Last?
Disadvantage Of Using LED Lights For Christmas Lighting
Besides all the above advantages, LED Christmas lights have some drawbacks too; these are as follows-
High upfront cost: The price of LED Christmas lights is higher than that of incandescent Christmas lights. But as the maintenance cost is low and it doesn't require frequent repair and replacement, the overall cost is not much. That is, it offsets the upfront cost over time.

Blue light can cause nausea: The blue light emitted from LEDs can cause headaches or nausea in some people. The solution is to get warmer light tones or choose color-adjustable ones, like tunable LED strips.

Directional lighting: LED lights emit light in a certain direction, which might be problematic if you want to create a consistent, evenly spread illumination. Due to this, certain places may appear brighter or darker than others.

Complex repair: LED Christmas lights, like string or fairy lights, are more complex to repair. Besides, most of the lights are wired in series. So, if one light gets fused, it will impact the other fixtures. Identifying and repairing these fixtures are also time-consuming.

Disposal concerns: LED lights contain components like lead, which is unsuitable for disposal. Though LEDs are much safer than incandescent or fluorescent lights, it has some environmental impact.
For more information about LED, you can check Are LED Lights Safe?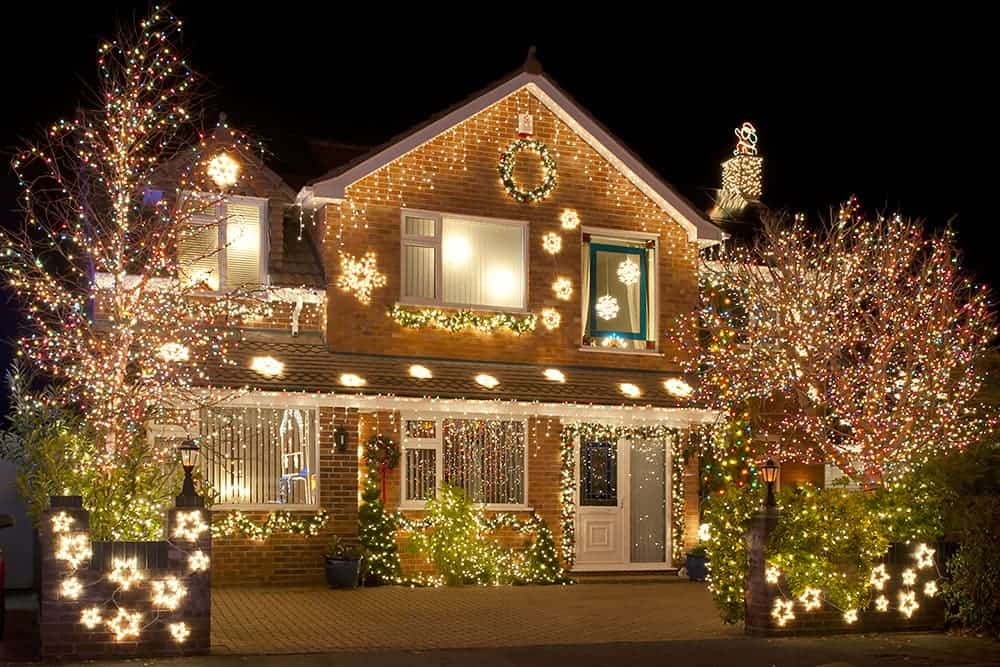 Popular LED Lights For Christmas
The designs and patterns of LED Christmas lights are non-ending. Yet I have listed the most popular variants of Christmas lighting for you-
Mini String Lights
Mini string lights have small bulbs tied in string forms. These lights are more commonly known as fairy lights. You will find string lights in various designs, including star, round, magical ball shapes, leaf shapes, and more. Mini-string lights are suitable for indoor and outdoor Christmas lighting; these are the most common variants of Christmas lights used in Christmas. You can wrap them around trees, Santa clauses, or decorate your building with string lights.
Wide-Angle LED Mini Lights
Wide-angle LED mini-lights are similar to mini-string lights but have a more even light distribution. Usually, they have flat heads that allow the light to illuminate vibrantly, creating a warm and inviting environment.
Large-Bulb Lights
Large bulb lights are ideal for creating more retro or traditional Christmas lighting. They give the appearance of incandescent lighting but with the energy efficiency of LED technology. Bulbs commonly known as G40 and G50 are mostly used for this purpose. If you want to create a warming ambiance in your house to welcome the Christmas guest, these lights can be a good choice to go for.
Animated and Color-Changing Lights
Animated lights have built-in color-changing features that allow them to bring an animated effect. You can bring a magical lighting effect using these lights in your Christmas decoration. These illuminates in twin liking patterns change their colors that suit the holiday decoration best.
Battery-Operated Lights
Battery-operated lights are a great option if you want to light some areas with no power supply. For example, if you want a light piece for the center of your table, these lightings are an excellent option.
Icicle Lights
Want to bring the icy effect to your Christmas decoration? Icicle lights are your ultimate choice. These fixtures resemble icicles. You can hang them from roofs, eaves, or tree branches. It will make your house look covered in ice, and Santa is coming with blessings.
Pathway Lights
Christmas lighting shouldn't leave any place in the dark. So, illuminate every inch of your space, including the pathway. Pathway lights for Christmas are available in different designs- snowman shapes, X-mas tree shapes, snowflake theme bollard lights, and more.
LED Strip Light
LED strip lights are excellent for indoor and outdoor Christmas lighting. You can choose cool white LED strips to bring the snow effect. But if you want to create a warm and inviting atmosphere for Christmas Eve, choose the warm white LED strip light. However, the best option would be to choose a color temperature adjustable option like- tunable LED strips. However, if you want something colorful, RGB LED strips are undoubtedly the best option. You can customize the color of the lighting using a controller with it. And if you are hosting a Christmas party, don't forget to check our addressable LED strip lights- you won't regret it!
Opticore LED Light
Opticore LED lights are among the most widely used lighting for Christmas. You must have seen these small cone-shaped lighting on any indoor or outdoor Christmas decoration. Opticore LED lights are excellent for decorating Xmas trees and other greenery. These lights are mostly labeled as C, along with a number. Here C stands for 'Cone,' which indicates the conical shape of the fixture, and the numbers with it define its size. Popular Opticore lights for Christmas include- C3, C6, C5, C7, and C9.
Flex Filament LED Lights
Want to bring an Edison-style vintage look to your Christmas lighting? Go for flex filament LED lights. These have a unique filament design that gives you the outlook of traditional Christmas lighting with the benefits of LED technology. You can use them for indoor Christmas decoration lighting; they will look amazing.
LED Net Light
For lighting the bushes of your garden, nothing can seem more beautiful than LED net lights. These lights are arranged in a messy-net-like structure surrounding the bushes, hedges, or tree canopies with magical illumination. You can also use them creatively for indoor lighting.
LED Snowflakes
Amaze your guests with the LED snowflakes lights that match the Christmas theme best. These snowflakes match the snow theme and look excellent for Christmas lighting. You can use them to decorate your indoor or outdoor residential space; kids will love the outcome. Besides, these fixtures are suitable for commercial or public Christmas decoration too. For example- you can place them in restaurants, parks, and malls to bring the holiday vibe.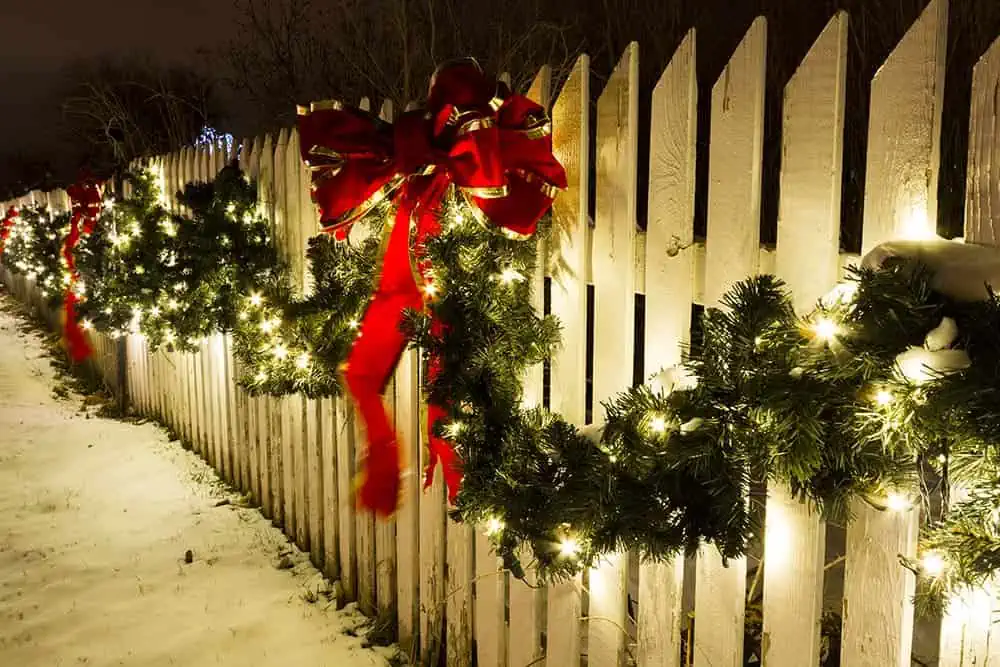 How To Choose LED Light For Christmas? – A Buying Guide
Many LED lighting options are available for Christmas lighting, but how to choose the best one? No worries, I am here to help you out. Consider the below factors in purchasing the right fixture for your Christmas decoration-
Purpose & Use
The first thing you should keep in mind is the purpose of using the Christmas lights. For instance, if you want general lighting for Christmas, LED strip lights, large designer bulbs, etc., will work fine. Again if you are looking for decorative lighting, options are endless here. You can choose fairy lights, LED snowflakes, Opticore lights, icicle lights, and more.
Color & Style
LED Christmas lights are available in a wide range of colors. All you need to decide is what you need. If you want a warming ambiance for your Christmas decoration, go for low color temperature lights ranging from 2700K to 3500K. Again if you want to keep the bluish-white lighting to match the snow theme, a higher color temperature above 4500K will work best. However, you should never miss a colorful touch when choosing Christmas lights. Keep bright red, green, and blue in your Christmas lighting palate. In this case, RGB lights can be your best choice. You can also choose multi-color string lights or Opticore lights, whichever matches your style.
IP Rating
Christmas means the festive season, and at this time, both indoor and outdoor lighting are equally preferable. And in this case, the thing that matters most is the IP rating. To install LED Christmas lights outdoors, choose fixtures with higher IP ratings. This will ensure all your fixtures will glow, resisting adverse environments like- dust, wind storm, or snowfalls. However, a minimal IP rating of IP20 or IP22 for indoor lighting will work. If you are not getting what IP rating is and why it is important to choose light fixtures, check this- IP Rating: The Definitive Guide.
Brightness
The brightness of the light fixture is measured in lumen. A higher lumen means brighter lighting. However, the fixture's brightness depends on its style, usage, and many other factors. Like if you want string lights, a minimum lumen rating will work. These string lights have hundreds of mini bulbs illuminating together, creating enough illumination with a lower lumen rating. Again, if you use LED strip lights, higher voltage is preferable if you use them for general lighting; for accent lighting, lower ratings may also work. Here I have suggested some lumen ratings that you can follow for different LED Christmas lights-
| | |
| --- | --- |
| Type Of LED Christmas Lights | Lumen Recommendation |
| LED Christmas Bulbs | 2 to 10 lumens per bulb |
| Mini String Lights | 0.5 to 5 lumens per bulb |
| Opticore C9 | 7 to 15 lumens per bulb |
| Icicle Lights | 2 to 10 lumens per bulb, |
| LED Strips | 200 to 1,500 lumens per meter |
| Battery Powered Lights | 2 to 10 lumens per bulb |
Voltage
LED Christmas lights operate either with a main voltage source or on low-voltage ratings. Different bulbs have different voltage requirements. For example- LED strip lights with 12V or 24V are suitable for Christmas lights, though they have higher voltage ratings too. Again mini string lights usually use the primary voltage or standard household voltage of 120 volts in North America or 230 volts in Europe and other regions.
Watts & Amps
LED Christmas lights are highly energy-efficient. In contrast, an incandescent C7 light uses 7 Watts, whereas a LED C7 light glows at only 0.5 watts of energy! The wattage and amps depend on the brightness of the bulb. Here are some common wattage and amps ratings for different LED Christmas lights-
| | | |
| --- | --- | --- |
| LED Christmas | Wattage | Amps |
| Mini LED String Lights (50 bulbs) | 4 to 10 watts | 0.03 to 0.08 amps |
| LED C9 Bulbs (25 bulbs) | 12.5 to 25 watts | 0.1 to 0.2 amps |
| LED icicle light (100 bulbs) | 6 to 15 watts | 0.05 to 0.125 amps |
| LED Strip (1 meter) | 2 to 10 watts | 0.2 to 0.8 amps per meter |
Wire Color
The wire color of the LED Christmas lights is often neglected. But a wrong wire color can ruin the entire outlook of the lighting. For example, if a white wall has lights with bright yellow or red wiring, it will completely hamper the beauty of Christmas lighting. Now you may ask which color of wire to go for.
Consider the background color in choosing the wire color. Green is the most popular wire color, as Christmas lighting is mostly used in illuminating greenery. You can also choose brown wire to light up the barks and stems of the trees. However, if you are lighting on white walls, choose white wires. Thus consider the background to choose the wire color of your light. But if you don't find any matching wire, go for something closer or what suits you best.
Safety-Features
Modern Christmas lights come with many safety features like- short circuit protection, overcurrent protection, and low-voltage operation. These features ensure the LED lights don't go through excess current flow and operate safely. Besides, you should also look for safety certification on Christmas lights, such as UL (Underwriters Laboratories) or Electrical Testing Laboratories (ETL). These certifications ensure that the lights are safe to use and comply with electrical standards. For more information about certificates, you can check The Certification of LED Strip Lights.
Professional Grade Or Standard Grade
Professional-grade LED Christmas lights are more durable than standard-grade ones. Always choose professional-grade lights if you want to light commercial Christmas decorations. These fixtures are built with robust materials and have a higher IK rating. This makes them suitable for lighting crowded areas that face maximum impact. In terms of brightness, these fixtures outstand standard-grade lights.
For example- professional grade C9 Christmas lights usually contain five diodes, whereas standard grade contains only one diode. However, for residential usage, the standard grade is enough; going for professional-grade lighting seems a waste of money for house lighting.
Additional Features
While choosing LED Christmas lights, you should also consider some additional features. But why? Christmas lightings are festival lighting, so obviously, the output you want from these lights is not the same as the regular fixture. To outstand your holiday lighting, you can look for the following features-
Timer Function: You won't want your Christmas light to glow 24/7; this would be nothing but a waste of electricity. In this case, purchase LED Christmas lights with a timer function. These fixtures offer you to schedule when to glow. For instance, the lights will automatically turn off after 2 am, once you are done with the party.
Twinkle or Flashing Effects: There are many Christmas lights, like- string lights, and Opticone lights, that offer twinkle or flashing effects. This fixture brings different intensities or patterns and a magical effect to your lighting. If you want to add an extra element and create a dynamic lighting display, LED lights with this feature are an excellent choice to look for.
Color-Changing Options: LED Christmas lights with color-changing features allow you to adjust your space's ambiance according to your mood. For example- by installing an RGB LED strip, you can produce about 16 million hues! Isn't it amazing? This is undoubtedly the best light setting for Christmas.
Music Sync: Have a Christmas party at home? Go for LED Christmas lights with music sync features. These lights respond to the rhythm and beat of the music, creating a synchronized light show. Here you can go for digital color-changing LED strips. Trust me; your guests are gonna never forget your Christmas party!
App Control: Choosing a fixture with an app control system will change the entire Christmas lighting of your space. Using your smartphone, you can quickly change the lighting color, intensity, or patterns of lights. There are different types of controlling options for LED Christmas lights. To know about these, check this article- LED Controller: A Comprehensive Guide.
Customizing Option
Customization is an essential factor to consider for Christmas lighting, especially when you are lighting commercial areas. This type of lighting requires a bulk quantity of fixtures. So, to get your desired lighting output, customization is the ultimate option. In this case, you must look for a reliable manufacturer and order your required lighting.
If you plan to get LED strips for Christmas lighting, go for LEDYi. We offer OEM (Original Equipment Manufacturer) and ODM (Original Design Manufacturer) facilities and extensive customization options. You can choose the strip lengths, voltage, power consumption, and more; we provide all you need!
Price
LED Christmas lights are available in different price ranges. This depends on the type of lighting you choose, its quality, brightness, protection levels, and more. Besides, the brand you choose is also an essential factor impacting pricing. So, first, have a budget for your Christmas lighting, and then go for fixture shopping. You will find a wide range of options; evaluate the market price, compare and contrast the features, and then make an investment decision on Christmas lights.
Warranty
LED lights are usually durable and long-lasting. Yet you should check the warranty policies before choosing Christmas lights. Usually, LED Christmas lights come with a warranty of three to five years. Check out the warranty policies properly, and purchase from a reliable vendor.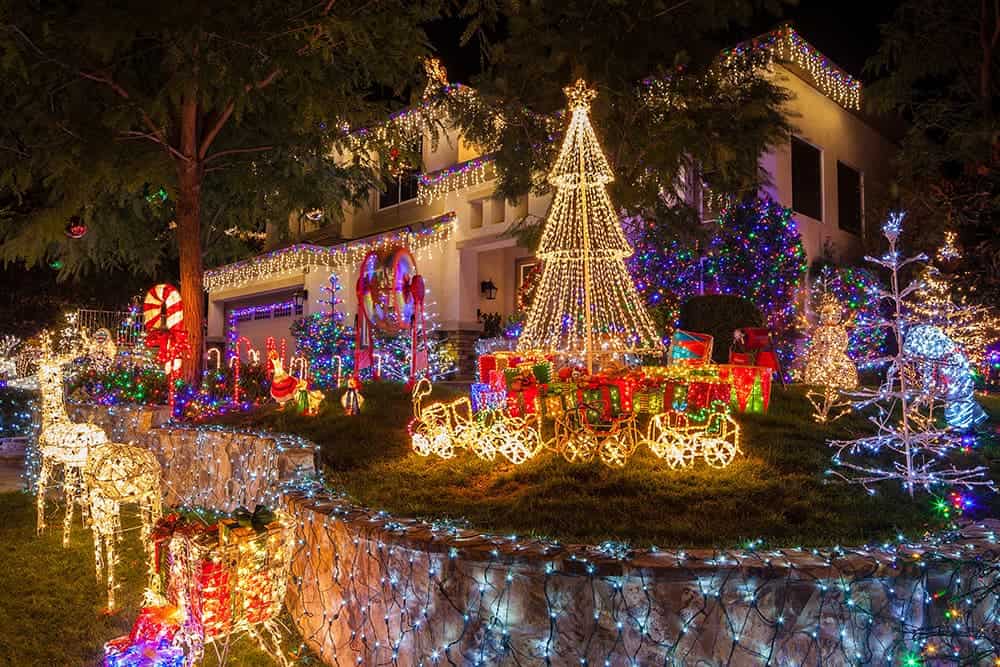 A Guide To Christmas Tree Lighting
When it comes to Christmas tree lighting, the first thing that hits your mind is fairy lights. No Xmas tree decoration is complete without these tiny lights. These lights come in different designs and twinkling features that make them ideal for bringing a heavenly lighting effect to the greenery.
Fairy lights are usually string lights that come with small bulbs in them. The density or the number of bulbs per string depends on the height and the lighting effect you want. If you want low-dense lighting, go for string lights with fewer bulbs; or for heavy-dense lighting, purchase strings with more bulbs- the choice is yours. Here I am adding a chart to choose the density of string or fairy lights for different heights of trees-
LED String/Fairy Light Density For Different Tree Height s
Xmas Tree Height
Low Density
Medium Density
High Density
6.5 feet
325 bulbs
650 bulbs
975 bulbs
7.5 feet
450 bulbs
900 bulbs
1350 bulbs
9 feet
675 bulbs
1350 bulbs
2025 bulbs
10 feet
800 bulbs
1600 bulbs
2400 bulbs
11 feet
900 bulbs
1800 bulbs
2700 bulbs
12 feet
1000 bulbs
2000 bulbs
3000 bulbs
So, check the height of your tree and purchase the string lights based on the lighting effect you want to bring. However, I am sharing with you some tips and tricks for outdoor and indoor tree lighting-
Outdoor Christmas Tree Lighting Tips
The outdoor Christmas plants can be divided into two categories- large evergreen trees and bushes and shrubs. Here are some tips for lighting outdoor Christmas trees-
Choose Christmas lights of higher brightness and IP rating for outdoor Christmas trees.

Instead of wrapping the string lights in maypole style, divide the three into three sections from top to bottom. And focus on each segment individually to get the best output.

Choose large bulbs for pines, firs, or other dense evergreen trees. In this case, consider a spacing of 6 to 8 inches between the bulbs.

To light bushes and shrubs, you can choose LED net lights. This will cover a greater area without much hassle.

For decoration, add icicles or snowflake lights. You can also use some net fabrics of white and red color to bring the Christmas vibe.
Indoor Christmas Trees Lighting Tips
For indoor Christmas trees, both natural and artificial plants are popular. But people mostly prefer artificial plants as they can be reused in the coming years. Below I am adding some tips for indoor Christmas lighting-
Go for multiple-size bulbs to bring a dimension to the lighting

Choosing a strand with 4-inch bulb spacing can save your lighting cost.

Wrapping the string lights following a zig-zag pattern looks great on indoor trees

Purchase additional lighting in case you run out during the decoration
Christmas Light Installation
Christmas lights can be of different types and have different installation processes. Yet I am here presenting a general installation process for LED Christmas lighting-
Step-1: Plan & Design
The first thing you need to do is decide what design you want. There are a variety of Christmas lighting like- LED strips, string lights, large bulbs, Opticone lights, and more. Sit with your family and plan your lighting design. You should include the following fact in your planning-
What type of fixture to use?
Indoor lighting or outdoor or both
Which areas to light up?

Color of the lights

Is there any theme to follow- Santa Clause theme or Snow White theme?

Light controlling system

Budget
Step-2: Measure & Calculate
Once you are done with your planning and decide which fixture to use and how the lighting output will be, it's time for measurement. First, measure the space you want to light and calculate the number of fixtures you will require. Here consider the environmental requirement in deciding the brightness of the light.
Step-3: Collect Materials
When you have all the numbers in your head, purchase the light fixtures. The guidance I have presented in the above section will help you choose the ideal light fixture for your project. Besides light fixtures, you must purchase wires, hooks, clips, cutters, tape, etc., based on the fixture you choose.
Step-4: Install The Christmas Light
After gathering all the necessary equipment, it's time to install the fixture. But different Christmas lights have a unique installation process. However, I'm presenting you the mounting methods for the most popular Christian sightings-
Installing LED Fairy Lights or Other String Lights
Start by unraveling the lights and check if all the bulbs in the string glow properly

Decide the place to install like- walls, ceilings, or furniture.

Use adhesive hooks or clips to secure the lights along desired areas

Avoid tangling the wires and adjust the positioning as needed
Following this process, you can install Opticone lights or other mini LED Christmas lights.
Installing LED Strips
Clean the surface you want to install the LED strips.

Cut the LED strips to the required measurement; this article will help you- How to Cut, Connect, and Power LED Strip Lights.

Remove the adhesive backing and stick it to the surface; you can add clips to make the installation firm. However, it is not essential for indoor Christmas lighting; the 3M adhesive attached to the strips is enough to hold itself to the walls.
To know more about installing LED Strips, Check this- Installing LED Flex Strips: Mounting Techniques.
Installing Other Decorative Christmas Lights
To install LED Christmas lights like icicle lights or snowflakes lights, you simply need to hang them from the roof or other place you want. Power them up, and it's done. However, the process is different for installing LED neon lights to make Christmas signage. If you don't know about LED neon Flex, this guide will help you- 15 Things You Need to Know Before Buying LED Neon Flex.
Step-5: Connect To The Power Supply
Once you have installed all the light fixtures, it's time to glow them up. Connect all the lights to the power source. Ensure all the wirings are done properly. Here you can take the help of a professional electrician if you are not confident enough to handle the wiring.
Step-6: Turn Them On
After connecting to the power supply, turn on the main switch, and watch the lights glow. That is all you are done with your Christmas light installation!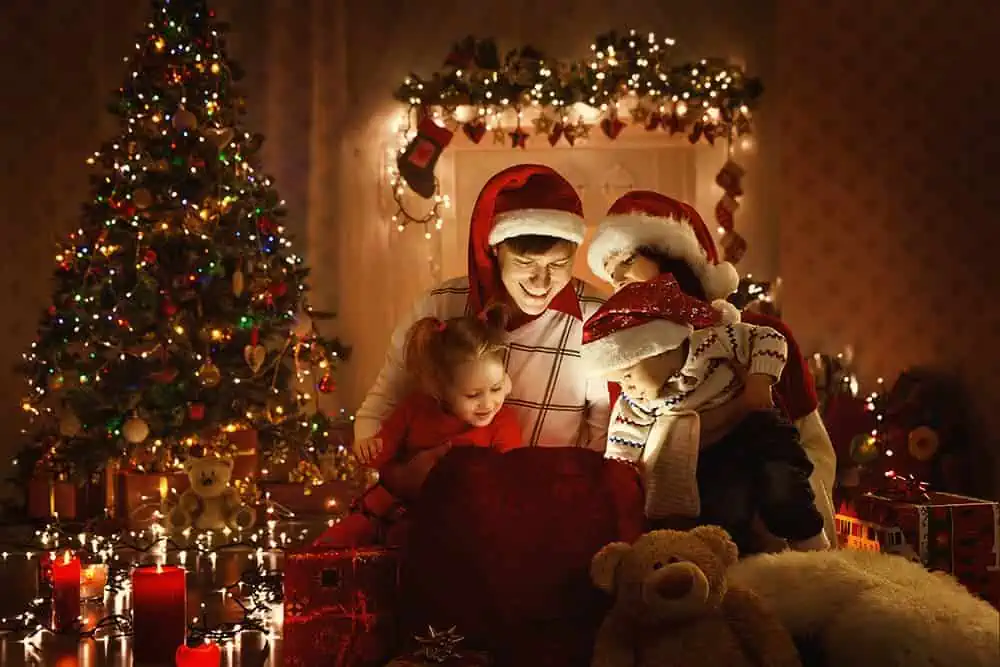 Christmas Light Safety Measures
Safety measures for Christmas lighting are as follows-
Inspect the light before installing: once you have received the lights on hand, inspect if all the bulbs are in proper condition. Plug the fixture and test whether they glow. You should check them for any frayed wires, loose connections, or damaged sockets. Rather than repair, replace them ASAP if you find any issues.

Use indoor lighting for indoors and outdoor lighting for outdoors: Indoor and outdoor lighting have different compositions to withstand the weather situation. So, never use indoor lighting outdoors.

Don't overload electrical outlets: Plugging too many connections in a single electrical outlet will overload it. This can also result in a fire breakout. Check the manual and plug the fixtures according to the instruction.

Running cords under carpets or rugs: Don't run Christmas light cords under carpets or rugs, as this can lead to overheating and potential fire hazards. To prevent such a situation, use cord coverings or tape made for secure cord management instead.

Check the amp rating of cord extension: When using cord extensions, match the amp rating to the fixture. If the cord gives up more amps than the requirement, it can cause burnout.
How To Store Christmas Lights?
Purchasing Christmas lights once, you can use them in every Christmas lighting if they are stored properly. So, to make it a lifetime investment, here are some tips that you should follow in storing these lights-
Be gentle while removing the lights from the trees, bushes, and other installations. LED Christmas lights, like fairy lights, are very light, be careful while handling them.

Coil the lights properly so that they don't get messy.

Use labels to mark the light fixture's color, length, and other properties. This will help you to sort them out in the next use.

Store the light fixture in a sturdy container. This will keep the lights organized and clean.

Moisture and heat can damage the lights over time. So, choose a location to store that is cool and dry. A basement, closet, or attic with proper insulation will work best for storage.

Often check the stored lights, especially before the upcoming holiday season. This gives you a head start on finding any broken or defective lights so you can replace them before decorating.
Most Impactful Light Color For Christmas
Christmas lighting is all about bright colors resembling happiness and joy. Yet, some light colors are more impactful and can take your ambiance to the next level. These are as follows-
Pure White
Nothing can beat the illumination of a pure white light embracing Christmas Eve's winter and snowy theme. Choosing this light color can give your space an elegant and clean look. Besides residential lighting, a pure white light works excellent for commercial Christmas decoration too.
Red
Red is the color of love, and red has a more extensive meaning for Christmas. Adding red lights to your decoration can make your guest feel the arrival of Santa Claus in his red gown with bags full of blessings. You can combine pure white and red lighting to get the best Christmas lighting theme.
Green
If you want to bring the greenery of Christmas decorations to its most appealing outlook, go for green lights. Green recalls the freshness and evergreens of the Christmas plants. This light color goes excellent for outdoor lighting.
Blue
Blue lights can evoke a sense of tranquility and a wintry atmosphere. Using these lights for Christmas gives a cool, icy, or snowy theme. Combining these blue with white lights or silver decorations creates an elegant ambiance. They can also be used to mimic the appearance of ice or snow, adding a unique touch to your Christmas display.
Tips For The Best Christmas Lighting Output
To bring the most outstanding lighting effect to your Christmas decoration, here are some tips to follow-
Choose LED lights over incandescent lights: LED lights are more versatile. Using these fixtures, you will get more advanced features like color adjusting, music syncing, and other lighting effects that Incandescent lacks. What is more impressive is that LED Christmas lights use much less energy than incandescent ones. So, you can save your electricity bills by going for LEDs.
Go for professional-grade lights: Pro-grade lights have much better electrical components than retail lights. This enables them to create a considerably brighter and more vibrant effect. They have a one-piece construction where a single sealed socket houses both the LED and the lens. So, the bulb's interior won't be subject to contamination from water and debris. Therefore, even if pro-grade lights cost a little more, they are worthwhile because you won't end up with dead bulbs or need replacements.
Go creative with an empty socket light line: Though string sets allow you to quickly arrange the Christmas lightings, an empty socket light line gives you the freedom to really express your creativity. You can customize the spacing between the bulbs by skipping sockets. It also offers you light color customization facilities. Moreover, to personalize the lighting, attach decorative ornaments, small objects, or custom-made shapes to the empty sockets.
Have a light design plan: Installing lighting without a plan will mass the outlook. So, always have a design on your head. You can take help from Google to find pictures to get lighting ideas. Besides, in the last segment of this article, I've included some amazing lighting ideas; you can take help from that too. Sitting with your family to design the Christmas decoration would be best. It will help you to have a great family time and collect everyone's lighting requirements.
Follow the Christmas color theme: Know the color palette for Christmas lighting. Red, pure white, blue, and green are the most common and effective colors for Christmas. However, you can give priority to your preferences.
Maintain safety while installing: When installing the Christmas lighting, here are some tips that you should follow-
Use a fiberglass ladder to hang the light fixtures; a metal ladder can be risky.

Wear rubber gloves while doing the wiring.

Avoid connecting too many lights.

When positioning your cords, avoid creating a trip risk.

Keep outdoor Christmas lights off the ground to prevent dampness, which can lead to electric shock.

Call for a professional electrician if you are not confident enough to do the wiring.
Top 16 LED Lighting Ideas For Christmas
Lighting for Christmas is always exciting, but you may get confused about where to start. In this article section, I've brought 14 excellent ideas to make your Christmas memorable! Check them out-
Outdoor Christmas Lighting
Outdoor Christmas lighting has different requirements than indoor lighting. You should always go for a higher lumen rating for outdoor lighting. Besides, IP rating is also a crucial factor to consider here. Now let's check some excellent outdoor lighting ideas for Christmas-
Entrance Lighting
To welcome your guest for Christmas Eve, never ignore the entrance lighting. Choose a theme- cool white, warm white, or colorful light. The best option here is LED fairy lights; wrap these mini lights around the small plants of your entrance area. You can also purchase small Christmas theme fixtures and hang them on the main door. Adding small decorative pieces will also work great here.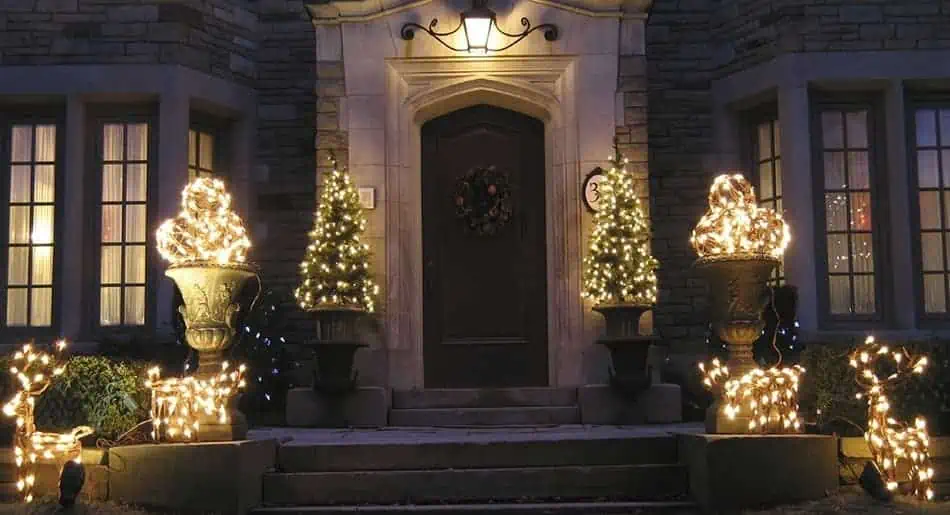 Garden Area Lighting
If you have a garden in your house's facade, perhaps you have the best option to decorate your Christmas lights. Divide the trees into different sizes to create the best lighting effect. For example- choose LED net lights for the bushes and small plants. Then target the large plants; wrap them with fairy lights using the desired color. Add star shape lights or hang snowflakes on the threes to bring a complete Christmas theme.
Building Lighting
Light up your building using LED Christmas lights like- icicle lights or LED strips; trust me, you won't regret it. Outline the roof of your house and windows with bright white LED strips. And then hang the icicle lights; you can also add star or snowflake lights. The cool white lighting with a snow theme will bring Santa to your home! So, turn on the lights and keep the socks ready to receive blessings!
Snow Theme Lighting
Christmas is closely related to the snow, so why not create a snow theme lighting for your house exterior? For this, cool white lights are your ultimate choice to bring the freshness of white snow. You can also combine it with warm-tone bulbs to create a welcoming atmosphere. To bring the wow effect, you can go creative by adding some LED candles; this will take the entire ambiance to the next level!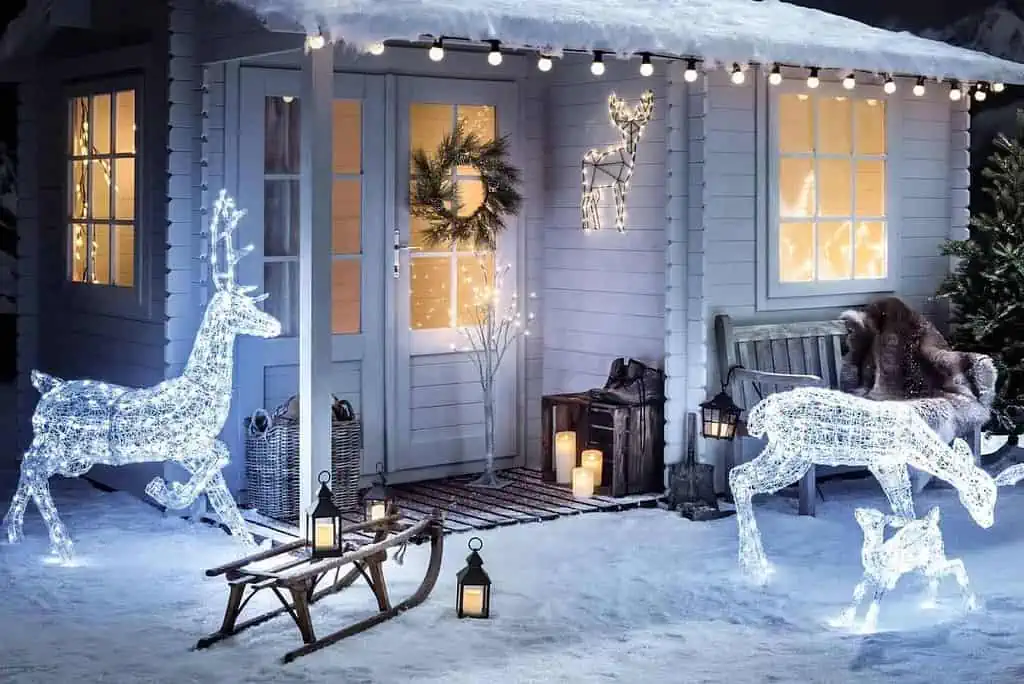 Santa Clause Theme Lighting – Red & Cool White
When hearing Christmas, the color that first hits your mind is red and white. This pair of colors represent the Santa Claus theme. If you want a pure Christmas vibe, combine red and white light colors. You can choose flex filament lights to bring a retro vibe. Besides, string lights of red and white combo are also available; you can purchase those. Another option is going for Opticone lights of cool white and red color. Place these small light fixtures one after another and see the magic.
Pathway Lighting
Lighting the pathway with colorful light fixtures is another excellent approach for Christmas lighting. Here you get a wide range of options to go for. You can customize your own pathway lighting or purchase designed fixtures. Do some research on pathway Christmas lighting; it will amaze you. Multi-color Opticone lights and flex filament lights on the pathway would look great. Again you can purchase designed pathway lights like- snowmen, red white stick lights, snowflakes lamps, and more. If you want to keep the pathway simple, just use cool white lamps.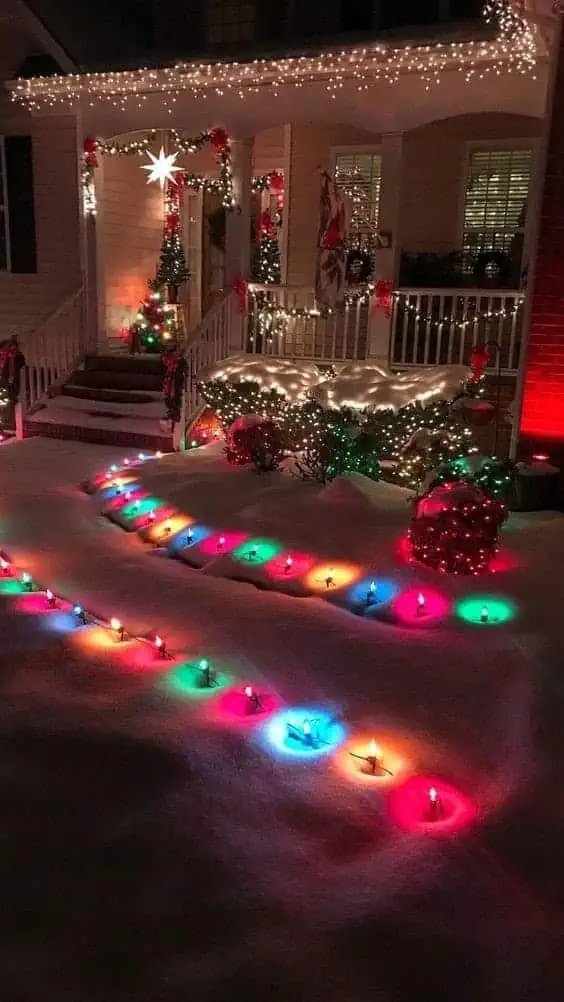 Indoor Christmas Lighting
Indoor lighting for Christmas is different from outdoor lighting. In choosing lights, you should not keep the fixture's brightness too loud; it can be irritating. Keep the lighting calm and comfortable for your guest. Here are some ideas to outstand your indoor Christmas lighting that will amaze your visitors-
7. Stair Lighting
The railing of your house stairs is the most effective area to show your creative lighting skills. In lighting stairs, don't just focus on the light fixture; instead, combine small elements to add a spark to your Christmas lighting. Wrapping a simple mini fairy light string along the railings is enough. The main game starts by adding props. Add a touch of green leaves along the light strings. You can also add fancy fabrics to uplift the stair's look. The door to show your creativity is wide open- don't miss to experiment. What about adding some shiny balls or jingle bells?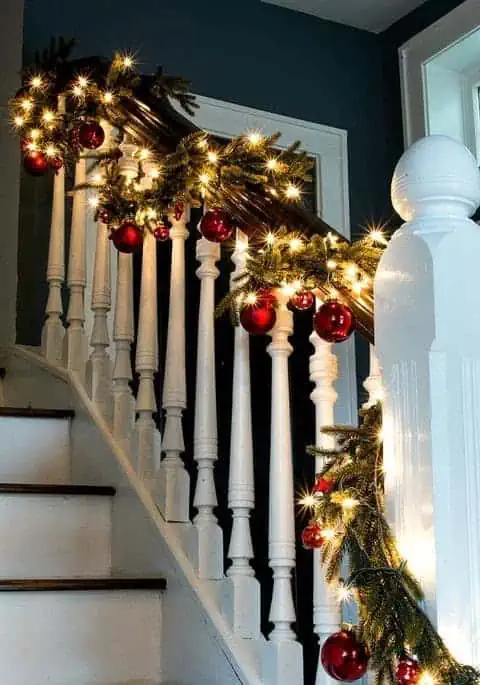 8. Christmas Tree Lighting For Living Room
The living room is where your guest will sit, have a chit-chat, and enjoy the Christmas party. So, undoubtedly it is the centerpiece of Christmas decorations. The main element of Christmas, the Xmas tree, is usually placed in the living area. Here you get the scope to bring the magical effect. First, choose the theme you want for lighting- plain white or colorful. Both are popular, but if you want to keep the setting classy, I suggest you use plain white lighting. Add snow-white designer light pieces to wrap the Xmas tree with fairy lights. You can add some golden or silver bells or balls to make the lighting more fancy. If you choose warm light, go for golden balls; silver balls will suit you best for cool lighting. However, if you choose a colorful option, there is more room to experiment.
9. Dining Space Lighting For Christmas
Why have Christmas dinner with family in that regular plain lighting? It's Christmas! Grab your magical living strings and get ready to bring a magical touch to your dining space. Place small Xmass plants around the dining area and wrap them with string lights. Don't forget to add a touch of red; some small shiny red balls or bows will look excellent. You can also hang some Christmas lights above the dining table. Your guest is going to love the setting!
10. Bedroom Lighting For Christmas
Add green Christmas plants around your bedroom and wrap them with twinkling fairy lights to bring the Christmas vibe to your bedroom. You can also choose RGB LED strip lights for your room. Installing these lights will act as Christmas lighting, and you can use them for all other regular days. They come with a remote control system that allows you to customize the color of your room according to your mood.
11. Christmas Lighting For Kids Room
Suppose you have kids to make their Christmas ever memorable with a well-lit Christmas room decor. Instead of going for the same old bed lighting, why not make a small bedroom camp? Take plain white fabric to make a camp for your kids; you can also purchase a ready-made one. Choose a corner of your kids' room and set it with additional decorative pieces. Add warm lighting inside and outside the camp. However, don't forget to add the big socks to let Santa bring gifts to your kids!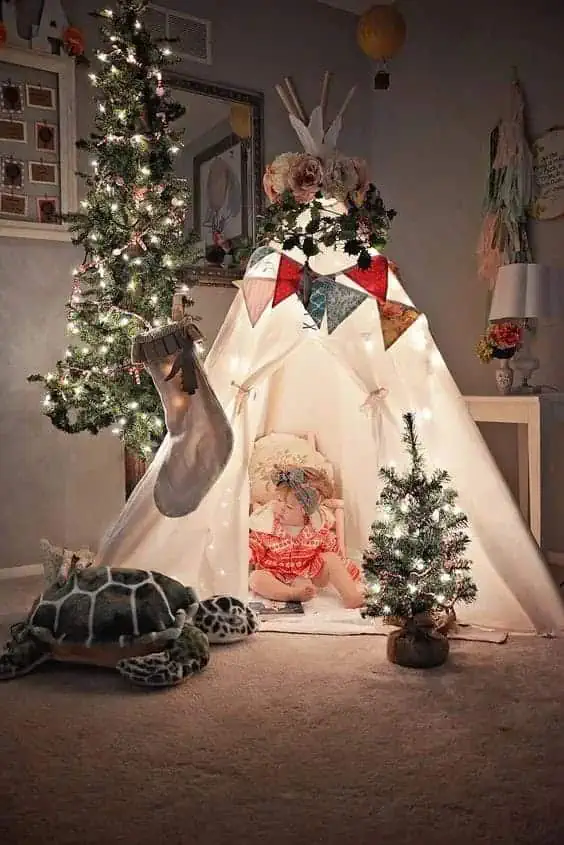 12. Merry Christmas Neon Signage
Neon signage is an excellent and creative approach to Christmas light decoration. You can place a Merry Christmas signage on the back wall of your sofa, bed, or any other space. Besides, small table neon signs are also an amazing option here. You can place these small lighting pieces on the center table of your drawing room or your dining table. These neon signs are easily available on Amazon or other online/offline marketplaces. Besides, you can customize your own neon signs using LED neon flex. This is super easy and affordable. And the most important thing is that you need not be a professional to make this signage. You can create your own Christmas signage following this guide- How to Make a DIY LED Neon Sign.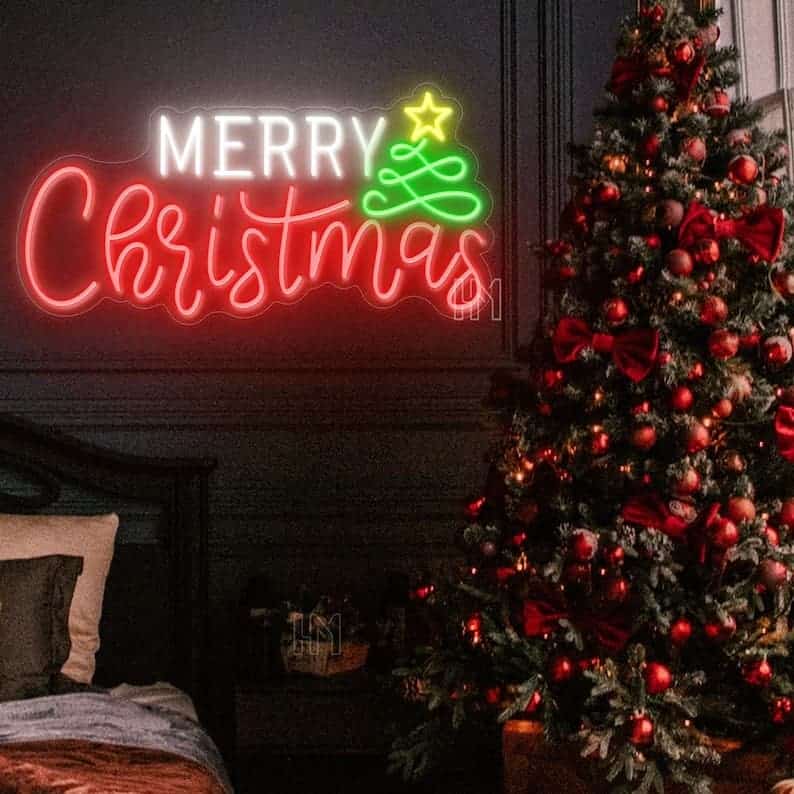 Commercial Area Christmas Lighting
Christmas means the holiday season, and at this time, commercial areas like restaurants and parks remain more crowded than the other period of the year. Here are some ideas you can light the commercial areas for Christmas Eve-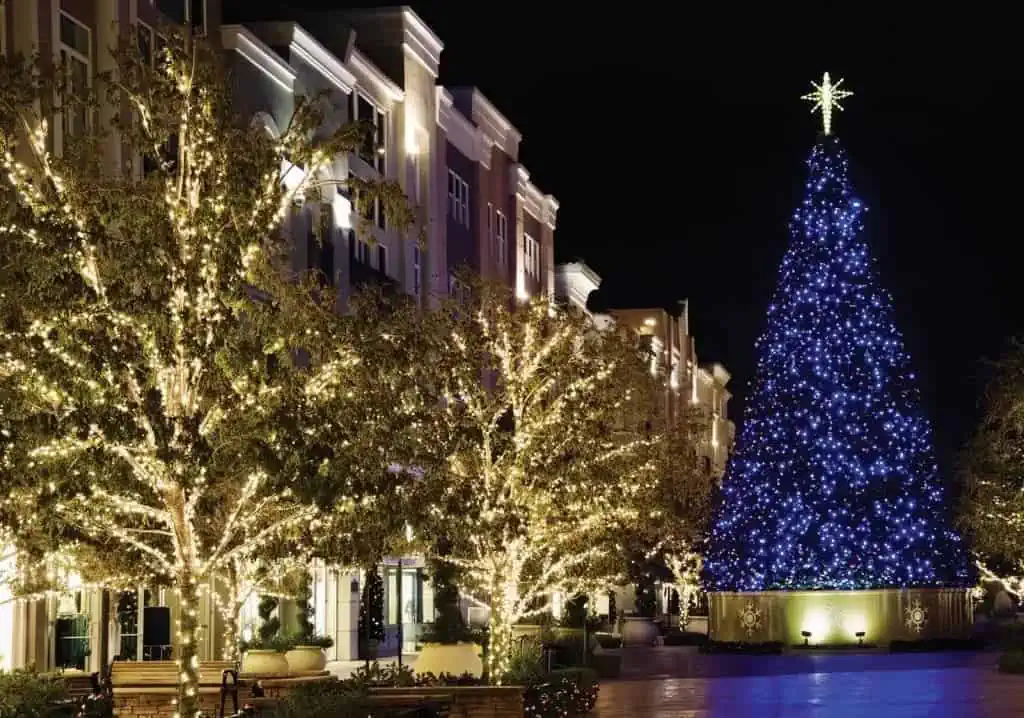 13. Shopping Mall Lighting
You never miss getting gifts and shopping for yourself at Christmas. And so, shopping malls are decorated for Christmas months before Christmas. The best approach for lighting shopping malls is placing a gigantic Xmas tree right at the center of the shopping mall. Decorate it with twinkling light fixtures and add a star or bell-shaped props or lighting. You can also use LED net lights to illuminate the boundary walls to bring a gorgeous outlook. Besides, the mall shops can be decorated according to their taste and themes. The visitors will surely love the atmosphere and shop joyfully for Christmas.
14. Street Lighting
For lighting, the street targets trees and other greeneries. Wrap the trees with string light; here, it is better to use low-density lights to keep the overall outcome subtle. As all surrounding buildings are lit with different colors, adding heavy lighting on the street may make things messy. You can think of lighting huge structures like Santa Clause or Snowman. Each time anyone gets down on the street, this will give an entire Christmas vibe.
15. Restaurant Lighting
The restaurants are one of the most attractive spots in the Christmas season. And to grab customers to your restaurant, lighting plays a crucial role. The best thing you can do is go for themes. It can be snow, red-white Santa, or a golden and silver theme, anything your restaurant's interior suits best. For the best outcome, you can also contact professional event designers to light your restaurant for Christmas.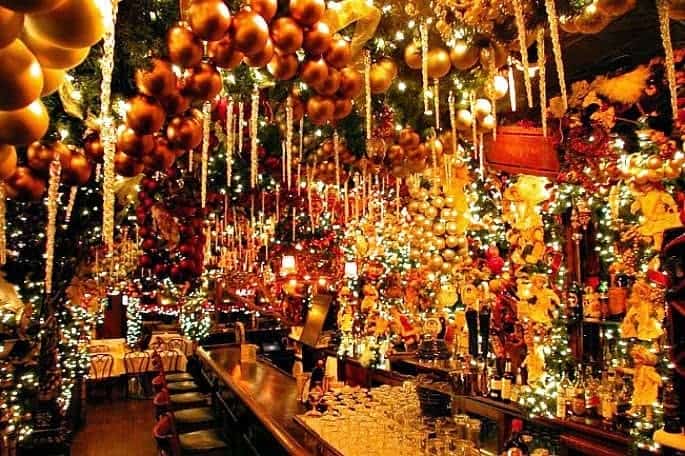 16. Park Lighting
The parks are another crowded spot for Christmas. These places are especially popular for children to spend their holidays with joy. You can create a dream atmosphere by lighting the park, as shown in the picture. First, build the structure- it can be a fairy, reindeer, Santa Clause, or other elements related to the Christmas theme and light them using different fixtures. String lights, icicle lights, and snowflakes lights are popular options to light parts. You can also go for LED strips to light the walls and rides of Parks.
FAQs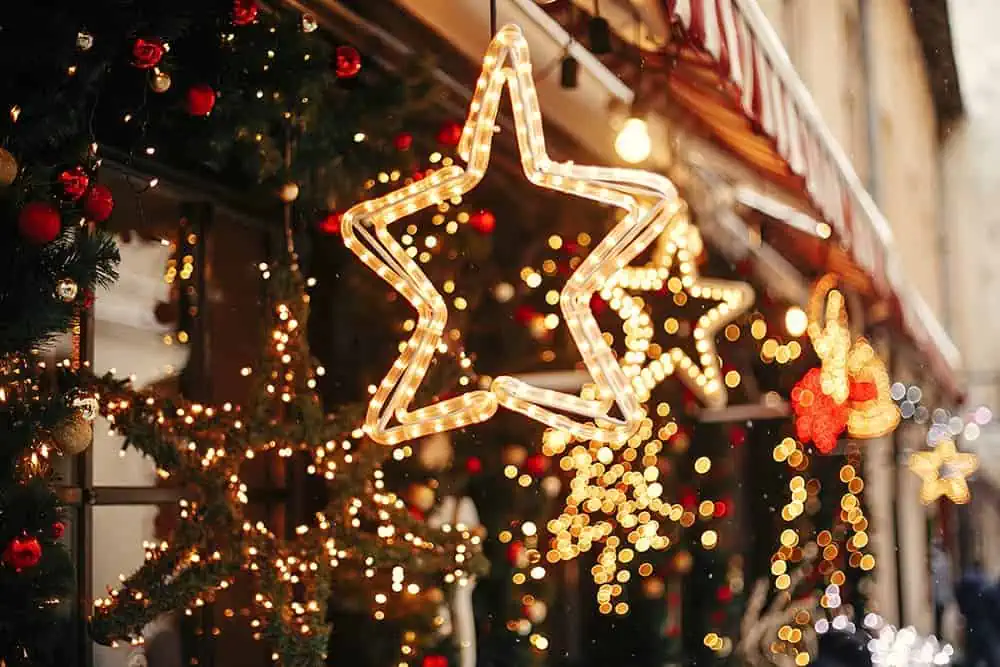 The Bottom Line
When you light your space for Christmas, the first thing to consider is its surrounding area- indoor or outdoor. You need to select the ideal LED Christmas lights keeping this factor in mind. For outdoor light, look for bright lights with higher IP ratings. Power consumption is crucial as the Christmas light will keep glowing all day. Having energy-efficient lighting will save your electricity bills.
Though LED fairy lights are more popular for Christmas lighting, LED strips are also an excellent option for illuminating indoor and outdoor areas. What is more impressive is that you can use these fixtures all year instead of targeting Christmas Eve. Besides, LED neon flex is another lighting option to pop up your Christmas decoration. You can also use them in commercial areas like hotels and restaurants to welcome customers to join your Christmas events. So, if you plan to get LED strips and LED neon flex for your Christmas lighting, contact LEDYi. We offer you customization options that will surely bring your desired lighting needs.