Are you bored of that same traditional lamp post lighting on the landscape? That's why I brought you a long list of creative landscape lighting ideas that will blow your mind!
LED lights are undoubtedly the best solution for landscape lighting. They come in varying designs that make them ideal for all types of outdoor lighting. Yet, the most popular variants are LED strips, built-in lights, solar lights, floodlights, spotlights, etc. You can use them to illuminate your house facade, gardens, pathways, pools, and other landscape areas.
In this article, I have listed the top 20 creative ideas that will help you to bring a wow factor to your landscape. So, without any further delay, let's jump into the discussion-
What Is Landscape Lighting?
Landscape lighting refers to illuminating gardens and other public and private outdoor areas. It includes security lighting, pathway lighting, and more. Regarding fixture styles, you will get many options to illuminate your landscape. This includes LED strips, globe lights, bollard lights, solar lights, motion sensor lights, etc.
As landscape lights face environmental challenges like dust, storms, rain, etc., water and dustproofing are necessary. These requirements differ from usual residential lighting. The landscape lights come with a robust structure and are highly durable, which makes them expensive. To know more about this, go through this article- Why is Landscape Lighting So Expensive?
Why Is Landscape Lighting Important?
Will you feel safe walking through dark pathways at night? Of course not. So, the main purpose of landscape lighting is to ensure security and proper visibility. The thieves and robbers target dark areas. And having an illuminated landscape around can save you from such attacks. Besides, it enhances the beauty of the architecture and other establishments around. For instance, if you have big trees or gardens around your house, lighting them will make your space visually appealing. This further increases the property value.
Creative Landscape Lighting Ideas
1. Pair Up Globe Lights With Stones
Having stones in your garden gives your space an amazing appearance. To complement this look, choose globe lights. The diffused soft illumination of globe lights when falling on the stones creates a heavenly outcome. For this case, I suggest you choose warm-colored lights of color temperatures ranging from 2500K to 3000K. It will make your residential area feel more cozy.
2. Colorful Lights To Highlight Architectures
Instead of going for plain white colors, why not add some colors to your landscape? You can install colorful light fixtures on the boundary walls of your house. This will highlight the building structure, making it more appealing at night. The LED strip light is also a good option here. For instance, use RGB LED strips in the boundary land of your house or paths. This type of lighting works best for decorating your house during festive seasons like Halloween or Christmas. Christmas is coming soon, so read this article to pre-plan your lighting- A Compressive Guide To LED Lights For Christmas.
3. Go For Uplighting On Your Home
Uplighting is another excellent strategy to illuminate your landscape. Usually, downlights are used for general lighting. But by using uplights, you can enhance the beauty of your house more effectively. This type of lighting works best when you have textured walls, rocks, or stones in the surrounding area. The shadow of these light fixtures brings a magical touch to your space.
4. Light Shading Game
Creating a shading effect looks amazing if you have a big front house area or garden. Target some sections of your garden and install short lamp-like downlights. Try to place these fixtures over bushes or small-length plants. Don't illuminate the whole area; keep some spaces dark and light up others. This type of lighting will create an excellent shading effect. You can also try experimenting by installing light fixtures of different color temperatures in the garden. Such lighting suits hotels and resort landscapes best.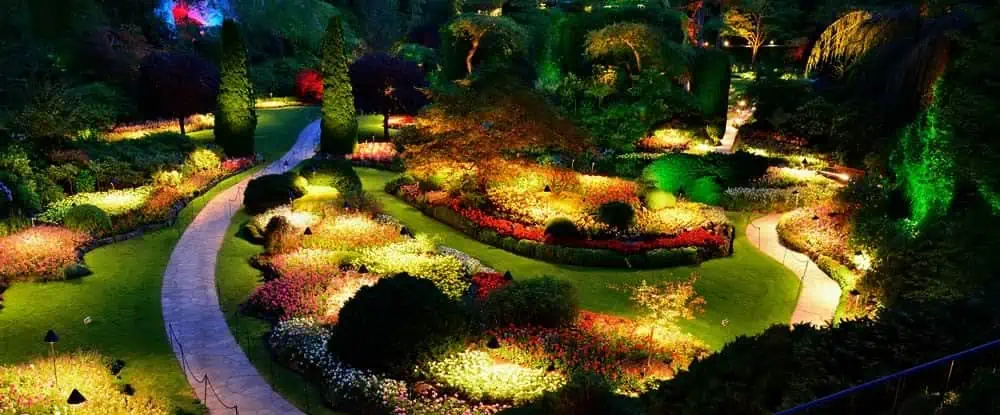 5. Uplighting Upon The Plants
If you have big plants around your landscape, try adding uplights. These lights will pop up the trees from the bottom, creating an illusion of space. You can use these as accent lighting for your landscape. Experiment with installing multiple small uplights around the big trees; choosing low-beam angle fixtures will work best. And if you have any water surface areas, like in the pictures, the light's reflection will make the atmosphere more beautiful. For more information about beam angle, you can check Everything You Need To Know About Beam Angle.
6. Intensify the Rocky Rustic Look With Warm Lights
The landscape areas of parks or other entertainment locations that have rock structures are excellent for lighting up. You can bring out the rocky texture by implementing accent lighting in these areas. Go for hide and seek technique; install small built-in lighting between the rocks. Orangish or yellowish light fixtures with lower color temperatures will complement this look. The reflection of warm lighting on the rock will create an illusion of fire in the cave!
7. Create a Watery Pathway With Blue Lights
Pathways of your garden area is another spot to go for creative lighting. And if you have uplifted walkways, it can be a major game-changing move by creating a watery effect. For this, you will need a blue color LED strip light and install it underneath the elevated walkways, just as the picture shows. Ensure there is enough space between the landscape and the uplifted pathways to get the floating effect. However, you can try these with any color LED strips other than blue.
8. Minimal Lighting For A Calm Vibe
If you don't want bright lighting around your residential landscapes, keep it minimal with soft accent lighting. Select some spots in your area and install small light fixtures on those points. There is no need to brighten up the total area; just ensure enough lighting for security or night walking. The soft illumination of these lights peeking from the trees brings a charming atmosphere. This will make your surrounding areas look calm and cozy.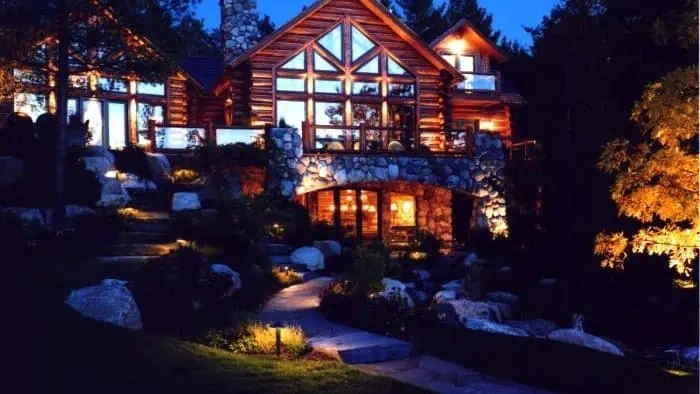 9. Create a Peaceful Environment With Candle-lighting
Have an outdoor seating area and want to give it a cozy ambiance? Go for candle lighting. You will find many LED candlelight fixtures that create a candle-like illusion. Placing these lights can work great as mood lighting. You should try this candlelight setup if you have a big tree in your front house, hotel, or resort. Visitors will love to spend hours in such a lovely and romantic lit area.
10. Magical Pattern Lighting On The Pathway
Using designer LED fixtures for pathways is a great way to light up your residential or commercial pathways. You will find walkway lamps of different sizes that create versatile light patterns. The design of this lighting will bring a magical touch to your pathways. Visitors, especially the kids, will be mesmerized to see such a light setting. And if you go for such lighting for parks, it will create a good atmosphere for night walks. To get top-notch pathway or street lighting, check this- Top 10 LED Street Light Manufacturers in China.
11. Use Solar Lights By The Path
When lighting a landscape or other outdoor area, electricity bill is a major concern as these fixtures keep on all night. In this case, going for solar lighting is the best decision to make. You can use solar lights on the pathway of your house, restaurants, resorts, or any other public area. The lights will store energy in the daytime and glow up at night. Besides, these fixtures come in many attractive designs. Thus, it will save your electricity bills and beautify your space.
12. Hidden Lighting On Water Fountains
Having a fountain in your area opens a door for implementing creative lighting. You can use dimmed or low-lumen light fixtures to enhance the beauty of waterfalls. The reflections of lights on the flowing water look magical. In this case, indirect lighting works best. You can create a hidden lighting effect with LED strips or use any other LED light. But whatever you choose, ensure the fixture has high IP ratings.
13. Illuminating The Water Body
Accent lighting around water bodies is an amazing landscape lighting idea. In resorts and five-star hotels, large to medium ponds are created to give a more natural vibe to the space. This creates a calm and positive ambiance in your space. You can add low-beam angle lights to different spots of the water body and around the surrounding trees to pop them up. The output of such lighting will surely amaze you.
14. Rainbow Pathway Lighting
Are you into colorful lighting? Then why not create a rainbow pathway? Addressable LED strip light is what you need to create such a lighting effect. These fixtures come with an IC chip that allows you to control the color of each segment. This is why they are known as dream or magical LED strips. If you have a curvy pathway, shape the LED stripe following the curve. You can also add small stones around the lighting to enhance the beauty.
15. Use Fairy Lights On The Patio
The patio is one of the most attractive landscapes of the residential area. This is the place where you chill with your friends and family, have dinner and snacks, or enjoy the full moonlight with the greenery around. Therefore, undoubtedly, it is a special spot for your house. And to make this more special, fairy light is what you need. Simply set four poles on the seating area of the patio and hang fairy lights on it. You can go creative with the design. For instance, creating a lighting curtain is a great idea. Besides, you can also use these fairy lights around the big trees or bushes.
16. Downlight On The Fence
LED lights come in different variants that give you a wide range of options for fence lighting. You can use any type of downlight that complements your fence best. Floodlights are a great option here. The flowing light on the wall creates a beautiful accent lighting. You can also use designer fixtures with diffusers to create soft lighting. Fairy lights are also a great option here. However, whatever fixture you choose, keep your area's ambiance and design in mind. Make sure the fixture you select compliments the overall outlook.
17. Large Light-Up Planters with Flowers
Using illuminated planters will bring a wow factor to your landscape area. You can purchase this category of pots from online marketplaces or search in local markets. They come in different colors and designs. You can go for basic white colors or choose colorful options. Instead of selecting any particle color, try combining different color lightening planters. This will give a different outlook to your space. However, in choosing plants for these planters, consider the size of the pot.
18. Poolside Land Lighting
LED strips are an excellent option for swimming pool lighting. You can use them to outline the pool area from inside or outside. But make sure they have a higher IP rating; IP98 is the safest option to go for. However, inbuilt lights complement the LED strip light best. You can use recessed lights on the seating areas beside the pool. When it comes to color, blue lights suit poolside best. But you can use any type of color that suits your space best. Yet, I suggest you go for RGB lights. This will allow you to customize the color of your poolside according to your mood. For more pool lighting ideas, check this- Swimming Pool Lighting: The Definitive Guide.
19. Use Motion Sensor Lights
Motion sensor lights are a good option for garden pathways. The advantage of using these lights is that they detect the motion of living objects and turn them on or off. This is a great feature for security and saving electricity bills. However, you need to spend more initially because these high-tech smart lighting are expensive. You can also use these lights on the entrance gate of your area or in the stairways.
20. Hidden Stair Lighting Effect
Outdoor stairs are an attractive lighting option for both commercial and residential landscapes. You can light up the steps, tread, railings, etc. LED strip lights and recessed lighting are the most popular options for stair lighting. You can go for recessed lighting on the steps or edges of the stairs. However, this type of built-in light setting is quite expensive. In this case, LED strip lights are a better option. Thanks to its adhesive backings that make installing stairway lighting super easy. You can experiment with these flexible light fixtures to bring a wow factor to your stairs. Check this article for more ideas- 16 Stair Lighting Ideas With LED Strip Lights.
Consideration When Choosing Fixture For Landscape Lighting
Landscape lights are installed outside. So, naturally, they deal with adverse climatic conditions. These fixtures need a more robust structure than regular indoor lighting to withstand such an environment. So, below, I have listed some points that you must consider while choosing landscape lights-
Color Temperature
Both cool and warm color temperatures are popular for landscape lighting. But as the color temperature of the light greatly affects the ambiance, be wise while choosing. Warm lights of low CCT are the best choice if you want a calm and cozy ambiance. Usually, resorts or hotel landscapes have warm landscape lighting. In contrast, you will find cool lighting in parks that keeps people energetic and motivated for workouts. If you still get confused about choosing the correct CCT, read this article- How to Choose LED Strip Color Temperature?
IP Rating
The IP rating is a crucial factor to consider for landscape lighting. A higher IP rating will ensure your fixture is dust and waterproof. The landscape lighting not only faces storm or rainwater; when you water the garden plants, these lights also come in direct contact with water. So, if your lights are not sealed, water will enter the fixture and damage the bulb. Therefore, you must check the IP ratings before purchasing any fixture for your area. To know more about IP rating, check this- IP Rating: The Definitive Guide.
IK Rating
To protect your light fixtures from mechanical impact, always consider IK ratings. IK stands for Impact Protection. These ratings are graded as IK00 to IK10. Now, why is this important for landscape lighting? For example, if you have installed a light fixture in your backyard, what if the child hits the light forcefully with a ball? If the light has a lower IK rating, it has a higher risk of getting broken. To avoid this situation, consider the degree of protection your space requires and choose a fixture accordingly. In this case, this guide will help you- IK Rating: The Definitive Guide.
Smart Features
With the advancement of technology, the inclusion of smart features on lights is gaining popularity. So why lag behind? You should also implement smart lighting in your landscapes. For instance, you can go for motion sensor lights or addressable fixtures, giving your space a high-tech vibe. This technique works best for commercial landscape lighting. Having smart lights grabs the attention of visitors and thus increases your business value. To keep you updated with modern lighting, check this- 12 LED Landscape Lighting Trends You Need To Know About 2023.
Energy Efficiency
Landscape lights are kept on all night, so you should be careful about their energy consumption. Undoubtedly, LEDs are the best option for energy efficiency. It uses about 80% less energy than traditional lighting. Thus, going for LED fixtures will save your electricity bills. But do all LEDs have high quality or durability? No, to ensure you are using a good quality fixture, pursuing an original product from a reputed brand is essential. Check this article for the best LED lighting solutions- Top LED Strip Light Manufacturers And Suppliers In China 2023.
Overall Cost
The landscape lights are quite expensive compared to other traditional residential lighting. So, you must make a budget first before choosing any light future. Remember, the price of the bulbs varies from brand to brand. But affordable pricing doesn't necessarily mean poor quality. However, the lumen level, IP and IK rating, voltage, bulb material, etc., impact the price of the fixture. Besides, you must not down-look warranty policies when finding affordable bulbs.
FAQs
The Bottom Line
Landscape lighting is essential for security and enhances the outdoor beauty of your area. You can install lights on the pathways, patio, gardens, outdoor stairways, and other spaces to highlight your landscape. However, in choosing the right light fixture, you must consider IP & IK ratings, color temperature, the design of the light, energy consumption, and more.
Though there are different variants of light fixtures, LED strip lights are on trend. These fixtures are easy to install and super flexible in shape and size per your requirements. This feature makes them ideal for any creative landscape lighting. So, if you want to bring a modern ambiance to your landscape, go for LEDYi lighting. We produce premium LED strip lights and offer extensive customization facilities to our customers. Our product list includes LED neon lights, flood lights, and other essential accessories. So, contact us ASAP! For more landscape lighting guides, check Landscape Lighting: The Definitive Guide.