Opting for appropriate lighting can change the entire game of your restaurant business! But how do you know which lighting is good for your restaurant?
Restaurants can be of different types: fine dining, cafe, buffet, bar, and more. All of these categories have specific lighting needs. That is why you need to find out the lighting needs of your space before selecting any fixture. Then, choose the style & size of the fixture, the color of the light, CRI ratings, brightness, etc. Besides, lighting requirements for indoor and outdoor restaurants also vary.
But no worries; this guide will clarify all the restaurant lighting facts. So, without further delay, let's jump into the discussion-
Types Of Light Fixtures to Use In Restaurants
You should use a versatile category of LED lights to bring the best lighting for any restaurant. Here, I have listed some fixtures that suit restaurant lighting purposes the best-
LED Strip Lights
The indirect and soft glow of LED strip lights gives your restaurant a modern and sleek look. You can use these fixtures for both general and accent lighting. They come in different variants, including single color, RGB, tunable white, dim-to-warm, and addressable LED strips. Besides, motion sensor options are also available. You can use them creatively to stand out in your restaurant's ambiance!
LED Neon Lights
Outdoor lighting is very important to grab the attention of passersby toward your restaurant. And for this, LED neon lights work best. These fixtures pop up brightly, enhancing your restaurant's visibility. You can also use indoor areas to give the space a quirky vibe. Besides, installing these fixtures is quite easy, thanks to the bendability of LED neon flex. You can shape them in letters or any structure you want. This makes them ideal for a logo or shop name lighting that you can place on the reception or outdoors of your restaurant. However there are also traditional glass neon lights, but they are not as good as the LED ones. To know more, read this article- Glass Neon Lights vs. LED Neon Lights.
Recessed Lights
When it comes to ambient lighting, recessed lights are an excellent option for restaurants. These built-in fixtures don't cause direct glaring issues. So the customers or visitors can enjoy their time without any discomfort. You can also use these lights in the washroom and hallways of the restaurant. As they come in different sizes and shapes, you can use them on several zones of your restaurant based on the lighting demand. Nevertheless, if you have an insulated ceiling, don't miss to read this guide- IC Vs. Non-IC Rated Recessed Light Fixtures to avoid fire breakouts.
Utility Lighting
Utility lights are essential in the restaurant's kitchen, dishwashing, or storage area. These lights are bright enough to provide sufficient visibility to the staff. So they can cook, serve, and do other tasks comfortably with inadequate lighting. Utility lights usually have higher lumen ratings and wider beam angles to cover more area. However, the need varies with the tasks you accomplish, particularly at the restaurant.
Track Lighting
Track lights are one of the most popular lighting options for accent lighting. You will mostly find them in cafes and fast food shops. The directional lighting of these fixtures makes them ideal to light up the seating areas of the restaurant. Besides, you can install them on the cash counter or other tasking areas. Again, if you have any special element in your space, you can use these fixtures to highlight them.
Smart Lighting
Smart lighting can play a great role in building up the image of your restaurant. It is a great strategy to impress your customers. For instance, you can use motion sensor lights on your restaurant stairs and washroom. This will not only make your restaurant technically advanced but also save your electricity bills. Besides, dimming, color-changing features, etc., are other considerations for choosing smart lighting for your restaurant.
Designer Lights
The interior design of your restaurant can boost the engagement of your restaurant. And using designer lights is a great move to attract customers. You can add big chandeliers or pendant lights to your. This will create a center of attraction and help in branding your restaurant. However, make sure the fixture you choose matches the theme and interior of your area. Don't install something that looks too much for the location.
Why Is Good Lighting Important For Restaurant Lighting?
Lighting plays a significant role in creating the ambiance of your restaurant. Now, how do you know if your restaurant lighting is good enough? Bright lighting doesn't define good lighting. There are more facts to consider. For instance, the foods won't look good if the fixtures you installed are low CRI rated. Besides, too bright lighting can cause glaring issues, irritating the customers. It will further cause headaches or make the staff uncomfortable working long shifts throughout the day. Therefore, good lighting is very important for restaurants to ensure the customers and the staff have a comfortable environment.
Things To Know Before Lighting Up Your Restaurant
Like any other commercial area, restaurants have specific lighting requirements. So, you must consider the following factors to pick the right lighting for your restaurant-
Lighting Requirements For Different Restaurant Types
Restaurants can be of different types. Each of these types has its unique ambiance and customer approach. And to create the right ambiance for your restaurant category, lighting plays a great role. For instance, installing disco lights in a fine dining restaurant will not match the atmosphere. That is why you should first consider your restaurant category and then choose the fixture accordingly. Check the chart below to learn the lighting requirements for different types of restaurants-
| | |
| --- | --- |
| Type Of Restaurant | Lighting Requirements |
| Fine Dining | Soft, warm lighting with a focus on ambiance. |
| Casual Dining | Balanced lighting with a mix of ambient and task lighting. |
| Fast Food | Bright, efficient lighting for quick turnover. |
| Outdoor Dining | Soft, natural lighting with minimal glare. |
| Cafe | Cozy, intimate lighting with a rustic touch. |
| Bar & Lounge | Dramatic lighting for a vibrant nightlife experience. |
| Family Restaurant | Well-lit spaces are suitable for families and children. |
| Bakery/Cafe | Bright, inviting lighting to showcase baked goods. |
| Buffet | Balanced lighting, bright lights on food counters |
Size Of The Restaurant
Do you know lighting plays a great role in creating space illusion? For instance, indirect lighting with LED strips can make small spaces look bigger! Again, if you install bulky fixtures in small restaurants, it will look more congested. This is why choosing the light fixture is essential. Besides, the spacing of the fixture is also a matter to consider. If you have a large space, calculate the distance you should keep between the light bulbs to ensure adequate illumination. However, the number of fixtures and spacing distance will vary depending on the brightness of your bulb.
Color Of The Lightings
When it comes to the light color of the restaurant, the major confusion arises in choosing between warm and cool colors. Usually, for fine dining and outdoor restaurants, warm color lights work best. It creates a soft and cozy ambiance that fits the ambiance best. Again, for cafes or fast food shops, you can choose cool or warm lights based on your restaurant's interior. In this case, tunable LED strip lights work best. You can adjust the color temperature of your restaurant using these fixtures. However, colorful and vibrant light fixtures work best in lighting up the bars. In this case, you can choose RGB or addressable LED strip lights to change the lighting game!
Brightness
The fixture in the dining area of a restaurant doesn't have the same brightness as the kitchen section. If you install high-lumen lighting in the dining area, it will make it very uncomfortable for the customers to spend quality time in your space. Again, a low-lumen fixture in the kitchen or workstation can cause visibility issues. So, you must know the correct brightness requirements of different sections of your restaurant. No worries; the chart below will help you with this-
Different Zones Of Restaurant
Suggested Brightness In Lux
Dining Area
Fine Dining: 30-50 lux
Casual Dining: 50-100 lux
Fast Food: 200-300 lux
Reception
150-300 lux
Kitchen
Food storage section: 150 lux
Cooking section: 500 lux
Washing section: 300 lux
Bar/Lounge
100-200 lux
Smoking zone
50-100 lux
Kids Zone
100-300 lux
Restroom
100-300 lux
Outdoor seating
30-100 lux
CRI Rating
Don't you agree with the saying- "The food that looks good tastes good!"; you surely do. And to make the food look appealing, color matters. But if your light fixtures are of low CRI rating, it may not look good. But what is CRI? This stands for the Color Rendering Index, which determines the color accuracy of light fixtures compared to natural lighting. The higher the CRI rating, the better color accuracy it provides. So, if you don't want to make your serving foods look dull and pale, choose bulbs with higher CRI.
Restaurant Lighting Regulations
There are many international regulations regarding restaurant lighting that you must consider. For instance, according to OSHA, the IP of kitchen lights should be IP65 or 67. This standard suggests the brightness of the commercial kitchen to be 10 lumens per 100 square feet area. So, if you have a 1,000-square-foot kitchen, the total lighting requirement is 10,000 lumens. OSHA further recommends avoiding hanging fixtures above the food preparation area. In case the fixture breaks or falls, it will contaminate the food. It also advises you to clean the bulbs regularly as grease and grime easily sit on kitchen lights.
Restaurant Interior & Exterior Lighting Needs
The indoor and outdoor lighting of restaurants have different lighting requirements. For instance, if you install a high-lumen LED neon light inside the restaurant, it will cause discomfort to the visitors and the employees. But the same fixture may work great on outdoor or exterior lighting. Again, IP is a crucial consideration here. Exterior lighting goes through extreme weather conditions like- rain, storms, dust, and dirt. Higher IP-rated bulbs are essential to keep your fixture safe from these conditions. But for the interior, lower IP-rated fixtures will work. Check this guide to learn more- IP Rating: The Definitive Guide.
Light Controlling & Dimming
You are well aware that the lighting requirement of day and night is not the same. If your restaurant gets sufficient sunlight in the daytime, why waste more energy on light fixtures? In this case, you can save your electricity bills if you have a dimming light. Just dim the fixtures to create accent lighting throughout the area. You can adjust the brightness to your needs when it gets dark around. To get these features, consider light controlling and dining features before purchasing any fixture for your restaurant.
Tips To Outstand Your Restaurant Lighting
Use smart lighting to enhance user experience
If you want to create a good impression on your restaurant, always give priority to smart lighting. For instance, you can install motion sensor lights in the entryway or staircases. Again, Addressable LED Strip lights are a great option here. If you want to give your space a colorful and quirky vibe, these lights work best.
Follow a theme for the entire light setting
Maintaining a theme for lighting makes all the components look compact. For example, if your restaurant interior is vintage-themed, lantern light fixtures will complement the look best. You can also add LED candle lights to bring a wow factor to the ambiance.
Consider the interior and type of your restaurant
You should consider the overall interior, including the walls' color, furniture, and restaurant location. The type of the restaurant is also important; consider whether yours is a fine dining, fast food, buffet, or other restaurant category. Then select your lighting targeting on that.
Choose energy-efficient lighting
Like other commercial spaces, the lights of the restaurants are also lit all day long. So, the electricity bill is a major concern here. But using energy-efficient bulbs can lower your cost. Therefore, always purchase energy-efficient lights for your restaurant; LEDs are the best choice here. They consume about 80% less energy than traditional light fixtures.
Avoid direct light glaring
When installing any light fixture, ensure it doesn't cause glaring issues. This can create a negative impression on your customers. To avoid such issues, buy fixtures with proper lumen rating; to bring light can be irritating. Besides you can also use diffusers or casing to minimize light glare.
Keep up with the current trends
New light designs are continuously coming into the market. You must keep an eye on the latest designs. For instance, at present, cove lighting or any other form of design with LED strips is gaining popularity. You will also find neon lighting to add a wow effect to the restaurant's interior and exterior. Keep these factors in check to keep the design of your restaurant in pace with the modern times.
Lighting based on daytime
Consider which time of the day is busiest in your restaurant. For instance, coffee shops are popular for breakfast and snacks. So, you should light them up considering the needs of morning and evening light requirements. This way, try to analyze the daytime to give customers a better experience. In this case, tunable lights are the best option. You can change the mood of the restaurant according to the daytime requirements. The visitors will also feel fresh each time they visit. The chart below will help you to do the lighting of your restaurant based on daytime-
| | |
| --- | --- |
| Time Slot Of Restaurant | Suggested Lighting |
| Breakfast | Go for bright lighting. This will help the customers wake up and feel energetic while enjoying their coffee, checking emails, reading, or working on laptops. |
| Brunch | Consider combining warm, natural lighting with other types to create a calm and cozy atmosphere. You can also use curtains or blinds to control natural light. |
| Lunch | Use natural light if possible, or opt for soft, ambient lighting to create a comfortable and inviting environment for a midday meal. |
| Dinner | Dim the lights to create a more intimate and romantic ambiance for night dates. Candles or soft, warm lighting is a good option to consider. |
How To Layout Restaurant Lighting?
You must know how to correctly lay out the restaurant lights to ensure sufficient lighting and customers' comfort. Here is the process to help you with this-
Step#1: Ensure proper ambient lighting
Firstly, you need to ensure that your space has sufficient general lighting to ensure proper visibility. When working on ambient lighting, consider the type of your restaurant and the services you provide. For instance, the general lighting of a fine dining restaurant is soft and dimmed, but for casual faces, bright lights are used. You can use LED strips, recessed, pot, or other downlights for ambient lighting. This guide will help you to pick the right light for your restaurant- What are Downlights and How to Choose One?
Step#2: Install task lights
Once you are done with ambient lighting, mark the areas where task lighting is essential. Kitchen areas, especially the chopping, cooking, and dishwashing sections, are the major targets here. You must install bright task lights in these zones. But remember the lights shouldn't be too bright, that irritates the staff. However, you should add task lighting on the reception or counter. If the general lighting is dimmed, you can also install task lights over the dining tables.
Step#3: Add accent lighting to highlight special elements
Accent lighting is important to create a mood in your restaurant. Track lights, spotlights, LED strips, etc., are excellent options for accent lighting. You can install these lights to highlight the unique elements of your space. It could be a textured wall, any artwork, showpiece, or other items that you want to focus on.
Step#4: Decorative lighting (optional)
At present, people are too interested in flexing good photographs in social media posting. And this makes restaurant decoration/visuals more important than the taste of food- shocking but true. So, focus on decorative lighting to make the most out of your restaurant business. It could be pendant lights, chandeliers, or other designer lights. You can go creative in forming unique light structures using LED strips and neon flexes. This will work as a branding for your restaurant. Check this to create special lighting for your area- How to Make a DIY LED Neon Sign.
How Does Restaurant Lighting Impact Mood?
The color and brightness of the restaurant lighting greatly impact mood. That is why you need to consider the category of customers you want to attract and what type of service you will offer. For instance, the ambiance of a cafe and a fine dining restaurant will be different. Fine dining targets upper-class customers, so you must create a sophisticated ambiance here. But cafe lighting should be done focusing on utility rather than emphasizing elegance. In this case, light can affect the mood in two ways:
1. Low Light: To create a warm and inviting mood for your restaurant, use low lighting. This type of lighting is best for fine dining restaurants where you can go for a romantic date or dinner with family. Installing low-color temperature fixtures will make customers feel comfortable and spend sweet moments with their loved ones.
2. Bright Light: In lighting restaurants like coffee shops, ice cream parlors, fast food shops, or cafes, you need bright lights to create an energetic ambiance. These restaurants are mainly busy at the time—for instance, breakfast, brunch, lunch, or evening hours. So, big windows and bright light fixtures set the perfect mood to wake the customers up.
7 Ideas/Designs For Restaurant Lighting
I have pointed out some creative lighting ideas for your restaurant in this section. Check them out-
Outdoor Restaurant Lighting Ideas
The outdoor lighting encourages the visitor to center your restaurant and spend quality time enjoying food. So, it is important to give your best on exterior lighting. However, you must reflect the type of your restaurant through outdoor ambiance. Here are some ideas for you-
Place An Illuminating Logo With LED Neon Flex
When it comes to outdoor lighting, the first thing that comes to your mind is illuminating your restaurant's name board or logo. In this case, LED neon flex works best. This light pops up your restaurant in the crowd and enhances its visibility even from far distance.
Restaurant Facade Lighting
A textured walled exterior allows you to enhance the outdoor look. You can use wall washers or floodlights for this purpose. These fixtures work best to highlight the textures of the walls and make your restaurant look more attractive. Besides, use LED bollard lights if you have an outdoor parking lot. This will give a packed outlook to your space.
Rooftop Seating Area
You can get super creative in lighting a rooftop restaurant. Warm lights work best for these types of restaurants. You can add daily lights and designer lamps to make the place look more appealing. Crafted hanging lights are also a great option here. However, whatever light you choose has a higher IP-rated fissure to ensure water and dustproof.
Indoor Restaurant Lighting Ideas
Once you are done with outdoor lighting, it's time to bring magical touches to the interior section. LED strips, recessed lights, pendant fixtures, etc., are ideal choices for indoor restaurant lighting.
Cove Lighting With LED Strips
Cove lighting is excellent for both general and accent lighting. You can implement this technique for the ceiling of your restaurant. All you need to do is create a false boundary ceiling and install LED strips from the inner sides. This creates an aesthetic vibe to your space. Besides, you can also experiment with the color of the light. If you have a patterned or textured ceiling, it further enhances its beauty.
Candle Lighting In The Dining Area
Do you have a fine-dining restaurant? Candle lighting is an excellent option to create the mood of fine dining. You need not use real candles for this. LED candle lights can glow all day without any burning risks. These types of light settings will surely impress your customers. This would be the major attraction for couples to come for a romantic dinner date.
Install Bulky Fixtures Over The Tables
If you have a high-ceiling restaurant, a bulky fixture works best to layer up your space. These could be large chandeliers or pendant lights. They are available in a wide range of designs. Check what type of design suits your interior design and choose accordingly. However, consider the area of your restaurant in choosing the fixture size. Don't end up installing too large fixtures that seem odd compared to the size of your space.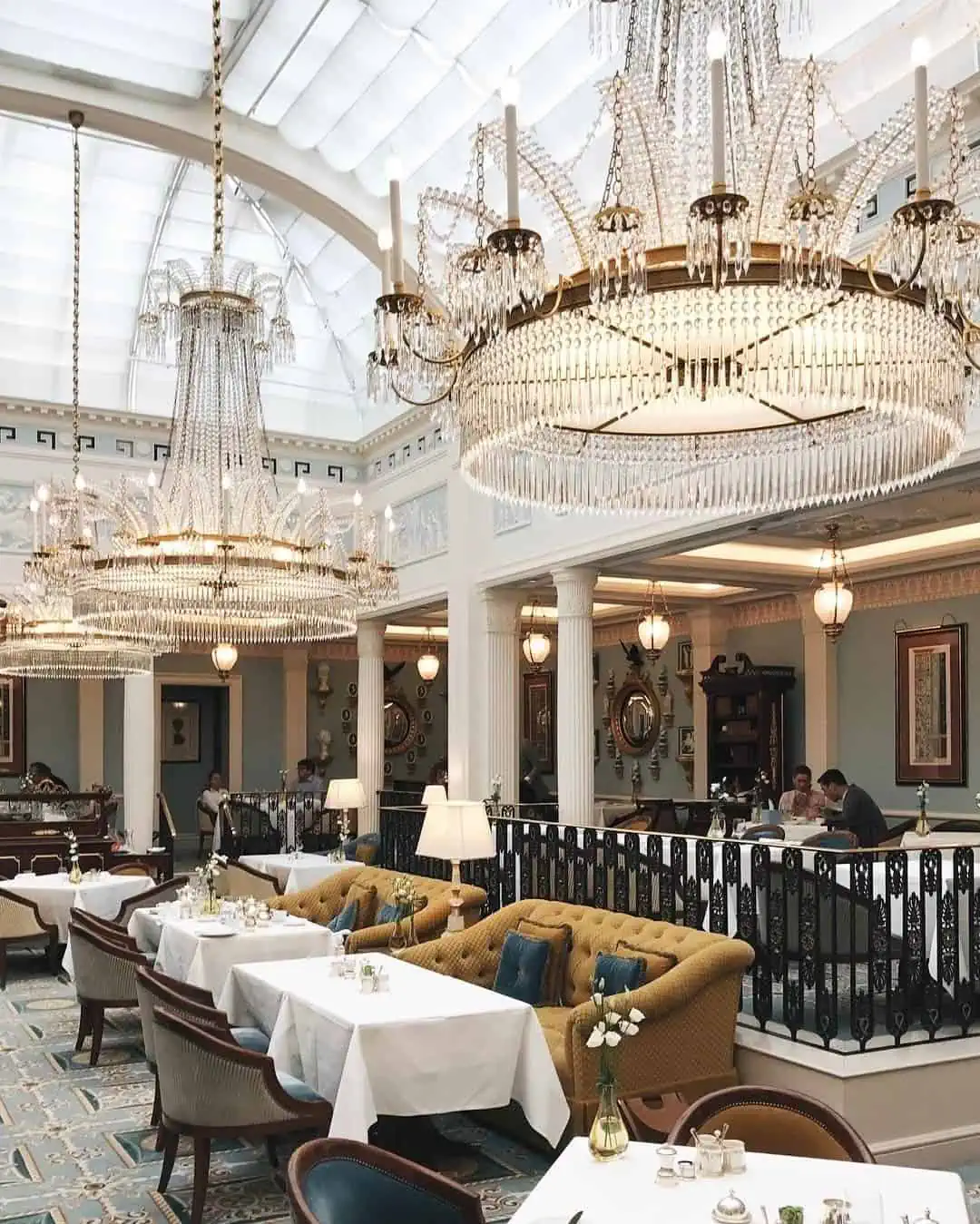 Smart Lightings In Stairways
If yours is a multi-story restaurant, use the stairways to bring a wow factor. There are many ways following which you can illuminate your areas. However, the best option is to use LED strips. Try installing them below the steps, around the trails, or railings. If you have open stairs, you can also create a floating effect by mounting these strips under the steps. To explore more creative stair lighting ideas, check this- 16 Stair Lighting Ideas With LED Strip Lights.
Check out the Top 31 Restaurant Lighting Ideas for more restaurant lighting ideas.
FAQs
The Bottom Line
Restaurant lighting plays a crucial role in boosting customer engagement. Therefore, if you want to make your restaurant business successful, prioritize its lighting. Consider the type of the restaurant before planning a lighting strategy. Remember, the fixture you use in the restaurant impacts its ambiance. So, select the fixtures' design, size, color, and brightness wisely.
However, LED strip lights are a great option for modernizing your restaurant. And for this, LEDYi is your best option to go for. We offer extensive customization facilities to meet your restaurant's indoor and outdoor lighting requirements. Besides you can also use our LED neon flex to pop up the restaurant logo to invite customers. So, contact us ASAP to place your order!