Landscape Lighting can transform the outdoor space from a seemingly-dull area to something that deserves to be in movie scenes. But it is essential to do it right because wrong lighting can have the opposite effect. You cannot just pick any outdoor space area and light it without considering the types of lights and different techniques, among other things.
But you have nothing to worry about because, as always, we have got you covered. This guide entails everything you need to know to turn your backyard and front lawn into a place of beauty. So, let's get straight to it.
Why is Landscape Lighting Important?
The landscape is essential because it enhances the aesthetics of your place. Everyone wants to make one's home look as good as possible, and landscape lighting is the ideal and the easiest way to do so. Excellent lighting can turn an ordinary lawn or backyard into something truly incredible.
Furthermore, the landscape's lighting also influences its inhabitants' moods. Dull lighting will project a dull mode that can wrap you in the waves of gloom. In contrast, a well-lit-up landscape projects liveliness and cheers your mood.
Landscape lighting can also make the place memorable for visitors. Humans memorize the area with the feelings it projects. Thus, if a home offers a lively mood, visitors will remember it as a happy place, and vice versa.
Landscape lighting also has a practical application, which is security. It keeps the intruders away and makes it easy to recognize them quickly.
Which Landscape Sites To Light?
Now that you have understood the importance of landscape lighting, let's look at the elements in the landscape that you can light. You have to remember three things while lighting a landscape: Aesthetics, Safety, and Entertainment. Good landscape lighting should possess all three characteristics.
The temptation to light the entire landscape is understandable, but you should not give in. Always remember that strategic lighting is better and more effective than installing many lights at random locations. Let's look at the places you can light to make landscape lighting effective.
Lighting walking paths is vital because it improves the safety of the area. It makes it easier to navigate and watch out for obstacles along the way. Such lighting should illuminate the entire walking track.
People who use their outdoor space a lot should install patio lights. It will improve the aesthetics of a place and enhance its utility. You can host parties in such an environment and even use it to relax late at night.
Illuminating the decks is crucial for navigating around and outside the house. Such lights will also improve the utility inside the house.
If your house has a landscape with walls, wooden arbors, and rocks, lighting them will make it look incredibly cool.
Lighting the garden creates an attractive environment at night. It will make the walks during the night more enjoyable. Such lights will compel you to spend more time with nature.
You can use the pond as a central point or anchor for the lighting. Highlighting the ponds creates appealing aesthetics and draws attention to them. You can creatively light features around the ponds to add a bit of a dramatic vibe to the landscape.
Types of Landscape Lighting?
Understanding the types of landscape lighting is just as important as understanding which parts to light. You can use traditional incandescent bulbs, halogen lights, and LEDs to illuminate the landscape. But LEDs are the ideal choice primarily because of their energy efficiency, durability, and general flexibility. However, within the LEDs, there is a lot of variety; each has a defined application. You must understand the purpose and function of each light to find the correct one for the landscape.
Spotlights and Floodlights
Spotlights and Floodlights are the most intense light fixtures, but both have different applications. The fundamental difference between the two is the beam angle. Spotlights project a concentrated angle which is typically around 45 degrees. You can use them to highlight specific areas or display points. For example, spotlights will be perfect if you want to highlight an architectural detail, spotlights will be ideal.
On the other hand, floodlights have wider beams that spread at an angle of 120 degrees. Such lights offer more generalized illumination that you can use to enhance the utility of an area. When it comes to landscape lighting, you should create the ambiance with floodlights and then detail the different elements with other types of lights.
Inground Lighting
Inground lights are the fixtures meant to be installed on the grounds. You can use these lights to illuminate walking tracks and driveways. Typically, these lights are subtle and improve the sophistication and visibility of the area. You can also install them under the trees in your garden to light their complete structure. While the in-grounds lights work fine on their own, it is best to blend them with floodlights.
Outdoor Post Lights
Outdoor Post Lights work like accent lights and highlight the path leading to your place. The brightness of such lights is not overpowering and essentially sets an ambient tone for the visitors. You can use tall post lights to illuminate larger areas like driveways and shorter posts for small alcoves. To ensure post lights are not overpowering in brightness, you must find the correct number of lights needed for the space you want to illuminate.
The general rule is to note the diameter a light takes around a post and install the next fixture outside that diameter. You can also be creative and install fixtures on alternative sides to make the driveways look even more appealing.
Path Lights
Path lights have similar applications to post lights but are more subtle. You can use them to highlight the path inside your property. Such fixtures add more appeal to the landscape than the inground fixtures, which also have similar applications. However, the price of such fixtures is also higher, and the installation is a bit tricky. The height of such fixtures is significant; you should keep them about 14 inches tall to get an even glow for the path.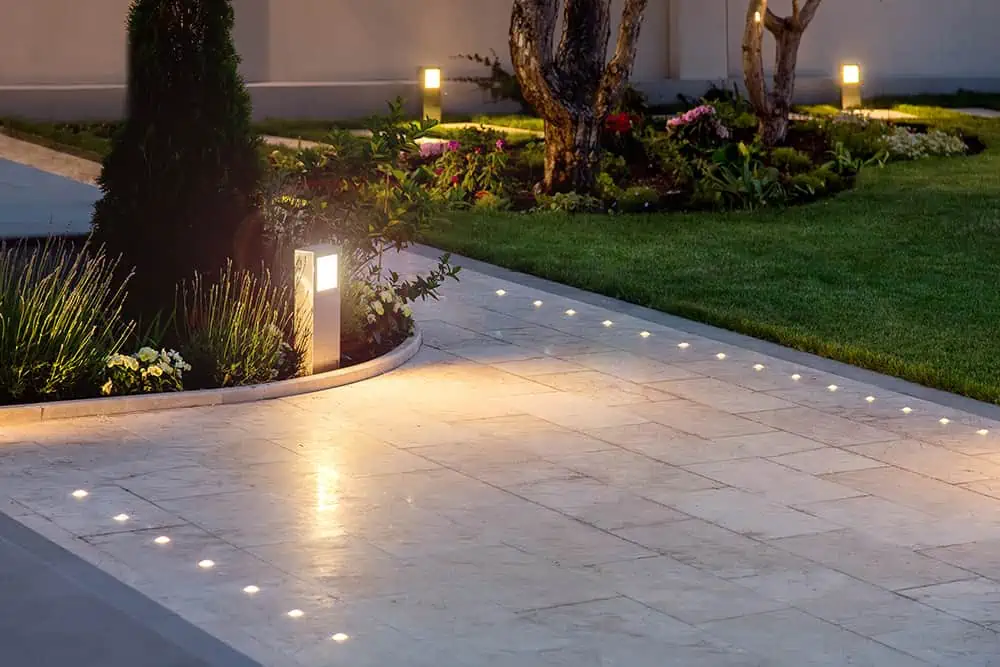 Different Designs of Landscape Lighting?
The next step in illuminating the landscape is understanding different strategies you can use to make it appealing. You can use various designs for various purposes. The combination of other techniques delivers the best results. Let's look at the strategies or designs you can use while lighting a landscape.
As the name suggests, highlighting means illuminating an objective's features, such as color, shape, or form, to make it more interesting. You can achieve it by using either spotlights or floodlights at the bottom of that object. Adjusting the beam angle and the distance from the thing will deliver the desired effect. You can use this technique under the statute, plants, or other unique elements in your landscape.
Accent lights also highlight the features of different objects but in a subtle manner. You can use a narrow beam of spotlights projected from the object's top or bottom. Furthermore, such lights work best for elements in the second tier of importance. For example, the highlight will work best for a big tree at the garden's center. But for the other trees around it, you should go with accent lights. Be mindful to hide the light if you want to go with accent lights.
The shadowing technique creates a shadow of an object on the wall or any other hardscape. This technique can add a dramatic effect to the landscape. The spotlights and well lights work the best for this technique. You should identify a vantage point and direct the spotlight to the object you want to shadow.
Downlighting is a technique that illuminates the garden or the landscape by mimicking the natural light. You can use different lights and project them from the tall structure to illuminate the entire area. Such lights work better to enhance the utility of a place rather than improving the aesthetics.
Grazing creates dramatic shadows, which work best if the landscape has a textured surface. You can achieve this effect by using lights and creating shadows of different objects in a hardscape.
Uplighting is opposite to downlighting and projects the light on an object from the bottom. Instead of providing a generalized illumination, such lights enhance a specific area. And also, these lights work better to enhance the aesthetics than improve the area's utility.
You can achieve washing by lighting a large wall and projecting an indirect beam angle. Floodlights are ideal for washing because they project an even light. Furthermore, such lights are best for the areas designed for entertainment.
If you want to create a moonlight effect in the trees, you can use spotlights high in trees that project beams downwards. It is essential to use a soft light that bathes the ground gently and creates shadow from the tree's branches.
LED Strips for Landscape Lighting?
While there are various types of lights that you can use to illuminate the landscape, LED strips make an ideal option. And there are good reasons for it which include the following:
Cost-effective
Compared to traditional bulbs, LED strips take less energy and save a lot in energy bills. Looking for a cost-effective solution is essential because you will need many lights to illuminate the landscape effectively. If you go with traditional bulbs, it will overburden the pocket with energy bills.
LEDs use about 75% less energy than incandescent bulbs, which means you will reduce energy consumption by 75%. Given the surge in energy prices, you will save a huge chunk of your monthly budget by opting for LEDs.
Furthermore, the LEDs might cost higher upfront, but it should not discourage buyers. The amount of energy they save makes up for it.
Durability
As evident from this guide, illuminating a landscape is a tedious process. And once you have completed it, you will not want to replace the lights every couple of months. The solution? You have guessed it right … the LEDs. In general, LEDs last about 25 times longer than traditional bulbs. It essentially means if a bulb lasts one month, the LEDs will last more than two years.
Generally, LED lights can last up to 50,000 hours of lights, and some brands offer LEDs that can last more than 100,000 hours. The point is once you have installed LEDs, you will not need replacement anytime soon.
Flexibility
As discussed earlier, lighting a landscape all comes down to your creativity. And traditional bulbs can act as a limiting factor owing to their lack of variety. On the other hand, LEDs offer a wide variety in terms of shapes, colors, and sizes. You can run wild with your creativity, and there will be a LED that will fit the purpose.
General Tips To Light The Landscapes
You should know pretty much all the important factors in lighting a landscape. But to make things even easier, let us give you some tips;
You do not have to hire an electrician to light the landscape because most landscape lights are low voltages. All you need is a wire stripper, and you are ready to light the landscape on your own.
If your landscapes have halogen fixtures, there is no need to get new ones. You can fit the LEDs in old halogen fixtures and still reap the benefits of LEDs. However, be mindful that LEDs should have the same base and wattage to work in these fixtures.
You will want to run the wires in the landscape underground while illuminating a landscape. Hence, marking the paths of wire is essential to avoid accidental shoveling while planting a new tree.
Do not use factory-installed connectors because they are prone to corrosion and failure when buried underground. Instead, use gel-filled wires with splice connections that are tailor-designed for the outdoors.
You do not have to use powerful lights on the patio. It is an area designed to relax, and overpowering lights do not fit the purpose. Instead, illuminate the boulders, trees, and other elements around the patio and get indirect light from them.
Please do not use too many lights because it will negate the purpose. You have to install the lights strategically so that no two fixtures overlap.
Use multicolor lights in some spaces to bring a more dramatic and fun vibe to the landscape. You can get smart LEDs that offer remote controls. Just a tap on a smartphone can change its color, blinking pattern, and even brightness. Such lights will work the best, especially if you organize many parties in outdoor spaces.
FAQs
Conclusion
Illuminating the landscape of a house goes a long way toward improving its aesthetics and utility. A well-lit outdoor area makes outdoor parties, late-night strolls, and casual hangouts more fun. Furthermore, it also keeps intruders away and adds a layer of security. But it is essential to do it right to ensure it serves the purpose. We have enlisted everything that needs to know to light the landscape appropriately. Hopefully, it has helped.
LEDYi manufactures high-quality LED strips and LED neon flex. All of our products go through high-tech laboratories to ensure the utmost quality. Besides, we offer customizable options on our LED strips and neon flex. So, for premium LED strip and LED neon flex, contact LEDYi ASAP!