Regarding stair lighting, nothing can look more modern and classy than LED strip lights. But how to install them on the stairway?
The flexibility and customizing features of LED strips give you unlimited options to install them on stairs in the most creative way possible. You can mount them on the steps, bottom/side of the treads, walls/ceiling of the stair, and more. The installation process is quite simple here, as the strips come with adhesive backing. Yet you can go for other methods like clipping or using aluminum channels.
So, if you plan to install LED strips on the stairway, you are just at the right place. In this article, I have bought you a complete guideline on installing LED strips on stairs, ways to choose the right strip, its maintenance process, and more. So, let's get started-
What Is Stairway Lighting?
Stairway lighting means illuminating the staircase using different types of light fixtures. The main purpose of stair lighting is to ensure proper visibility to avoid accidents while stepping on the stairs. Besides, visibility also enhances the outlook of the stair area.
A stairway can be divided into many parts like- the tread, raiser, railings, landing, nosing, etc. Considering all these zones and lighting them in a planned way, you can create an outstanding ambiance for your stairway. Different types of light fixtures are suitable for stair lighting; for example, spotlights, LED strip lights, recessed lights, or even bulky chandeliers for stairwell ceilings. You can choose the one that suits your stair best, yet LED strips are currently the most popular option for stair lighting. And so in this article, I will share with you all the ins and outs of installing the most trending stair lighting option, LED strip lights.
Why Choose LED Strips For Stairway Lighting?
Among hundreds of lighting options for the stairway, why choose LED strips? The most straightforward answer is that LED strip lights bring the most magical ambiance to your stairway. And as these are flexible, you can easily install them in different sections of the stair to bring your desired lighting outcome. Apart from these, there are many other reasons to choose LED strips; these are as follows-
Energy-Efficiency
The LED technology used in LED strips makes them super energy efficient. They use almost 85% less energy than traditional light forms like incandescent bulbs. Thus you can use LED strips for lighting the stairs of both residential and commercial areas. Turning them for a long time will not put a heavy burden on your electricity bills. Besides, these fixtures don't overheat or produce harmful gasses like mercury. So, LED strips are also an environmentally-friendly lighting option.
Advanced Features
You can upgrade your boring stairs into advanced ones with LED strips. These light fixtures offer you color-changing features and dimming options. So, you can change the entire ambiance of your staircase according to your mood. For instance, if you are having a family dinner, warm yellow-tone lighting on your indoor stairs will go well with the environment. Again when you are having a party, changing the stair color to red or blue with RGB strips will be a game-changing move. And to take this lighting game to the next level, you can install motion-sensor LED strips; your guests will be amazed each time they step on your stairs.
Customizable
If you are looking for customizable lighting options for stairway lighting, nothing can beat LED strip lights. You can cut them to the size of your stairs and install them wherever you want. (check this article for the LED strip cutting process- How to Cut, Connect, and Power LED Strip Lights). Besides, options are available to customize the voltage, power consumption, IP ratings, and more. All you need to do is find a reliable strip manufacturer- LEDYi is your best choice for customizing LED strips. We offer customization, ODM, and OEM facilities.
Ideal For Indoor & Outdoor Stairs
LED strip lights have many IP ratings suitable for indoor and outdoor stair lighting. By purchasing lower IP-ratified strip lights, you can illuminate your indoor stairs, and going for a higher rating will protect your outdoor stair lighting from unfavorable weather conditions like rain, storm, dust, or wind. And most importantly, these fixtures are shock-proof and corrosion-proof, which makes them more suitable for all types of stairs. You can install them on the stair railings without worrying about electric shock. These are cool to the touch, making them an excellent choice for creative stair lighting. For more information, you can check A Guide to Waterproof LED Strip Lights.
Easy Installation
LED strips come with an adhesive backing which makes the installation quick and simple. All you need to do is clean the stairs, target the area, remove the adhesive backing, and press it to the stair- that's it! However, for extra protection, especially for outdoor stairs, you can go for clipping or use aluminum channels. Thus, installing LED strips on stairs is super easy; you don't need to call an electrician. For more information, you can check Installing LED Flex Strips: Mounting Techniques.
Modern Look
LED strips are your ultimate solution to give your stairway a modern outlook. The hidden lighting effect created by LED strips brings a sophisticated look to your stairs. Installing these lights in your house stairs will add a wow effect to your interiors. Besides, for the stairs of commercial areas, like restaurants or hotels, LED strips can be a move to grab public attention. The illumination stairs can be a great spot for photogenic customers, which will play an effective marketing strategy.
Things To Consider Before Purchasing LED Strips For Stair Lighting: A Buying Guide
When you purchase LED strips for stair lighting, here are some facts that you should consider to get the ideal one-
Type Of LED Strip
LED strips can be of different types; each varies in lighting output and color variation. The most popular types of LED strips for stair lighting include-
Single-color LED strips are your ideal choice if you want a basic LED strip. It is the most plain form of LED strips you can customize in multiple ways. You can also get your desired wattage and voltage to get your required brightness for the stairs.
Tunable LED strips are excellent and most versatile LED strips for white lighting. With these strips, you can adjust the stair lighting of your house from warm to cool tones of any temperature. For instance, if you want cool white lighting for your stairs, increase the color temperature, and when you want cozy lighting, simply switch it to a warmer setting.
If your entire house is decorated with warm theme lighting, dim-to-warm LED strips are an excellent option for your stairs. Installing these stripes, you can get different shades of warm lighting, yellowish to orangish, to create a cozy ambiance. These strips will also go well with the stairs of fine dining restaurants with a warm and welcoming atmosphere. For more information, you can check What is the Difference Between Dim to Warm LED Strips and Tunable White LED Strips?
For colorful stair lighting, RGB LED strips are your ultimate choice. These strips contain 3-in-1 chips that can produce more than 16 million hues combining three primary colors- red, green, and blue. Going for RGB LED strips is an excellent option if you want colorful lighting on your stairs.
Motion Sensor LED Strips
Motion sensor LED strips are the most viral stair lighting option. Installing these fixtures can give your stair a modern and high-tech ambiance. Motion sensor strips detect and use infrared rays to identify any moving body stepping into the stairs and illuminate it instantly. If you have a smart home, these strips on the stairs will complement your house best.
Color Temperature
The color temperature of the LED strips determines the light's tone. If you want to create a warm ambiance for your stair area, use a lower color temperature. This will give a yellowish-to-orange tone. Again if you want cool lighting, choose LED strips with higher color temperatures. However, tunable or dim-to-warm LED strips are your best choice if you want an adjustable color temperature option.
| | |
| --- | --- |
| Color Tone | Color Temperature |
| Warm Tone | 2700K and 3000K |
| Cool Tone | 3500K and 4100K |
| Daylight | 5000K and 6500K |
For more information about color temperature, you can check How to Choose LED Strip Color Temperature?
Brightness
The brightness of the light fixture is usually measured in lumen. Higher the lumen rating, the brighter the light it produces. You should first determine the brightness you require for the stair lighting and decide on purchasing the strips accordingly. Remember, going for higher brightness than your requirement will cost you more both on fixture purchasing and on electricity bills. Check out Candela vs. Lux vs. Lumens to learn more about different brightness units.
Length
Usually, the LED strips come in 5 meters per reel. But other options are also available; the length per reel can extend up to 60 meters for different voltage ratings. Check this article to know more about strip lengths- What Are the Longest LED Strip Lights? However, to get customized sizes for your strip, contact LEDYi.
Density
The LED density is an important consideration for choosing LED strips. It determines the lighting effect. For instance, going for low-dense LED strips will create dots that may not be appealing. For even and flawless lighting, always go for highly dense LED strips. However, the preference is up to you; many of you may like the dot effect. But remember, with the increase in density, the price of the LED strip will also increase.
If you need a completely dot-free lighting solution, you can choose COB LED strip. To learn more about COB LED strip, please check the article All you need to know before buying COB led strip.
Voltage
Typically LED strips come in two voltage variants- 12V and 24V. Also, you can check How to Choose The Voltage of LED Strip? 12V or 24V? But as you increase the length of the LED strips by joining them, a voltage drop occurs, hampering the light output. Though it can be solved by additional wiring, the process becomes much more difficult. That is why LED strips of Constant Current LED Strip with higher voltage ratings are ideal for large stair lighting. This series of LED strips has the following voltage rating-
48Vdc@50meters
36Vdc@30meters
24Vdc@20meters
Installing these strips on your stairs gives you constant brightness without any voltage drop. However, there are High voltage Driverless AC LED Strips too that can provide you with higher voltage- AC110V/120V/230V/240V.
IP Rating
The IP rating is a crucial factor to consider when purchasing LED stripes for any kind of application. The rating will vary depending on whether you are installing the LED strip on an indoor stair or outdoor stair. IP rating determines the degree of protection against ingress. If you plan to install LED strips for indoor stairs, a lower IP rating of IP20 or above will work. Again, for outdoor stair lighting, a higher IP rating of IP44 or IP65 or higher is most effective.
But don't make the mistake of getting higher IP-rated LED strips where not necessary; this will be nothing but a waste of money. Consider the surrounding environment before choosing the ideal rating. For instance, if you want to light the stairs of a pool, then IP68 is your ultimate choice. It will provide complete water resistance and illuminate the strip even under water. But these extreme protection levels are not required for the indoor stair of your house. To get the proper guideline in choosing an IP rating, check this article- IP Rating: The Definitive Guide.
Controlling Features
You can control LED strip lights in several ways with LED controller. You can have a switch controller or remote-controlling system. The advanced LED strip lights now also support mobile controlling systems. So, you can easily adjust the light setting of your stairs with your mobile phone. Besides, motion sensor LED strips are another option worth mentioning here. You need not turn them on or off; they are completely automated.
Customizing Option
The LED strips available in the market may not fulfill your lighting requirements. In this case, find a manufacturer that can offer customization facilities. Contact LEDYi; we offer you customization options on power consumption, voltage, IP rating, length, LED density, and more.
Warranty
Warranty somehow indicates the quality of the LED strips. So, always find LED strips with better warranty policies. Our LED strips offer you three to five years of warranty. At this time, if you face any issues with our product, feel free to contact us.
Installing LED Strips On Stairway
Installing LED strips on the stairs is quick and simple. You don't need to be a professional electrician to install them. Here I have listed a stepwise procedure to help you install LED strips on the stair-
Step-1: Choose The Ideal LED Strip
The very first step in installing an LED strip on your stair is choosing the right kind. Consider your stair location- indoor or outdoor, determine the required brightness, length of the strip, and voltage, and purchase accordingly. In this case, the guide discussed above will help you to choose the ideal one.
Step-2: Select The Location
Decide where you want to install the LED strips; it can be the ceiling, railing, steps, or stair tread. Once you have chosen the location, clean the area with a damp cloth. It is important to ensure the satire is free of dust and dirt. If there is any dirt in the installation area, the adhesive backing of the LED strip will not stick properly.
Step-3: Measuring & Cutting The LED Strip
Once you have cleaned the stair, take a measuring tape and determine how many strips are required for the installation. For instance, if you are installing LED strips below each step, measure the length of each step and cut the strip accordingly. You will find cut marks in the strip; use scissors and cut following the mark. In case you make a wrong cut, don't panic. You can quickly join them back using the LED strip connector. To learn the procedure, check this article- Can You Cut LED Strip Lights and How To Connect: Full Guide.
Step-4: Polarity Matching
After cutting the LED strips to appropriate measurements, it's time to prepare them for installation. For that, first, place the LED strips, connectors, and wirings properly to maintain accurate polarity. That is, the positive marking should meet the positive endings and negative to the negative. Ensuring this is important because if the polarity is incorrect, the LED strips will not glow.
Step-5: Soldering
After matching the polarity, connect the components, including the dimmer and power supply/ driver, with LED strips by soldering. However, a better alternative to soldering is the LED connector. These are clips that make the connecting process quick and straightforward. However, soldering is preferable if you are installing LED strips on outdoor stairs as it gives a more robust connection.
Step-6: Testing
Testing the LED strip is necessary to ensure the wirings are proper. After you are done with soldering and connecting the LED strips to the power supply, turn it on to check if it glows. If it doesn't glow, check the polarity and connections. Don't make the mistake of installing the LED strips without testing them. If you install it and then find the strip is not working, all the hard work will go in vain.
Step-7: Mounting The LED Strips To The Stairs
Now take the LED strips to where you want to install the LED strips. Remove the adhesive backing and press it to ensure it sits properly. LED strips have 3M tape that is strong enough to hold the fixture right on the stair points. Yet, if you want to strengthen the installation, you can use clips and screw them to the stair.
Step-8: Turn On The Power Source
Your installation is done once you have mounted the LED strips ensuring proper wiring. Now, turn the power source and watch your stairs glowing!
Following these steps, you can quickly install LED strips on your stair. However, it is better to hire an electrician to ensure proper installation of outdoor stair lighting.
Where To Install LED Strips On Stairway?
When lighting the stairs with an LED strip, you may get confused about deciding where to install it. The flexibility of LED strips allows you to install them anywhere. Yet I am suggesting some ideas where you can design them, but the option is unlimited here. You can take an idea from the below suggestion and bring your derided lighting output to your stair-
The ceiling of the stair: You can install LED strips on the ceiling of the stairs as cove lighting. This style suits you best if you have a duplex or triples stairs at home. Create a false ceiling and install the LED strips creating a hidden lighting effect. This will work as a general lighting of the stairway.
Below each tread: You will get space to install the LED strips under each stair tread. This will illuminate the stair and create an aesthetic accent lighting.
Along the side of the tread: If you are not having side walls in your stair, or at least one side open, installing LED strips along the side of the tread is a great option. This will illuminate the side angles and focus your stairway from a distance.
Middle of each step: Installing LED strips in the middle of each step is another amazing idea for lighting stairs. Usually, strips are mounted all along the step, but to be creative, you can leave space from two sides of the step and install LED strips right in the middle.
Below the grove or lip along the wall: If your stairs have a grove or lip, you can install the LED strips below it.
Underneath the handrail: As LED strips are shock-proof, do not get overheated, and usually run under lower voltage, they are completely safe to use on stair railings.
So, to install LED strips, you can choose any of these locations that suit your stair. However, there are endless options to get creative here.
Ways To Mount LED Strips On Stairway
You can mount the LED strips on stairways following any of the below processes that suit you best-
Adhesive Backing
LED strip lights come with 3M adhesive backing tapes. This makes the installation process easy; even a child can install the strips using the adhesive backing. All you need to do is remove the tape cover and press it to the stair; that is it! To learn more about LED strip adhesive tapes, read this article- How to Choose The Right Adhesive Tapes For LED Strip.
Clipping
Another option for installing LED strips is using clips. There are plastic and metal clips available; some common categories of LED strip clips include-
One-side bracket fixing clip
Angle adjustable clips
Clips with adhesive backing
E-Clips
Before deciding to use a clip, remember that you will need to drill the stair, which can damage the stair permanently. However, clips with adhesive backing are an ideal option here.
Aluminum Channel
As the stair continuously faces impact or footsteps, aluminum channels are a good option for installing LED strips. Aluminum channels can be of different types to fit your stair lighting; these include-
Surface mount channel
Surface mount channels are the plainest category of aluminum channels for installing LED strips. These are ideal for installing LED strips in the middle of steps or any plane surface of stairs.
Recessed mount channel
Recessed mount channels are your best option if you want built-in lighting for your stairs. To use this method, you must install the channels early when you build the stairs.
Angled mount channel
To light stair areas like- below the tread or any other corner of the stairs, you need to place the steps in the angular direction. In this case, angled mount channels are an excellent option for mounting LED strips.
If you want to learn more about these mounting methods, read this article- Installing LED Flex Strips: Mounting Techniques.
Maintenance Tips for LED Stairway Lighting
LED strips don't need much maintenance. Yet you can practice some regular keep-on to extend its durability. Here are some basic maintenance that you should follow for stair lighting with LED strips-
Clean regularly: As the stair continuously goes through foot movements, undoubtedly, it deals with dirt daily. Accumulation of this dirt on LED strips will hinder even and clear light flow. Besides, dust settlement can damage the fixture if you get lower IP-rated strips. So, maintain a regular cleaning to ensure proper functioning. However, don't go for wet cleaning unless the LED strips have water-resistance properties.
Check on voltage: Extending the length of LED strips along the stairs can cause a voltage drop. Check the light's brightness; if the illumination is decreasing gradually, contact an electrician.
Switch off when not required: Don't let the stair lights glow for the entire day. Turn them on only when you need to, like at night or if you are having guests at home. This will make the LED strips last longer and save electricity bills.
Creative Stairway Lighting Ideas With LED Strips
Instead of going for common lighting ideas with LED strips, you can go creative by mounting them in unique styles. Here are some unique ideas for you-
Dynamic Structure on Stair Walls
To give an aesthetic appearance to your stairways, you can design dynamic patterns on the side walls of the stair. In this case, use recessed mount aluminum channels to get the desired outlook.
Instead of choosing plain white LED strips, you can choose RGB LED strips to bring a colorful effect to your stairs. You can design rainbow theme stairs or combine different color strips to bring an ombre effect.
Hidden Stair Lighting Effect
You can use the LED strips to give your stairs an indirect and sophisticated hidden lighting effect. Doing cove lighting for the ceiling or installing LED strips below the tread can help you get this effect. However, add the strips underneath each step if you have an open riser staircase- the result will amaze you!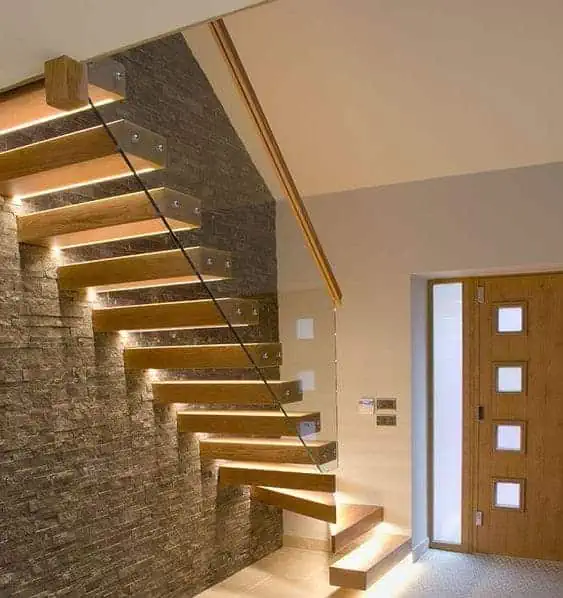 You can check my- 16 Stair Lighting Ideas With LED Strip Lights to get more stair lighting options. In this article, I've covered the most amazing stair lighting suggestions you can implement for indoor and outdoor stairs.
FAQs
The Bottom Line
Stair lighting with LED strips not just aids in visibility but also enhances your space's beauty. You can install these fixtures in your staircase in several ways- using clips, aluminum channels, or adhesive backings.
However, in choosing LED strips for stair lighting, quality is the foremost thing you should consider. And for that, LEDYi is your ultimate solution. We offer you a wide variety of LED strips ideal for stair lighting. Besides, you can ask for customization too. So, why wait anymore? Contact us and get your desired stair lighting RIGHT NOW!