Do you face issues while finding clothes in the dark closet? No more worries; light it up and bring the best ambiance to your dressing space!
Wireless lighting is the best option for closet or shelf lighting to bring a neat lighting effect. However, if you have enough wiring facilities, you can also use regular ones. Accent lighting is important in lighting up the closet rather than just concentrating on general lighting. You can use LED strip lights or recessed lights in the interior of your closet. Again, for a walk-in closet, pendant lights and other designer fixtures are also brilliant options to go for. Besides, to give a modern touch, you can also use motion sensor lighting.
In this article, I have listed 29 creative lighting ideas for the shelf or closet of your house. Therefore, let's dive into the main section to pick the best light setting for your closet-
What Kind Of Lighting Is Best For Closets?
The best kind of lighting for closets is usually LED bulbs. These are cool to the touch, energy-efficient, and provide good brightness to help you see your clothes clearly. As they don't give off much heat, there is no risk of a fire hazard in your closet.
Also, you can use compact fluorescent lights (CFLs) for the closet. But you need to place them in spots where people won't touch them, like in an attic. It will avoid accidental breakage. Halogen lights can be used, too. However, they should be completely enclosed to prevent any safety issues.
Closet Lighting Ideas
Below I've the most creative ways to light up your closet that will make you happy each time you open it. Let's check them out-
1. Cozy Up In A Space With Warm Light
A too-bright overhead light can be intimidating and give your closet a clinical vibe. Therefore, you can set soft lighting like pendants or sconces. These lights will provide a cozy vibe and create an overwhelming atmosphere. Besides, you can also use  Dim To Warm LED Strip for more color temperature options in warm lighting. They are fully adjustable from 3000K To 1800K. So, you can change the level of warm tone according to your preference. 
2. Motion Sensor Lighting
You can choose motion sensor lighting if you want your closet to sense your coming and automatically turn on lights. These lights are very convenient as well as fancy. You don't have to turn on all the lights manually or don't forget your items for the darkness. So, consider installing some motion-sense lighting fixtures when you open the closet. These lights will welcome you by automatically turning on.
3. Spotlight Your Favorite Pieces
Setting the spotlight on your favorite pieces can add drama to your closet. This way, you can improve visual interest in the items or space. Also, you can find those items quickly when needed. This will save time for emergencies as you don't have to search for them. Track Lights are also great options in this case. You can adjust them to your desired angle. If you have a big closet, go for this idea. Besides, if you have a showroom or commercial closet setting, such light settings are a brilliant option to grab customers' attention.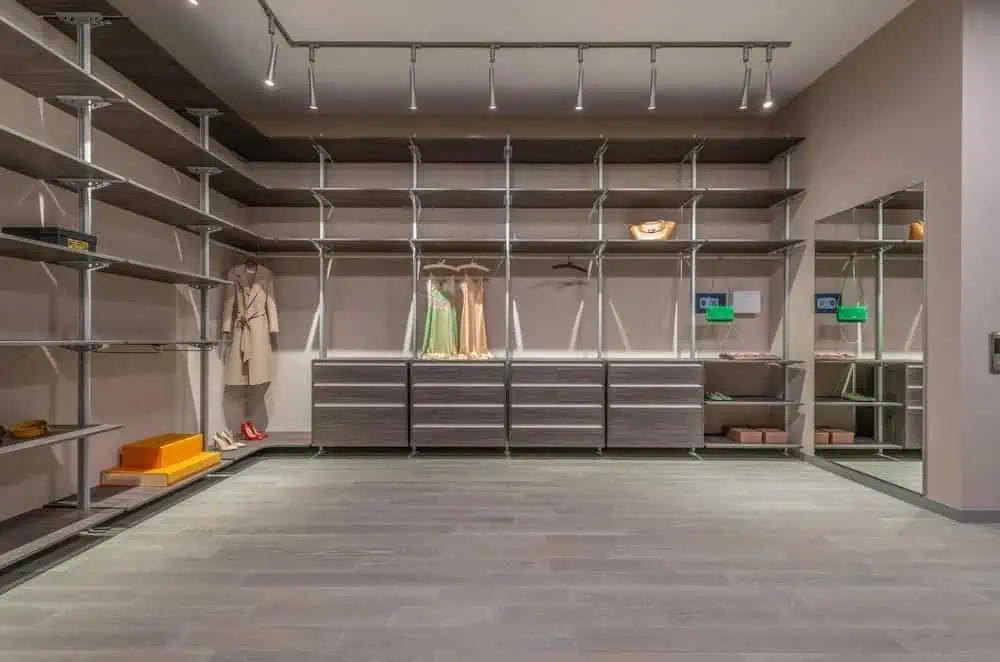 4. Let In Natural Light
Having a closet adjacent to windows? Take advantage of it! The soft sun kiss lighting on your closet is enough for daytime lighting. With this, you can find items easily and save electricity too. To add some more fun, why not try transparent or lace curtains? This will make your closet area look more fancy. However, considering the interior of your space, you can experiment more with your window to let natural light enter the closet space.
5. Use Vertical Lighting In A Large Closet
When you have a large closet, it's tough to light the whole area correctly. For this problem, vertical lighting can help you to see all the cabinets clearly. You should install these lights along the walls to brighten items on every drawer or shelf. It will make sure you find every piece easily. Besides this idea, it's essential to organize the closet properly. It will make a much faster and more efficient area for you.
6. Use Mirrors To Bounce The Light
Adding multiple mirrors in your closet can be a game-changing move. Try installing head-to-toe mirrors on the wall of your closet. You can also use mirrored closet doors. Another option is to go for a mirror ceiling. The light rays hitting the mirrors will create a miraculous ambiance in your space. And if you have adequate natural lighting facilities, the space will look more stunning in the daytime. However, you can also use LED mirrors or DIY mirror lighting with LED strips. This guide will help you with How to DIY LED Light Strips for Mirrors.
7. Install Under-Cabinet Lighting
When you have shelves or cabinets in your closet, consider installing under cabinet lighting. It will add style to the place and help you to get things quickly. You can find these lighting in several sizes and styles; choose one that suits your closet decor. This lighting will brighten the place better without taking up much space.
8. Battery-Powered Closet Light
Facing electrical connecting issues in lighting up your closet? Battery-powered lights are your ultimate solution! Using these lights, you need not take the hassle of connecting the fixture to the main power outlet. Also, these lights are affordable and can be easily moved when necessary. This way, you can easily add light to the closet. Also, these are motion-activated, which will add extra brightness when you need it. For more information, check this- How To Use LED Strip Lights Without Plug?
9. Try LED Strip Lights
LED strip lights are now the most common and an excellent way to light up your closet with extra style. These lights come in several colors and sizes, and you can easily install them anywhere. For instance, you can set strip lights around the room edges or shelves. Besides, strip lights consume less electricity and have a longer lifespan than traditional lights, so it will reduce bills and save you money. But, it does not matter what closet lighting idea you select. It needs to match with the atmosphere and style of your house. Thus, you can make a cozy and welcoming area where people can find things they need with suitable light options. So install LED strip lights and make the closet more stylish and efficient. 
10. Wireless Lighting Options
Another great idea is installing wireless lighting options. This option is very convenient, as no wire can get in your way. You can choose one from so many styles and sizes of wireless. In addition, these options range from LED puck and strip lights to solar-powered and chandelier lamps. Also, you can install these lights quickly, and they will illuminate your closet without a hands-on approach. For more ideas, read this article- How To Use LED Strip Lights Without Plug?
11. Closet Light Fixtures Ideas
Hanging lights can be another option for you to brighten your closet. For this, you need a few things to consider. First, find out where you want to hang the light fixture. Check if you have a dark area in your closet. Also, consider the height of your room. Pendant lights are an excellent option for closet lights. You will find simple to fancy hanging light fixtures. But whatever you choose, ensure it matches with your closet style.
12. Wardrobe Closet Light Ideas
For wardrobe closet light ideas, there are a few things you can take into account. For instance, you can hang a translucent sheer curtain. This way, you can see items via the curtain, and the light won't hurt the eyes. If you want flexibility, you can install an LED closet light. It can mimic the traditional light, which is energy efficient and brighter than a regular LED light. Also, you can install a light with a built-in fan. It will assist in keeping the area breezy and make the closet smell good.
13. Pantry Closet Light Ideas
Pantry closets are very convenient to store items. But it can be tough often to see and find stuff there. A pantry closet light can save you from this situation. You will find these lights in numerous styles, perfect for highlighting pieces when arranging an overall neutral look. For example, you can choose a recessed option for a pantry light or an overhead one. Besides, if you want a bright area, select more glowing lights than you need. Whereas, if you want lights that do not knock into the items, you can go for less bright lights.
14. Cupboard Closet Light Ideas
A cupboard is an ideal place to keep small materials such as screws, paper clips, and other hardware items. You can also store supplies like thread and glue in the cupboard. But when you need these, you can easily miss them. So, install lights for your cupboard to find items effortlessly. You can consider a recessed light option, as it is not visible through the door. Also, you can use a pull chain closet light to turn the light on when you open the door.
15. Master Closet Light Ideas
For oversized items, the martyr closet is the perfect option. You can store large toys, suitcases, and any large stuff in it. Searching for these items can take effort and time consuming when needed most. But the master closet lights can make that easy for you. So go for bright light options like overhead lights. It will make your closet more inviting and let you get one when needed quickly. Also, a dimmer option can be perfect as you can find the closest light relaxing after a long day.
16. Small Closet Lighting Ideas
In a small closet, adding big light fixtures can be tricky. For this problem, you can go for a small closet light. Small recessed lights, spotlights, or track lights are excellent options here. These lights have various styles, and you can use them in several spaces. However, I suggest you go for indirect lighting with LED strips. This will create an illusion of space and make your closet look slightly bigger. Mirrors will also complement this outlook to build an illusion of space.
17. Walk-in Closet Lighting Ideas
A walk-in closet is literally everyone's dream; you are lucky if you have one! There are thousands of options to design a walk-in closet. First, divide it into different sections for your regular clothes, outdoor clothes, party outfits, shoes, bags, etc. Use spotlights or track lights for the exclusive collection that you want to highlight. For the shelves, I suggest you go for LED strip lighting. However, you can also add built-in lights inside the ceiling of the shelves. A designer lamp or a chandelier in the center of your walk-in closet will create a dimension. But before selecting the design, consider the interior of your space. Don't end up installing something that looks mismatched with the ambiance.
18. Add Ribbon Lighting Above Closet Rod
Installing hidden ribbon lights above the closet rod can make both ends of the closet brighter. This is usually missing in many closets. It is the best way to see your clothes and even what's inside your drawers. Therefore, you can set these lights for all types of closets, whether large or small.
19. Install Recessed Puck Lighting
Adding hidden puck lights at the top edge of the cabinets will change how the room is lit. Also, it will help by drawing attention to special items. Puck lights come in different sizes; choose the one that meets your closet requirements. Besides, don't forget to consider the distance between the fixtures and their lumen ratings. In this case, I suggest you choose IC-rated bulls. As fabrics are highly flammable, this will lower the risk of fire breakout. If you want to know more about this, read- IC vs. Non-IC Rated Recessed Light Fixtures. 
20. Install Track Lighting Or Light Bars
The track and bar lights are stylish ways to improve visibility in your closet. These are adjustable, which means you can set the light beam where you need to add more lights. Typically, track lighting consists of multiple fixtures mounted on a track, while light bars are long, narrow LED strips. Both options are energy-efficient and come in various designs to make your closet's aesthetics. With the proper placement of these lights, you can eliminate shadows. And it will be easier to find clothing and accessories. So you can illuminate the dark area perfectly and never miss any items to find in your closet.
21. Make A Statement With A Chandelier Or Pendant Light
If you want to make your closet look fancy and cool, think about hanging a chandelier or a pendant light. It will create an eye-catching atmosphere and make the closet look brighter. And the best part is, you don't have to spend a lot of money because there are plenty of affordable options. Nevertheless, consider your closet's interior design or ambiance before choosing the fixture. Simple metal pendant lights look best if you have a sleek and modern closet. For a fancy look, you can go for chandeliers. Again, if you want something vintage, lantern lights are an excellent option. You can complement this vintage closet setting with a red or blue floor carpet.
22. Hang A Glam Chandelier
If you want to bring a wow effect to your closet area, go for a glam chandelier. You will find these fixtures in both warm and cool tones. Usually, these fixtures are large and have stones and jewels to bring that glam effect. You can install them right at the center of your closet. And if you have a large space, you can also go for multiple fixtures. Adding a glam chandelier to your closet will instantly add elegance to your space. Also, the soft and sparkling light from the chandelier creates a chic environment. Plus, it will upgrade your storage area with a touch of sophistication.
23. Try A Trio Of Pendants
Installing a trio of pendant lights in your closet can make it look more stylish and well-lit. It's a simple and affordable way to create a trendy atmosphere. Also, these lights will allow you to mix and match them to suit various occasions and moods. Suppose you can install a dainty pendant for a subtle, everyday look. While a bold and eye-catching one for special events. And a sentimental piece that holds sentimental value. Therefore, these versatile lights will elevate your fashion game and offer a glimpse into your unique personality.
24. Add A Skylight
Nobody said that the light in the closet only has to be an artificial light. You can try skylight if it suits your architecture. This way, you can save electricity and bring natural brightness into your closet. Also, the skylight can provide a connection to the outdoors, as it can provide a glimpse of the sky and stars at night. It's a unique touch that transforms your closet into a more inviting and functional part of your home. However, to complement the natural skylight, you can install soft pendant lights or any other designer fixture.
25. Mix In Metallics
You can bind the lights across the space by mixing a reflective metallic wallpaper and an amazing linear chandelier. This will give your closet a stunning look. You can use low-lumen lights to illuminate the closet properly, as metallics are reflectable. So, pair them with neutral tones for a subtle pop, or embrace the boldness by mixing different metallic shades. And don't shy away from incorporating a bit of shine into your wardrobe. It's a surefire way to make a stand out in style.
26. Think Of Lighting As Jewelry
Just like how jewelry can make an outfit look even better, the perfect light can make a closet look amazing. For example, the fantastic Sputnik-style light in this California Closet space adds a lot of drama and an impressive look. Installing this type of light fixture will give a sophisticated appearance to your space. I suggest you choose gold color light fixtures over silver ones to bring such a jewelry effect.
27. Up The Edge
Nice-looking light fixtures can help match or mimic the vibe of your current clothes collection. So, you can install pendants on some edge to bright knits, tailored blazers, and leather items. This way, you will find things more quickly.
28. Swap In Sconces
If you want your closet to be a peaceful place to relax while getting ready, replace the bright ceiling light with a couple of nice wall lights. You can create a paired closet with the perfect palette, like this picture. If you have a mirror in your closet, try installing sconces on both sides. This will give a classic look to your closet space. Besides, they will add a flattering and soft glow to your closet with a welcoming vibe.
29. Amp Up Your Natural Glow
Do you want to look good in any outfit you wear? Choose a light fixture that spreads light evenly and makes you look great, just like the stylish milky chandelier. However, selecting the lower Color Rendering Index (CRI) might show color accuracy. For instance, you may find a red dress looking pink in your closet's lighting. This can trouble you in picking the right accessory for your dress. Ultimately, you may find yourself choosing the wrong color combination as you step into natural lighting. So, whatever fixture you choose, always go for high CRI ratings.
How To Install A Light In A Closet?
Installing a light in a closet is a relatively simple process. You can do that by following the instructions mentioned below–
Determine Your Location
Before installing a light in a closet, you must decide where to set it. You can choose a spot that provides perfect illumination for the entire closet space. For instance, you can pick the closet's center as the light from that can reach all corners effectively. But, you need to see if there is easy access to an electrical outlet or wiring to make the setting smoother.
Organize Your Supplies
Now, you have to gather all the necessary supplies and tools for the closet light installation. You will need a light kit or light fixtures, perfect wiring, wire connectors, a junction box, wire strippers, safety items, and more. Therefore, double-check that your light fixture matches the closet atmosphere and is compatible with your chosen location.
Prepare The Space
Afterward, prepare the closet area by removing items or obstructions that can hinder your work. You must ensure an empty and clean closet to offer a safe and organized working environment. Keep in mind, before starting the installation process, you have to turn off the power of the closet' electrical circuit. It will save you from further accidents during work. You can use a voltage tester to ensure no electrical current is running in the area.
Install The Fixture
Finally, start the installation by mounting the light fixtures junction box to the ceiling or wall based on the manufacturer's guidelines. Usually, you need to connect the wiring from the fixture to the electrical supply or existing wiring. Next, using wire joins, securely attach the wires. Then, carefully tuck the wiring into the junction box and connect the fixture cover or shade. After everything is perfectly in place, turn the power back on and test your installed closet light to ensure it functions appropriately. If you are using LED strip lights, this guide will help you with the installation process- 
Are LED Lights Allowed In Closets?
The National Electrical Code (NEC) has some special rules about what kind of lights you can use in closets. In the latest version of the NEC, they say it's okay to use LED lights in closets. LED lights are the best choice for closet lighting because they produce minimal heat. So the fabric of the dress will not be damaged, especially the silk, which is highly flammable. Also, they are available in various sizes and shapes to fit different closet designs.
On the other hand, incandescent and fluorescent lights can get hot and have a high risk of fire breakout. But with LED lights, there are no such things, and they are safe to use in the closet. Besides, LED lights are durable and highly energy efficient. So, you don't need to replace the closet lighting with LEDs frequently. All these facts make LED lights best for the closet. 
FAQs
The Bottom Line
Closet lighting is essential not only for increasing visibility but also for enhancing the decoration of your space. First, sketch a plan for lighting your closet. Select the area which you need to light up. Then, decide on the fixture based on your plan. There are many options in choosing the fixture for the closet, including recessed lights, spotlights, track lights, pendant lights, LED strips, chandeliers, and more.
However, the best option for closet lighting is LED strip lights. This lighting makes your closet more sophisticated and fascinating. The flexibility of LED strips fits perfectly for creative closet lighting. And LEDYi is best for premium LED strips and neon flex. We also offer you a customization facility. So, contact us ASAP!