Lighting is a vital component of a house and the landscape around it. Not only does it ensure the utility of spaces, but it also projects the owners' personalities. You can use it to develop different vibes in different areas of the house. Like everything else, there are different lighting styles, and the trends keep changing every once in a while. The industry's professionals can determine the lighting age merely by seeing it.
So, if you acquired a space with a landscape and want to light it with contemporary styles, we have compiled the trends that will likely be popular in 2023. Let's get to them.
1. Cost-Effectiveness and Sustainability
The world of 2023 is focused on sustainability and cost-effectiveness and wants to project it everywhere. You can also play your part in making this world a better place by opting for a cost-effective solution that does not harm the environment. Lighting contributes about 5% to the annual carbon emissions, which is a decent portion. The electricity consumed by the lighting in your house is created by burning fossil fuels which emit greenhouse gasses.
You can limit greenhouse gasses by using cost-effective solutions, such as LEDs. LEDs consume about 80% less power than traditional bulbs and halogen lights. Thus, you will reduce your household's energy consumption by 80% by opting for LEDs. It will decrease the amount of power generated by fossil fuels and consequently contribute to preventing global warming.
2. Smart Lighting
The technological revolution should be reflected in the lighting of landscapes as well. Thus, manufacturers are heading towards smart lights equipped with sensors that can be controlled remotely. You can control all the lights in the landscape with a touch on your smartphone. It is not just convenient but practical as well.
Sensors within smart LEDs can detect the ambient light and can turn it on and off based on that. For example, the lights will turn on when it gets dark outside and turn off when sunlight appears on the horizon. Furthermore, the colors, brightness, and blinking pattern of these lights can also be controlled, making them even more appealing.
3. Integrated Linear Lighting
Traditionally, linear lighting was used indoors as it could be mounted, recessed, and suspended with the ceiling, but now they are being used outdoors. You can use several geometries to create various styles with these long and linear lights. The best use of such lights in landscapes is the lighting of pathways and elements like fences, stone benches, and pools. Not only will they provide a contemporary look to the landscape, but they will also improve safety.
4. Classic Lanterns
Classic Lanterns are the way to go if you want to light up the landscape more traditionally and classically. The market offers several types of lanterns that can be used in various designs. Lanterns have always remained in fashion and will likely remain so because of their elegance and grace. In addition to offering incredible aesthetics, lanterns are also quite practical as they highlight the area perfectly.
The popular types of lanterns include magic lanterns, paper lanterns, and glass lanterns. Besides them, several other options can be picked to design a landscape in a particular fashion. You can hang lantern fixtures on poles, trees, and other tall elements in the landscape. Furthermore, solar-powered lanterns are also available, which can reduce energy consumption significantly.
The traditional glass globe is the most famous lantern style, which provides a nostalgic look for glass bulbs used in the 1800s.
5. Brass and Copper Scones
Brass and copper in the fixtures do not just offer a premium look but also provide incredible strength and durability to them. Such fixtures are also versatile; every style ranging from retro to chic allure, can be achieved with them. Brass and copper fixtures also create a cohesive style required for outdoor-indoor-styled spaces. While copper and brass are excellent light materials, copper is more advantageous as it lasts longer and is more eco-friendly.
6. Ground Lighting
Ground lighting is a concept that hides the light fixtures within the ground to provide a trendy and aesthetic outlook. Since such fixtures have a compact size, they can be used pretty much everywhere. You can create a range of styles by embedding them in the ground without drawing any attention to them. While you can use them anywhere, they look the best when installed to illuminate the pathways. Furthermore, you can also use them to light underwater well lights in fountains, swimming pools, and ponds.
7. Image Projection
Image or video projection is the latest trend that draws the attention of everyone who visits your place. You can use them to create dynamic art in your landscape. Due to consumers' interest, manufacturers have started to design fixtures that can create logos, short messages, symbols, and different patterns when turned on. The best part? Images and videos created by fixtures can be changed as well.
To create such a dynamic effect, various types of reflectors and filters are used based on the demands of clients. You have to provide them with the design you want to project, and they will design the fixtures accordingly.
8. Moroccan Lighting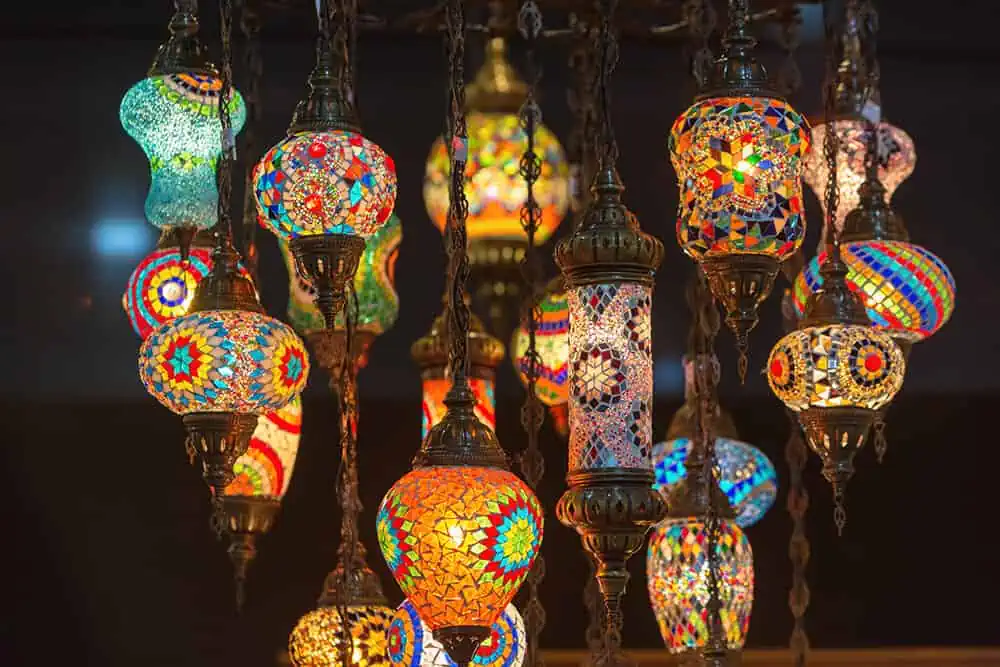 Moroccan Lighting should be used in spaces where you want to create an exotic vibe. Typically, Moroccan lanterns are used for this technique which carries a rich cultural history of the convergence of India, Africa, Persia, and Europe. The Moroccan lighting features complex symmetry of patterns which invokes surreal feelings in the visitors. You can get such fixtures that are designed to hold candles to take things to another level. The best way to use these fixtures is to hang them in trees, patios, backyards, and other tall elements in the landscape. You can also get lanterns placed on the floor instead of hanging them.
9. Dark Sky Friendly Lighting
Dark Sky Friendly or Dark Sky Compatible lights are designed to reduce light pollution caused by excess light glares. It can be achieved using fixtures that have been designed to reduce glaring effects. The market offers several types of fixtures in different sizes and shapes. You can pick the one that goes best with the style of lighting you want to adopt in your landscape.
Most of these fixtures are designed to ensure that they only project the light downwards. The style can also be achieved by using dimmable lights and those that have warmer color temperatures.
10. Moonlighting
As the name indicates, moonlighting is a technique that tries to create a natural lighting environment by mimicking the moon's light. You can achieve it by installing a fixture in tall structures such as tall or a pole. To get a more realistic effect, ensure that the fixture is well above the branches such that it casts their shadow on the ground. Furthermore, mounting a fixture above the lowest branch can also create a dappled effect on the ground. You can use this technique in areas such as yards and pathways.
11. Portable lighting
The first that comes to mind with portable lighting is the candles, tiki torches, and lanterns, but nowadays, it goes far beyond that. You can get wireless LEDs that come in different shapes and sizes to light a landscape. Some popular shapes of portable lights include cubes, globes, and over river rocks. You can place these lights around the pool to create an attractive design.
Furthermore, most of these lights are smart, which means they can be controlled from your phone. You can change their colors, brightness, and even blinking patterns based on the effect you want to achieve. Some of them are waterproof and can be thrown inside the pool and pond to create even more dramatic effects.
12. Lighting Water Features from Within
There are two ways to light water features; from outside and within the water. The latter is more popular mainly because it creates a beautiful uplighting effect. You can achieve this style by installing waterproof LED lights under the water. It does not just illuminate the aquatic life inside the pond or lake but also creates a whimsical effect on the elements surrounding those water bodies. While creating such an effect, be mindful that your fixtures are spa-rated.
FAQs
Conclusion
Opting for a contemporary lighting style increases the value of a property. Furthermore, it allows you to project your personality by showing your creative side to the visitors. While designing lighting for a landscape in 2023, your first priority should be sustainability and cost-effectiveness.
LEDs offer both without needing you to compromise on style. Several fixture designs can be picked to create an artistic landscape that attracts every visitor's attention. The only rule you should remember is to use a combination of styles instead of opting for a monotonous one.
LEDYi manufactures high-quality LED strips and LED neon flex. All of our products go through high-tech laboratories to ensure the utmost quality. Besides, we offer customizable options on our LED strips and neon flex. So, for premium LED strip and LED neon flex, contact LEDYi ASAP!