The swimming pool is the most fun element you can add to the home. You cannot just go for a swim every time you want but also organize stellar pool parties around it. And the aesthetics it adds to the overall look of a house are simply incredible.
However, there is more than mere construction that goes into making the swimming pool attractive and practical. You cannot use it in the dark if it lacks decent lighting around them. Furthermore, the pool does not add much to the house's overall aesthetics if it is not well-lit.
So, if you are searching for ways to make the swimming pool more appealing, the best option is to light it appropriately. It does not require much investment and can make even a seemingly dull pool look incredible. And if you were wondering exactly how to light the pool, this guide is for you. Let's get to it.

What is Swimming Pool Lighting?
Swimming pool lighting is essentially the LEDs, bulbs, or any other type of light source that you install underwater or beside the pool. The lighting improves the aesthetics of a swimming pool and increases utility. It allows you to dip even during late nights, which is impossible otherwise because of darkness. Without the light, you are always risking nasty injuries that can potentially send you to hospital emergencies.
Furthermore, the swimming pool lighting makes the pool look more fun. You can hang out with your friends and partner late at night and have a drink around it. And the best part? It makes the place Instagram-worthy, which is what people dig for these days.
Popular Types of Swimming Pool Lights
When it comes to lighting the pool, you have several options. Each of them has its benefits and disadvantages. Let's look at them.
Halogen Pool Lights
Halogen lights used to be most famous for pools because of their brightness. No regular Bulb comes even close to Halogen lights when it comes to luminosity. Furthermore, the price of Halogen light is also lower, which makes it the best option to light up a large-sized pool. These lights are also more efficient compared to standard bulbs.
But since the invention of LEDs, Halogen lights have lost popularity. These lights are not nearly as efficient as LEDs lights. Furthermore, even though Halogen lights cost less, LEDs are more cost-effective in the longer run. On average, LEDs use 80% less energy and last at least 5 five times longer than Halogen lights. Halogen lights also become hotter, which can warm the water and provide an uncomfortable surprise to swimmers.
Fiber optic Pool Lights
These lights use a flexible fiber, typically made up of glass or plastic, known as optical fiber, to transmit light from one source to another area. It is one of the most convenient forms of lighting because you do not have to get under the pool to change the light. You can just change the bulb at the source to solve the problem. Furthermore, because you do not have to install the lights under the pool, there is no need to bring electricity wires anywhere near it. You can also use smart lights, which offer more flexibility. Everything from brightness to blinking, you can adjust the color of lights. It will look incredible, especially if you organize pool parties in the house.
However, because the light has to travel a decent distance from the source, it is less bright than its counterparts. Furthermore, the bulbs you must use in this lighting are less durable and cost higher. You will have to replace them frequently, which can cost a lot.
Solar Pool Lights
Solar Pool lights are not a substitute for other sources we have mentioned. You can use them alongside other light sources to create a more fun vibe. Such lights look great when you hold pool parties and invite friends over. The best part about these lights is their energy consumption. Regardless of how many such lights you use in the pool, it will not increase the energy bills. Furthermore, the market offers a variety of options for solar pool lights. You can pick different sizes, shapes, and colors from them.
The only disadvantage of solar pool lights is that you cannot use them permanently. They need to be more bright to light up the entire pool. Plus, adding too many of these lights will cause inconvenience to the swimmers.
LED Lights For Swimming Pools
While all the options we discussed can light up the pool, none are as practical as LED lights. These lights are cost-effective, energy-efficient, and offer flexibility like none other. You can get LED lights in all shapes, sizes, and colors. You cannot go wrong with LEDs when lighting a pool. You can find smart LEDs that can change color with a tap on your smartphone. Furthermore, there is even an option for battery-operated LEDs, meaning there is nothing to worry about regarding electric fixtures.
How To Install LED lights For Swimming Pool
Installing the pool's LED lights is quite simple and does not require professional help. Get yourself some essential tools and follow these steps;
Turn off all the power sources that supply electricity to the pool.
If you have already installed some other lights, remove them. Usually, the lights are attached to walls via a screw, which you can unscrew with a screwdriver. Depending on the location of the lights in the pool, you may or may not have to get into the pool.
Once you have removed the previous lights, find the correct LED bracket. You should anchor the light fixture with a niche on a long cord. Ensure the line is long enough to bring the light over the water level.
Cut the cable as close to the fitting as possible to get the maximum cable length.
Remove the previous bracket and feed the cable via the new frame you have just installed. Screw the new stand with a screwdriver.
You can find a universal bracket that fits the pool's existing holes. If the previous lights are too heavy, getting these universal brackets is best to avoid drilling new holes.
Once you have installed the new bracket, strip the cable and connect it to the lights. Give a jerk to test whether it has a tight fit.
Turn the power on to test whether the light works. If it does not, ensure you have followed all the mentioned steps.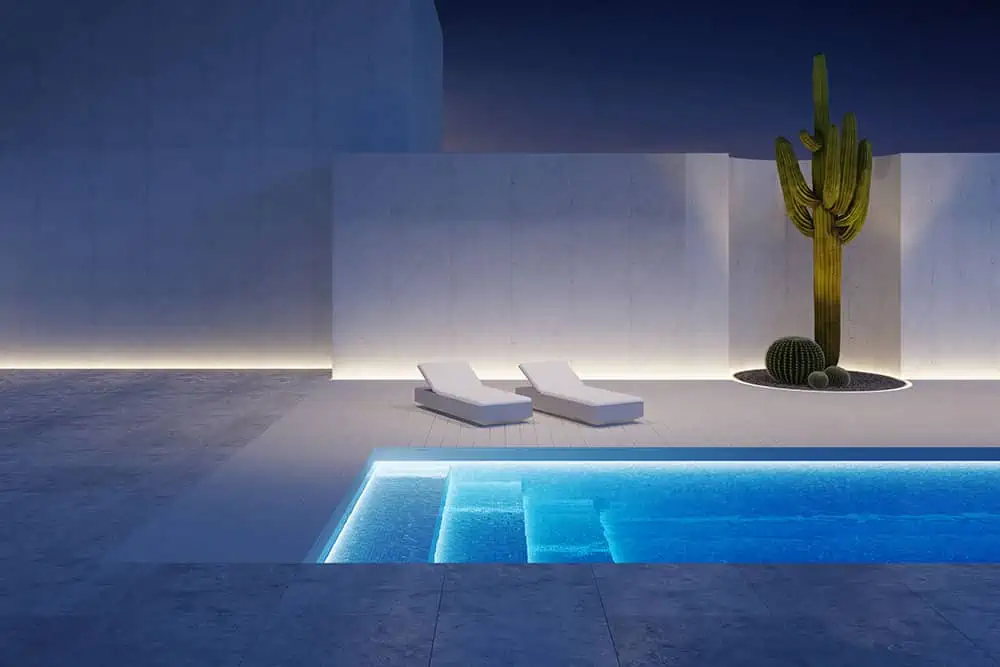 Benefits of LED Lights For Swimming Pool
Installing LEDs to light the swimming pool offers various benefits. We have discussed some of them earlier but let's take a detailed look at them.
1- Efficiency
One of the key advantages of using LED lights is their energy consumption. And you must install energy-efficient solutions in the swimming pool because you will keep them on throughout the night. However, even if you do not always use these lights, you should always pay attention to energy consumption. Lighting up the pool will take much light; if they are not energy-efficient, you can avoid a significant hike in energy bills.
To put things in perspective, it takes about 40 watts for LEDs to provide an equivalent light to an incandescent bulb that uses 300-500 watts.
2- Durability
Although changing lights in the pool is simple, you still would not want to do it frequently. You also would like to avoid burdening your pocket with unnecessary expenses. Using LEDs helps you avoid all the nuisances. You may have to pay a higher cost upfront. Still, the break-even point will soon arrive because of its durability and energy efficiency. Usually, the LEDs last about 50,000 hours. But some options can provide longevity of as long as a decade.
In a nutshell, once you have installed LEDs in the pool, there is no need to worry about the replacement for at least half a decade. Furthermore, you would not have to drain the pool to install new lights.
3- Less heat production
As discussed earlier, the biggest drawback of using halogen lights is their heat production. If you keep these lights on long enough, the water will become unsuitable for bathing in humid conditions. Fortunately, there is no such problem with LEDs. You can avoid touching a bulb with LEDs.
4- Better Quality
LEDs are not just energy-efficient; they also offer much better light quality. You will not experience any flickering that is common with halogen light. Furthermore, unlike incandescent bulbs, LEDs take much less time to turn on. All you have to do is to switch the button to light up the entire swimming pool.
5- Variety
The demand for LEDs is intense, which has compelled manufacturers to design a variety. You can find LEDs in all shapes, sizes, and colors. There is even an option for intelligent LEDs, which you can control via smartphone. With a tap on a smartphone, you can change the color temperatures, blinking pattern, and brightness of the LEDs. Some of these lights can even exhibit different colors alternately, creating a friendly vibe at pool parties.
Factors To Consider While Selecting LED Lights For Pool
Now that you know the benefits of LEDs, we are sure you are considering installing them in your swimming pool. However, as discussed, the market offers a range of LEDs, which you need clarification on. But if you know the factors that should influence your choice, you will be on the right track. There are several points that you should consider, but the most important of them are:
1- Type of LED Light
The first thing that you need to figure out is the type of LED you want in the pool. Generally, the choice comes down to either fixed lights or LEDs with swivel bases. As the names suggest, the former is held in one position while you can change the angle of the latter. None of them is superior to another, depending on your personal preferences. The spotlights, LEDs with swivel bases, are versatile and offer a concentrated beam of light. In contrast, fixed lights are not obstacles and prevent injuries and accidents.
2- Water and Chlorine Resistance
When looking for LEDs for swimming pools, ensure that those are water and chlorine-resistant. LEDs to be used underwater should have an IP rating of at least 68. As for lights that have to be used above the pool, IP ratings of 65 will also work. Since the lights have to be submerged in the swimming pool, it will also encounter chlorine. And exposure to chlorine can lead to corrosion. You must also check the chlorine resistance before purchasing the LEDs for the swimming pool.
IP68 Neon Flex is an incredible option that offers both water and chlorine resistance and thus increases the longevity and durability.
3- Number of LEDs
Although LEDs are cost-efficient in the long run, you have to invest more upfront. Hence, you should purchase only as many LEDs as you need. The number of LEDs you need for the pool will depend on the ambiance light and the pool size. If you already have a flood mounted near the pool, you will require less number of LEDs, and vice versa.
You also have to consider the shape of the swimming pool. For example, a single large-sized LED will be enough to illuminate a circular-shaped pool. But if you have an L-shaped pool, you will have to install LEDs at every corner.
4- Color Temperature
LEDs come in a range of color temperatures. While selecting the LEDs for the pool, you should go with warm or neutral shades. Bright and white colors can be too much for the pool and can be blinding in the dark. Neutral and warm hues, on the other hand, are welcoming and create a fun vibe.
5- Wattage
The wattage of the LED determines how bright it is. While looking for LEDs for a swimming pool, be mindful that when you submerge the light underwater, it is not as bright as it is on the ground. Hence, if you want the same brightness level in the water, you will have to purchase LEDs with a higher wattage than ground uses.
FAQs
Conclusion
LEDs are the most practical solution to illuminate swimming pools. These are not just cost-effective and energy-efficient but also offer better light quality. You may have to pay a higher cost upfront, but it will all work out in the long run. Furthermore, LEDs produce less heat, preventing accidental injuries and unwanted heating of the swimming pool. However, given the variety of LEDs in the market, you should know your preferences and the pool size to make the right choice. Always check for the rating of the LED to ensure it works for pools.
LEDYi manufactures high-quality LED strips and LED neon flex. All of our products go through high-tech laboratories to ensure the utmost quality. Besides, we offer customizable options on our LED strips and neon flex. So, for premium LED strip and LED neon flex, contact LEDYi ASAP!