LED strips are becoming more and more popular, and many lighting designers like to use LED strips for linear lighting projects. Most LED strips are very easy to install. You just need to tear off the double-sided tape attached to the back of the LED strip and stick it where you want. Double-sided tape is a very critical component. If the quality of the double-sided tape is not good, the LED strip will fall off from where it is installed.
LEDYi will provide different solutions of double-sided tape according to the different scenarios of LED strips. We mainly offer the following double-sided adhesive tapes.
3M 200MP
3M 300MP
3M 9080
3M VHB 5608N
tesa 4965
Blue Thermal Tape
| | | | |
| --- | --- | --- | --- |
| Adhesive Tape | Usage Scenarios | Adhesive Thickness mils(mm) | Adhension to Stainless Steel |
| 3M 200MP | Normal Indoor Use | 5.2mils(0.13mm) | 7.0N/CM |
| 3M 300MP | Normal Indoor Use | 4.8mils(0.12mm) | 8.6N/CM |
| 3M 9080 | Normal Indoor Use | 12.8mils(0.32mm) | 7.5N/CM |
| 3M VHB 5608N | Indoor or Outdoor Use | 30.4mils(0.76mm) | 20.0N/CM |
| tesa 4965 | For Aluminum Profile | 8.2mils(0.205mm) | 14.0N/CM |
| Blue Thermal Tape | For High Power Strip | 4.0mils(0.1mm) | 6.0N/CM |
3M 200MP
3M™ Adhesive 200MP is a popular choice for graphic attachment and membrane switch applications because it has excellent quality, consistency and durability. In addition, as a result of 3M's innovative, proprietary process, 3M adhesive 200MP also offers the following excellent performance characteristics.
Clarity (virtually free of vapor inclusions that are commonly found in adhesives produced by the traditional solvent coating technique).
Excellent high temperature performance as well as excellent shear strength (that minimizes edge lifting and slippage of parts).
Excellent resistance to harsh environments; this adhesive can withstand splashes of organic solvents, weak acids and bases and salt water, cleaning solutions, germicidals, disinfectants, oils, etc. In addition, it performs well after exposure to humidity and hot/cold cycles.
Provides some initial repositionability when bonding to plastic parts (not metal) which allows graphic parts to be lifted and repositioned if initial alignment is incorrect.
Finally, this adhesive family is provided with a variety of liner configurations to help ensure excellent process flexibility.
More information, you can visit https://multimedia.3m.com/mws/media/798675O/3mtm-laminating-adhesive-200mp-brochure-in-high-resolution.pdf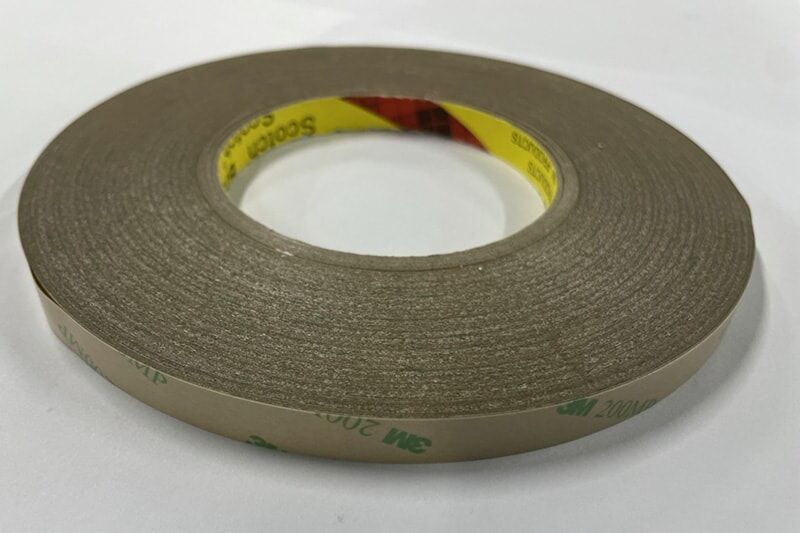 3M 300MP
3M™ Double Coated Tapes with 3M™ Adhesive 300MP provide high adhesion to a wide variety of materials, including plastics and foams and has a thin nonwoven carrier for dimensional stability and improved handling.
Excellent adhesion to open cell foams.
Consistent adhesive performance to many plastics.
Polycoated liner for ease of handling.
More information, you can visit https://multimedia.3m.com/mws/media/1621410O/3m-300mp-acrylic-adhesive-brochure.pdf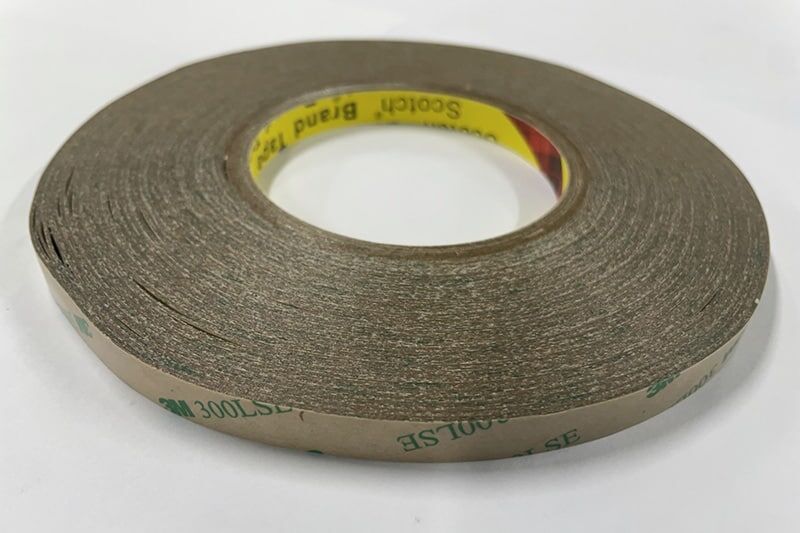 3M 9080
3M™ Double Coated Tape 9080HL is a Double Coated Non-woven Tape with Polycoated Paper Liner. High tack adhesive suitable for high temperature and bonding to LSE materials.
3M™ Double Coated Tape 9080HL is specially formulated for low- and high-speed splicing applications, followed if required by heat-setting or other oven-based processing conditions. The tape makes an excellent bond to paper and board, and many plastic film substrates including Polyethylene, Polypropylene and PVC.
General purpose, double sided tissue tape
High tack, high initial adhesion
Pressure sensitive adhesive
Easy to remove liner
Economy tape
More information, you can visit https://www.3m.com/3M/en_LB/p/d/v000143146/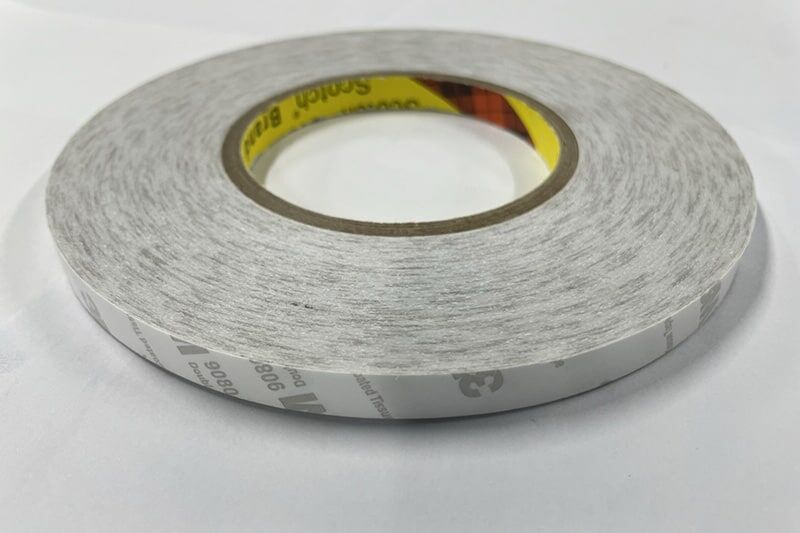 3M VHB 5608N
3M™ 5608 Acrylic Foam Tape is a high performance tape made of grey acrylic foam. The tape is especially qualified for attaching elastomeric parts such as seals to car bodies and doors. 5608 is characterised by its high adhesion to a variety of automobile surfaces. One side of the tape is attached to the painted surface or the respective substrate by a pressure sensitive adhesive. The other side is bonded to the elastomeric part through heat-activation.
The heat-activated adhesive guarantees a durable bond, especially to seals made of EPDM and TPE Rubber.
A good inner strength, brilliant long-term stability as well as very good conformability to the bonded surfaces are characteristic attributes of 5608.
More information, you can visit https://multimedia.3m.com/mws/media/999190O/3m-automotive-heat-activatable-acrylic-foam-tape-5608.pdf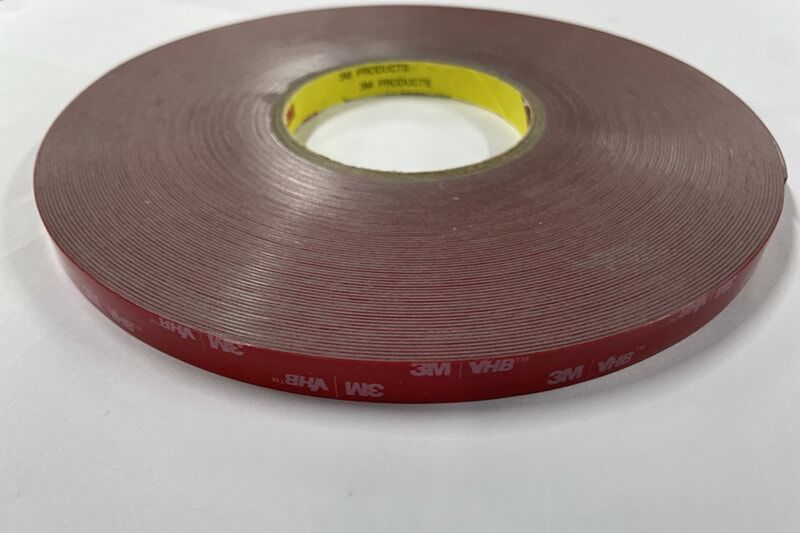 tesa 4965
tesa® 4965 Original is a transparent, double-sided self-adhesive tape consisting of a PET backing and a tackified acrylic adhesive. Its adhesive technology is based on a patented and protected product formulation. Several products are equipped with this unique and high performing product design and together these products make up Team 4965.
This double-sided film tape assortment helps to easily select the most efficient tape based on customer demands, products, and processes.
More information, you can visit https://www.tesa.com/en/industry/tesa-4965.html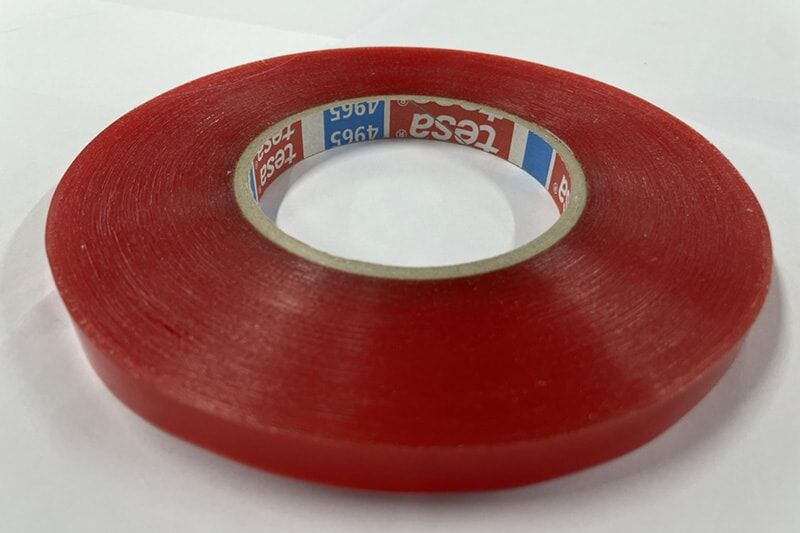 Blue Thermal Tape
Blue Thermal Tape is designed to provide a preferential heat-transfer path between heat generating components and heat sinks or other cooling devices (e.g., fans, heat spreaders or heat pipes).
It is generally attached to a high-power LED strip, and then the LED strip is attached to the aluminum profile. In this way, the heat of the LED strip can be quickly transferred to the aluminum profile so that the LED strip can be kept at a suitable working temperature.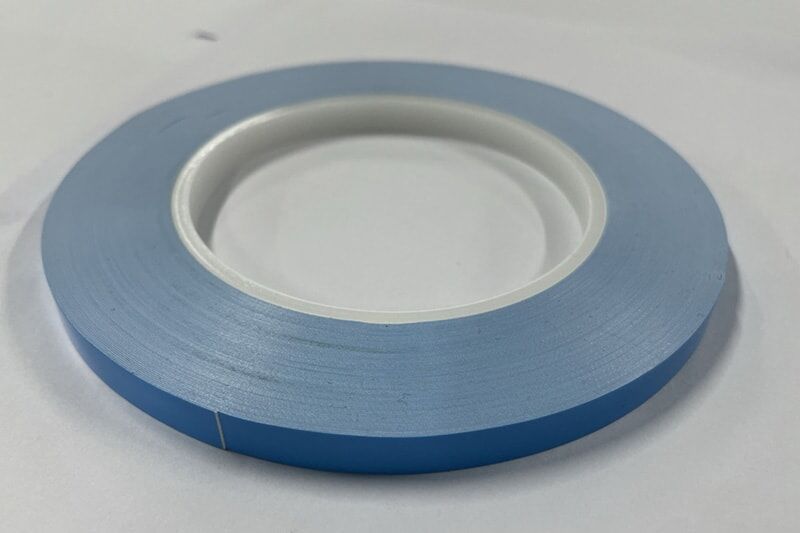 Conclusion
Our LED strips are generally affixed with 3M 300MP double-sided tape. We recommend 3M VHB double-sided tape for stronger tack and outdoor use. If it needs to be used with high-power LED strips, to help the LED strips dissipate better, we recommend using blue thermal tape.
LEDYi manufactures high-quality LED strips and LED neon flex. All of our products go through high-tech laboratories to ensure the utmost quality. Besides, we offer customizable options on our LED strips and neon flex. So, for premium LED strip and LED neon flex, contact LEDYi ASAP!