Are you looking for ideas to transform your kitchen into a brilliantly illuminated space? I point you out, right? So, turn your worries into pleasure because I'm your go-to dude with years of experience.
Lighting is the most essential in setting the ambiance and functionality of your kitchen space. Overhead lighting, such as ceiling fixtures, provides overall illumination in the entire kitchen area. On the other hand, you can select task lights that are perfect for specific work areas like cooking or prep zones. Besides, kitchen cabinet lighting with LED strips is also a popular option.
This article will present the top 45 creative kitchen lighting ideas. With these ideas, you can transform your culinary area into a beautifully lit, functional space. So, continue reading to pick the best solution for you:
What Type Of Lighting Is Best For Kitchens?
Nowadays most home lighting uses LED bulbs as they are highly energy efficient and last longer. These versatile lighting solutions come in different shapes and sizes that meet all kitchen illuminating requirements. You can use them for your kitchen's general lighting for overall visibility. And accent lighting by installing LED lights under kitchen cabinets. In this case, LED strips and recesses are the most popular options.
You can also go for LED downlights for directional lighting that suits task lighting needs best. For instance, install light on the countertops, sinks, and stovetops for comfortable tasking. To pick the ideal downlight for your kitchen, check this- What are Downlights and How to Choose One? Now, why choose LED lights for the kitchen? Traditional lighting, like incandescent, halogen, or fluorescent, consumes more energy, isn't long-lasting, and easily gets overheated. In contrast, LED lights consume about 80% less energy than traditional lighting options and can last from 50,000 to 100,000 hours! So, you do not need to replace the fixture frequently, and it also saves your electricity bills. All these facts make LED lights best for the kitchen. 
Kitchen Lighting Ideas
Choosing the perfect kitchen lighting is important. It ensures your kitchen is bright enough for cooking and creates a nice atmosphere. Let's see some of the kitchen lighting ideas and tips here–
1. Mix Up Your Fixtures
Instead of a single design, you can choose multiple patterned lights for your kitchen. It will make the place more playful. Besides, you can mix fixtures up and work with various shapes and colors to a specific theme. For instance, as you can see in the picture below, the island, dining table, and counters are combined with three different kinds of lights. All the lights share the same black color with a few brass details. These lights give the kitchen a vintage style look with a modern twist. However, you have to stick to one core of tone to make it visually appealing.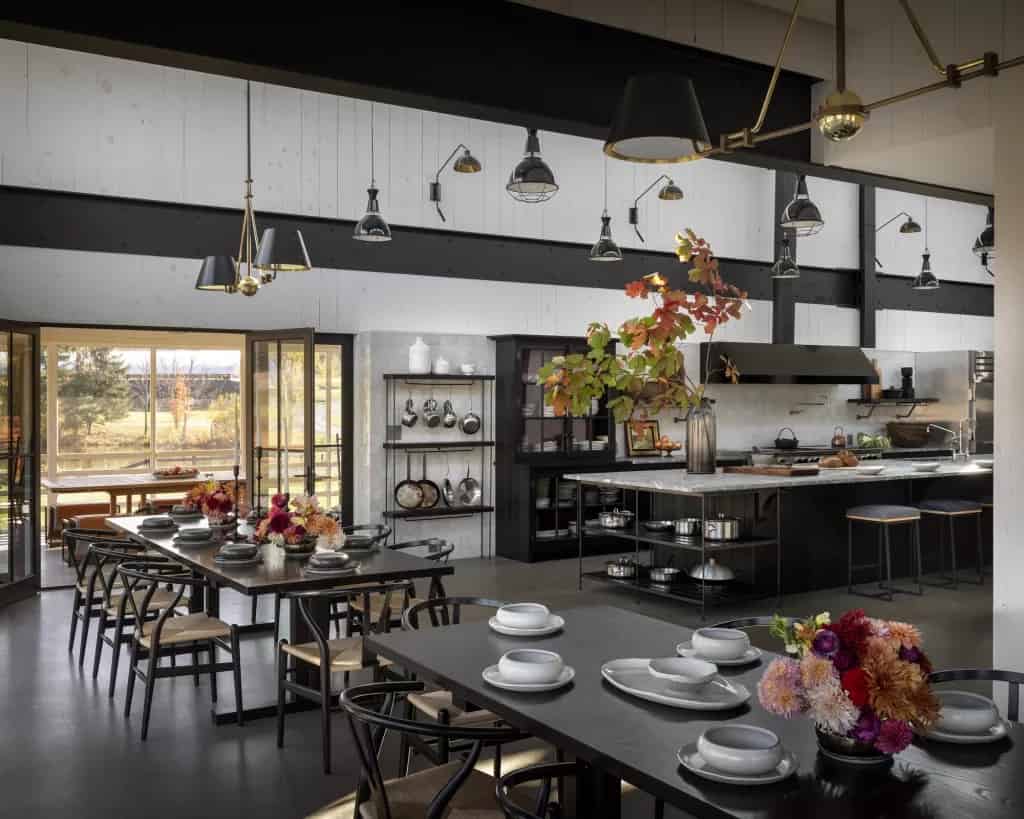 2. Layer Lighting In Tall Kitchens
Planning the lighting for a modern kitchen? For this, you should consider lighting up the sides with the top and bottom parts of the room. Besides, downlights can spread light around the kitchen. But you might also need lower lights to highlight specific areas. This becomes especially important when designing a kitchen with tall ceilings. In such cases, downlights alone might not be enough, so you may want to add extra lights at a lower level, closer to your eyes. For instance, in a kitchen with very high ceilings, you can hang pendant lights low over the island to ensure enough light for cooking.
3. Consider A Solo Light To Highlight A Focal Point
Just one stylish hanging light above a kitchen island can bring everything together and add a touch of sophistication. Also, it can highlight the main attraction, mainly in an open room. If you choose to have one light, ensure it's the right size. It shouldn't be so big that it is too overwhelming or so small that it gets lost in space. You can place it in the middle if your island is in the right shape or above a seating area. Remember, the bottom of the light should hang at least 90 cm above the counter.
4. Create A Quirky Feature With Oversized Lighting
Try to install a big fixture in your kitchen. This type of light can add an elegant look to the kitchen. However, you just need to find the right place for it. Like the picture below,  you can add a large pair of lampshades hanging on the island. And they will spread the glow over the room. But, ensure to install them high enough so they do not produce any direct glaring.
5. Incorporate Reflective Materials To Bounce Light Around The Room
When planning how much light your kitchen should have, it's best to consider having a mix of sunlight and artificial light. One way to make both of them better, whether daytime or nighttime, is to put shiny surfaces in your kitchen design. In this kitchen design, brass touches shine when the sun is out. And the glass cabinet doors bounce light around the darker parts of the kitchen. Installing mirrors in such a setting is a brilliant idea. As the sunlight hits the mirrors, its reflection makes the kitchen sparkle like a jewel. 
6. Select Lights That Are In Line With The Kitchen Island
Most modern kitchen islands or peninsula units look better with stylish lights hanging above them. To do this the right way, you need to plan the spacing, especially if your island is bigger than two meters. The first thing to figure out is what you'll do on the island, then decide where you need lights. If your island is long, putting lights above important places is usually a good idea. But if you find them disproportional, line up lights evenly throughout the island. In this case, you can use pendant lights or any other hanging lights. However, track light is also a brilliant choice for a sleek look.  
7. Group Smaller, Understated Lights For A More Dramatic Impact
It's not that you need to keep things up-to-date; even a set of old-fashioned floral lights can make your kitchen unexpectedly beautiful. Look at the picture below; how stunning these light fixtures are looking. The transparent, colorful light holders give it a Moroccan vibe. The brass faucet and utensils are complimenting the fixtures perfectly. If you want to bring this same effect to your kitchen, consider the design of the kitchen walls. Instead of plain walls, aim to get colorful patterns to match the floral light fixtures. 
8. Choose A Vintage Light For A Unique One-Off Statement Piece
You can use just one statement light which is a classic piece with a timeless design for your kitchen. Vintage lights bring character and history to your space, setting it apart from ordinary style. Their unique charm and timeless appeal make them a captivating choice to illuminate your kitchen and add a touch of individuality. In this black and white kitchen, there's a special lamp. This was created in the 1950s, but it's simple and still looks good even after over 50 years. Another advantage of this is you can easily move the steel swing arm of the lamp from the sink to the breakfast bar.
9. Blend Modern And Traditional Styles
Kitchen lighting is more than just something you need for cooking; it can also make your kitchen look cool. For instance, you can use it to mix modern and old styles. The kitchen design in the picture below used modern lights to make a traditional kitchen look trendy. The cone-shaped lights give a modern touch to the classic chandelier style. And just like the shiny brass cabinet handles create the old-fashioned doors look new.
10. Add Punch To A Neutral Scheme With Feature Lighting
Lighting fixtures ensure visibility and a final piece that finishes your kitchen view. Look at this modern kitchen, it has two dark green and black pendant lights hanging from the ceiling over an island. And, the island is large and light oak and white colored . The dark-colored lights and the faucet make a striking difference in appearance. Plus, they give the place a well-planned and stylish glance.
11. Consider The Rule Of Three
In a modern kitchen, there are three main types of lighting: task, mood, and feature. Successful kitchen designs typically include all three. Task lights for the brightness are placed in areas like the cooking and prep areas. On the other hand, mood lighting creates a cozy atmosphere with soft, gentle illumination. Feature lighting can be a standout fixture or something intriguing, like cabinet, color-changing, or floor-level lighting. It adds a unique touch. Therefore, it's best to use more light sources rather than making them brighter, and dimmers for decorative and mood lighting for easy adjustments. Three pendant lights are preferable for a balanced look for kitchen islands, as odd numbers are more visually appealing.
12. Plan For An Eye-Catching Kitchen Lighting Idea
To make your kitchen lighting stand out, choose a striking centerpiece for your island or dining table. It will help you to create a nice, cozy atmosphere. But having the option to dim it can enhance the room's mood. As black track lights are gaining popularity, adding a touch of 1970s style while providing ample illumination. Also, you can replace traditional pendants with these lights or go for a single pendant over the island or breakfast bar. This will turn it into a captivating piece of art. Therefore, this simple change can make a big impact on your kitchen's ambiance.
13. Highlight A Dining Area With Pendant Lights
When deciding on the right kitchen lighting, it's important to consider where you want to put it and what style fits best with the decor. For instance, hanging pendant lights from the ceiling will brighten things up and also add a stylish touch to your kitchen. Adding more lights will make your dining area feel cozy and let your food look great. This kitchen design used pendant lights over both the island and the breakfast area. These lights hang low, so it's best to put them over a table or counter where people won't walk beneath them. This way, your kitchen will have good lighting and a cool design feature.
14. Give Unique Nooks Dedicated Lighting
As life is never completely simple, not every kitchen is a perfect square or rectangle, especially in older buildings. Sometimes, you can have unusual corners or spaces to deal with. These recessed areas and alcoves can be transformed into special spots for certain purposes. But, these areas do not have as much light as the main part of the room. Instead of leaving it unused, you can turn it into a bar area. Besides, you need to make sure it is well-lit by adding brass wall sconces. This way, anyone making drinks at the bar can do it comfortably and easily.
15. Double Up In Larger Spaces
It's important to have a good lighting setup in large kitchens or open layouts. So, don't hesitate to use plenty of vertical and horizontal lights. In a big kitchen designed, they needed light over a counter, a breakfast bar, and two islands. To make sure the whole space was equally bright, used many recessed lights in the ceiling and also hung pendant lights over both islands. This way, every part of the kitchen gets enough light, and it looks great, too.
16. Choose Pretty Accent Lamps That Are Practical Too
Many people often forget about the importance of lighting when designing their kitchens. But, for a kitchen to look good and work well, it needs proper lighting. Experts advise that the best time to plan your kitchen lighting is when you're still in the kitchen design phase before finalizing layouts and drawings. If you leave it for later, it becomes an afterthought with limited options. So, no matter how creative you want to get with your lighting, setting your budget first is essential. 
17. Light Under Kitchen Cabinets To Create A Floating Feel
When you develop the kitchen design, start thinking about the lighting for wiring and solving problems as the plans come together. For instance, people usually use LEDs under the cabinets to light up the countertop. If you don't like it, you need another lighting solution. Like, you can add wall lights in the kitchen that can be adjusted to shine where you need them. These kitchen lighting ideas are very practical. And they will create a floating effect that helps to make a small kitchen feel more spacious. Check this for kitchen under cabinet lighting- How To Choose the LED Strip Lights For Kitchen Cabinets?
18. Light Inside Cabinets – And Pantries
Consider installing practical lighting inside your pantry, breakfast nook, and wall cabinets. Also, you can have sensors that turn on the lights when you open the door and turn off when you close it automatically. On the other hand, lighting inside glass cabinets can showcase your glassware collection. A simple table lamp on a console or dresser can connect your kitchen with your dining or living areas in an open-plan space. Avoid using lighting at the bottom or top edges of your cabinets unless it's necessary. Overdoing it with these lights can make your room look too futuristic. But you can use these when your tall cabinets don't reach the ceiling. In such cases, a soft, gentle light can help brighten up dark spots and create a balanced look.
19. Add Industrial Accents
In recent years, industrial-themed designs have gained popularity. Installing these types to your kitchen can transform its functionality. Equipment like metal fixtures and concrete surfaces can infuse a modern, urban vibe into your cooking space. So, consider adding pendant lights with a metallic finish, open shelving, or concrete countertops for a sleek, industrial look. Moreover, you can create a visually appealing atmosphere in your kitchen by mixing warm textures and colors. Therefore, adding them will give your kitchen a trendy, contemporary makeover.
20. Go For Gold
Choosing a gold theme for your kitchen is a brilliant way to elevate its aesthetic appeal. This will add luxury, warmth, and sophistication to the kitchen area. For this, you can incorporate gold accents through cabinet hardware, faucets, and lighting fixtures. Or even appliances for a stunning visual impact. Also, you can combine these from modern to traditional kitchen styles. This way, you will include a touch of elegance and make a lasting impression on guests.
21. Mix And Match Vintage Finds
Mixing and matching vintage items in your kitchen can give your space a unique view. Vintage like old-fashioned dishes, antique silverware, or retro kitchen appliances can add a touch of nostalgia and personality to your cooking area. You can combine these treasures with modern elements for a balanced look. Also, you can embrace your creativity by repurposing vintage items, like using old crates as shelves or antique jars as decorative storage. Therefore, mixing and matching vintage finds allows you to create a warm atmosphere with a dash of history in your kitchen.
22. Charm With A Chandelier
A chandelier works great for formal dining rooms or entryways; it can work beautifully in your kitchen, too. By adding a chandelier to your kitchen, you can bring a touch of charm and an elegant look. So, consider installing a soft, warm glow of crystal or glass hanging light above your dining table or kitchen island. This light will add an outstanding style to your everyday meals and gatherings. 
23. Love Linear Lights
Linear lights are a fantastic choice for your kitchen. They offer a sleek and modern look that can instantly transform the atmosphere. Often, lights in long, straight shapes create a sense of order and symmetry in your kitchen space. Also, they provide excellent illumination for your countertops and make meal preparation a breeze. Plus, they can complement your design perfectly if you prefer a minimalist and contemporary style. Not to mention that these lights are energy-efficient and offer even illumination. Also, they can reduce shadows and enhance visibility. So, if you want a stylish lighting solution, consider installing linear lights in your kitchen today.
24. Make Your Island Shine Bright
To make your kitchen more bright, focus on your island. You can do this by hanging pendant lights just above the island and using ceiling lights for the rest of the room. Thus, the island will be brightly illuminated. This way, you can do your cooking preparation with ease. These lights will help you cut or chop ingredients more conveniently. 
25. Go Back To Basics With Single Bulbs
Often, in our quest for fancy lighting setups, we forget the elegance of a single bulb. Let's simplify your kitchen by combining the basics with light bulbs. These light pieces can create a warm, focused glow over your workspace or dining area. They're easy to install and maintain, also you can choose from multiple bulb styles to match your decor. For instance, a vintage Edison bulb for rustic charm or a sleek LED single bulb can bring warmth and functionality to your kitchen. 
26. Be An Energy Saver
You can brighten up your kitchen accurately by using different types of LED lights. These lights are the best choice as they use very little energy and are affordable. Also, LEDs can last for about ten years or 20,000 hours. Plus, LEDs give off a warm light, so your kitchen doesn't feel too cold. For example, a 12-watt cluster LED light can be as cozy and bright as a 50-watt halogen light.
27. Create A Dynamic Trio
You can make your statement pendants more stand out by placing them in a line along your island or table. For this, you can install three lights, as an odd number is best to use. If your kitchen area is large enough, you can add five pendants. So they'll look attractive and balanced at the same time.
28. Put On A Light Show
In Spite of installing a light in the ceiling center, you can use multiple types of lights in certain places to illuminate your kitchen. For instance, if you set a dining table in the corner of your kitchen, you can add pendant fixtures there. So that you can work easily around the dining place. Also, these lights will bring a more functional look to your kitchen.
29. Add An Arty Installation
Kitchen lighting is not only for practical use. With the right lighting, you can make your kitchen look interesting also. Modern lights, like these eye-catching pendants with multiple styles, can give your kitchen a unique and imaginative touch. Also, they're a good choice if you want to add creative ideas to your kitchen ceiling.
30. Layer Light
In a multi-purpose room like a living kitchen, you need different amounts of light for different works. For instance, you can use lights on a track to spread soft brightness on the walls. Besides, it's frustrating when your workspace doesn't have enough light. So, for more focus, you can install hanging lamps and task lights where you need them. For this, you can place spotlights or hanging lamps above important areas like the sink, stove, or countertop. That way, you won't have shadows blocking your light when using those areas.
31. Create Light Reflections
The light in your kitchen is not just about your chosen fixtures. The surfaces that the light falls on also play a big role. Pale and reflective surfaces will make the light look brighter, while dark colors and absorbent textures will dim the light. Therefore, you need to remember these when designing your kitchen, especially if you want to create a specific atmosphere. For example, if you have a small kitchen area, use pale colors on the walls and cabinets to make the space feel larger. If you have a big kitchen with plenty of natural light, you can use dark colors to create a more intimate feel. Also, you can use reflective surfaces like mirrors and stainless steel to bounce light around the room and make it feel more spacious.
32. Add A Rustic Touch
You can combine lighting fixtures with wood and stone to add a rustic touch to your kitchen. For this, you need to install wooden shelves, a farmhouse-style table, or stone countertops. Also, consider using vintage dishes and mason jar containers for a charming rustic vibe. So, try warm, earthy colors for your walls and cabinets to complete the look. This way, you can transform your kitchen into a cozy space with these.
33. Add A Lantern
Installing a lantern can make your kitchen space beautiful and practical. Therefore, you can hang a lantern above your kitchen island or dining area to create a welcoming atmosphere. Moreover, lanterns come in various designs and sizes, so you can choose one that matches your kitchen's decor. Also, this will help you by providing light when needed for cooking and dining.
34. Opt For Mini Pendants
Often, the most creative lighting concepts come from thinking outside the box. Instead of using regular recessed lights or a single hanging light above your kitchen island, you can try something different. Like suspending a few small pendant lights in the middle of your cooking area. It adds a delightful and unconventional touch to your kitchen's lighting. Also, it will make the kitchen more fun and lively.
35. Ditch The Shades
Why hide your light bulbs behind shades? Instead, leave them exposed for a charming and industrial vibe that adds a touch of uniqueness. You can select from using warm, loft-style lighting or Edison bulbs. So that you can ensure the lighting isn't overly harsh or glaring.
36. Let The Lighting Take Centerstage
If your kitchen looks simple, consider using fancier and extra intricate lighting to catch attention. For instance, you can choose a  Moroccan design pendant light. This light will illuminate and bring a unique and handmade touch to your space. Also, it will add a more special and personal feeling.
37. Try A Mesh Pendant
Take basic IKEA pendant lights and add a creative twist to make your unique lighting style. However, choose one which perfectly matches the rest of your kitchen. Or, try installing your own affordable lights to design a kitchen lighting idea that suits your space.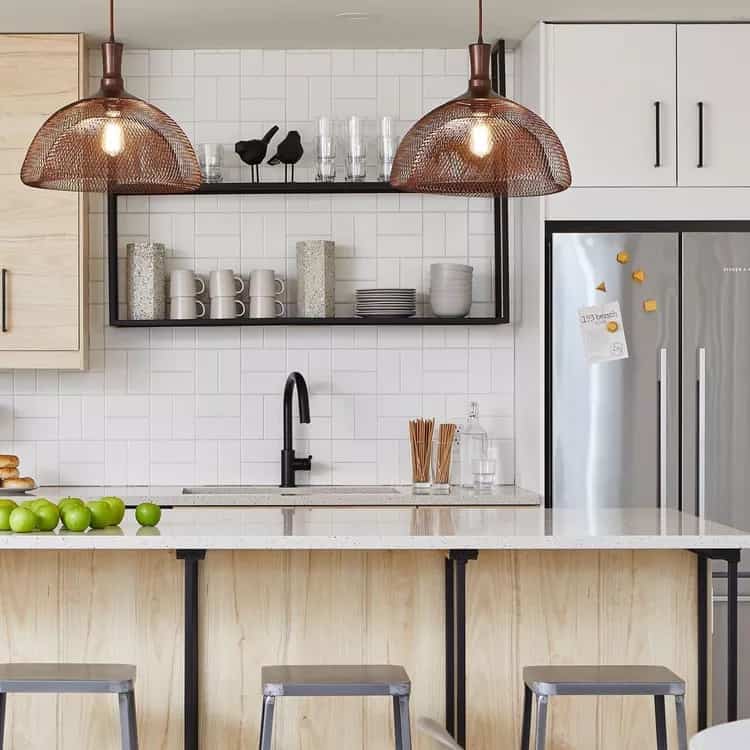 38. Add A Few Sconces
Sconces are like wall-mounted lights that provide extra lighting and add a touch of elegance to your kitchen. You can place the sconces strategically on the walls to illuminate specific areas, like above the sink, open shelves, or even near a dining area. They come in various styles and designs, so choose ones that match your kitchen's decor. Therefore, with these lights, you can give your kitchen a fantastic addition as they can make it look more appealing and well-lit without a lot of effort.
39. Install A Chandelier
If you don't want real candles hanging from your ceiling, you can make this similar style by using a chandelier. So, find a suit with hanging candelabra like the picture below to add some drama to your kitchen. This will definitely bring a wow factor to your space. Hence, this type of fixture is perfect for bringing illumination and excitement in your kitchen.
40. Add Light Over The Sink
When you have a sink on the kitchen island, add a hanging pendant above it. Such a setting will work as a task lighting, making dishwashing much more comfortable. This way, you will brighten up your working area and make the kitchen look balanced with other appliances. However, when placing lighting near the sink area, ensure the fixture you use has higher IP ratings. To know more, check this- IK Rating: The Definitive Guide.
41. Embrace The Space Age
Like the kitchen in the picture below you can create a remarkable mid-century modern style with round hanging lights above the island. They look like little planets and make the kitchen view unique. However, you can install matched fixtures as they are big enough to catch your eye. But don't go for something too large to steal attention from the rest of the kitchen.
42. Illuminate Under Cabinets
Adding lighting under your kitchen cabinets brightens up your countertop workspaces. And it will make it easy for you to chop, cook, and clean. Also, this will add a welcoming feel to your kitchen, perfect for intimate gatherings or late-night snacking. Plus, it can improve safety by reducing shadows and enhancing visibility.
43. Use Subtle Wall Lights
Before you begin building an extension in your kitchen, it's important to think about the lighting. You don't want to find out later that you need more lights but can't add them because there are no wires or sockets in the right places. Even though extensions usually get plenty of natural light during the day, you should also consider how the space will look at night. In that case, one smart solution is to install wall lights that look like part of the decor when they're not in use. You can pick round bulbs for general lighting or choose directional ones for focused light.
Things To Consider When Choosing Light Fixtures For Kitchen
You need to consider some of the essential factors when selecting a light fixture. For a proper idea, you can follow this section–
Create A Focal Point In Your Kitchen
Even if you have many lights in your kitchen, it's best to make one thing stand out. Hanging downlight over the kitchen island works best in this case. You can use pendant lights or any designer lights for this purpose. Think about picking one or two lights that pop. But light fixtures need to fit your style and match the look of your home. However, if you have little space, track lights above the island will also work.
Avoid Overpowering The Room With One Lamp
Often, people design the whole kitchen with one bright light fixture. But it illuminates some sections, while other areas remain dark, creating unbalanced lighting output. Besides, you can use sunlight for balanced lighting in your kitchen. Also, you can work with skylights or sun tubes when you do not get enough sunlight.
Layer The Light Fixtures
For lighting your kitchen, you can install different light fixtures to brighten up your kitchen perfectly. You can use task lights to focus the work area without making shadows. Or install accent lamps to highlight some elements in your kitchen. But to brighten the whole kitchen, you must go with ambient lighting.
Height And Placement Of The Home Lighting Fixture
Another important aspect before choosing a lighting fixture is to select the right place and height. For instance, you can install the hanging lights when you have tall ceilings. Otherwise, these lights will fail to illuminate the entire kitchen. Therefore, choose a lighting fixture that will spread the brightness evenly around the room. If your kitchen ceiling is 100 feet high, consider hanging the lights 3 inches higher for each extra foot above 8 feet.
What Colour Lighting Should I Have In A Kitchen?
The choice of lighting color in a kitchen depends on the atmosphere you want to create and the overall design. In general, colors like soft white or warm white, around 2700-3000 Kelvin, are popular choices for kitchen lighting. These will create a comfortable space for cooking.
On the other hand, cooler colors like daylight white, around 5000-6500 Kelvin, can be used for task lighting, mainly in areas where you need better visibility, such as over countertops or the stove. They will provide a crisp, bright light that's ideal for tasks.
Also, it is common to use a combination of warm and cool lighting to balance aesthetics and functionality. For instance, you can use warm lighting for dining or seating areas, while cooler lighting focuses on workspaces. To know more about color temperatures, check this article- How to Choose LED Strip Color Temperature?
FAQs
Conclusion
From my collection of Top 45 Creative Kitchen Lighting Ideas, you can find the perfect balance of functionality and a touch of personality. Therefore, you can choose classic pendant lights or under-cabinet lighting for a subtle glow. Also, you can go for wall sconces to illuminate a specific area. But whatever you choose, make sure it matches the interior of your kitchen.
Besides, with modern lights like LED strips, you can make the kitchen a captivating space that reflects your unique taste. So, illuminate your culinary place with these creative ideas and make your kitchen welcoming. For the best LED strips for your kitchen, contact LEDYi ASAP!