Certificates are a way of assuring quality. They show that a product or service has been tested and meets specific standards. Various organizations, including the government and private companies, can issue certificates.
Led strips are one type of product that can benefit from certificates. Certificates can assure buyers that the strips have been tested for safety and quality. This is important, especially given the many led strips available on the market.
The classification of the certification
There are three main ways to classify certification. There are three main ways to organize certification.
The first classification is based on market accessibility. Market access means whether the certification is mandatory or optional according to the laws and regulations of a country or region. Market access is divided into mandatory and voluntary.
The second classification is based on the requirements for certification. Certification requirements generally include safety, electromagnetic radiation, and energy efficiency.
The third classification is the region of application of the certification. Applicable region refers to the certificate appropriate in which country or region, such as CE certification, is applicable in the EU, while CCC certification is applicable in China.
Why LED Strip Certification is Important
Ensures LED strip's high quality
Because the certification will require the LED strip to go through a series of rigorous tests, only when the test passes the LED strip will be certified. Therefore, the purchaser can quickly determine the quality of the LED strip as long as he sees that the LED strip has obtained the corresponding certification.
Ensure LED strip can be imported successfully
Some certifications are mandatory, and only after obtaining the certificate can the LED strip be sold in the corresponding country. For example, LED strips can be sold in the EU only if they have obtained CE certification.
Common LED Strip Certifications
What are the certifications of LED strip lights?
There are many certifications on the market for LED strips, and if all of them we need to know, it will take too much time.
So, to help beginners quickly understand the certification of LED strips, I give the most common LED certification here.
| | | | |
| --- | --- | --- | --- |
| Certificate Name | Applicable Area | Mandatory or Voluntary | Requirement |
| UL | United States | Voluntary | Safety |
| ETL | United States | Voluntary | Safety |
| FCC | United States | Mandatory | EMC |
| cULus | Canada | Voluntary | Safety |
| CE | European Union | Mandatory | Safety |
| RoHS | European Union | Mandatory | Safety |
| Ecodesign Directive | European Union | Mandatory | Energy efficiency |
| CCC | China | Mandatory | Safety |
| SAA | Australia | Mandatory | Safety |
| PSE | Japan | Mandatory | Safety; EMC |
| BIS | India | Mandatory | Safety |
| EAC | Russia | Mandatory | Safety |
| CB | International | Mandatory | Safety; EMC |
| SABER | Saudi Arabia | Mandatory | Safety |
UL Certification
UL is a world-renowned safety certification company. It was founded in 1894 as the Underwriters' Laboratories of America. UL is best known for its safety certification of electrical products. Today, UL certifies products in more than 100 countries.
ETL Certification
ETL stands for Electrical Testing Laboratories, the certification division of Intertek Testing Laboratories, who are also part of the NRTL program and provide assurance, testing, inspection, and certification services for a huge range of industries.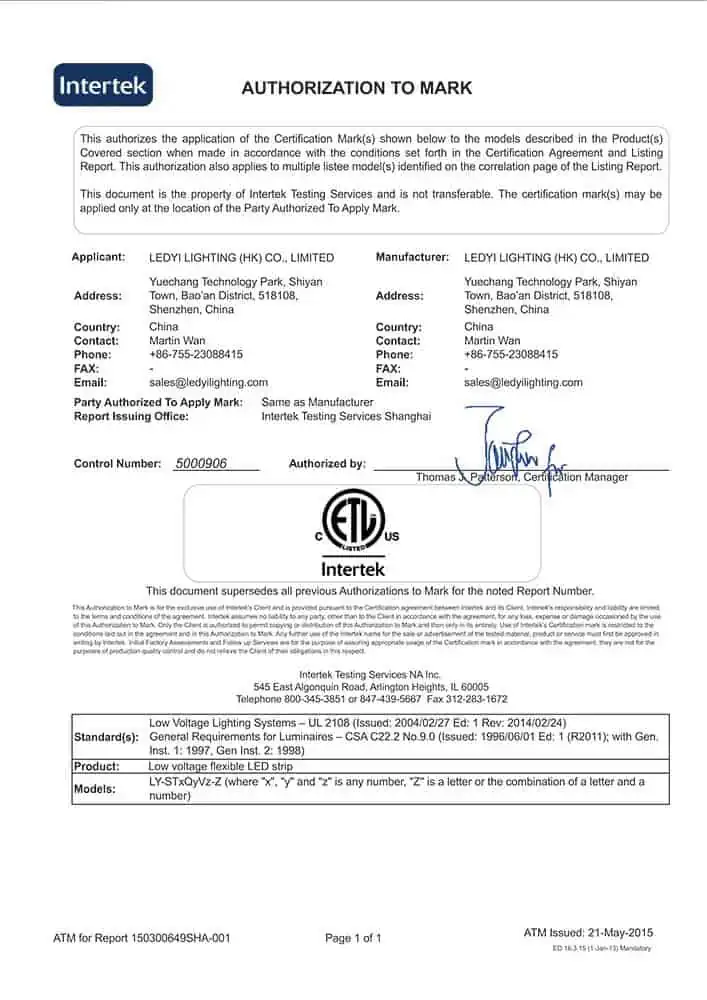 FCC Certification
An FCC certificate is an official document that is issued by the Federal Communications Commission (FCC) in the United States. This document confirms that a product or piece of equipment meets all of the applicable FCC requirements and has been tested and certified by an accredited laboratory. In order to obtain an FCC certificate, a manufacturer or distributor must submit a completed application to the FCC and pay the applicable fees.
cULus Certification
The cULus certificate is a safety certification that is recognized by the United States and Canadian governments. The cULus certificate indicates that a product has been tested and meets the safety requirements of both countries. Many products, including appliances and electrical equipment, require the cULus certificate in order to be sold in the United States and Canada.
CE Certification
CE stands for "Conformité Européenne" and is a certificate that assures the compliance of a product with European Union health, safety, and environmental protection standards. The CE mark is affixed to products by their manufacturers and must be present on products sold in the EU. The CE mark indicates to consumers that a product has been assessed and found to meet all relevant EU health, safety, and environmental protection requirements.
CE certification includes EMC and LVD.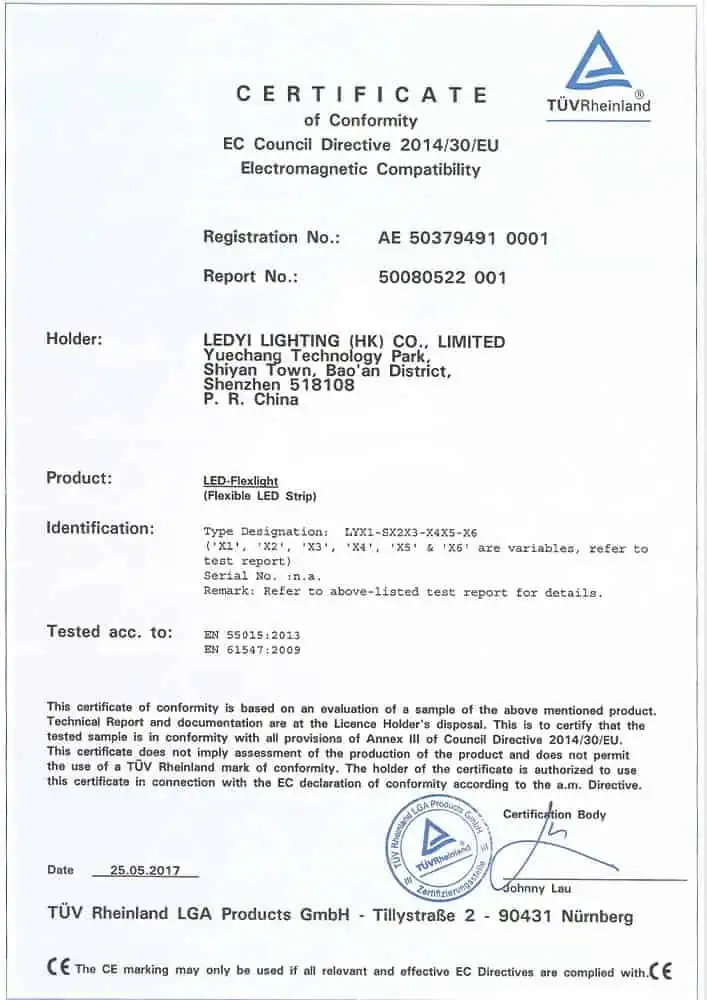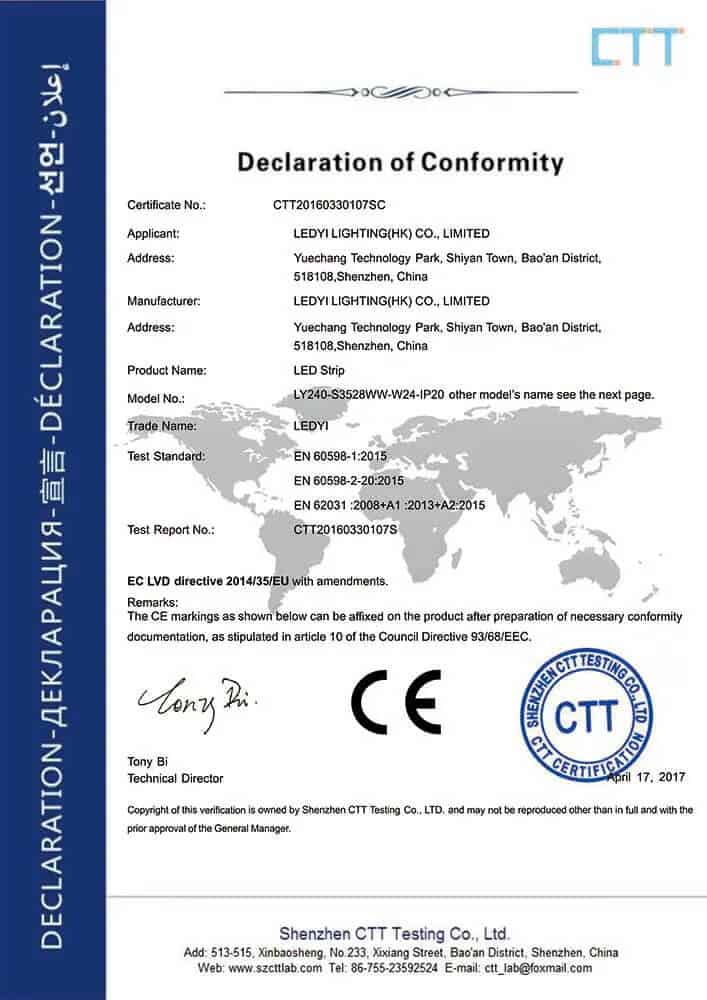 RoHS Certification
The Restriction of Hazardous Substances Directive, or RoHS certificate, is a directive passed by the European Union in 2006 that restricts the use of certain hazardous materials in electrical and electronic equipment. The directive requires that all products sold in the EU meet certain environmental criteria, and one way to demonstrate compliance is to obtain a RoHS certificate.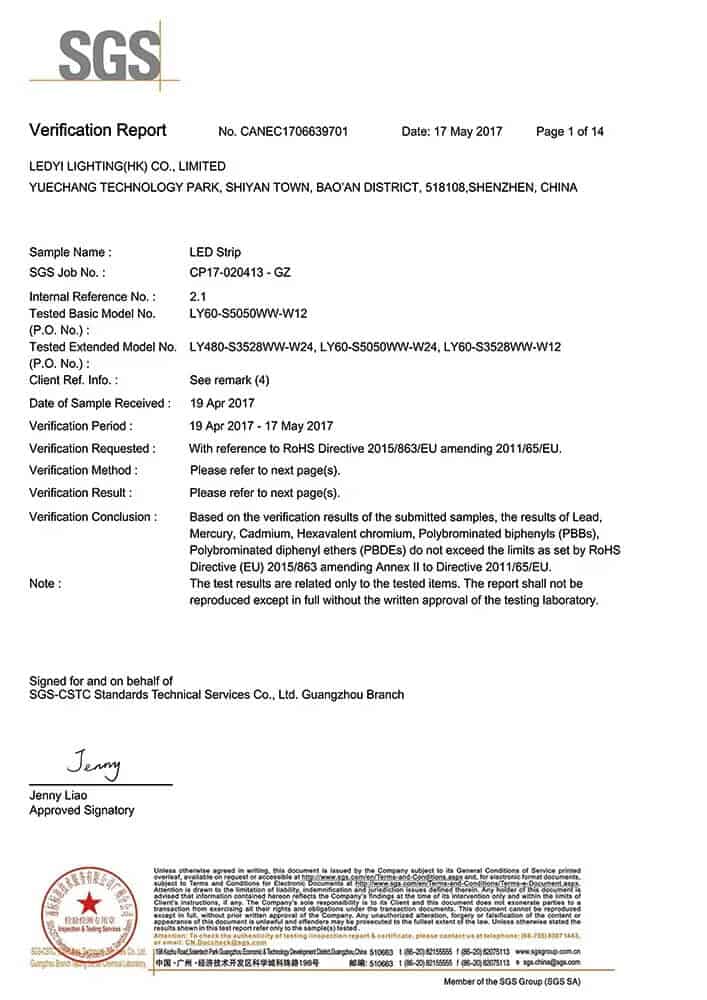 Ecodesign Directive
The Ecodesign Directive is a certificate that is issued by the EU. It is designed to help reduce the environmental impact of products. The directive sets out specific requirements for the design of products, in order to make them more energy efficient and environmentally friendly.
CCC Certification
Certificate of Conformity of China (CCC) is a mandatory certification system for products sold in the Chinese market. The CCC mark is a sign of quality and safety, and products with the mark are guaranteed to meet Chinese standards.
The CCC certification process is rigorous, and only products that pass all tests are awarded the mark. Manufacturers must submit detailed product information, including test results and safety data sheets, to a government-approved testing lab. Products are then tested against Chinese safety standards.
The CCC mark is recognized throughout China, and products with the mark can be sold anywhere in the country. The certification is also accepted in some other Asian countries, such as Taiwan and South Korea.
SAA Certification
SAA is the abbreviation of the Standards Association of Australian, which is the institution that sets Australian standards. As a standard-setting body, SAA was renamed Standards Australia in 1988 and changed to a limited company in 1999, called Standards Australia International Limited. SAI is an independent joint stock company. There is no so-called SAA certification. However, because Australia does not have a unified certification mark and the only certification body, many friends refer to the Australian product certification as SAA certification.
PSE Certification
Public Service Enterprise (PSE) certificates are an essential part of doing business in Japan. Introduced in 2002, PSE certificates are mandatory for companies that want to provide goods or services to the Japanese government.
To get a PSE certificate, a company must prove that it is trustworthy and has good business practices. This is done by submitting financial reports and other documentation to the Japanese Ministry of Economy, Trade and Industry (METI).
Once a company has been approved, it will be issued a PSE certificate. The certificate is valid for three years, after which the company must reapply.
A PSE certificate is important because it shows that a company is reliable and can be trusted to do business with the Japanese government. It also helps companies build credibility with potential customers in Japan.
BIS Certification
BIS certificate is an important document that is issued by the Bureau of Indian Standards (BIS). It is a certificate of conformity that confirms that the product or material mentioned in the certificate conforms to the Indian standard. The BIS certificate is mandatory for all products or materials that are sold in India.
The BIS certificate is also recognized internationally and it is accepted in many countries. Manufacturers who want to export their products to other countries must obtain a BIS certificate. The BIS certificate helps to ensure that the products meet the quality standards of other countries.
The Bureau of Indian Standards (BIS) is the national standardization body of India. It was established in 1947 and it is headquartered in New Delhi.
EAC Certification
The Customs Union Certificate of Conformity (EAC certificate) is an official document confirming the conformity of the quality of production with the approved standards within the Customs Union region.
The EAC Certificate can be used in the exports of goods to any one of Russia, Belarus, Armenia, Kyrgyzstan or Kazakhstan. The certificate is also valid on the territory of each country.
Typically the certificate of the Customs Union is issued for partial or serial production. In case the certificate is issued with a validity periof of more than one year, audits must be conducted not less than once a year. The EAC Certificate is issued with a maximum validity period of 5 years.
The Customs Union Certificate of Conformity is the easiest way to enter the markets of Russia, Belarus, Armenia, Kyrgyzstan and Kazakhstan at the same time.
CB Certification
CB CERTIFICATION. The IEC CB Scheme is multilateral agreement to allow international certification of electrical and electronic products so that a single certification allows worldwide market access.
SABER Certification
Saber is an electronic platform that helps the local supplier and factory to register the required conformity certificates electronically for consumer products, whether imported or locally manufactured, to enter the Saudi market. The platform also aims to raise the level of safe products in the Saudi market.
A SASO( Saudi Standards, Metrology and Quality Organization) CoC is a Certificate of Conformity that is specific to Saudi Arabia. This document certifies that the item has been successfully tested and inspected to meet the country's quality and safety standards. The SASO certificate acts as a passport for the goods to clear customs
How to get certified: the testing process(UL Example)
Step 1: Vist the UL website and find the "Contact Us" page.
You can find links to all relevant information and forms for submitting product samples to UL testing here.
Step 2: Submit a sample product for UL to test.
The organization that obtains UL certification needs to prepare samples according to the requirements of UL certification and should pay the transportation fee when sending samples.
Step 3: UL began to evaluate samples in various aspects.
When UL receives your sample product, they will begin a safety evaluation. After UL has tested a product, it will be considered compliant with the standards and requirements or rejected for non-compliance.
Step 4: For manufacturers, UL requires factory inspection.
For manufacturers, UL will arrange for staff to inspect the factory on site. UL certification can only be obtained by simultaneously passing product testing and factory inspection.
Step 5: Obtained UL certification.
After the product is verified as safe and a factory inspection pass(if needed), a certificate will be issued by UL.
Your business will then be authorized to place the UL logo on the manufactured product. Audits will be performed intermittently to ensure the product keeps to the relevant guidelines and remains compliant with the UL standards.
Suggestions for applying for LED strip certifications
LED strip lighting has become popular in both residential and commercial applications due to its energy efficiency and long life.
To start an LED strip business, you must apply for some LED strip certification.
Here are a few suggestions for applying for LED strip certification.
The enterprises should have a targeted purpose.
There are a variety of certifications available, and businesses should first clarify the purpose of the certification they need.
For example, export LED strips should meet the certification requirements of the target market.
Different certifications require different technologies.
You should be aware of the product requirements for each certification. Especially when applying for multiple certificates simultaneously (such as CCC+ energy-saving certification, CCC+ CB), you must consider them carefully. Otherwise, you may lose one of them. At the same time, enterprises must ensure that the mass-produced goods are of the same quality as the certified samples!
Enterprises should know the quality of the sample for certification.
Once the sample fails, the company has to increase the modification cost. Therefore, it is best for enterprises to carefully read the certification requirements, especially the product range, unit classification, testing plan, quality assurance, and other parts.
Enterprises should pay attention to the time limit of the certification.
Especially the long time for energy-saving certification. Enterprises should plan their time reasonably to avoid losses. In addition, enterprises should clearly understand the certification requirements, regularly track accreditation progress, communicate with the certification body, and self-monitoring through the network.
Conclusion
Certification applications can be time-consuming and expensive. However, they are beneficial for your company. This is one of the fundamental factors consumers look at before buying LED lights. You must pay attention to the certification process to make your business more competitive.
I hope this article helped share the essential certification of LED lights. With these certifications, customers will feel a sense of security when using your product. You can also enter your target country effortlessly!
LEDYi manufactures high-quality LED strips and LED neon flex. All of our products go through high-tech laboratories to ensure the utmost quality. Besides, we offer customizable options on our LED strips and neon flex. So, for premium LED strip and LED neon flex, contact LEDYi ASAP!