LED strip lights are growing in popularity due to their energy efficiency and versatility. There are various ways to install LED strip lights, but one of the most popular is using aluminum profiles. This guide will provide an overview of aluminum profiles for LED strip lighting, including their benefits, types, and installation tips.
What is an LED aluminum profile?
LED aluminum profiles, also known as aluminum extrusions, are structures typically made of aluminum designed to house and protect LED strip lights. Most importantly, it can help the LED strip to dissipate heat quickly.
LED aluminum profiles are becoming popular for both commercial and residential properties. There are many benefits of using LED aluminum profiles. For example, LED aluminum profiles can help the LED strip to have a longer service life. In addition, it is more durable than conventional lighting fixtures and can withstand the harsh environments in which many LED lights are used, such as retail shops and restaurants.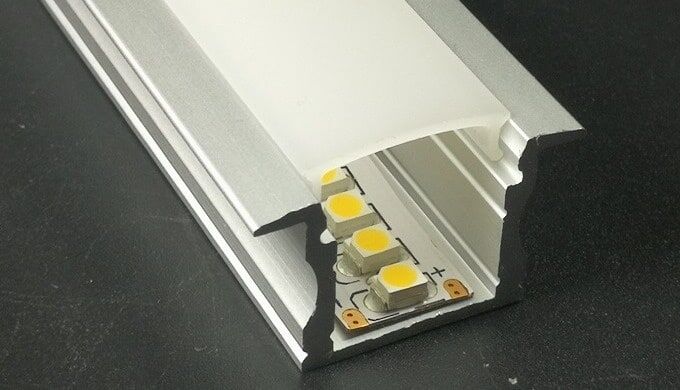 What are the common LED aluminum profiles?
LED aluminum profiles have become so ubiquitous that finding them in new and existing buildings is no longer a novelty. However, they are not all the same. Here are the most common types of aluminum profiles:
1. Surface mounted LED aluminum profile
A surface mount LED aluminum profile, also known as a U-shaped LED channel, is the most common one. They are effortless to install by installing mounting clips.
Surface-mounted LED aluminum profiles can be installed on various surfaces such as under cabinets, ceilings, wardrobes, and more.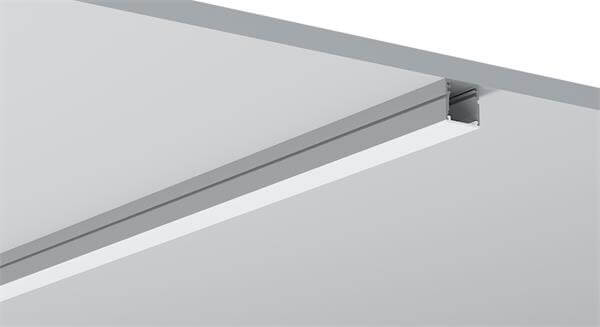 2. Recessed mounted LED aluminum profile
The recessed LED aluminum profile, also known as the T-shaped LED aluminum profile, is recessed inside the surface. We usually use these channels on wood shelves or cabinets.
To install the recessed LED aluminum channel, you must open the corresponding slot according to the size of the channel.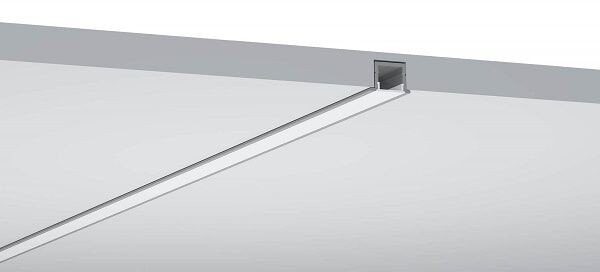 3. Corner LED aluminum profile
The Corner LED aluminum profile has an angle and is generally used to install on the corners of walls, ceilings, shelves, cabinets, and stairs. Its installation method is similar to surface-mounted LED aluminum profiles, using mounting clips.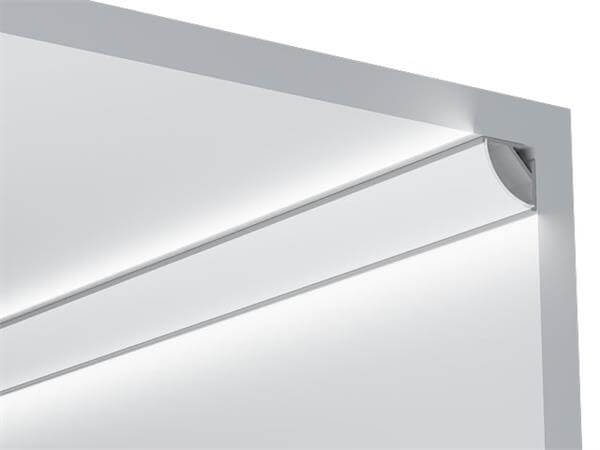 4. Drywall LED aluminum profile
The drywall LED aluminum profile offers a more concise effect, as this type of LED channel hides all the wires and LED strips on the wall. However, this installation is complicated and may require professional installation and careful planning. These are common in shops, stores, and other commercial spaces with drywall ceilings.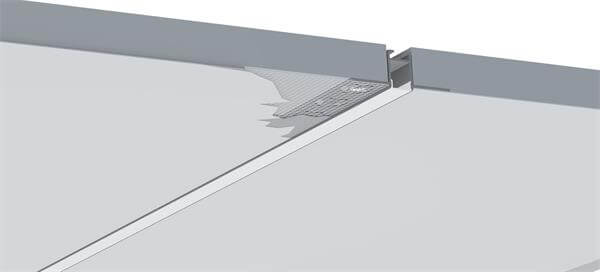 5. Suspended LED aluminum profile
Using stainless steel ropes, suspended LED aluminum profiles are suspended from the ceiling. These aluminum profiles are used in places with high ceilings.
Hanging LED aluminum profiles are becoming increasingly popular now, as many designers use them to make various attractive shapes.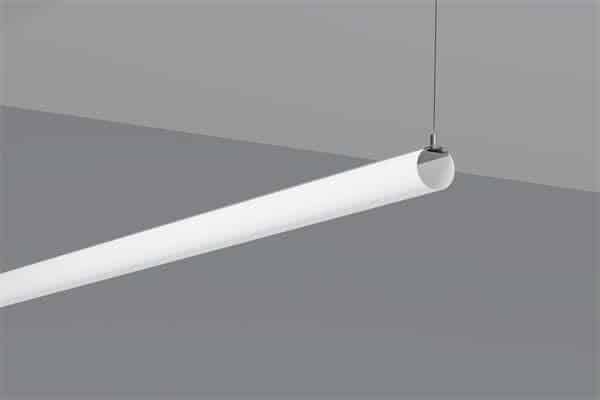 6. Ring Circular LED aluminum profile
Ring Circular LED extrusions are designed to be circular. Usually, these LED profiles are suspended from the ceiling. These aluminum materials are decorative, functional, and generally used in commercial places and homes.
It can be customized to different diameters. Lighting direction can also be up, down, inside, and outside.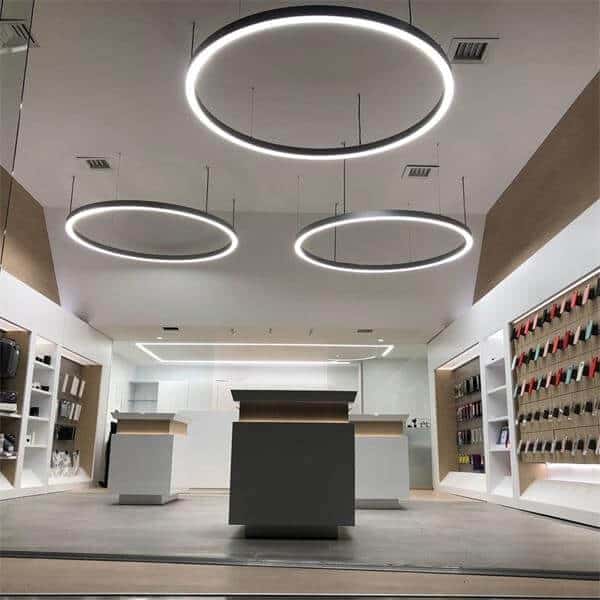 7. Wardrobe rail LED aluminum profile
Wardrobe rail LED aluminum profile, used in the wardrobe, can be used not only for lighting but also as a clothes hanger.
These usually have an oval shape and have the diffuser at the bottom of the rod.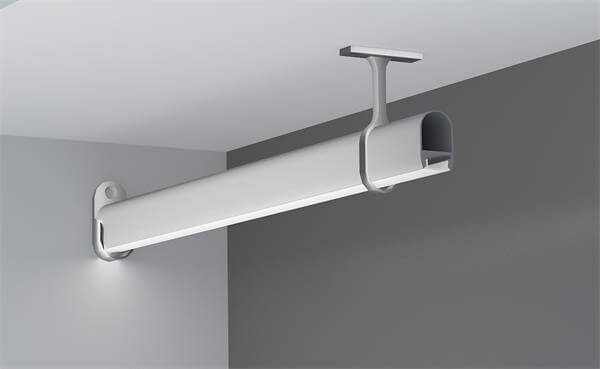 8. Flexible LED aluminum profile
Flexible LED aluminum profiles are made of thin and light aluminum. It can be easily bent by hand. It is perfect for mounting on curved surfaces.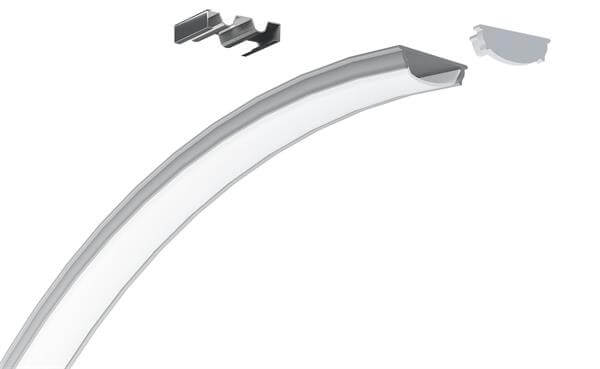 9. IP65 waterproof LED aluminum profile
Waterproof LED aluminum profiles are mainly suitable for outdoor use. The difference between waterproof LED aluminum and others is because of the PC tube. We installed the LED strip into the PC tube and sealed it with an endcap and silicone glue.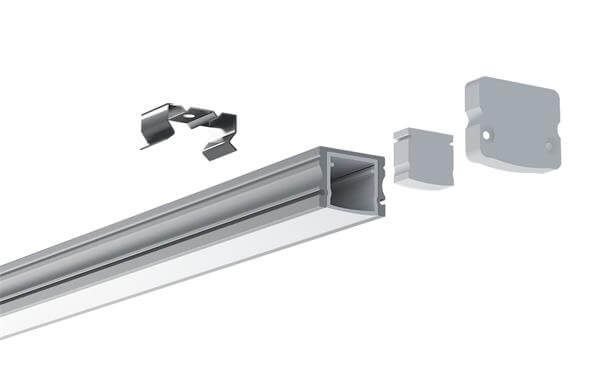 10. Floor LED aluminum profile
The floor LED aluminum profile is installed into the ground and is waterproof. It's very durable because people might step on it. It can be functional and decorative. For example, ground LED channels can be used to indicate emergency exits.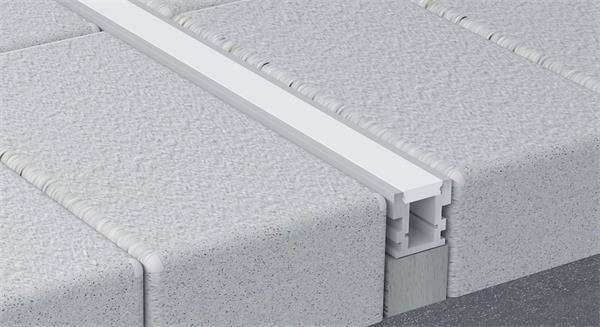 11. Wall LED aluminum profile
Wall LED aluminum profile is mounted on the wall for indirect lighting. It illuminates the passageway, making it easier for people to walk without tripping.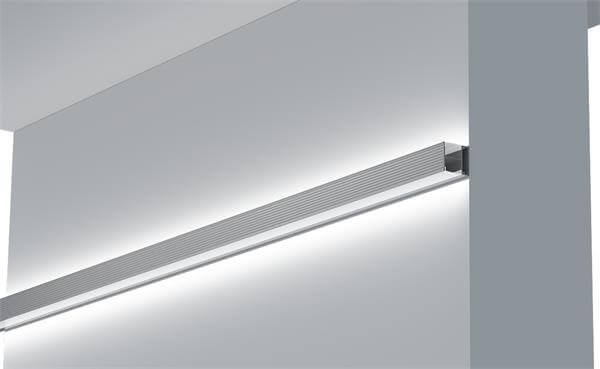 12. Stair LED aluminum profile
These LED extrusions are installed on the stairs, which is convenient for people to walk in a relatively dark lighting environment. It is widely used in cinemas and can also be used for commercial lighting and home lighting.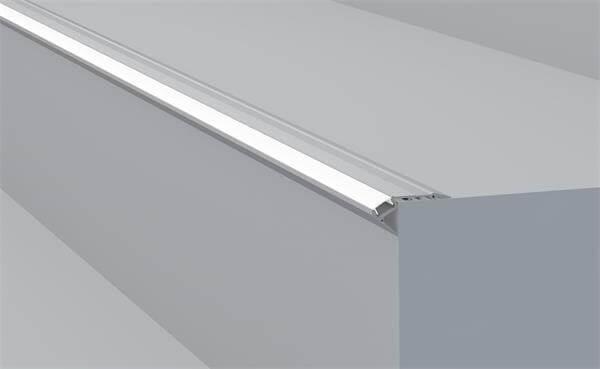 13. Optic Lens LED aluminum profile
The most significant difference between the optic lens LED aluminum profile and others are that its diffuser is not flat. Its diffuser can change the lighting angle of the LED strip inside. These aluminum channels can be used when a narrower beam angle is required.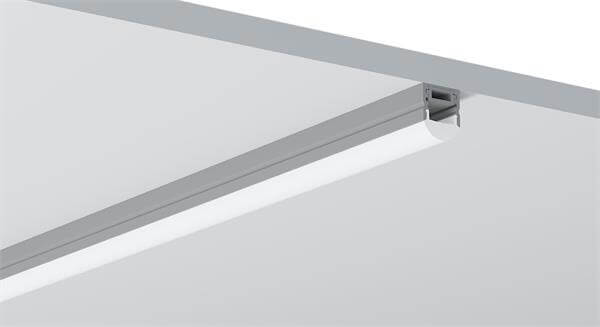 14. Glass shelf LED aluminum profile
Glass shelf LED aluminum profiles to illuminate the glass mounted on it. It's similar to surface-mounted aluminum channels, except it doesn't have a diffuser, and the glass is installed into it. It is mainly decorative and is usually used with color-changing LED strips.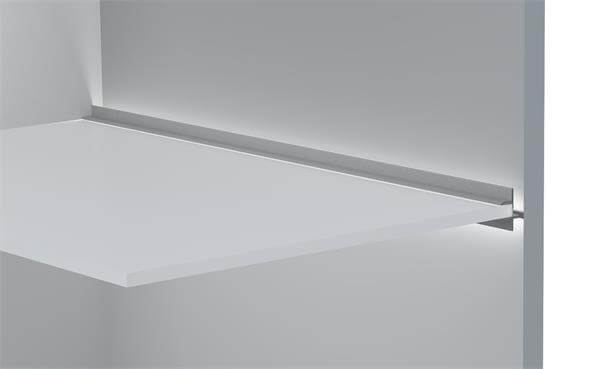 15. Mini LED aluminum profile
These LED aluminum profiles are very small, and the width inside may only be 3MM, 4MM, 5MM, etc. This LED aluminum is required to be used with our ultra-narrow LED strips.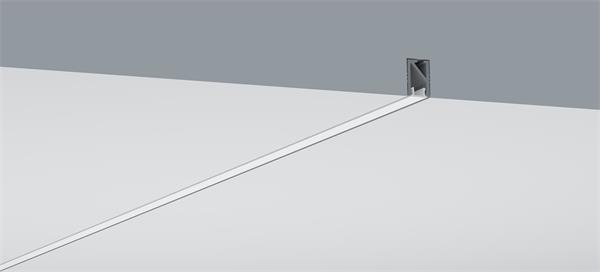 What types of diffusers are available for LED aluminum profiles?
There are so many types of diffusers. How do I know which one is right for me?
There are two primary materials for diffusers on the market, PC and PMMA.
PC diffuser
Pros
Cons
• Impact resistant.
• Flame retardant materials, not easy to burn.
• Environmentally friendly plastics.
• UV resistant.
• Weather resistance (outdoor aging resistance).
• Low surface hardness.
• Easy to scratch.
PMMW diffuser
Pros
Cons
• Good transparency.
• The surface has good scratch resistance.
• Large wear coefficient.
• Larger tendency of high temperature thermal deformation.
• Easy to crack.
The light transmittance of the different diffusers is different. Choose a suitable diffuser according to the lighting effect you want.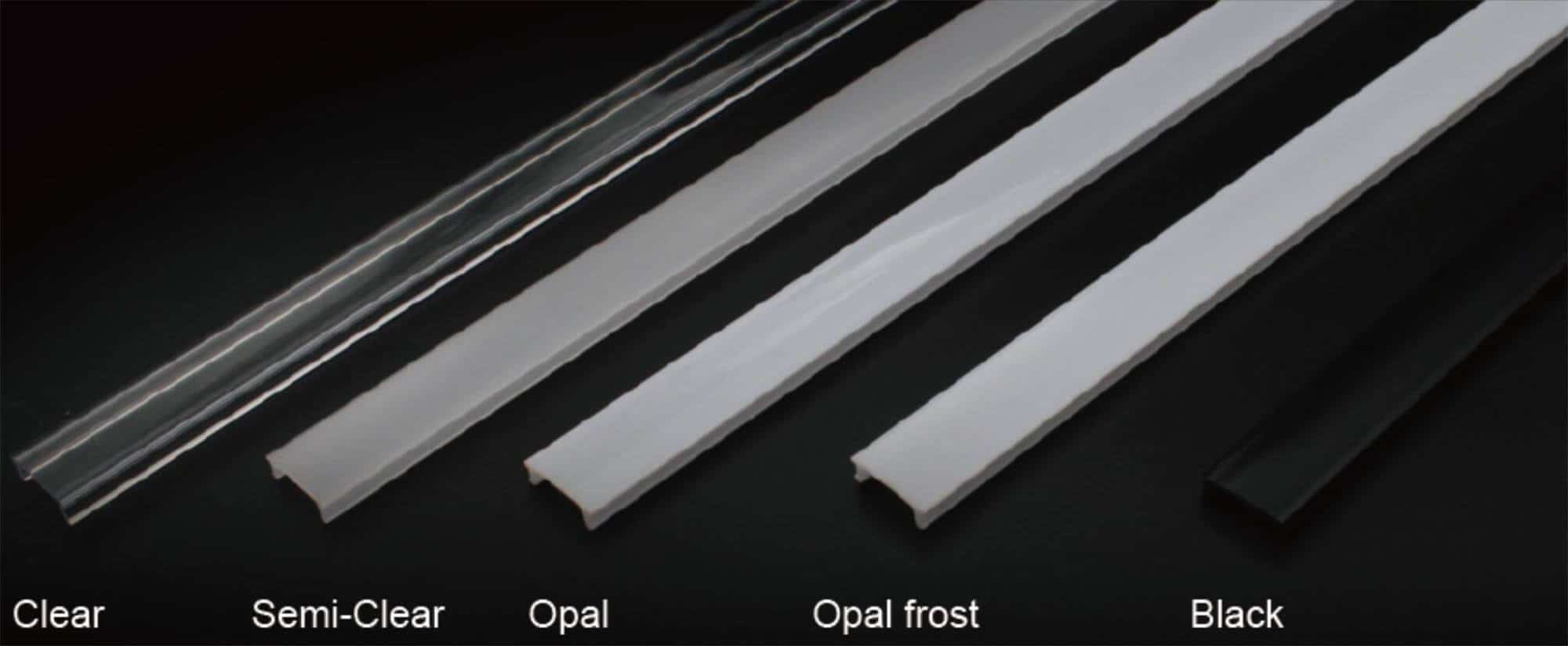 Transparent diffuser
85-95% light transmittance. For maximum brightness, this diffuser will not provide spotless light effects.
Semi-Clear diffuser
70-80% light transmittance.
Opal diffuser
70-80% light transmittance. It can minimize the light spot and diffuser the light evenly
Black diffuser
30-35% light transmittance. Just like the opal diffuser, it's decorative, as the led strip is not
visible. As the transmittance rate is low, you may need a brighter led strip to increase the brightness.
What finishes are available for the LED channel?
Most of the aluminum LED channels are anodized. Anodizing is an electrochemical process anodizing layer that makes it corrosion resistant, durable, and decorative. Other finishes include powder coating, paint, and gloss dipping, all used for protection and decorative purposes.
Three standard anodized finishes in LED aluminum profiles are silver anodized, white anodized, and black anodized.
What parts does an LED aluminum profile contain?
The LED aluminum profile system is not only composed of aluminum, and it includes the following parts.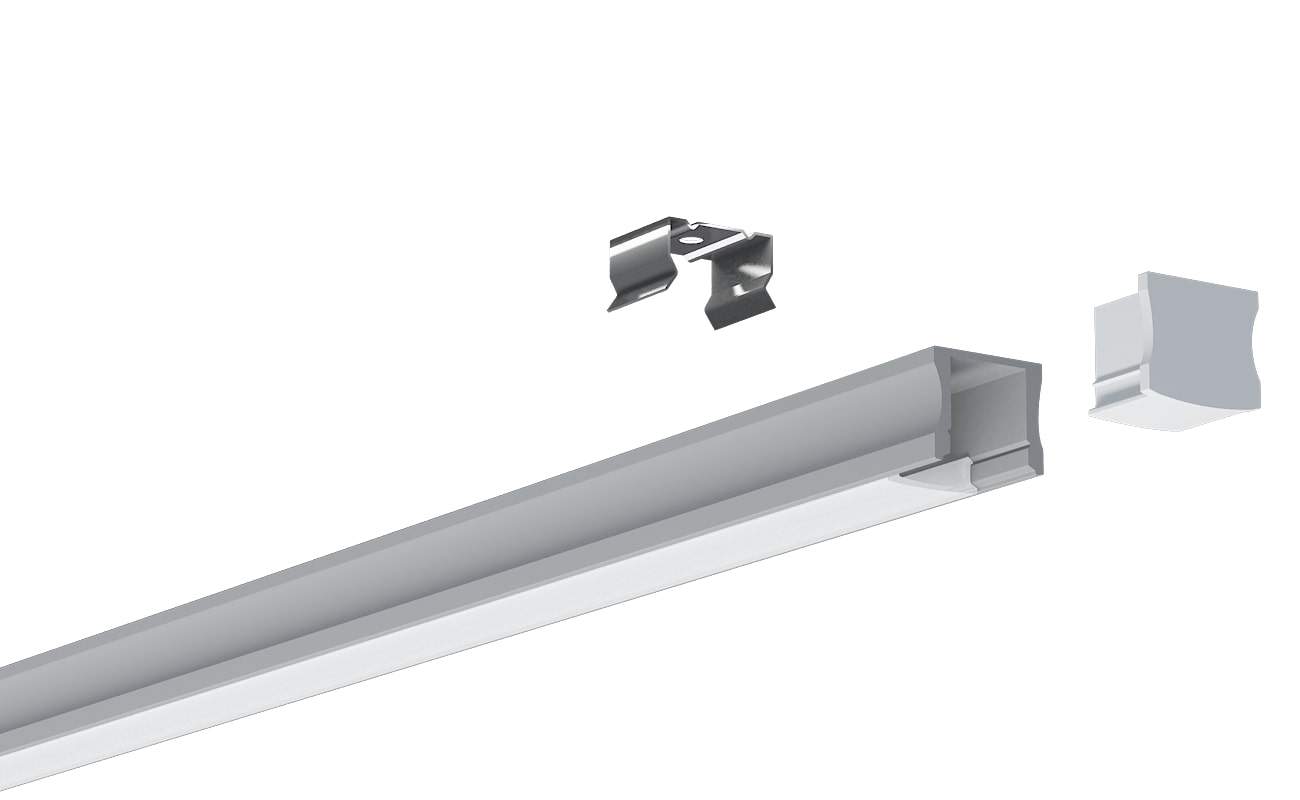 Heat sink(Aluminum extrusion)
The heat sink is an essential part of the LED aluminum profile system. Its material is 6063-T5 aluminum, which can help the LED strip to dissipate heat quickly.
Diffuser
Diffuser's material is generally PC or PMMA. The diffuser covers the LED strip to protect the LED strip and diffuse the light.
End caps
Most Endcaps are made of plastic, and a few are made of aluminum. It is generally divided into with-holes and without-holes. The endcap with holes is for the wires of the LED strip to pass through.
Suspension cable
When installing LED aluminum profiles, you need to use a hanging cable. The material of the hanging rope is generally stainless steel.
Mounting clips
Most materials for mounting clips are stainless steel, and some are plastic.
Mounting clips are generally used to mount surface or angle mount aluminum channels.
Other accessories
And there are some other accessories, such as rotating brackets, suspension brackets, and connectors.
Why Choose an LED aluminum profile?
The LED aluminum profile looks beautiful, but it will increase the cost. Choosing an LED aluminum profile with an LED light strip will have the following benefits.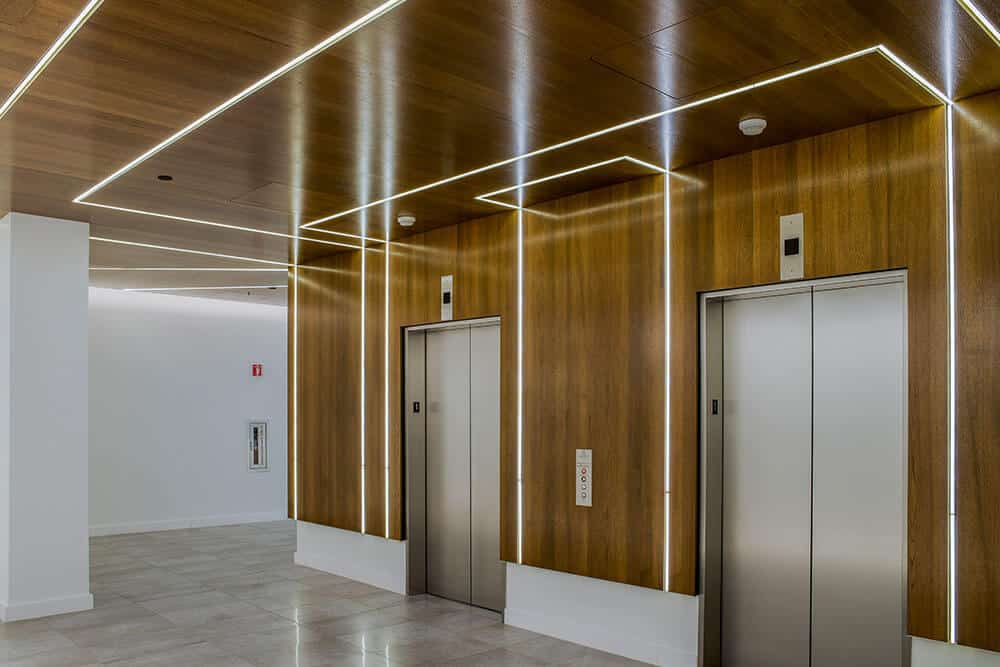 Enriches the lighting effect
Choosing a suitable diffuser, such as an opal diffuser, allows the light to be uniform, without lighting spots.
Protects LED strip lights
If you leave the LED strips exposed, they are vulnerable to damage from the outside environment. Even if it's waterproof, it won't last long outside the LED channel. So the LED track protects the LED tape inside from dust, water, and other external elements. Also, the LED tape itself doesn't look aesthetically pleasing. But the LED strips installed on the profiles look very modern and stylish.
Enhances heat dissipation
LED strips generate heat when they work. If the heat is not dissipated in time, it will shorten the life of the LED strip.
The LED aluminum profile's primary material is aluminum, which has excellent heat dissipation. Therefore, the LED aluminum profile can help the LED strip to dissipate heat faster and ensure that the working temperature of the LED strip is within the normal range.
Easy to form different shapes
You can cut LED aluminum profiles into different shapes, such as L-shape, T-shape, etc. Then stick the LED light strips into the aluminum profiles to make various shapes of lighting effects.
Easy installation
Installing aluminum LED profiles is very easy. One person can easily do this. You can cut them to the length you want, making them ideal for custom lighting setups. You need to drill the mounting clips and screw channels. It doesn't require a lot of tools, and it doesn't take much time. You can also use them to get lighting in places that may not have electrical connections to install lights.
Easy to clean
Because the LED strip is covered with a diffuser, you can easily clean it without worrying about damaging the LED strip.
Various applications of LED aluminum profiles
LED strip aluminum profile is becoming more and more popular, and it can be used in many occasions.
Cove lighting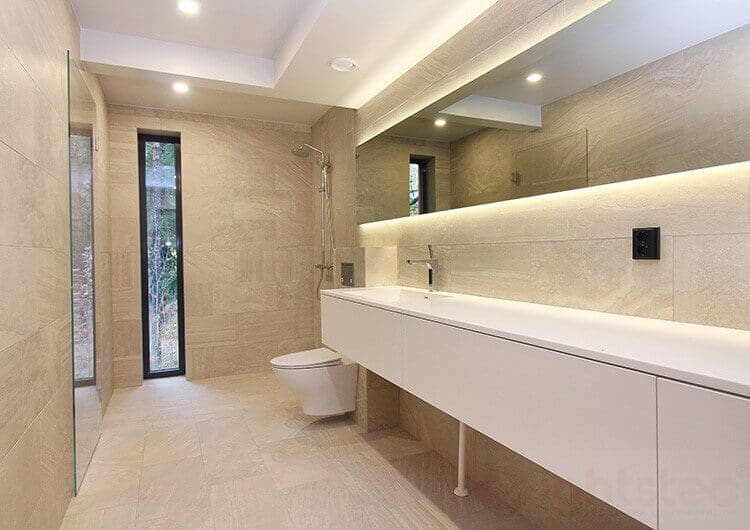 Kitchen lighting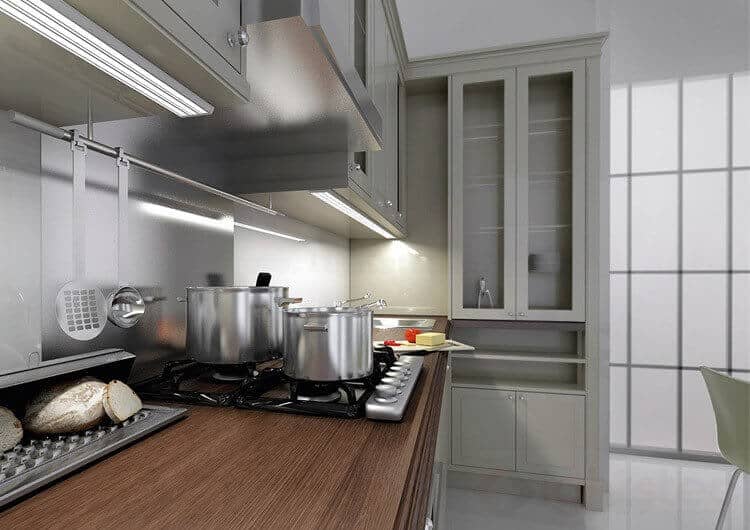 Gate and entrance lighting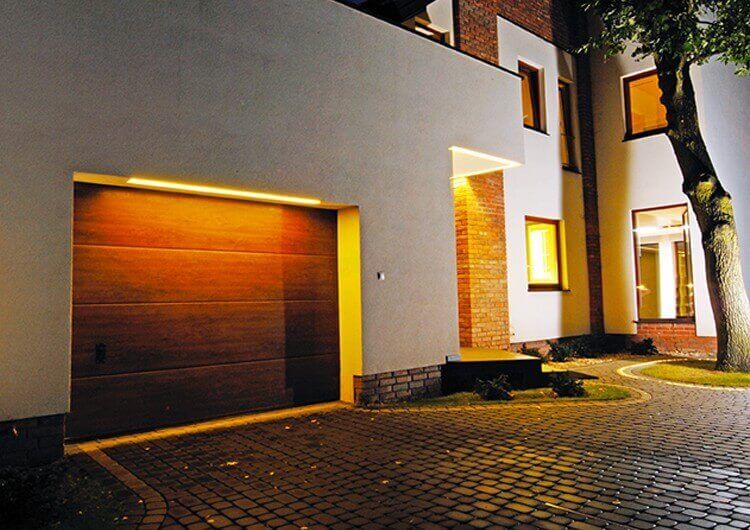 Garden lighting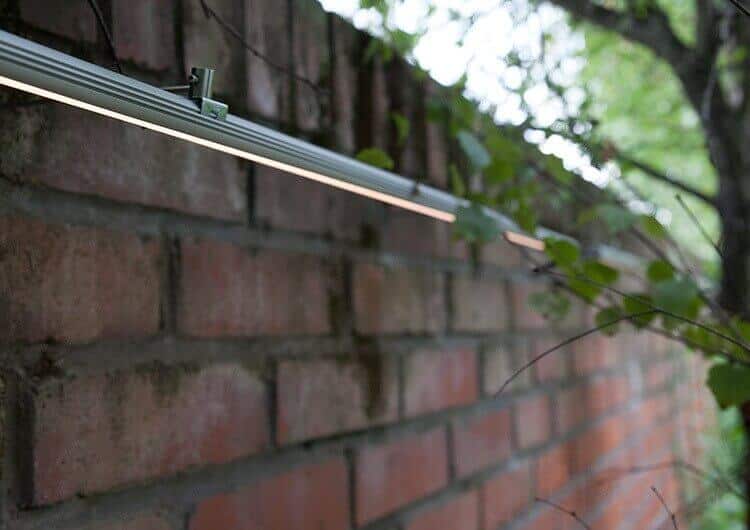 Facade lighting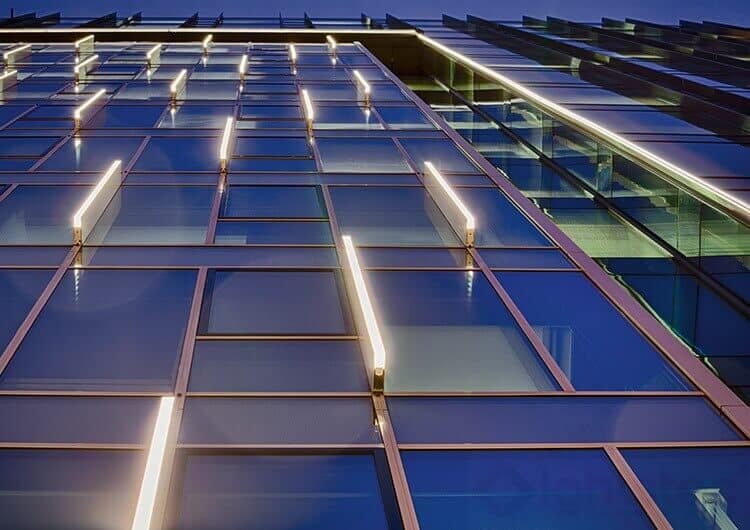 Bathroom lighting
Advertisement lighting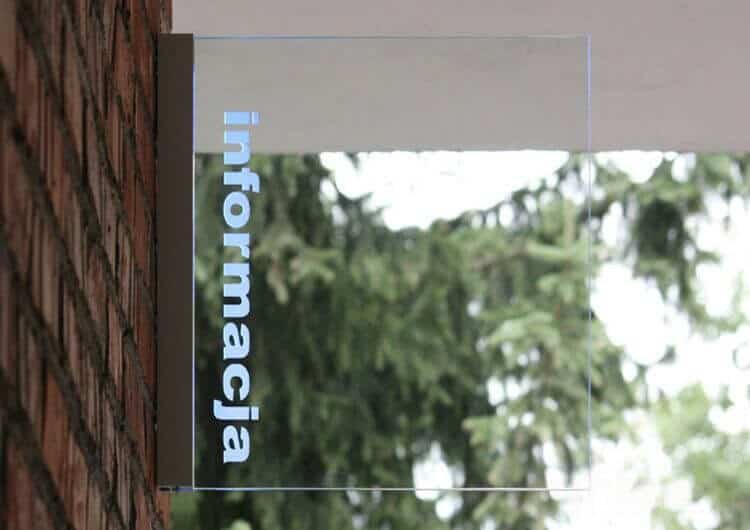 Cabinet lighting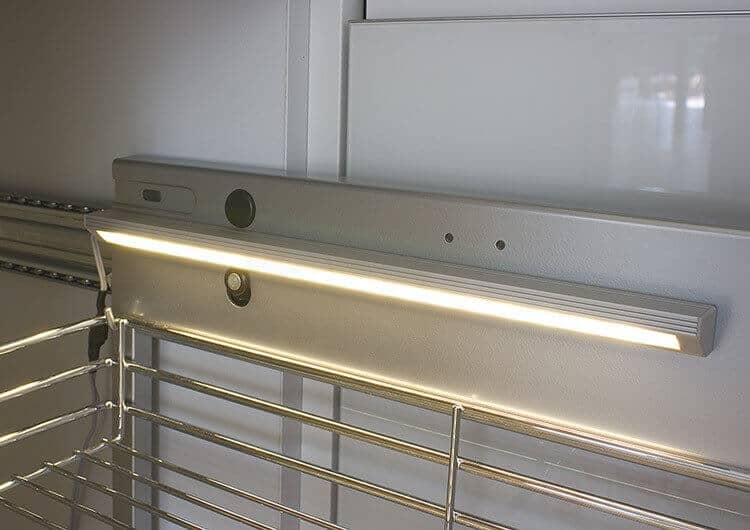 Wall and ceiling lighting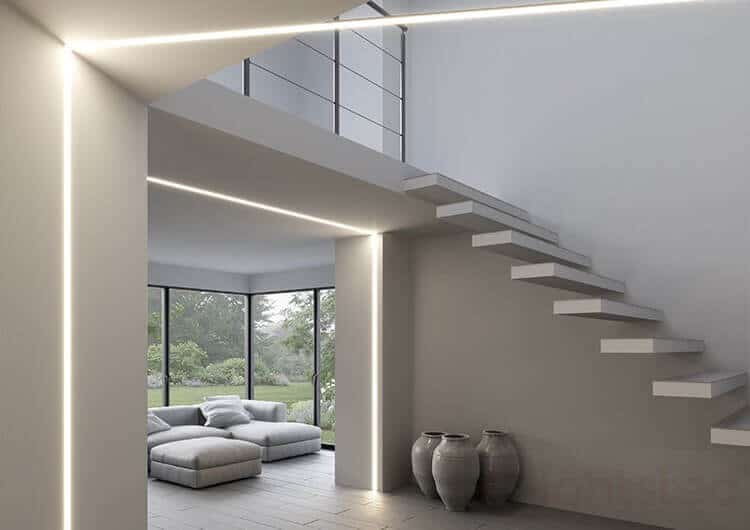 Stairs and handrails lighting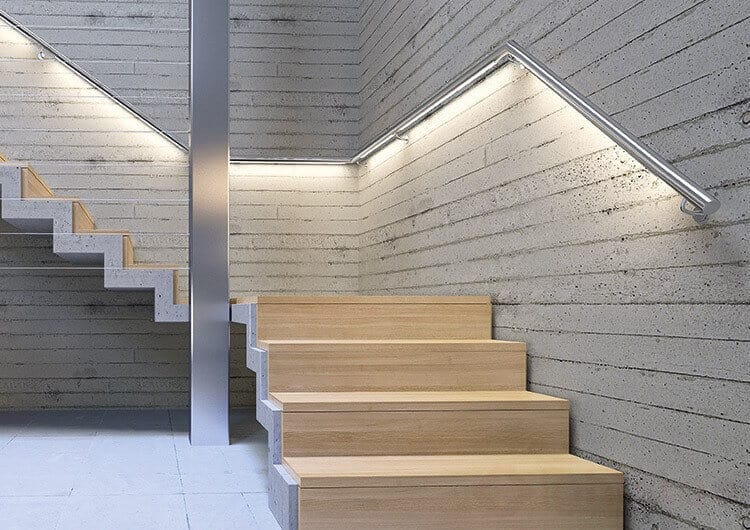 Parking and garage lighting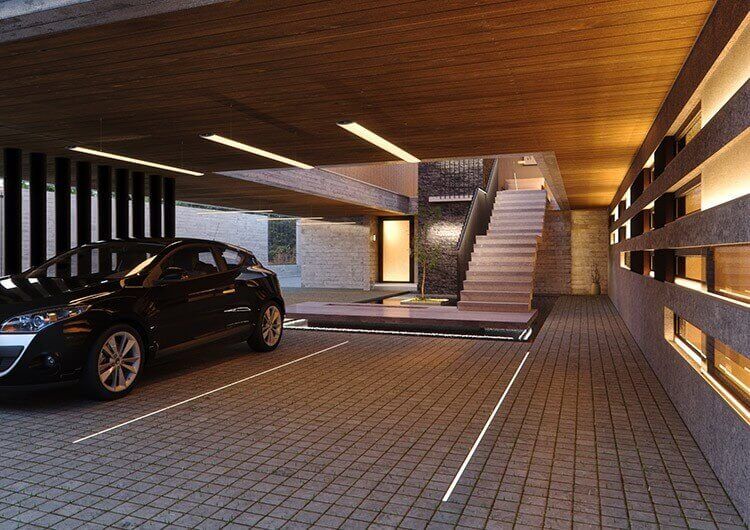 Office lighting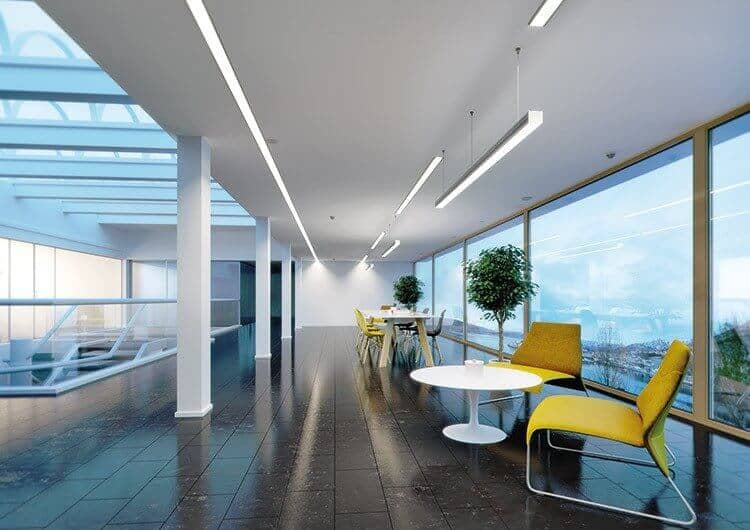 How to select an LED aluminum profile for LED strip lights?
It is essential to consider several important things before buying LED aluminum profiles.
Dimensions of LED strip lights
First thing, you need to confirm the size of the LED strip. The width of the LED strip is the most critical, and you must ensure that the width inside the LED aluminum profile is larger than the width of the LED strip.
Then buy enough aluminum channels according to the length of the LED strip.
The lighting effect you want to achieve
Which type of diffuser to buy is determined by the lighting effects you want. If it is direct lighting, and you need the light to be spotless, then you need to choose an opal diffuser.
If indirect lighting and high brightness are essential, you will most likely want to choose a transparent diffuser.
Suppose you are installing LED profiles for decorative purposes only. In that case, you may consider recessed, or plaster LED channels, as they blend in perfectly with the environment and look tidier.
Location of installation
You need to consider the mounting position of the LED aluminum profile. If it needs to be installed outdoors, then you need to choose an IP65 waterproof aluminum profile.
For corner lighting, then you need to choose the corner aluminum profile.
For cabinet lighting, then recessed aluminum profile is a good choice.
Mounting type
Finally, consider how you want to mount the LED channel. Do you have a concave surface?
Do you have gypsum board ceilings? Or do you want the most effortless installation possible?
These questions will help you determine which type of LED channel is best for your needs.
What factors can affect the light spot?
People are most concerned about the light spots when using LED aluminum profiles.
In practice, the following factors affect the light spot.

Diffuser light transmittance
Diffusers with low light transmittance, such as opal diffusers, can eliminate light spots as much as possible.
Distance between LEDs and diffuser
The farther the LED is from the diffuser, the less noticeable the light spot will be.
LEDs density
The greater the density of the lamp beads of the LED strip, the less noticeable the light spot.
Now the latest technology COB LED strips use chips to be directly attached to the PCB, and the density exceeds 500 chips per meter. Even without a diffuser, COB LED strips will not have lighting dots.
How To Install LED Aluminum Profile
The installation of the LED aluminum profile includes three steps. Install the aluminum profile, install the LED strip into the aluminum profile, and install the aluminum profile cover. The order of these three steps varies depending on the type of installation. I will explain the detailed installation steps step by step below.
Step 1: Mount the LED aluminum profile.
LED aluminum profiles are easy to install due to their lightweight. Depending on the shape and function of the LED aluminum profiles, they can be surface mounted, recessed or flush-mounted, corner mounted, or suspended. LED profiles are usually mounted using mounting brackets, screws, 3M double-sided tape or mounting adhesive, suspension cables, and fasteners.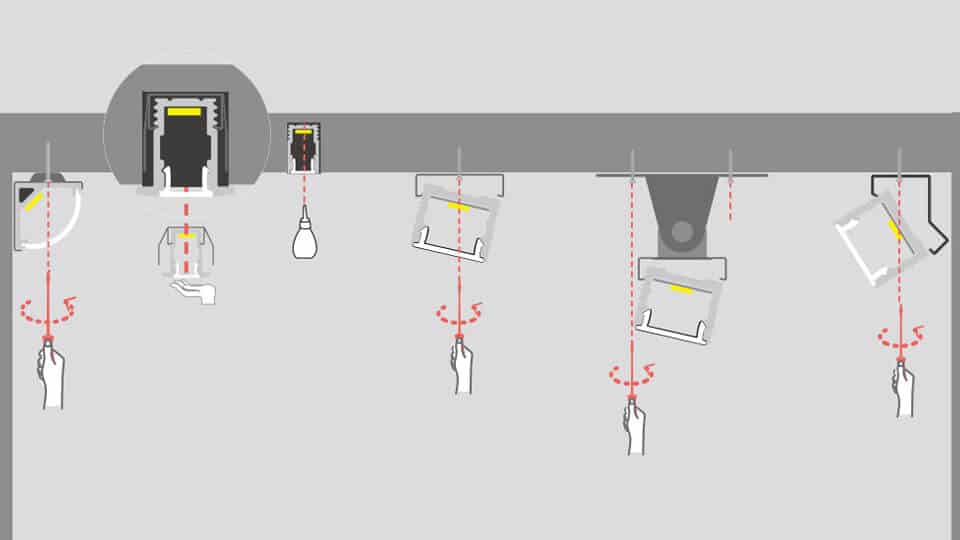 Surface mount aluminum profile
You can mount the LED strip light channel directly on a wall, ceiling, or other surface using mounting brackets, 3M double-sided tape, or screws. Mounting brackets usually have pre-drilled holes. You can quickly fix them on the wall with screws. Then, the aluminum profile snaps into the mounting brackets.

Installing an LED strip light channel with 3M double-sided tape is as easy as peeling and sticking. This installation requires the preparation of the mounting surface and ensuring it is clean and dry. Use isopropyl alcohol as a cleaning solvent and use acetone instead for the oily substrate.

Since the LED profile is made of aluminum, it is also easy to penetrate with a screw so that the aluminum profile can be easily fixed to the mounting surface.
Recessed mount or flush mount aluminum profile
The aluminum profile is mounted behind a wall or other surface with the contoured opening flush with the surface. It would be best if you dug a recess in the mounting area to match the width and depth of the LED strip channel.
Are you worried about the recess opening being uneven or too wide? Don't worry. LED aluminum channel tracks with lips (also known as wings or flanges) on both sides. When flush-mounted, they can overlap unpleasant recess edges or gaps.
Some LED aluminum profiles have two recesses in the side walls. Use the mounting clips to clamp onto the first or second recess to adjust the mounting height and the cooling distance between the LED profile and the recess base on the mounting surface.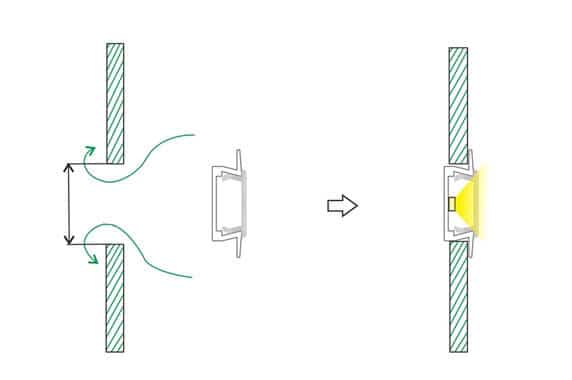 Corner mount aluminum profile
The angle LED aluminum channel is used as an angle mounting substrate for LED strips, providing beam angles of 30°, 45°, and 60° concerning the mounting surface and creating ambiance in the corner areas of the room. Corner mounting is made easy by using mounting brackets, double-sided adhesive tape, etc.
For corner mounting, the LED aluminum channel makes good use of space unavailable to other luminaires. In addition, special attention needs to be paid to dark corners when designing lighting schemes. Corner-mounted LED profiles easily brighten up corners stylishly and elegantly. Where does the high thermal performance of corner-mounted LED profiles come from? Let's take the example of the 45° beam angle LED profile. The corner-mounted profile has an internal base at a 45° angle to the two walls of the profile. The inner base and the two walls of the LED channel form a cavity which enhances the cooling of the LED strip and the cooling of the channel.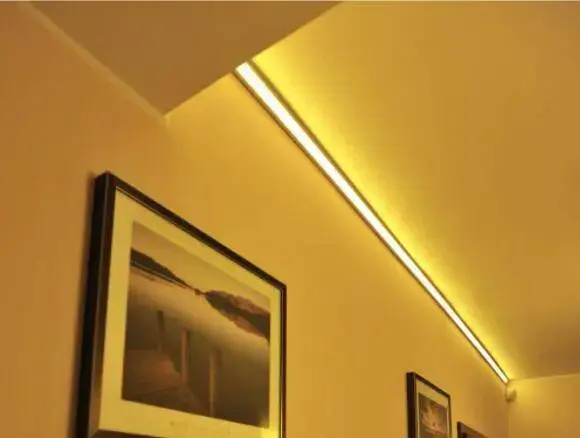 Suspended mount led aluminum extrusion profile
LED extrusion profiles have been more and more used in elegant strip lighting for modern spaces. Hanging the LED extrusion profile from the ceiling is a new way to create contemporary lighting in the air. Pendant cables, buckles, and fasteners are usually used to hang the LED profiles.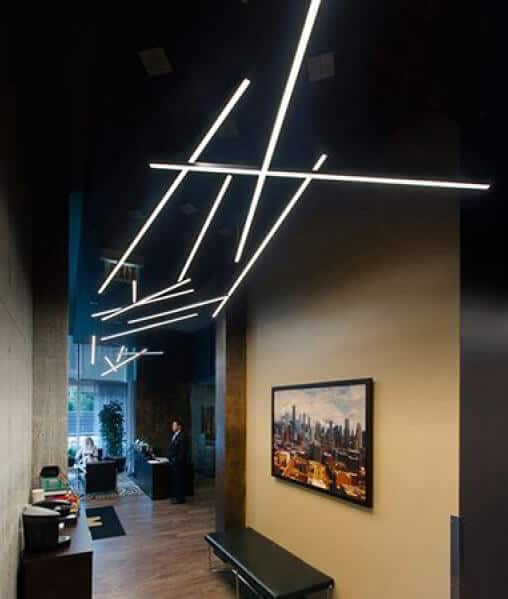 Step 2: Install LED strip lights into the LED extrusion profile.
This is the typical peel-and-stick installation. Peel off the protection liner of the 3M double-sided tape and stick the LED strip to the inner base of the aluminum channel.
Step 3: Pair the LED aluminum channel with cover.
Line the cover with the LED aluminum channel at one end, and squeeze the cover into the holding grooves on the inner walls of the channel. Then press to the other end. You can tell by the click sound if the cover sits in the position.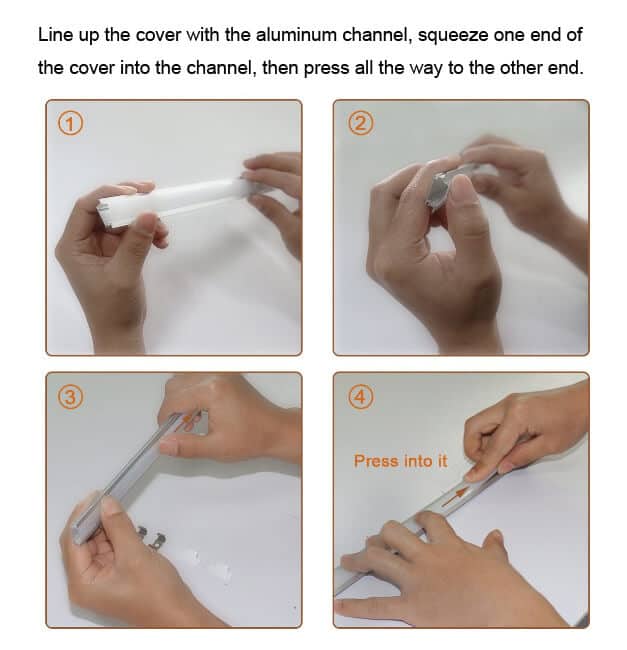 LED aluminum profile VS COB LED strips
Regarding LED linear lighting, we will also consider COB LED strips in addition to LED aluminum profiles. Both aluminum profiles and COB light strips allow spot-free lighting from LED lights. What is the difference between them?
COB LED strip has a linear lighting effect due to high-density chips, so no additional diffuser is required. The COB LED tape is adhesively mounted and available in waterproof and non-waterproof options for indoor and outdoor use.
However, aluminum profiles are different. As an LED strip accessory, the aluminum profile can protect the LED strip and help dissipate heat quickly.
Aluminum profiles are rigid and not easy to bend, while COB strips are flexible and can bend easily.
The IP20 non-waterproof COB strip is exposed to the air on the PCB board, and the installation environment impacts the COB strip more. Overheating of COB strips can significantly reduce strip life. Adding an aluminum channel LED strip light dissipates heat and has a more beautiful installation effect.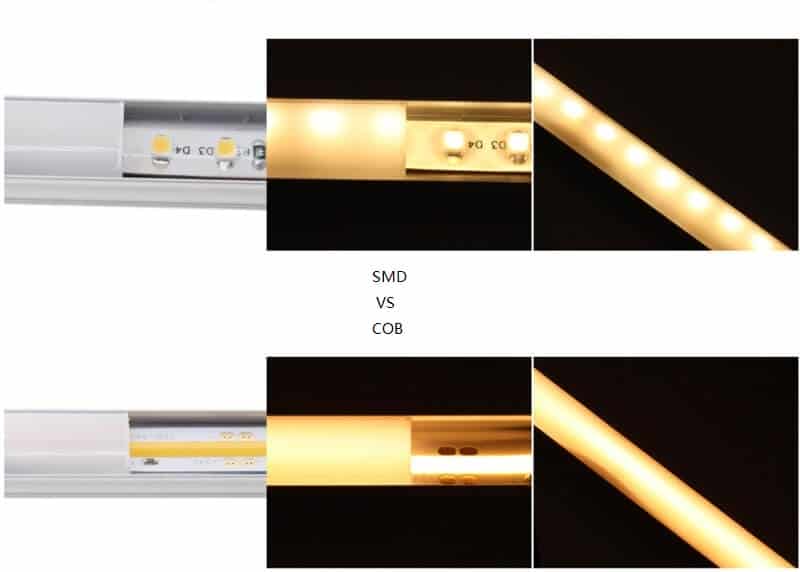 LED aluminum profile VS LED neon flex
Both neon flex lights and LED aluminum profiles can achieve no light spot effect. However, neon light is more flexible, bendable, and is IP67, widely used in outdoor decorative lighting.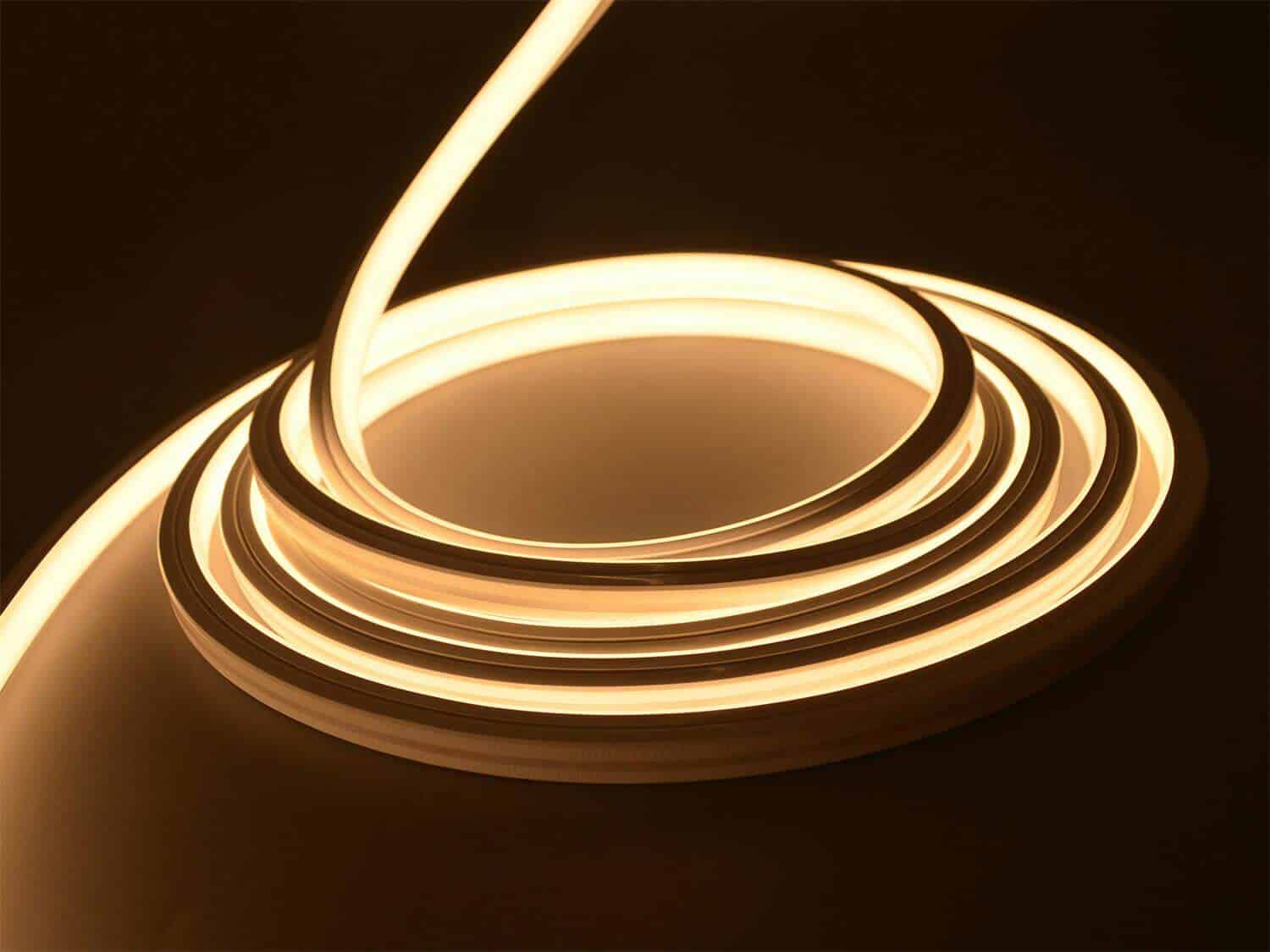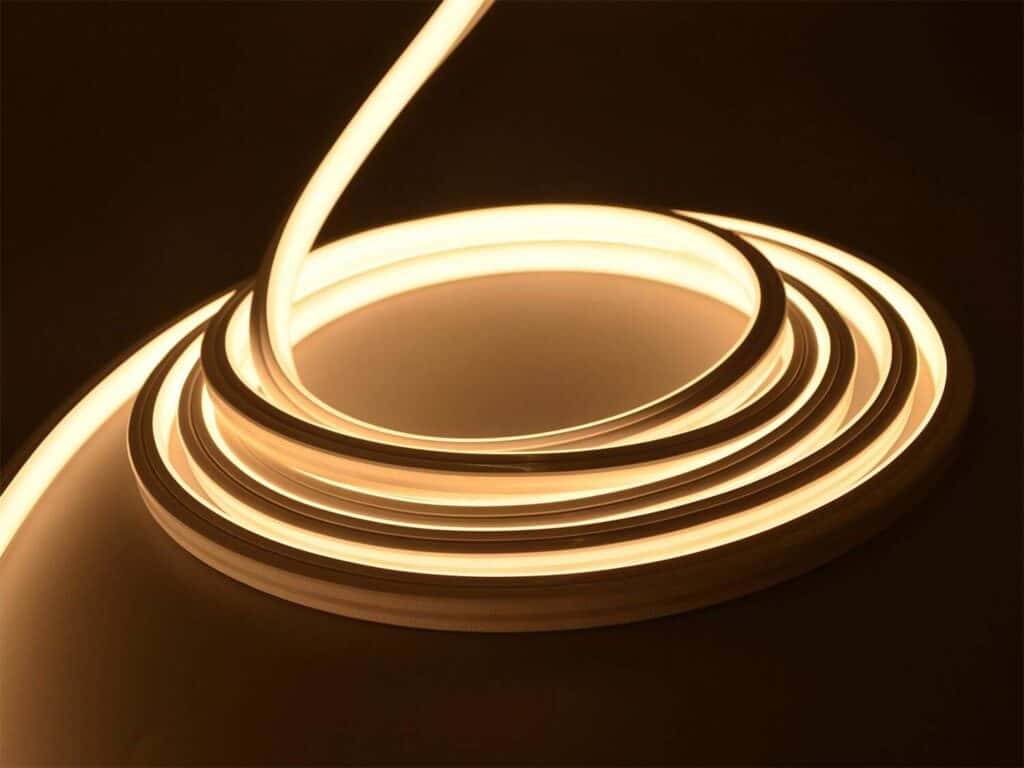 Aluminum Profile Extrusion Process
The use of aluminum extrusion in product design and manufacturing has increased significantly in recent decades. Today we'll discuss what aluminum extrusion is, the benefits it offers, and the steps involved in the extrusion process.
What is Aluminum Extrusion?
Aluminum extrusion is when aluminum alloy material is forced through a die with a specific cross-sectional profile.
A powerful ram pushes the aluminum through the die, and it emerges from the die opening. When it does, it comes out in the same shape as the die and is pulled out along a runout table. At a fundamental level, aluminum extrusion is relatively simple to understand. The force applied can be likened to the force you apply when squeezing a tube of toothpaste with your fingers.
As you squeeze, the toothpaste emerges in the shape of the tube's opening. The opening of the toothpaste tube essentially serves the same function as an extrusion die. Since the opening is a solid circle, the toothpaste will come out as a long solid extrusion.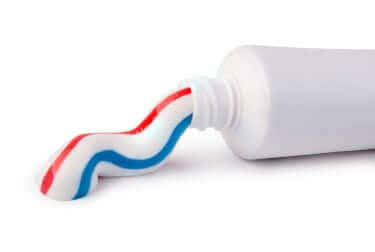 The Aluminum Extrusion Process in 10 Steps
We've divided the extrusion process into ten steps. Let's take a look at what they are.
Step #1: The Extrusion Die is Prepared and Moved to the Extrusion Press
First, a round-shaped die is machined from H13 steel. Or, if one is already available, it is pulled from a warehouse like the one you see here.Before extrusion, the die must be preheated to between 450-500 degrees celsius to help maximize its life and ensure even metal flow. Once the die has been preheated, it can be loaded into the extrusion press.
Step #2: An Aluminum Billet is Preheated Before Extrusion
Next, a solid, cylindrical block of aluminum alloy, called a billet, is cut from a longer log of alloy material. It is preheated in an oven, like this one, to between 400-500 degrees celsius. This makes it malleable enough for the extrusion process but not molten.
Step #3: The Billet is Transferred to the Extrusion Press
Once the billet has been preheated, it is transferred mechanically to the extrusion press. mBefore it is loaded onto the press, a lubricant (or release agent) is applied to it. The release agent is also applied to the extrusion ram, to prevent the billet and ram from sticking together.
Step #4: The Ram Pushes the Billet Material into the Container
Now, the malleable billet is loaded into the extrusion press, where the hydraulic ram applies up to 15,000 tons of pressure to it. As the ram applies pressure, the billet material is pushed into the container of the extrusion press. The material expands to fill the walls of the container.
Step #5: The Extruded Material Emerges Through the Die
As the alloy material fills the container, it is now being pressed up against the extrusion die. With continual pressure being applied to it, the aluminum material has nowhere to go except out through the opening(s) in the die. It emerges from the die's opening in the shape of a fully-formed profile.
Step #6: Extrusions are Guided Along the Runout Table and Quenched
After emerging, the extrusion is gripped by a puller, like the one you see here, which guides it along the runout table at a speed that matches its exit from the press. As it moves along the runout table, the profile is "quenched," or uniformly cooled by a water bath or by fans above the table.
Step #7: Extrusions are Sheared to Table Length
Once an extrusion reaches its full table length, it is sheared by a hot saw to separate it from the extrusion process. At every step of the process, temperature plays an important role. Although the extrusion was quenched after exiting the press, it has not yet fully cooled.
Step #8: Extrusions are Cooled to Room Temperature
After shearing, table-length extrusions are mechanically transferred from the runout table to a cooling table, like the one you see here. The profiles will remain there until they reach room temperature. Once they do, they will need to be stretched.
Step #9: Extrusions are Moved to the Stretcher and Stretched into Alignment
Some natural twisting has occurred in the profiles and this needs to be corrected. To correct this, they are moved to a stretcher. Each profile is mechanically gripped on both ends and pulled until it is fully straight and has been brought into specification.
Step #10: Extrusions are Moved to the Finish Saw and Cut to Length
With the table-length extrusions now straight and fully work-hardened, they are transferred to the saw table. Here, they are sawed to pre-specified lengths, generally between 8 and 21 feet long. At this point, the properties of the extrusions match the T4 temper. After sawing, they can be moved to an aging oven to be aged to the T5 or T6 temper.
What Happens Next? Heat Treatment, Finishing, and Fabrication
Once extrusion is completed, profiles can be heat treated to enhance their properties. Then, after heat treatment, they can receive various surface finishes to enhance their appearance and corrosion protection. They can also undergo fabrication operations to bring them to their final dimensions
Heat Treatment: Improving Mechanical Properties
Alloys in the 2000, 6000, and 7000 series can be heat treated to enhance their ultimate tensile strength and yield stress.
To achieve these enhancements, profiles are put into ovens where their aging process is accelerated and they are brought to the T5 or T6 tempers. How do their properties change? As an example, untreated 6061 aluminum (T4) has a tensile strength of 241 MPa (35000 psi). Heat-treated 6061 aluminum (T6) has a tensile strength of 310 MPa (45000 psi). It is important for the customer to understand the strength needs of their project to ensure the right choice of alloy and temper. After heat treating, profiles can also be finished.
Surface Finishing: Enhancing Appearance and Corrosion Protection
Aluminum profiles can undergo a number of different finishing operations. The two main reasons to consider these is that they can enhance the appearance of the aluminum and can also enhance its corrosion properties. But there are other benefits as well.
For example, the process of anodization thickens the metal's naturally-occurring oxide layer, improving its corrosion resistance and also making the metal more resistant to wear, improving surface emissivity, and providing a porous surface that can accept different colored dyes. Other finishing processes such as painting, powder coating, sandblasting, and sublimation (to create a wood look), can be undergone as well. In addition, there are many fabrication options for extrusions.
Fabrication: Achieving Final Dimensions
Fabrication options allow you to achieve the final dimensions that you are looking for in your extrusions. Profiles can be punched, drilled, machined, cut, etc. to match your specifications. For example, the fins on extruded aluminum heatsinks can be cross machined to create a pin design, or screw holes can be drilled into a structural piece. Regardless of your requirements, there is a wide range of operations that can be performed on aluminum profiles to create the perfect fit for your project.
For more detailed information, you can read this article.
Plastic Cover Extrusion Process
Plastics extrusion is a high-volume manufacturing process in which raw plastic is melted and formed into a continuous profile. Extrusion produces items such as pipe/tubing, weatherstripping, fencing, deck railings, window frames, plastic films and sheeting, thermoplastic coatings, and wire insulation. This process starts by feeding plastic material (pellets, granules, flakes or powders) from a hopper into the barrel of the extruder. The material is gradually melted by the mechanical energy generated by turning screws and by heaters arranged along the barrel. The molten polymer is then forced into a die, which shapes the polymer into a shape that hardens during cooling.
For more detailed information, you can read this article.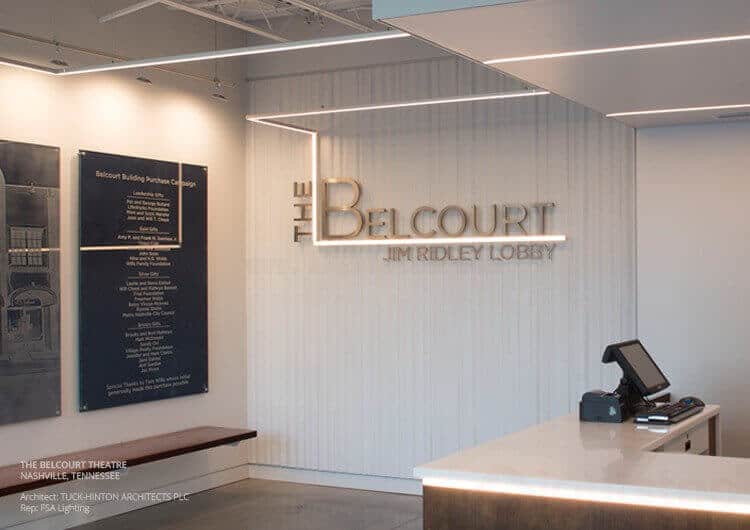 Why Choose LEDYi LED aluminum profiles?
LEDYi is a professional factory and has been engaged in the production of LED aluminum profiles for more than 10 years. We offer a variety of high-quality products, including LED aluminum profiles and LED strips. All our products are produced in strict accordance with strict quality standards.
200+ aluminum LED extrusions
LEDYi offers more than 200 hot-selling LED aluminum profiles. You can find the proper aluminum channels for your lighting project.
Fast delivery
We have a large stock of LED aluminum profiles, and most of the orders we can deliver within 3-5 days. Some particular styles, which we don't have in stock, we can deliver in about 12 days.
OEM & ODM service
For some lighting projects, the existing LED aluminum profiles can not meet. We can provide OEM and ODM services. You need to tell us your idea, and we will implement it for you quickly.
Technical support
We provide professional and timely pre-sale and after-sale service. Our experienced technical team will answer all your questions within 24 hours on working days.
FAQs
Conclusion
In conclusion, the many benefits of LED aluminum profiles make it the perfect choice for a wide variety of lighting applications. When making a purchase, be sure to consider the specific needs of your project and choose an LED aluminum profile that is best suited for the job. The LED aluminum profile will provide superior performance and long-lasting results with its many advantages.
LEDYi is a leading led aluminum profile manufacturer, factory, and supplier in China. We supply popular led aluminum profiles, led strip aluminum profiles, led aluminum channels, led aluminum extrusions, led diffuser, and led aluminum heat sink for high efficiency and low cost. All our led aluminum profiles are CE and RoHS certificated, ensuring high performance and a long lifetime. We offer customized solutions, OEM, and ODM services. Wholesalers, distributors, dealers, traders, and agents are welcome to purchase in bulk with us.
LEDYi manufactures high-quality LED strips and LED neon flex. All of our products go through high-tech laboratories to ensure the utmost quality. Besides, we offer customizable options on our LED strips and neon flex. So, for premium LED strip and LED neon flex, contact LEDYi ASAP!