The strategy of museum lighting is not the same as that of other commercial areas. It has unique lighting requirements to highlight the exhibits, keeping the general lighting dimmed.
When lighting up a museum, you need to focus more on accent lighting rather than ambient lighting. And for this spotlight, track light, wall washers, floodlights, etc., works best. Besides, troffer or other recessed lights are mostly used for general lighting. Display case lighting is another major part of museum lighting. In this case, LED strip lights work great. However, there are more considerations in choosing the ideal fixture for a museum, including – CCT, CRI, brightness, and more.
This article will give you complete guidelines on museum lighting, choosing the right fixture, ideas, techniques, tips, etc. Therefore, without any further delay, let's begin-
What Is Museum Lighting?
Museum lighting refers to lighting up the museums and art galleries where artworks, artifacts, and other objects are exhibited. The ambiance of the museum is different from other commercial locations. So, the lighting techniques and use of fixtures are also different. The museum mainly aims to exhibit unique objects, so accent lighting is crucial here. If you opt for museum lighting, keep the general lighting dimmed and focus more on accent lighting.
However, lighting styles and patterns differ depending on the museum type and exhibition category. For instance, when choosing lighting for artifacts or statues, you must be very careful as they are light-sensitive. Again, the color of the light you choose also greatly impacts the mood or ambiance of the area. To know more about these factors, keep reading.
Types Of Fixtures To Use In Museum
You can't just put any fixtures in the museum. These locations have specific lighting requirements that all fixtures can't meet. So, here I have listed some fixtures that suit museum ambiance the best-
LED Strip Lights
Whether general or accent lighting, LED strip lights work excellently for museums. You can use them on the ceiling as cove lighting, creating an indirect lighting effect. This type of lighting technique will cause no glaring issues, allowing visitors to enjoy the exhibition with full concentration. You can also use them to highlight the display cases with LED strips. Lighting the stairs of the museum with these fixtures is another brilliant idea. Check this article to learn the installation process- How to Install Stairway Lighting with LED Strip Lights?
Recessed Lights
Recessed lights are small in-built lighting fixtures that complement the simplicity of the museum best. You can use them all around the ceiling for general lighting. Besides, they are ideal for hallways and exhibition zones. However, you must check if the ceiling is insulated before installing these lights. IC-rated light is essential; to know more, check this- IC Vs. Non-IC Rated Recessed Light Fixtures.
Spotlights
Spotlights are used widely in museums to focus on artwork or other objects. These lights grab the attention of the visitors to specific objects. Usually, these lights have low beam angles that provide directional lighting. Spotlights are, in fact, the most popular category of lighting for museums.
Track Lights
Track lights are most popular in art galleries. These lights are adjustable; you can change the lighting direction. Such flexibility makes them suitable for exhibitions. Moreover, it gives a minimalistic and sleek look to the museum.
Pendant Lighting
You can also hang pendant lights in the museum's entry, hallway, or other open spaces. This type of designer fixture enhances the beauty of the space and makes it more attractive. They are, in fact, an art in themselves.
Wall Washers
Wall washers are excellent for popping up the special textures of your museums. You can also use them to highlight the artwork installed on the walls. They create an artistic ambiance that complements the calmness of the museum.
Considerations For Choosing Museum Lighting
As museums have different lighting requirements, you must study lighting considerations and facts to bring the best lighting output. So, here are listed the things that you need to know before slicing any light fixture for the museum-
Artifact Sensitivity
The artifacts exhibited in museums can be highly sensitive to light. This extent of sensitivity depends on the material of the artifacts. The intensity of light, exposure duration, presence of UV, IR rays, etc., can fade or deteriorate materials such as pigments, dyes, textiles, paper, and organic substances. So, you need to research the materials before installing any fixture. The chart below will give you an idea about the light sensitivity of different artifact materials-
Artifact Light Sensitivity
Light Sensitivity
Material
Very High
Parchment
Natural dyes
Textiles (e.g., silk)
Watercolors
High
Oil Paintings
Manuscripts
Moderate
Wooden furniture
Ivory
Low
Glass
Ceramics
Marble
Very Low
iron
granite
Plastics
Type of Fixture
Divide the museum into different zones to select the light fixture. You can choose LED strip lights, troffer lights, or other recessed lighting for general lighting. For accent lighting the art pieces, spotlight or track light work best. Again, to add designer fixtures to open spaces, pendant lights are excellent. However, whatever fixture you choose, ensure it goes well with the museum's interior.
Color Temperature
Color temperature plays a significant role in the total ambiance of the museum. Usually, the warm color of CCT 3000K is considered ideal for museums. However, these can vary for different types of museums. For instance, cool lighting works best for science museums, but warm lighting is preferable for art galleries. So, here is a list of color temperatures for different types of museums-
| | | |
| --- | --- | --- |
| Color Temperature | Tone Of Light | Category Of Museum |
| 2700K to 3000K | Warm White | Historical, Traditional, or Cozy Art Galleries |
| 3500K to 4000K | Neutral White | General Museums with Various Art Styles |
| 5000K to 6500K | Cool White to Daylight | Contemporary Art Galleries, Science Museums |
| 2700K to 6500K | Warm to Cool (Tunable White) | Diverse Range of Exhibitions |
To know more about color temperature, check this- How to Choose LED Strip Color Temperature?
CRI
CRI stands for 'Color Rendering Index.' It determines the accuracy of the color of objects under artificial lighting compared to natural light. The higher the CRI rating, the more accurate the color of the objects it shows. CRI is graded from 0 to 100. Museums and art galleries always go for CRI greater than 95. CRI 100 is best; this gives artwork proper visual and color accuracy.
Beam Angle
The spread of light depends on the beam angle of the fixture. It indicates the angle at which the light is emitted. The beam angle is essential for museum lighting, especially for focusing the exhibited objects. Light fixtures with wider beam angles light up a large area. These types of fixtures are used for general lighting.
In contrast, narrow beam-angled fixtures emit concentrated lighting. These are used for accent and focus lighting. Spotlights and track lights are great examples of narrow-angle fixtures. The chart below will give you an idea of the bean angle of different light fixtures and their usage-
| | | |
| --- | --- | --- |
| Types of lighting | Beam Angle | Application |
| Spotlights | 10°-20° | Accent lighting 3D shapes |
| Floodlights | 25°-35° | Texture lighting |
| Wide flood lights | >45° | Uniform light across the large surface area |
| Track Lighting | 15°-30° | Artwork Illumination |
| Wall Washers | 20°-60° | Vertical surfaces lighting |
| Pendant Lights | 15°-45° | Suspended art lighting |
| LED strip lights | 120° | Decorative and accent lighting |
Brightness
The museums usually have calm and dim lighting. So, too many bright lights are not used in museums. But depending on the availability of natural lighting and zones of the museum, the brightness of light defers. Besides, the product you exhibit at the museum also has varying lighting demands. For instance, painting or artwork needs deemed lighting, but in lighting big sculptures, you need to choose bright fixtures. However, the theme and mood of the area also matter in choosing the brightness. Yet, don't make the lighting too dim to bring a calm and cozy vibe. Make sure to provide adequate visibility.
| | |
| --- | --- |
| Museum Location | Recommended Illuminance (Lux) |
| Entrance to the Museum | 150-300 Lux |
| Corridors or Hallways | 100-200 Lux |
| Gallery or the Exhibition Area | 150-500 Lux |
| Sculpture Display | 200-1000 Lux |
| Paintings/Artwork Walls | 150-750 Lux |
| Historical Documents | 100-300 Lux |
NB: Consider the material of the artifacts before choosing the brightness of the gallery.
Glare Control
Light glare greatly hinders the viewing experience of the visitors. It can be created due to over-brightness or wrong placement of the fixture. As a result, it creates discomfort and makes it difficult to see details in artworks and artifacts. For this, you should opt for indirect lighting. Cove lighting with LED strip lights is an excellent option here. Using diffuser or frosted lenses on fixtures is another way to avoid light glaring. Besides, you can use anti-glare glass on display cases and frames of the museums. To know more about indirect lighting, check this- Direct Lighting Vs. Indirect Lighting.
Light Controlling Feature
Having bright lighting with greater light-controlling features can give the visitors an excellent experience. It will also help the museum authorities control the space's ambiance. For instance, you can change the intensity of lights based on the daylight variability. This will not only give you greater control but also reduce light wastage.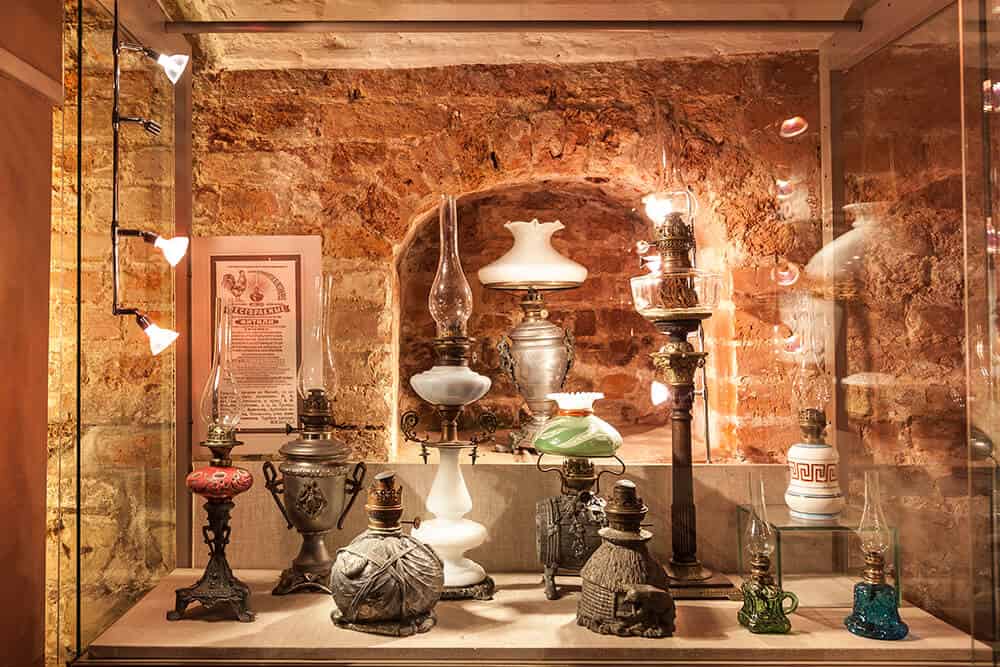 Lighting Solutions For Different Areas Of Museum
Museums can be divided into three major sectors based on the lighting requirements. These are as follows-
Display Lighting
Display lighting is used for accent lighting to highlight the artwork, sculptures, documentation, and other objects or structures of the museum. Spotlights, track lights, wall washers, floodlights, etc., are common lighting types for display.
Ambient Lighting
Ambient lighting refers to the general lighting of the museum. You can use LED strips, panel lights, troffer, or other recessed lights for ambient lighting. Ensure these lights are bright enough to create even uniform illumination throughout the museum space.
Exit and Entrance Lighting
The exit and entrance areas of the museum require adequate lighting for visibility and wayfinding. You can use motion sensor lights for these areas. This will prevent energy misusage. However, emergency lighting is also essential for these spaces that automatically activate as power cut-offs.
Why Use LED Lights For Museums?
There are different types of lighting technology, but LED lights are best for museums. Why? Check the below points to get your answer-
Energy efficiency: LED lights are highly energy efficient compared to other traditional lighting like incandescent or fluorescent. In comparison to other lighting, LED lights let you save about 80% of energy usage.
Better controlling: you will get advanced controlling features with LED lights that traditional options can't provide you. These fixtures allow you to adjust the brightness, color temperature, and more.
Versatility: LED lights are available in different shapes, sizes, and designs. This makes them ideal for any type of lighting requirements. You can use them for general tasks, accent, display, and energy lighting.
Durable: In commercial places, fixing bulbs frequently is a major issue. In this case, LED lights are a great option. They can last up to 50,000 to 100,000 hours. So, you need not worry about frequent repair or replacement.
7 Ideas For Museum Lighting
The basics of a lighting museum deal with highlighting the artworks or exhibited items in the best way possible. Yet here are some ideas using which you can create comfortable and aesthetic lighting for the visitors-
1. Use Warm Lighting To Illuminate The Sculpture Or Artifacts
You can use both cool and warm lights for sculptures or artifacts. Warm lighting can bring a more cozy and aesthetic appearance to the structures. The soft yellow glow of warm lights makes the sculpture's surface appear more smooth and flawless. As a result, they look more beautiful and appealing.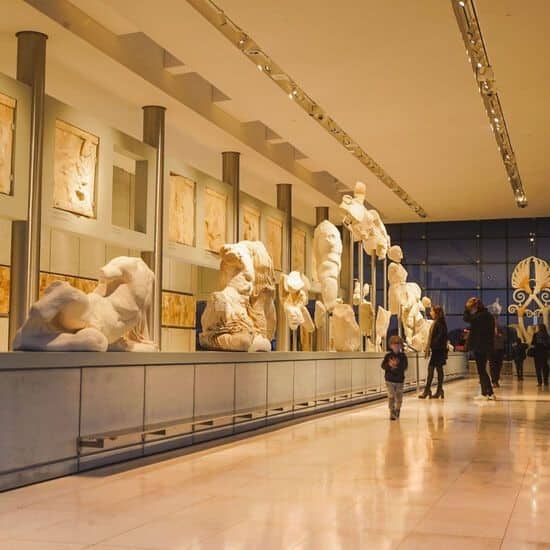 2. Lighting Up The Museum Stairs
The strait of the museum is usually wide and has open sides, allowing the visitors to take a peek at the surroundings as they go upstairs. Make the best use of these zones by adding LED strips. You can add these strip lights on the railing, step, or side of the staircase. Motion sensor lights are also an excellent option here. However, there are more creative ways to install these lights. Check this article to get more ideas for stair lighting- 16 Stair Lighting Ideas With LED Strip Lights.
3. Highlight With Track Lights
Track lights are excellent for highlighting the artistic pieces of the museum. You need to install the tracks on the ceiling and adjust the light toward the object you want to highlight. You can move the lights to different angles to get the best effect.
4. Integrate With Natural Lighting
If the architect of your museum facilitates sufficient natural lighting, make the best use of it. Any object looks its best in natural lighting. So, always give preference to sunlight. A glass ceiling/walls can bring the best output in this case. However, you can't fully depend on outer lighting. Install sufficient light fixtures that can illuminate the museum at night. In this case, adjustable or dimming light fixtures are best.
5. Place An Aesthetic Lighting Piece In The Centre Of Hallway
Another brilliant approach to museum lighting is installing designer or aesthetic light pieces in the hall's center. This creates a focal point for the space, making the area look more aesthetic. You can customize bulky light fixtures to bring a unique light piece to the museum.
6. Try Adding Colorful Lights
Most museums' lighting is limited to warm and cool white fixtures. But why not add colors to it? You can use color-adjustable ceiling or accent lights. However, the category and product you display in the museum matter here. Don't add too much color that looks irrelevant to the exhibited products. But you can always play with colorful floor lighting with LED strips. Choose a plain color, whether red, blue, or green. Install them outlining the floors. This looks great for all types of museums.
7. Light Up the Display Case
The display case is the main attraction of the museum. In these cases, the exclusive items are displayed. LED strip lights are the best lighting solution for display cases. You can create a lifted stage instance of the case and install an LED strip between it to create a floating effect. This will create indirect lighting for the displayed object.
Best Museum Lighting Suppliers
Accent lighting is what is needed the most for museums. In this case, spotlights, LED strips, display lights, and other accent lighting fixtures are what you need. So, here I've listed the top four lighting manufacturers that offer your suitable fixture for the museum-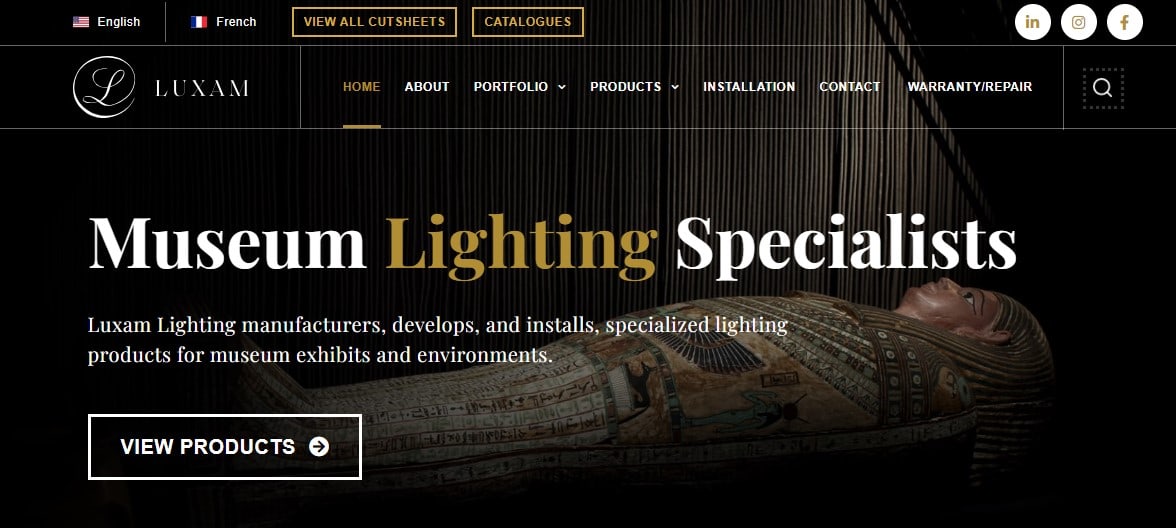 Establishing Year: 1995
Location: US, France, UK, UAE and China
Specialized in:
Display Case Lighting
Luxum is a light manufacturing company that produces lighting products for museums and exhibitions. They have provided lighting solutions to over 250 museums in 25 countries worldwide. Their product list contains two lighting categories- Fiber Optics Systems and LED Lighting Systems. The LED light product catalog includes- track lights, spotlights, wall washers, standalone stem fixtures, and more. In short, Luxum has all types of light fixtures that a museum requires.
Establishing Year: 2010
Location: Shenzhen, Guangdong, China
Specialized in:
LED Strip Lights
LEDYi is a Chinese LED strip manufacturing company that offers customized lighting. So, if you need LED strip lights for your museum, we can customize them. The ODM and OEM facilities we provide make our service fit for all types of commercial and residential needs. You can request the desired brightness, CRI, CCT, power consumption, length, etc. We will customize your lights as per your needs! Besides, we have a wide range of LED strip light options. I suggest you check out tunable white LED strip lights that fit best for the museum. For more options, check our product catalog.
Establishing Year: 20092009
Location: Guangzhou, Guangdong, China
Specialized in: Display Case Spotlights, LED Display Case Lights, LED Track Lights
Acevel is another renowned museum light manufacturing company. You will find innovative lighting solutions for museums, art galleries, showrooms, and retail stores here. They have showcase lighting, wall washers, gobo lights, focus lights, and a wide range of downlights for the museum. You will also find original light designs in their portfolio.
Establishing Year: 2015
Location: Tokyo, Japan
Specialized in:
Spotlight & Track Light
Salito is a Japanese light manufacturing company specializing in spotlights and track lights. Their lighting solutions are specially designed for museums, offices, hotels, bars, restaurants, and other commercial areas. Spotlights and track lighting are the most essential lighting for displaying museum products. So, if you need professional lighting solutions for the museum, Salito is an excellent option.
Tips for Effective Museum Lighting
Tip#1: Concentrate on vertical lighting
Vertical lighting works best to highlight the artwork. For this wall, the washer is an excellent choice. It creates a soft glow on the exhibit area that works great for accent lighting. Having adequate vertical lighting flooding through the walls provides sufficient general lighting, too. So, this will work both as accent and ambient lighting.
Tip#2: Use adjustable fixtures
Using adjustable fixtures like track lights gives you control over light direction. You can change the angles of lighting and highlight the areas you want. This also allows you to tailor the lighting to specific artworks or exhibitions. Besides, you can prevent artwork or artifact damage due to overexposure to light.
Tip#3: Choose warm color over cool lights
Warm color lighting gives a flawless appearance to the sculptures and artworks. Thus, your exhibited products look more appealing under warm lighting. Besides, it also creates a cozy and comfortable ambiance for the visitor to enjoy the exhibition.
Tip#4: Design based on the dark room
When designing lighting for a museum, start with a dark room and layer up light strategically. This will help to create contracts and direct focus on the artwork. However, the ideal brightness ratio between the exhibit and its surroundings is 1:5 to 1:10.
FAQs
The Bottom Line
In lighting up a museum, be wise in selecting the right fixture. Consider the material of the artifacts or artwork. For instance, oil paints, parchment, manuscripts, and natural dyes are light-sensitive. So, if your light fixture is too bright, it can damage the exhibits. Besides, consider the ambiance and natural lighting availability before installing any fixture. Check out Commercial Lighting: A Definitive Guide to learn more about commercial lighting.
However, if you are looking for LED strip lights for your museum, LEDYi is an excellent choice. We have various color and customization options to meet your needs. So, contact us ASAP!