Is the fixture you use for residential lighting suitable for lighting an industrial area? The answer is a big fat No. Industrial sites have different lighting requirements that you must know.
Production or manufacturing sections of mills and factories, warehouses, and other industrial locations deal with extensive dust, chemicals, oils, moisture, and more. Light fixtures require robust structures and advanced features to withstand such challenging environments. Some common features that industrial lights should have include- a water-sealed body, explosion-proof, and higher IK & IP rating. And all these make them different from residential or commercial lighting.
This guide will give you a complete guideline on choosing industrial lighting for your project. So, without any delay, let's jumbo into the discussion- 
What Is Industrial Lighting?
The lighting used in areas like mills, factories, warehouses, cold storage, food processing, or other industrious areas is termed industrial lighting. The fixtures used in these places are more robust in structure when compared to the regular lighting used in residential or commercial areas.
The environment of an industrial area is different from other areas. In these sectors, fixtures have to deal with massive dirt, dust, toxic chemicals, moisture, high pressure, etc. In some cases, lighting is also installed in explosive areas. Industrial fixtures are built stronger than regular lighting to withstand all these circumstances.
Types Of Industrial Lighting
Industrial lights have undergone a revolutionary change in lighting technology with the advancement of science. At present, most of the lights used in industrial areas are LEDs. However, there are more options to discuss on lighting types; these are as follows- 
High-Intensity Discharge (HID) Lighting
High-intensity discharge lighting, or HIDs, produces light by passing electricity through different glasses. HID lighting can be of different types based on the usage of these gases. These include-
Metal Halide (MH)
High-Pressure Sodium (HPS)
Low-Pressure Sodium (LPS)
Mercury Vapor (MV)
Ceramic Metal Halide (CMH)
This category of lights is popular for their bright illumination, long lifespan, and energy efficiency. You will find HID lights in industrial areas with high ceilings, like- warehouses, manufacturing plants, and gymnasiums.
Fluorescent Lighting
Fluorescent lights are a popular replacement for traditional incandescent lighting. The cool tone light color of fluorescent bulbs makes them ideal for areas where daylighting is required. You may find them in the production lines of mills & factories, workshops, or offices. Besides, they are available in different sizes, which makes them suitable for various industrial lighting needs. The most common variants of fluorescent lighting include- T5, T8, and T12.
Induction Lighting
Induction lighting uses electromagnetic induction to produce light. These types of fixtures are used for their high efficiency and long lifespan. Induction lights are mostly used in places like the garage and warehouses. They can glow up to 100,000 hours, which is impressive for any light fixture.
LED Lighting
LED stands for light-emitting diodes. It is the most trending technology widely used for its high energy efficiency and environment friendliness. Compared to traditional lighting like incandescent, LED uses 80 times less energy. It is the most versatile lighting type that is available in various shapes, sizes, and structures. The most common LED variants used in industrial areas are as follows-
1. High Bay Fixtures
High bay fixtures are designed for high ceiling areas; if your industrial space has a ceiling height of 20 feet or above, use these light fixtures. They have higher lumen ratings that ensure sufficient lighting from high altitudes. You can use these fixtures in high-ceiling storage rooms, workhouses, etc.
2. Low Bay Fixtures
Low bay fixtures are ideal if your space is small and not so high ( ceiling height is below 20 feet). These light fixtures have lower lumen ratings, perfect for small and low-ceiling areas.
3. Task Lights
Unlike bay lights, task lights are not used for lighting a wide space. Instead, they are installed to illuminate any specific spot or zone of your industrial space where you conduct any task. For instance, bay fixtures may give general lighting if you have a garment production floor. But there are directional light fixtures in the QC or quality check table. These are task lights; they help you to check the quality of the garments made in the production section. Downlights with moderate to high lumen ratings are used as task lights.
4. Area Light Fixtures
An industrial zone or establishment has different zones. Each of these zones requires lighting; it is not just about the warehouse—for instance, the garage area of your factory. You can't keep these areas dark. Area light fixtures are excellent choices for such spaces. You can use them in spaces like the parking lot, hallway, etc.
5. Floodlight Fixtures
Floodlights are the most popular outdoor lighting for industrial buildings. They are used both for decoration and security purposes. You will find them in the front gate or boundary wall of industrial establishments as night lighting. They are excellent for highlighting the special texture or sites of your area. Floodlights are mostly used with CCTV cameras to highlight the security factors. You will also find these floodlights in the stadium. To know more, check this- LED Stadium Floodlights Buyer's Guide 2023.
6. Streetlights
The streetlights you see are excellent for parking lots, roadsides, storage areas, and security lighting. These lights have higher IP and IK ratings, making them ideal for outdoor usage. You will find them in the pathways, parking lots, and other outdoor lighting of industrial properties. Bollard lights are excellent lighting in these categories. Check out this to know more- LED Bollard Lights Definitive Guide.
7. LED Strip Lights
LED strip lights are excellent solutions if you want smart and indirect lighting for your industrial areas. They give your space a modern and elevated outlook. You can use them for accent lighting areas where workers or employers prefer indirect lighting. These fixtures don't cause direct glaring and are available in higher IP and IK ratings that fit industrial requirements. They are super flexible; you can insert them into aluminum channels and use them over your production section. If you plan to light up your factory, China is the best option to order bulk quantities. Check this article to find China's best LED strip light manufacturer and supplier- Top LED Strip Light Manufacturers and Suppliers In China 2023.
8. Recessed Troffer Lights
Recessed troffer lights are excellent for general lighting of long production or other industrial spaces. They are installed in suspended grids or drop ceilings. These recessed lights give your space a clean and neat look. However, as they are inserted within the ceiling, insulation is a big factor to consider for recessed lighting. To keep your lighting and area safe (if insulated), ensure the lights are IC-rated. To know more, check this- IC Vs. Non-IC Rated Recessed Light Fixtures.
9. Safety Lights
Chemically active industrial areas like pharmaceutical, food processing, or other manufacturing sectors are more prone to explosion. To illuminate such areas, lighting with safety features is essential. These include- tri-proof lighting, shock-proof lights, explosion-proof light, ignition-proof light, etc.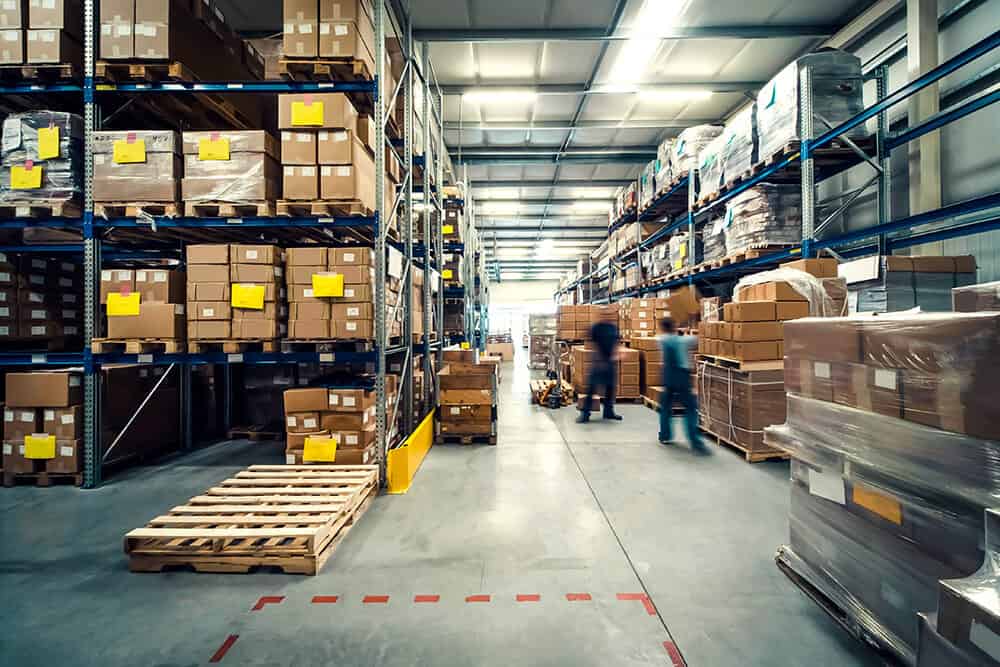 Benefits Of Industrial Lighting
Lighting is essential for visibility, which is known to all. But for industrial areas, you must use industrial-graded lighting. But why? Here are the reasons-
Increased Safety
The light fixtures used in industrial lights face many unfavorable situations. This includes oils, moisture, dust, toxic chemicals, high temperature/pressure, and more. If regular lights are used in such areas, they can create fire breakouts or get turned off suddenly. This will impact the production sections and can cause critical accidents, too. That is why industrial-graded listings are essential for safety.
Enhanced Productivity
Industrial lightings are specially designed for industrial environments. For instance, a regular light can't illuminate the whole space if you have a high-ceiling workhouse. Thus, the workers won't get sufficient lighting to do their tasks. In this case, you will need to install high-bay industrial lights. Thus, it can increase productivity and create a positive working environment.
Energy Efficiency
Industrial areas are illuminated 24/7. In this case, power consumption or the electricity bill is a major concern. But you can lower your electricity bills using industrial lighting solutions like LEDs. This can eventually cut down your overall production cost.
Improved Quality Control
To control the quality of industrial production, color accuracy, color temperature, etc., are essential factors. Suppose you are a QC officer of a garment factory. If your lights are low CRI rated, the fabrics' color will not come accurately. This can create a big issue in shipment processing; you may be charged with fines. But with the right industrial lighting, you will not face such issues.
Longevity
The industrial grade lighters are made more robust than regular lights. So they last longer, and you need not fix or replace them frequently. 
How To Select The Right Industrial Lighting?
Below, I am adding some crucial factors that you must consider when choosing any fixture for industrial usage-
Know Your Lighting Needs
Before placing any lights in our industrial area, you must know its lighting needs. The size of the space, ceiling height, and indoor or outdoor spaces are all important considerations here. Below, I am adding some light types for different ceiling heights of industrial spaces-
| | |
| --- | --- |
| Ceiling Height | Light Type Suggestion |
| Under 20 feet | Low bay lightRecessed troffer light Fluorescent fixtures |
| 20 feet to 30 feet | Linear High Bay LED LightsInduction High Bays |
| Over 30 feet | LED High Bay LightsMetal Halide High Bays |
Again, depending on the location, lighting types are also various, as outdoor and indoor areas have different lighting requirements. So, first, determine your lighting requirements and then purchase fixtures.
Consider The Fixture Type
The type of fixture usage depends on the location and environment of the industrial area. The fixture you need for a garments production floor is different from an oil refinery section. That is why you should choose the fixture type by considering its location. The chart below recommends various fixture types for different industrial spaces-
| | |
| --- | --- |
| Industrial Spaces | Recommended Fixture |
| Warehouses and Manufacturing Plants | High-Bay Lighting Fixtures |
| Workshops and Assembly Lines | Fluorescent Fixtures |
| Storage area or Machine Enclosures | LED Strip Lights |
| Laboratories and Cleanrooms | LED Troffer Lights |
| Automotive Manufacturing Plants | Linear High Bay LED Lights |
| Foundries and Metalworking Facilities | Metal Halide High Bays or LED High Bays |
| Textile Manufacturing | T5 or T8 Fluorescent Fixtures |
| Chemical Processing Plants, Oil Refineries, and Mining Operations | Explosion-Proof LED Fixtures |
Brightness Of The Light
Never install such lighting that can create irritation for the employees while working. Dimmed light will create visibility issues, but too much brightness is also not accepted. It will make the workers uncomfortable and can cause headaches. Getting the correct brightness level for different industrial locations would be best. The below chart will help you to choose the right brightness for your area-
| | |
| --- | --- |
| Industrial Locations | Suggested Lux level |
| Production Floors | 200 to 500 lux |
| Warehouses and Storage Areas | 100 to 300 lux |
| Loading Docks | 300 to 750 lux |
| Outdoor Areas | 20 to 50 lux |
| Emergency Exit | 10 lux or higher |
| Quality Control and Inspection Stations | 500 to 1,000 lux |
However, if you use LED strip lights for a storehouse, production line, or other space, this guide will surely help you- How To Make LED Strip Lights Brighter?
IK Rating
The light fixtures in industrial locations are more prone to get hit or face unfavorable contacts. That is why the IK rating of the light is a crucial consideration here. IK stands for 'Impact Progress.' It indicates the degree of protection your light fixture can give against mechanical impacts. The level varies from IK00 to IK10. Choose the IK ratings depending on the environment, location of the light, and risks of mechanical impacts. Check this guide to know more- IK Rating: The Definitive Guide.
IP Rating
IP stands for 'Ingress Progress.' It defines the degree of protection of your light fixture from solid and liquid ingress. Usually, industrial areas require a higher IP rating. However, these ratings will differ depending on the moisture content, dust, and first level. For instance, you can install low IP rating lights in the hallway or staircase of your factory. But for other sections, for instance, cold storage areas, a high IP rating is required; IP66 or IP67 is suggested. To know more about this, check- IP Rating: The Definitive Guide.
Energy Consumption
When it comes to energy consumption, nothing can beat LED lights. It uses 50% to 80% less energy than traditional incandescent or fluorescent lights. This is the most energy-saving option compared to HID, fluorescent, and induction lighting. On average, an LED light can produce 120 lumens per watt. This can exceed 200 lumens per watt for advanced or high-graded LEDs.
In contrast, induction lights produce only 80 lumens per watt. The lumen ratings of other forms, like fluorescent and HID, are much lower than LEDs. These factors make LED technology the most energy-efficient lighting form. So, choosing LED lights for your industrial location will save your cost on energy supply or electricity bills.
Durability
Would you like to repair or replace a light fixture at 30 feet ceiling height of your workshop frequently? Of course not. That is why durability matters the most in industrial lighting. If your light fixture suddenly turns off in the middle of a production procedure, the whole working schedule gets messed up. So, you must get high-quality and durable light fixtures for industrial lighting.
Consider Hazardous Location
Some industrial zones, mostly the hazardous ones, require specialized light fixtures. For instance, mines and oil refinery areas need explosion-proof light fixtures. Based on the elements and materials present or manufactured in the industrial areas, hazardous locations are classified into different classes (I, II, or III) and divisions (1 or 2). These classes and divisions are determined based on the area's danger. You should consider these factors before choosing any fixture. Besides hazard zones are divided into three types. The lighting requirements of these zones are as follows-
| | | |
| --- | --- | --- |
| Hazard Zone | Definition | Lighting Requirements |
| Zone-0 | Areas where an explosive atmosphere is continuously present or present for long periods | Explosion-Proof Lighting |
| Zone-1 | Areas where an explosive atmosphere is likely to occur under normal operating conditions | Flameproof Enclosures |
| Zone-2 | Areas where an explosive atmosphere is not likely to occur in normal conditions but, if it does occur, will only exist for a short time. | Increased Safety Fixture |
Safety Consideration For Industrial Lighting
Besides choosing industrial-grade safety fixtures, there are more points to note for safe industrial lighting. These include-
Install Emergency Lights
It can be risky if the light cuts off during any manufacturing procedure or chemical reaction. This can be caused by a fault in the fixture or a sudden power cut. In this case, you should have emergency or battery-powered lighting that glows as electricity goes off. Implementing this plan can save you from emergencies. For instance, a fire broke out in your factory, and the power went out. The workers inside won't be able to locate the exit route in the dark. An emergency light may help them get out of the building safely.
Minimum Light Glaring
In every workplace context, glare should be kept to a minimum. A brief loss of visibility due to glare could result in a major accident in high-risk locations when staff members control machinery or look up at racks. Consider the light lens design to avoid glaring.
Cord or Cable Management
The cords and cables of the lighting must be secured properly. As workstations in industrial areas are too busy, they may have higher chances of getting tripped over wires. This can create serious accidents. To avoid such situations, manage the light wiring and cables properly.
Proper Installation
What if the hanging fixture in your workshop suddenly falls over a worker? This can be too dangerous and life risky. So, you must contact a professional electrician to safely install all the fixtures in the industrial area. Learn about the proper techniques and install them accordingly. If you are lighting with LED strip lights, this guide will help you with the installation process – Installing LED Flex Strips: Mounting Techniques.
Health And Safety Standards For Industrial Lighting
There are some internationally accepted standards for industrial lighting that you must follow to ensure the safety of your area. These include-
According to OSHA, industrial lighting should have sufficient brightness to offer comfortable visibility. It also instructs about lighting installation in industrial zones. In the chart below, I have added the lighting requirements by OSHA for different industrial zones in the foot-candle. If you are not familiar with this lighting unit, check this article- Candela vs. Lux vs. Lumens.
| | |
| --- | --- |
| Industrial area | Lighting Requirements |
| General construction plants and shops | 10 foot-candles |
| General construction area | 5 foot-candles |
| First-aid stations, offices, and infirmaries | 30 foot-candles |
| Warehouses | 5 foot-candles |
| General underground work areas, including shafts and tunnels | 5 foot-candles |
| active storage areas, field maintenance areas, refueling areas, and excavation sites | 3 foot-candles |
| drilling, mucking, and scaling area | 10 foot-candles |
IES has given detailed information on the foot candle and the type of light fixture to use in different industrial zones. This will help you light up your area with appropriate fixtures and brightness. Check the chart below for details-
Industry
Application
Foot Candles
Recommended Fixture
Airplane Manufacturing
Drilling, riveting, screw fastening
75
High Bay
Final Assembly, hangar
100
Inspection
50-200
Welding
50
Automotive Manufacturing
Frame assembly
50
High Bay
Body & chassis assembly
100
Body parts assembly
100
Final Assembly, finishing, inspecting
200
Chemical Related
Chemical Works
50-100
Flat Panel
Clothing Manufacturer
Receiving, storing, shipping, winding, measuring
20-50
Flat Panel / Troffer
Pattern making, trimming
50-100
Shops, Marking
50-200
Flat Panel / Troffer / High Bay
Cutting, Pressing
100-500
Sewing, Inspection
200-500
Electrical Equipment Manufacturing
Impregnating
20-50
High Bay
Insulating coil winding, testing
50-100
Iron & Steel Manufacturing
Building, slag pits, Stripping yard
20
UFO / Hazardous / Flood
Motor Room, Machine Room
30
Paper Manufacturing
Beaters, Grinding
20-50
UFO
Paper machine reel, Inspection
100-200
Textile Mills
Cotton Picking, Carding, Roving, Spinning
50
High Bay
Warehouse & Storage
Inactive
5-10
High Bay
Active Rough Bulky
10-20
Besides the above two standards, there are more international industrial lighting regulations. These include- European Union (EU) Standards, International Electrotechnical Commission (IEC) Standards, National Fire Protection Association (NFPA), etc.
Maintenance Of Industrial Lighting
It is essential to maintain the industrial lighting properly to ensure it remains in good condition and lasts longer. So, here I bought you some maintenance tips for industrial lighting-
Regular cleaning: Industrial areas come in contact with dust, dirt, oils, etc. The accumulation of these things on the light fixture hinders the light from passing the lens. As a result, the brightness of the light is reduced. So, you must appoint workers to clean the lighting frequently, at least once every two months. However, be careful with wet cleaning; this can get very dangerous. Make sure the lights are turned off when cleaning.
Upgrade to LEDs: If the lighting of your factory/mill is fluorescent or other variants, switch to LEDs. The advanced technology of LED lights consumes less energy and is more durable. This will also give better lighting output and save your electricity costs! Above all, they are also good for the environment as they emit no harmful gasses.
Replace burn-out bulbs: The big industrial projects have hundreds of light fixtures throughout the area. It is very common to have burn-out fixtures here and there. Inspect them and replace the bulbs with new ones.
Test emergency lighting: What if the electricity of your factory suddenly went off, and you find out the emergency lights are not working? Disastrous, right? The emergency lights are designed to glow when the main power supply goes off; they don't turn on in usual cases. As a result, you won't know if they are damaged or having any issues until there are any emergencies. For this, regularly inspect them to see if they work.
Above all, ensure the appointed maintenance person is well aware of safety protocols when working with electrical components. You should train the maintenance personnel on inspecting, cleaning, and maintaining industrial lighting.
Industrial Lighting Vs. Commercial Lighting
| | | |
| --- | --- | --- |
| Criteria | Industrial Lighting | Commercial Lighting |
| Definition | The light fixtures built to withstand the challenging environment of mines, oil fields, manufacturing sections, and other industrial zones are termed industrial lighting. | The light fixtures used in commercial and retail stores are known as commercial lighting. |
| Purpose | Industrial lighting prioritizes safety, productivity, and efficient operations in production, manufacturing, or repairing zones. | The main purpose of commercial lighting is to produce a welcoming and appealing environment for clients, customers, and staff. |
| Type Of Light Fixture | High-bay lightsLow-bay lightsTri-Proof lightLED strip lightsFloodlightsArea lights, etc. | Recessed lightsTrack lightsNeon lightsPendant lights ChandeliersDecorative wall sconcesLED strip lights, etc. |
| Safety Level | High | Moderate |
To know more about commercial lighting, check this article- Commercial Lighting: A Definitive Guide.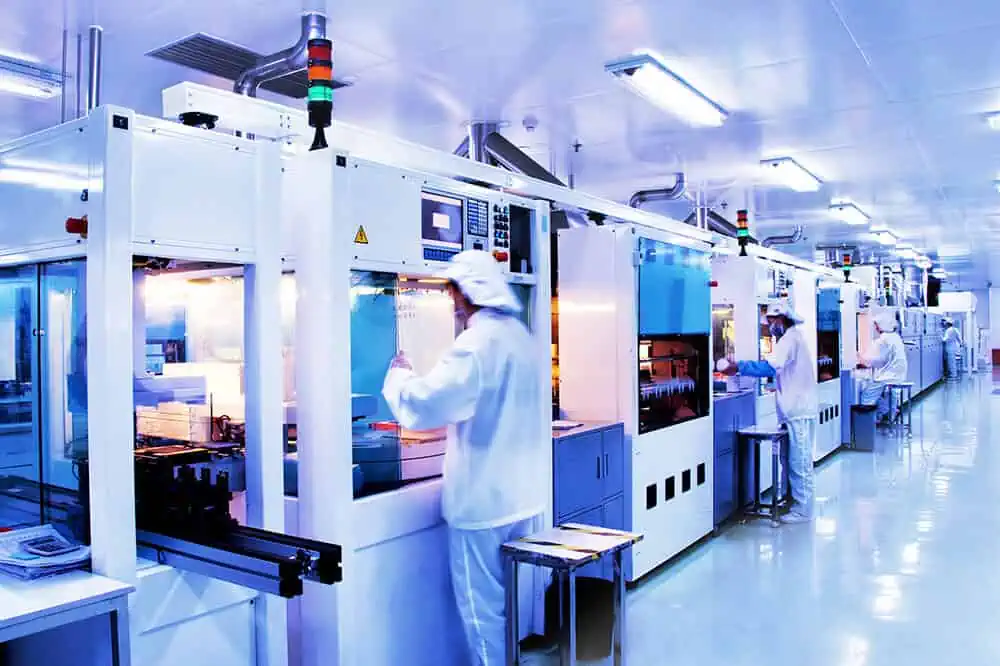 FAQs
The Bottom Line 
Industrial grading is essential for lighting industrial zones. Normal fixtures can't withstand such situations. This location deals with high temperature, pressure, toxic chemicals, exploration risks, etc. That is why you must carefully choose light fixtures for industrial areas. However, when it comes to light technology, LED is the best. They are highly energy efficient and environment friendly. For high-ceiling areas, bay lights are an excellent choice.
LED strip light is another lighting variant that you can use in some areas of your industrial zones. They are best for creating indirect lighting without any glaring issues. So, if you need LED strip lights for your project, contact LEDYi. We offer customization facilities for selecting IP ratings, power consumption, brightness, and more.