Are you a passionate RVer looking to upgrade your lighting system? Then, welcome to the complete guide to 12-volt LED lights for RVs. It is the ultimate resource for lighting your home on wheels in the most efficient and eco-friendly way possible!
Enhance your RV experience by upgrading your lighting system with 12-volt LED lights. Not only do they use less power than traditional incandescent bulbs, but they also provide a brighter and longer-lasting source of light. But with so many options available, choosing the right lights for your RV can be overwhelming.
That's why I've compiled this comprehensive guide to help you understand everything you need to know about 12-volt LED lights for RVs. So sit back, relax, and let me shed some light on the world of RV lighting!
What Are RVs?
RVs, or recreational vehicles, are motor vehicles designed to provide transportation and living quarters for people while they travel. RVs can range from small campervans to large motorhomes as long as a bus. They are often used for camping and road trips. They further provide other forms of traveling options with overnight staying facilities.
The three major categories of RVs are towable trailers, vehicle campers, and motorhomes. Among these three, motorhomes are the most popular variants of RVs. They are constructed on a motorized frame and can be moved autonomously. In contrast, towable trailers, such as pickups or SUVs, are made to be pulled by another carOn the other hand, truck campers are designed to fit onto the back of a pickup truck. Thus allowing for easy travel and quick setup at the campsite.
What Are 12-Volt LED Lights, and How Do They Work?
Light-Emitting Diode is referred to as an LED. The LEDs contain several circuits and emit light when an electric current flows through them. Different voltage levels are available for these fixtures. A 12-volt LED light, however, identifies the illumination devices that use a 12-volt direct current (DC) power source.
An LED light comprises several parts, including a motor circuit, a semiconductor device, and a heat sink. However, the LED's silicon component, where light is generated, is its core.When LEDs receive an electric current, electrons travel through the chip and release energy as photons (light). And this is how LEDs work and produce light. This exact mechanism is used in 12-volt LED lights. These are designed to be used with a 12-volt power supply and are commonly used in recreational vehicles (RVs), boats, and off-grid homes. Their low voltage operation is the major factor that makes them suitable for these applications. And because of this, they are safer and more energy-efficient than conventional high-voltage lighting systems.
Types of 12 Volt LED Lights for RVs
Several types of 12 Volt LED lights are available for use in RVs. I've discussed the interior and exterior lighting options for better understanding. So, check this out-
Interior RV LED Lights
The interior section of the RV can be divided into several sections. And each of these areas has unique lighting requirements. Therefore, I have brought you multiple 12v LED lighting options for other regions of RVs-
Ceiling Lights
12v LED ceiling lights are among the most popular lights for RVs. They can be mounted flush with the ceiling or remain suspended. Besides, they come in various sizes and shapes. Here are a few 12v LED ceiling lighting options for RVs-
LED Dome lights are ceiling lights. They are usually round or oval and provide general lighting for the RV interior. They are easy to install and can be switched on and off with a simple switch.
Pancake LED lights are a flat and low-profile type of ceiling light. Thus making them ideal for RVs with low ceilings. They are often flush placed to the ceiling and offer a broad, even spread of light.
Recessed lights are another option for RVs installed directly into the ceiling. They create a clean and streamlined look. These LEDs are excellent for creating an illusion of space in small areas like RVs.
LED strip lights are versatile 12 Volt LED lights that provide general and accent lighting in an RV. They come in long strips that can be cut to size and are easy to install using the adhesive backing. These strips offer you a wide range of options, including- monochrome, tunable white, dim-to-warm, RGB, and addressable LED strips.
Swivel lights are a type of ceiling light that can be adjusted to direct light in a specific direction. These LEDs are typically mounted on a swivel base that can be angled and rotated. You can use these lights on RVs ceiling as downlights.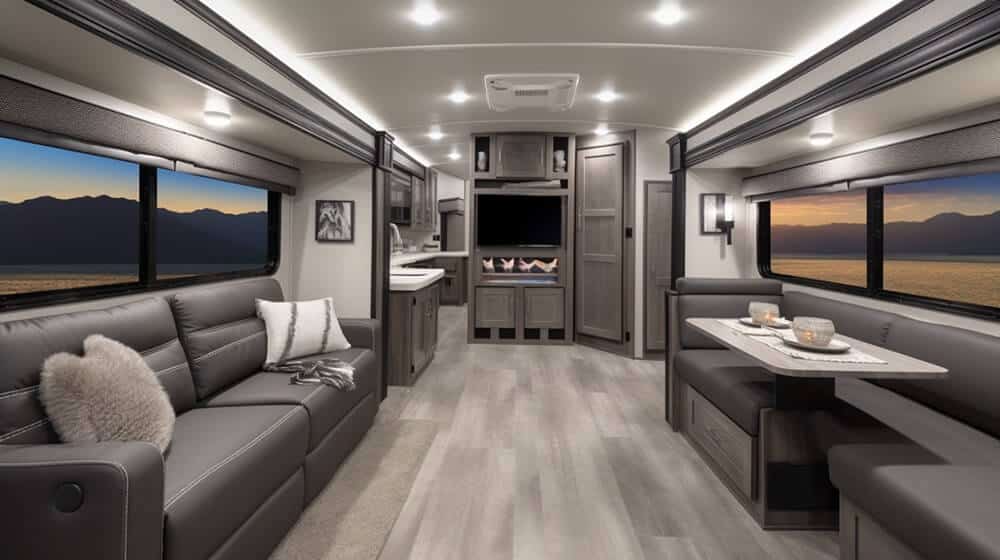 Under Cabinet Lights
You can use under cabinet lights to illuminate your RV's cooking area, workspaces, and storage compartments. Here are some lighting options for this purpose-
Puck lights are circular, flat, low-profile LED lights. They can be installed underneath cabinets and shelves of the RV. Moreover, They are perfect for lighting tasks in areas such as the kitchen, bathroom, or bedroom. They come in different sizes and shapes and can be dimmable.
LED Strip or tape, or ribbon lights are flexible, adhesive-backed LED strips that can be cut to size. They are ideal for illuminating more extensive areas, such as countertops or backsplashes of the RV. Strip lights come in various colors and can be dimmable.
Linear lights are long, narrow LED lights ideal for use under cabinets or inside RV closets. They are energy-efficient and have a long lifespan. Linear lights can be installed as standalone lights or connected to form a continuous light strip.
Recessed lights are flush-mounted LED lights installed into the ceiling or cabinet. They illuminate specific areas such as RVs, countertops, sinks, and workspaces. Recessed lights can be dimmable and come in different colors.
Magnetic lights are small, battery-operated LED lights that can be attached to any metal surface, such as the underside of a cabinet. They are portable and do not require any wiring. This makes them an ideal solution for temporary lighting in the RV.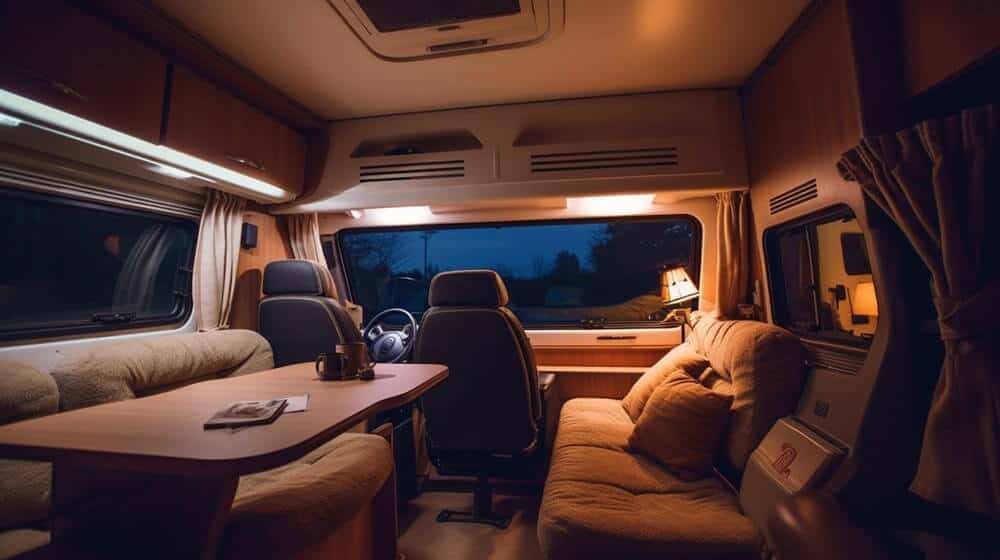 Reading Lights
Here are the different types of 12-volt LED reading lights commonly used in RVs:
Wall-Mounted Reading Lights
These lights are installed on the wall and typically come with an adjustable arm or gooseneck. It allows the user to adjust the direction of the light. Wall-mounted reading lights are ideal for use in bed areas. There the user can adjust the direction of the light to read comfortably.
Ceiling-Mounted Reading Lights
These lights are mounted on the ceiling and typically come with an adjustable arm. It allows the user to adjust the direction of the light. Ceiling-mounted reading lights are ideal for use in RVs where space is limited.
These lights are designed to be installed on the bed's headboard. They are similar to wall-mounted reading lights. But they offer more flexibility in positioning and direction. Headboard reading lights are ideal for RVs with limited space and no room for a separate reading area.
These lights are designed to be attached to a surface using a clip. They are small and portable, making them ideal for use in RVs where space is limited. Clip-on reading lights can be easily moved from one location to another. This makes them a versatile option for RV owners.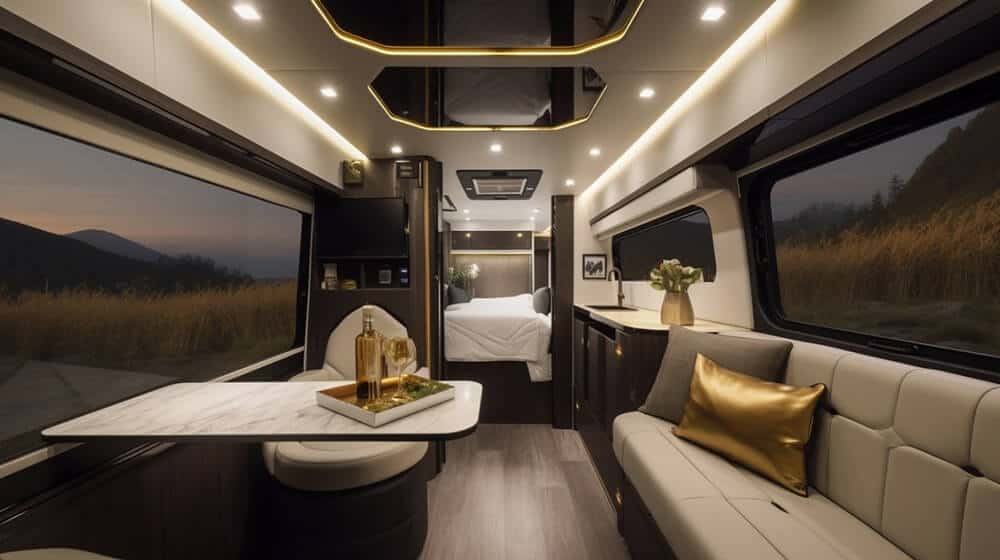 Decorative Lights
A decorative 12-volt LED light fixture can enhance the interior of an RV. RV ornamental 12-volt LED lights come in a variety of styles. Here are some of them:
RV owners frequently choose string lights because they can be either battery- or 12-volt outlet-powered. These lamps are available in various forms and lengths. Round, diamond, and even animal-shaped ones are among them. To create a comfortable ambiance, you can suspend these lamps from the roof or the awning of the RV.
Accent lighting is a fantastic way to add a splash of color or draw attention to a particular location in your RV. These lights come in various sizes and forms, such as tiny LED puck lights or wider LED strips. They can be used to emphasize decorative items, mirrors, or the outside of the RV.
RVs have step lamps to make staircases and steps safer. For stair lights, you can use LED strands or 12v recessed lights. These lights can be installed under the RV's exterior or on the steps to eliminate fall risks.
For RV restrooms, vanity lights are a common choice. These lights can be placed on the restroom mirror or the wall. Resulting in clear and concentrated illumination.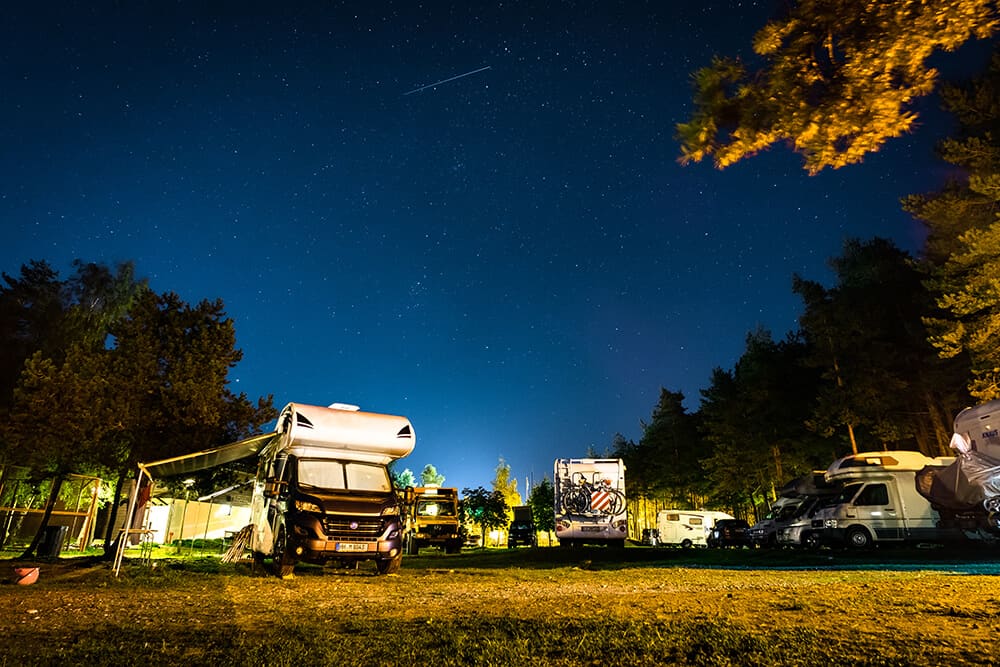 Exterior RV LED Lights
Popular types of Exterior LED lights for RVs include:
Patio Lights
Different types of 12-volt LED lights are commonly used for RV patio lighting. These are-
String lights are popular for RV patio lighting because they are easy to install and provide a warm, inviting glow. These lights are available in various colors and lengths. Additionally, these are ideal for outdoor use thanks to their waterproof features.
Another common 12-volt LED lighting choice for RV decks is spotlighting. They frequently draw attention to a specific space or feature, like a barbecue or a place to sit outside. Spot lights come in a variety of sizes and forms and are frequently movable. So you can focus the illumination in the precise way you need.
Using LED strips as patio lights enhance the outlook of the RV. They come in multiple light coloring options. For example- RGB LED strips work excellently to create a vibe, especially for outdoor parties. However, you can take the lighting game to the next level using addressable LED strips.
Security Lights
Several types of 12 Volt LED lights are available for security lights for RVs. These are-
Motion sensor lights are popular for RV patios because they provide security and convenience. They turn on automatically when motion is detected, so you don't have to fumble with a switch in the dark. They are often used to deter intruders or wild animals. And they can also be used as a safety feature for late-night walks to the restroom.
These lights provide a narrow, focused beam of light. It can highlight specific areas of the RV or surrounding area. Spotlights are often used for security as they can be aimed at specific areas to provide extra visibility.
These lights are typically mounted outside the RV and illuminate the RV's entryway. They can also help illuminate the area around the RV and signal to others that someone is present.
These lights are designed to be mounted on the RV's exterior near the door to provide extra visibility at night. They can be either motion-activated or manually operated. They are available in various styles and brightness levels.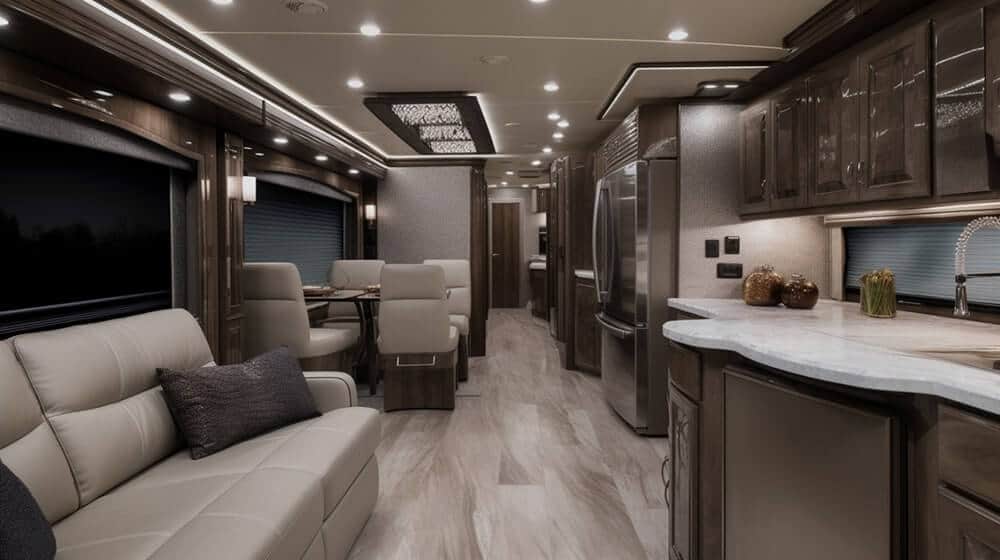 Backup Lights
Backup lights help the driver see what is behind the vehicle. Especially when reversing or parking in low-light conditions. Here are the 12-volt LED backup lighting options in RVs-
Surface-Mounted Backup Lights
These are RVs' most common backup lights. As the name suggests, they are mounted on the surface of the RV's exterior. And provide a bright white light for the driver to see what is behind the vehicle. These lights come in various shapes and sizes, including round, rectangular, and oval. This makes it easy to find one that fits the RV's aesthetic.
Flush-Mounted Backup Lights
Flush-mounted backup lights are similar to surface-mounted lights. But they are installed in a recessed hole in the RV's exterior. This gives a more streamlined and integrated appearance. However, flush-mounted lights are more difficult to install than surface-mounted lights. But they are an excellent option for RVers who want a cleaner look for their vehicle.
The underbelly of the RV is equipped with underbody emergency lamps. They shine light into the space behind the car. They can aid the motorist in seeing any dangers or obstacles that are occluded from view. And because of this characteristic, they are perfect for RVers who frequently place their vehicles on rocky or uneven ground.
Awning Lights
Some well-used awning lights for RVs are:
LED Strips
LED strips and flexible LED strands that are perfect for mounting on the RV awning's bottom. These lamps are frequently offered in a variety of hues. By using these pieces, you can personalize the appearance of your RV's external living area to suit your tastes.
Spotlights
On the outside of an RV, spotlights, which are directional LED lights, can be installed to provide focused lighting. These can be used as RV wing lamps to light up exterior dining or seating spaces.
Bulb lights
Flood lights, which are strong LED lights illuminating sizable regions, are perfect for spotlighting RV awnings. Installing them in the awning will give nighttime activities like dining or playing outside a brilliant and even light source.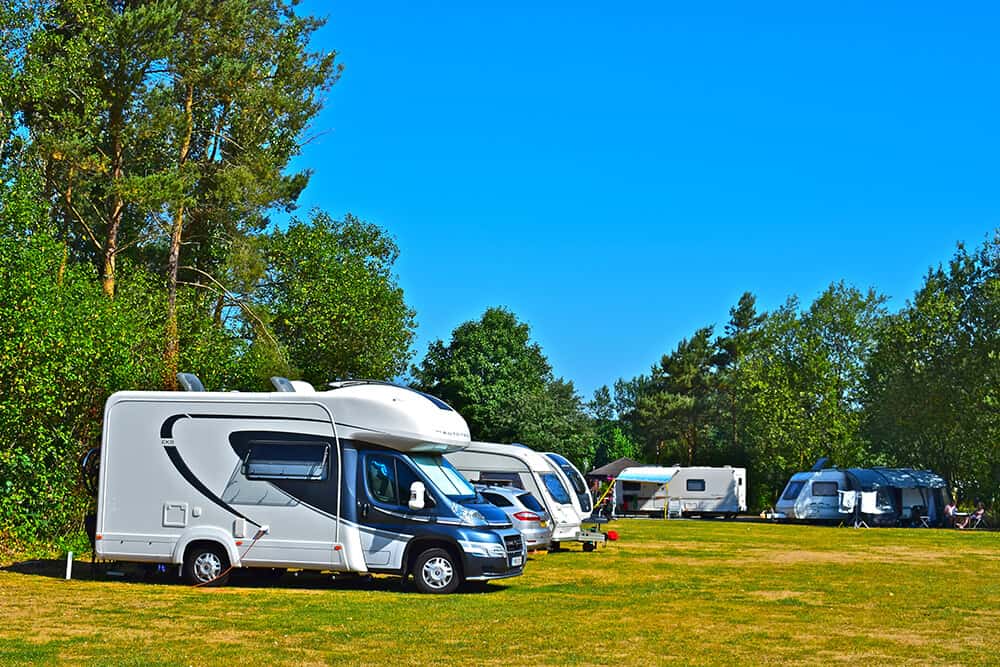 Advantages and Disadvantages of Using 12-Volt LED Lights
12-volt LED lights have advantages and disadvantages that you should know before installing them on your RVs. These are as follows-
Pros Of Using 12-Volt LED Lights
Due to their minimal operating power requirements, LED lights are very energy-efficient. They use less energy as a consequence, which lowers energy costs.

They consist of solid-state parts. They can withstand collisions, vibrations, and disturbances, in other words. They are consequently stronger and more resilient than conventional illumination choices.

Compared to conventional illumination choices, LED lights have a much extended lifetime of up to 50,000 hours.

LED lights are less expensive than conventional ones because they need less upkeep. Additionally, they lower upkeep costs because they don't need frequent light replacement or cleaning.

The carbon impact of these lamps is lower. Additionally, they don't contain harmful materials like lead or mercury that are bad for the atmosphere.

Different sizes, forms, hues, and IP classifications are available for LED lights. They are, therefore, perfect for illuminating both inside and outside.

Cons of Using 12-Volt LED Lights
In comparison to conventional illumination choices, LED lights are more costly. The starting expense of LED lights is higher, though. But over time, they are more affordable.
LED light color quality can differ, particularly in less expensive versions.
To operate, LED lights need voltage converters or controllers that are suitable for them. When replacing conventional illumination systems with LED lights can be difficult.
Despite the minimal heat output of LED lights, they still need adequate heat dispersion to avoid overheating. The lifetime of LED lamps may be shortened if the heat is improperly dissipated. For more information, please check LED Heat Sink: What Is It and Why It's Important?
It's possible that LED lights won't work with conventional dimmer controls. They need a unique silencing system, which can be pricey.
LED lights' blue light emissions can damage the eyes and interfere with slumber cycles. This is why it's crucial to use LED lights in the right conditions or to select LED lights with minimal blue light emissions. For more information, please check Advantages and Disadvantages of LED Lighting.
LED lights produce light in a single path with high directionality. This may work to your benefit in some situations, but it may work against you in others.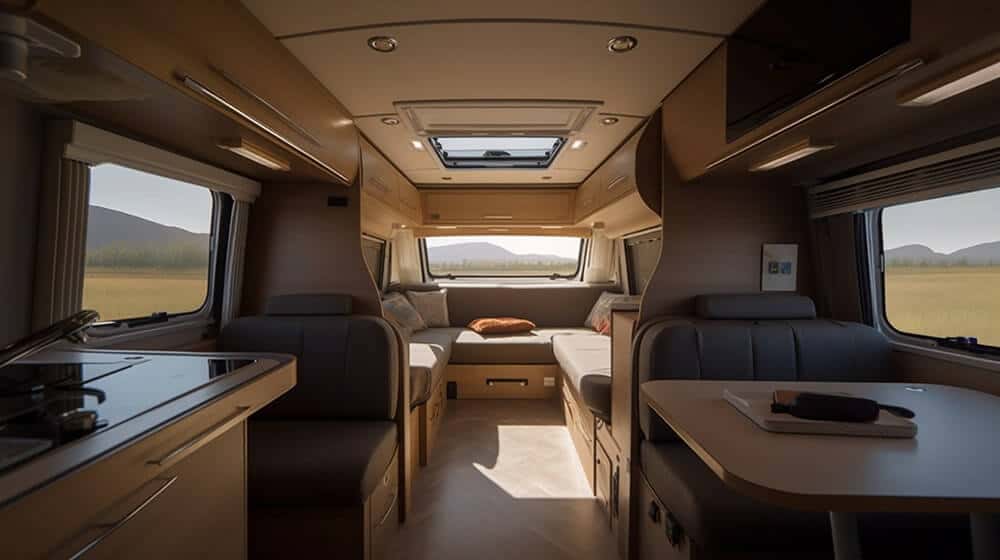 Why Are 12-Volt LEDs So Popular For RVs?
12-volt LEDs are highly popular for RV. Here's why:
Energy Efficiency and Cost Savings
The energy economy of 12-volt LED lamps is one of their main advantages. The heat produced by conventional light lamps wastes a lot of energy. Likewise, LED lamps almost entirely transform their energy into light. Therefore, they consume much less energy to generate the same quantity of illumination. They are, therefore, perfect for RVs because they must conserve energy.
The expense reductions that 12-volt LED lights provide are another important advantage. Initial costs for LED lights could be higher than for conventional halogen lamps. You will need to change them less frequently because they last much longer. This can save you a lot of money in the long run.
Longer Lifespan Compared to Traditional Lights
The 12-volt LEDs' lengthier lifespan than incandescent lights is one of their most important benefits. Conventional incandescent lamps have a notoriously short lifetime. They typically last between 750 and 2,000 hours before burning out. On the other hand, 12-volt LED bulbs have a considerably extended lifetime of between 25,000 and 50,000 hours. This implies you won't need to change your 12-volt LED lights as frequently as regular bulbs. For more information, you can check How Long Do LED Strip Lights Last?
Reduced Heat Emission
RVs are, first and foremost, frequently compact and constrained places. As a result, they can rapidly grow uncomfortable and warm if the car produces too much heat. Conventional illumination sources like incandescent lights produce a lot of heat. The climate of the RV as a whole may be affected by this. As a result, the interior of the RV could feel even hotter. This can be particularly troublesome in humid weather.
On the other side, when used, LEDs produce very little heat. They are much safer to use in cramped places like RVs because they are thought to be cool to the touch. The RV is not only more pleasant to be in thanks to the decreased heat output. However, it can also aid in extending the life of other RV parts. Electronics and cabling, for instance, can be heat-sensitive.
Ideal Voltage Ratings
Most RVs use a 12-volt power setup to run. The lighting and tools in the car must work with this voltage. The illumination system is tailored for the RV's power source using 12-volt LEDs. Better efficiency and dependability may result from this.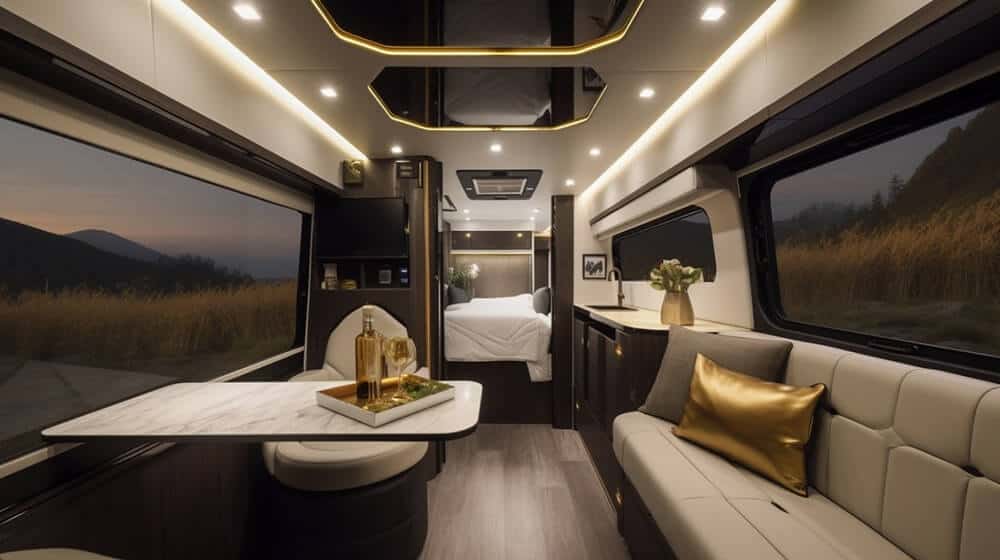 Factors To Consider When Choosing 12-Volt LED Lights for RVs
When choosing 12-volt LED lights for RVs, there are several factors to consider. Here are some key aspects to remember:
Lumens and Brightness
Before choosing 12 Volt LED lights, consider your lighting needs. Do you need bright lights for task lighting or softer lights for ambient lighting? Knowing your needs will help you choose your RV's lumens and brightness. Look for the lumens rating on the packaging of the LED lights you are considering. The higher the lumens rating, the brighter the light will be. The chart below shows the recommended lumen ratings for RV lighting-
| | |
| --- | --- |
| Purpose Of RV Lighting | Lumen Ratings |
| Ambient Lighting | 100lm – 200lm |
| Task Lighting | 200lm – 400lm |
LED lights are highly energy-efficient and can save your RV's energy bill money. Look for LED lights with high lumens per watt (LPW) ratings. This will ensure the efficient conversion of electricity into light.
Wattage & Energy Consumption
The wattage of an LED light refers to the amount of power it consumes. The higher the wattage, the brighter the light. When choosing LED lights for your RV, selecting lights with a wattage appropriate for your needs is essential. For example, if you're looking for task lighting in your RV, you may want to choose LED lights with a higher wattage. On the other hand, if you're looking for mood lighting, you may prefer LED lights with a lower wattage.
Color Temperature
The color temperature of an LED light can range from cool to warm. And it is usually indicated on the packaging or product specifications. Cool white LED lights have a temperature between 3100 – 5000K or higher and emit a bluish-white light. These lights are best suited for task lighting. For example, reading or cooking provides a bright, clear light that can help reduce eye strain.
On the other hand, warm white LED lights have a color temperature of 2700K to 3000K. Emitting a yellowish-white light similar to incandescent bulbs. These lights are ideal for creating a cozy and inviting atmosphere in your RV and are perfect for use in living areas or bedrooms.
Beam Angle
The beam angle refers to the spread of light emitted by the LED bulb, measured in degrees. A wider beam angle means the light is spread over a larger area. In contrast, a narrower beam angle focuses the light on a smaller area.
For RVs, the ideal beam angle depends on the purpose of the light. For example, if you need task lighting for reading or cooking, you may want a narrower beam angle of around 30 degrees to focus the light on the work area. On the other hand, if you want ambient lighting to create a cozy atmosphere, a wider beam angle of around 120 degrees may be more suitable. It will spread the light evenly throughout the space.
Size and Shape of Fixtures
The size and shape of the fixture should be compatible with the space available in your RV. Consider the room's size, the ceiling's height, and the placement of existing fixtures. Various types of fixtures are available for RVs. This includes overhead, wall sconces, reading, and under-cabinet lights. Each type has a different shape and size. Choose a type that suits your needs and complements the style of your RV.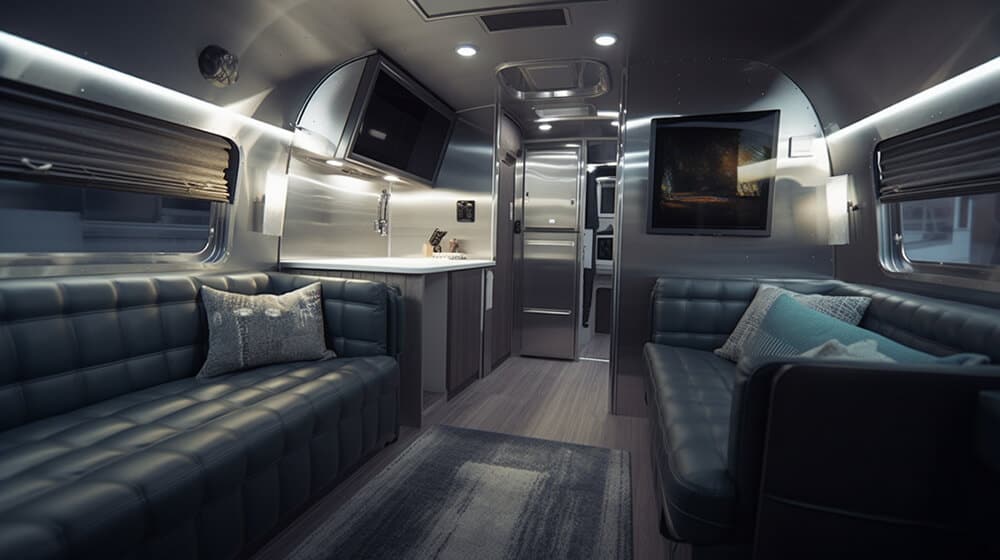 Compatibility with Existing Electrical Systems
Here are a few things to remember:
Voltage: Ensure that the LED lights you select can run on 12 volts. The power setup in most RVs is 12 volts. So, this should be okay, but it's always a good idea to double-check.
Wattage: Examine the LED lights' wattages if you're considering buying them. LED lights are much more energy-efficient than conventional halogen lamps. Higher-power LED lights can be used without taxing your electrical infrastructure.
Amperage: The highest amperage limit for each light fixture in your RV. This is the maximum secure amperage that the fixture can support. Ensure the amperage rating of the LED lights you select is less than the highest capacity of your fixtures.
Wiring: The cabling for your current fixtures may not be appropriate for LED lights. Therefore, ensure you have the wiring and connectors to attach the new lights correctly. For more information, you can check How to Wire LED Strip Lights(Diagram Included).
Dimming: If a dimmer switch controls your current lights, ensure the LED lights you select work with the dimmer switch. Check the specs closely because not all LED lights can be dimmed. For more information, you can check How to Dim LED Strip Lights.
Comparison of 12-Volt LED lights to Traditional Incandescent Lights
Let's examine the distinctions between conventional electric lighting and 12-volt LED lighting.
Energy Efficiency: Compared to conventional electric lights, LED lights are significantly more energy effective. They consume 10–20% less energy than conventional lights while providing the same lighting level. Large-scale lighting initiatives, in particular, result in substantial energy cost savings.
lifetime: LED lights have a much extended lifetime compared to conventional incandescent lights. An LED lamp has a modest lifespan of 25,000 to 50,000 hours. In addition, electric lamps only last 1,000 to 2,000 hours before they need to be replaced. As a result, LED lights need to be changed less frequently, which lowers upkeep expenses.
Heat Emission: Conventional lights produce a substantial amount of heat compared to LED lights. In confined areas, incandescent lamps can raise the temperature and necessitate extra cooling measures. LED lights, in comparison, feel much cooler to the touch and are, therefore, safer to use in various situations.
| | | |
| --- | --- | --- |
| Features | 12-volt LED lights | Traditional Incandescent Lights |
| Energy Efficiency | Highly energy-efficient and can reduce energy expenses by as much as 80–90% compared to conventional lights. | incredibly wasteful, producing illumination with only 5–10% of the energy used. |
| Lifespan | typically lasts between 25,000 and 50,000 hours, a lengthy time compared to incandescent lamps. | has a lifetime of just 1,000 to 2,000 hours, which is comparatively brief. |
| Heat Generation | Compared to conventional lights, they generate significantly less heat. | Produce a lot of heat, which can harm fittings and lampshades and pose a fire risk. |
| Cost | LEDs typically cost more upfront. But in the long run, they are more cost-effective due to the electricity and replacement expenses that they will save. | Although initially less costly, they end up costing more in the long run due to their high energy usage and limited lifespan. |
| Light Quality | Create a clear, brilliant, and constant glow that doesn't flicker or fade over time. | Give off a warm, yellowish light that can fade and fluctuate over time. |
| Environmental Impact | LED lights running on 12 volts is more ecologically favorable. They are recyclable and don't contain any harmful materials. | Traditional light lamps include mercury and other hazardous materials. Additionally, their energy use increases carbon gas pollution. |
So, considering all these factors, we can say that LED lights are a far better option than traditional incandescent lights.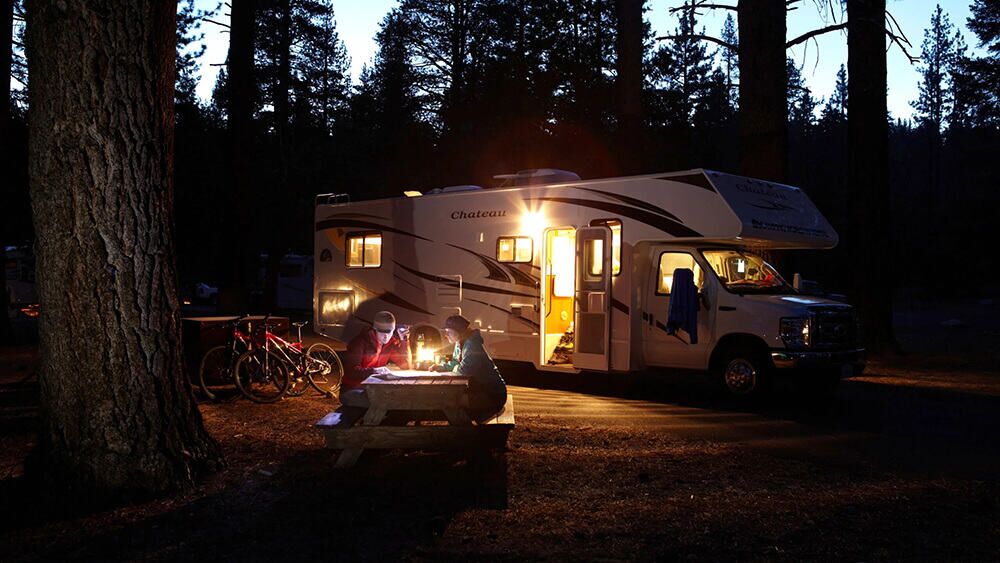 How to Install 12 Volt LED Lights in an RV?
Go through the below steps to install 12-volt LED lights in your RV-
Step 1: Choose your LED lights
Before installing the lights, you need to choose the type of LED lights you want to install. Many 12-volt LED lights are available, including strip, puck, and dome lights. Consider the area you want to illuminate and choose the lights that will work best in that space.
Step 2: Gather the necessary tools and materials
To install your 12-volt LED lights, you will need the following tools and materials:
Your chosen LED lights
Wire strippers
Electrical tape
Soldering iron and solder
Shrink tubing
Butt connectors
A power source (such as your RV's 12-volt battery)
Step 3: Plan the wiring
Before you start wiring your lights, planning the wiring layout is essential. Determine each light's placement and the wiring path to connect the lights to the power source. Ensure you measure the wire length required to connect each light to the power source and add a little extra to allow flexibility.
Step 4: Connect the lights to the power source
Once you have planned the wiring, you can connect the lights to the power source. To do this, you must strip the insulation off the ends of the wires that will connect the lights to the power source. Use a wire stripper to remove about 1/2 inch of insulation from the end of each wire.
Then, use a butt connector to connect the light's positive wire to the power source's positive wire. And the light's negative wire to the power source's negative wire. You can use a soldering iron and solder to make the connection more secure. Once the connection is made, cover it with electrical tape. And then, use a heat gun to shrink the tubing over the connection.
Step 5: Install the lights
Once you have connected them to the power source, you can install them in their chosen locations. Depending on the type of lights you have chosen, you may need to use screws, adhesives, or clips to attach the lights to the RV's ceiling or walls. Ensure the lights are securely attached and the wiring neatly tucked away.
Step 6: Test the lights
Once all the lights are installed, testing them to ensure they are working properly is essential. Turn on the power source and check each light to ensure it functions correctly.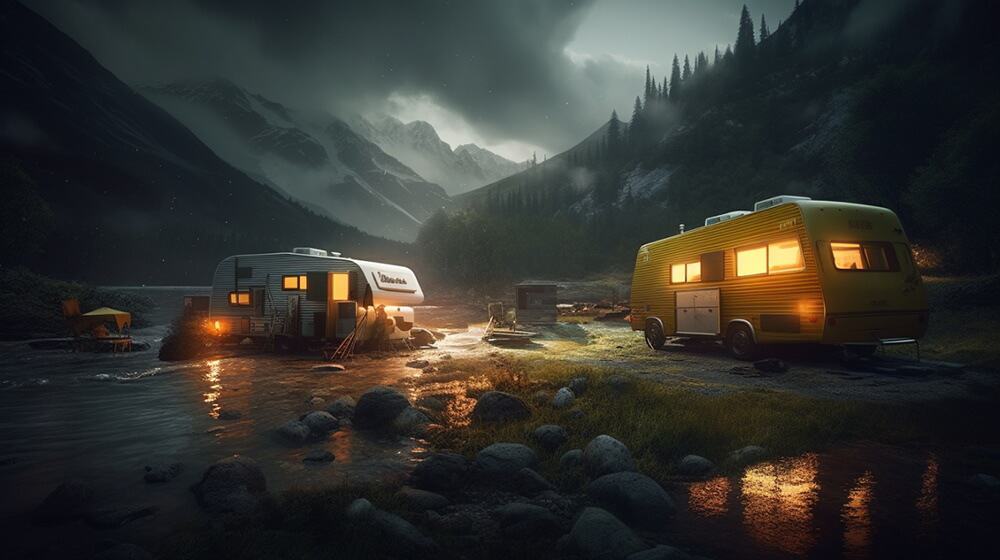 Tips for Maintaining and Cleaning Your 12-volt LED Lights
Here are some tips for maintaining and cleaning your 12-volt LED lights:
Switch off the power supply before you begin cleaning your LED lights. Electric shocks and mishaps will be avoided as a result.
Use a soft, lint-free towel to clear grit or grime from your LED lights. Abrasive or strong substances should not be used as they may scratch or harm the surface of the lights.
You can clear your LED lights with a mild cleaning solution if they are especially dirty. Apply a light layer of water and a gentle detergent mixture to the fabric. Make sure the fabric is only slightly wet before you wipe the lights.
Before restoring the power, fully dry the LED lights after cleaning them. To get rid of extra moisture, use a clean, dry towel.
Take the chance to look for any harm while washing your LED lights. Verify the connections are safe and check for cracks or other indications of wear and strain.
It's crucial to keep grime, foliage, and other objects off of your LED lights. This can guard against harm and guarantee their continued usability. Use a soft-bristled brush to remove any detritus you see carefully.
Avoid washing your LED lights with water that is under high pressure. The cabling or the lamps may be harmed as a result. Use a soft trickle of water or a wet cloth instead.
When not in use, keep your LED lights in a dry, calm location away from harsh lighting or temps.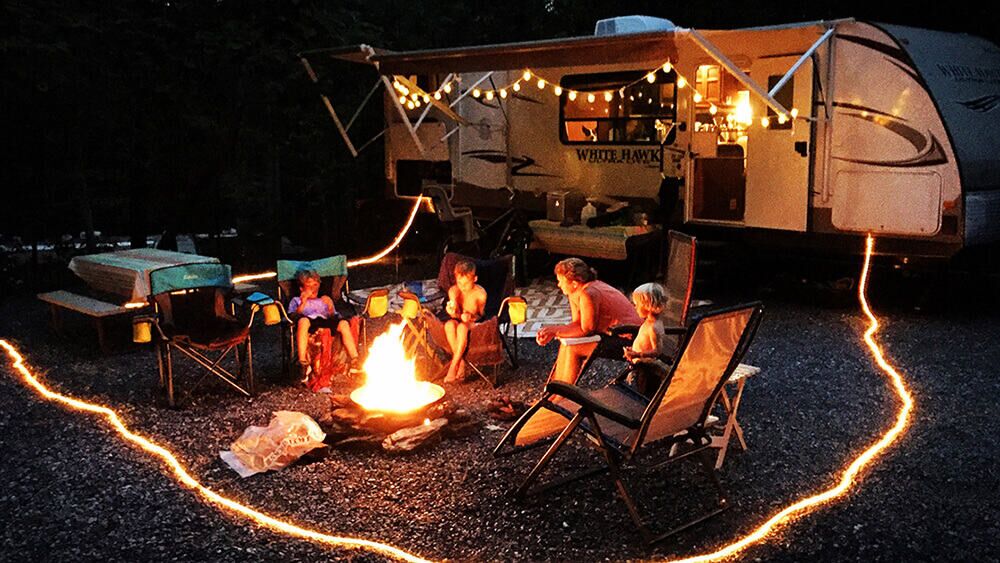 Best Practices for Using 12 Volt LED Lights in Your RV
Using 12 Volt LED lights in your RV can significantly improve energy usage. And create an optimal lighting environment for your travels. Here are some best practices to follow:
Tips for creating an optimal lighting environment in your RV: Make a list of the areas that require lighting and the amount of light needed. This will help you choose the right LED light fixtures and bulbs for your RV. Install LED lights in areas where you need focused lighting. It can be reading lights or workspaces. Besides, install dimmer switches to control the brightness of your LED lights and create the ambiance you desire.
How to optimize your energy usage with 12-volt LED lights: LED lights consume substantially less energy than incandescent bulbs. Choose low-wattage bulbs to save even more energy. Make a habit of turning off lights when you leave a room or when they are not needed. Consider installing solar panels to power your 12-volt LED lights. This is a great way to save energy and reduce reliance on your RV's battery.
Safety considerations when using 12-volt LED lights in an RV: Always choose high-quality LED lights to avoid electrical malfunctions and potential fire hazards. Avoid plugging too many LED lights into a single circuit. It prevents overloading the circuit and creating a fire hazard. Check your LED lights regularly for any signs of wear or damage, and replace them immediately.
Troubleshooting Common Issues With RV Lighting
Like any other electrical system, RV lighting can experience some issues. I will discuss some of the most common problems you may encounter with your RV lighting and how to troubleshoot them.
1. Bulb Failure
Bulb failure is the most common issue with RV lighting. Bulbs will eventually burn out and need to be replaced. If you're experiencing a lack of illumination in your RV, the first thing to check is the bulbs. To do so:
Turn off the power supply to the affected lighting fixture and carefully remove the bulb.
Check if the bulb filament is broken or has any visible damage.
Replace the bulb with a new one of the same wattage and type.
2. Wiring Issues
Another common issue is wiring problems. The electrical wires that connect the light fixtures to the power source can become damaged. Causing issues with the lighting system. If a fixture isn't working, check the wiring for any cuts, breaks, or fraying. If there is damage to the wiring, you'll need to replace the affected section. Or replace the whole wiring harness, depending on the extent of the damage.
3. Battery Issues
Your RV's battery powers the lighting system when you're not connected to shore power. So, if you're experiencing issues with your RV's lighting, it could be due to a dead or dying battery. Check the battery's charge level using a multimeter, and if it's low, charge it up to the recommended level. And if the battery is old and can't hold a charge, replace it with a new one.
4. Faulty Switch
If you're experiencing issues with a specific light fixture, it could be due to a faulty switch. Check the bulb and wiring; try replacing the switch if found okay. Turn off the power to the affected fixture and remove the switch cover plate. Now, carefully remove the switch from the wiring and replace it with a new one of the same type.
5. Fuse Problem
A fuse protects your RV's lighting system. If you're experiencing issues with multiple fixtures or your entire lighting system, it could be due to a blown a fuse. Check the fuse box for blown fuses and replace them with fuses of the same amperage.
6. Dimming Issues
If your RV's lighting is dim or flickering, it could be due to a voltage issue. Check the voltage at the lighting fixture to see if the battery is fully charged. If the voltage is low, there could be an issue with the wiring or battery connection. Check the wiring and connections for any damage or looseness and fix them as required.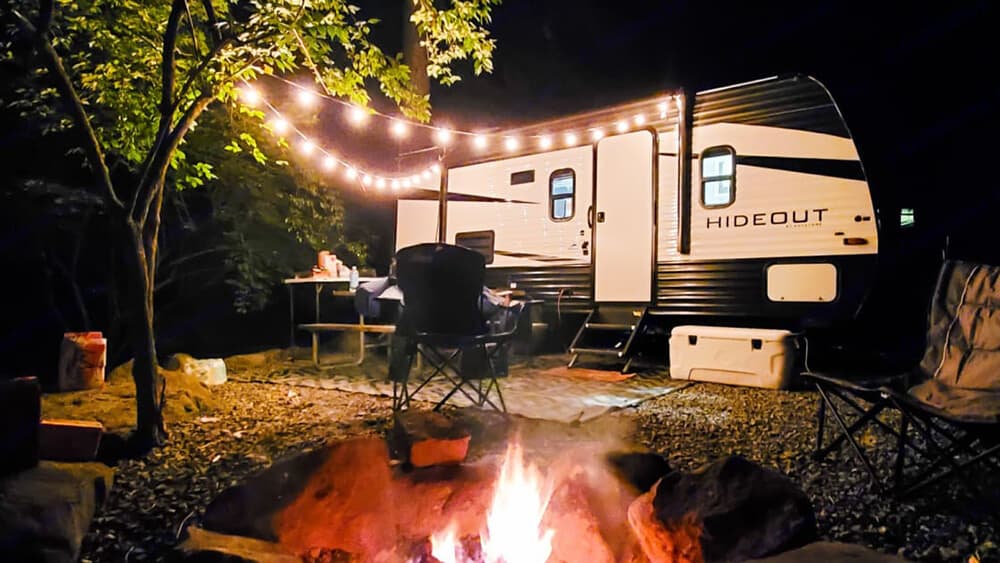 FAQs
Final Thoughts
Finally, LED lights have completely changed how we light up our recreational vehicles. They are energy-efficient and long-lasting. Additionally, they offer brighter and more colorful illumination than conventional electric lights. You can ensure you have the information and resources to improve your RV lighting system by following this guide to 12-volt LED lights for RVs.
And if you're looking for the best quality LED strip lights for your RV, look no further than LEDYi. We are a leading manufacturer of high-quality LED strip lights. LEDYi offers many options to suit any RV owner's needs. From interior lighting to outdoor lighting, LEDYi has got you covered. So why wait? Switch to LED lights today and take your RV adventures to the next level with LEDYi!