Having a fountain in your landscape is wonderful, but lighting it properly makes it look incredible. It offers visitors a more mesmerizing and captivating experience and makes the place memorable. That said, it takes a lot of thought and planning to light a fountain in a landscape to make it stand out. This article will explain everything there is to know about fountain lights and how you should go about it. So, let's just get to it.
What Are Fountain Lights?
Simply put, fountain lights illuminate water fountains in landscapes to make them even more appealing. Typically, fountains are the centerpiece of a landscape, which warrants adequate lighting to bring life into the space. In most cases, fountain lights are installed underwater, but some fixtures can also be used from outside.
Since these lights have to be subjected to water, there are certain specifications these fixtures must meet to provide optimal performance as fountain lights. For example, they must be waterproof, more durable, and withstand extreme temperatures. Installation of fixtures that do not have these features will lead to all sorts of problems.
Types of Fountain Lights
The fact that fountain lights have to be submerged underwater limits the options for the types of fixtures available. Still, thanks to the innovations in technology, there is a decent variety that you can choose from. The popular options include;
Spotlights
Spotlights project a concentrated beam of light to bring the fountain into focus. You can use multiple small spotlights around the fountains to turn the water piece into a masterpiece.
Pool Lights
Pool lights are designed to be submerged underwater for a long time. Typically, these lights are installed in the swimming pools but can also be used on the walls and floor of the fountains.
Recessed Lights
Recessed lights are installed inside the surface such that only the front part of the lights is visible while the rest of the body remains hidden on the surface. You can use recessed lights in fountains walls for illumination.
IP68 LED Neon Lights
IP68 LED neon lights are an excellent lighting solution for underwater environments due to their superior waterproof and corrosion-resistant capabilities. Not only can they withstand exposure to moisture and water, but they are also designed to provide uniform linear lighting with no visible hot spots. This makes them ideal for creating smooth and seamless lighting effects in water features and pools, without compromising on the quality of the light output.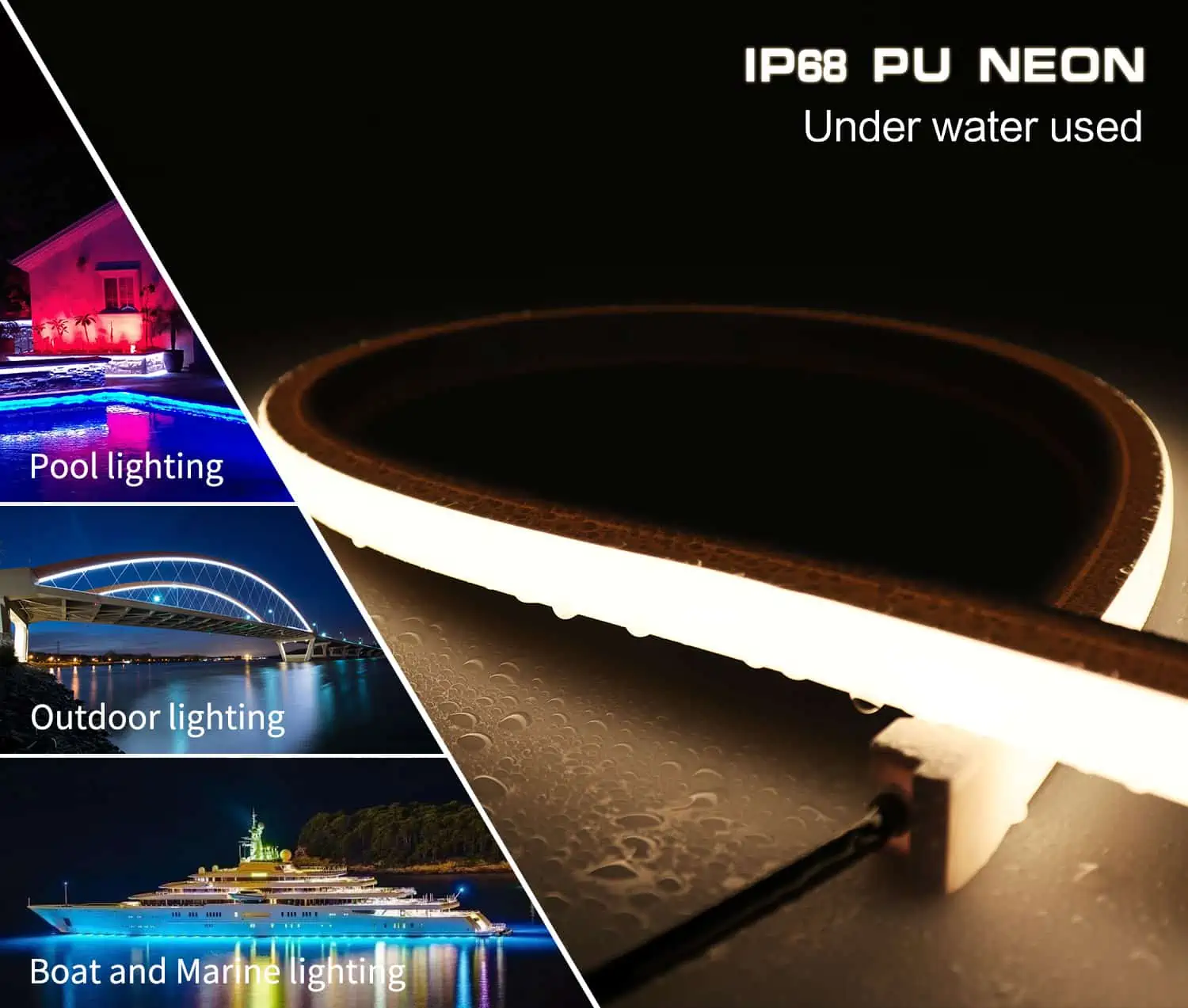 Factors To Consider While Designing Fountain Lights
While designing fountain lights, there are some factors that must be considered. These include;
Fountain Size and Shape
The size and shape of the fountain will impact the number and placement of lights required to achieve the desired lighting effect.
Power Source
The power source available at the fountain location will determine the type and size of lights that can be used.
Types of Light
You have three basic options to light your fountain: incandescent bulbs, halogen bulbs, and LEDs. While incandescent and halogen bulbs are inexpensive, they are not ideal for fountain lights. You may resource the fixtures inexpensively, but they draw too much power and have subpar durability. Essentially, you would end up paying higher energy bills and have to replace fixtures every few months.
On the other hand, LEDs have a higher upfront cost, but these are more durable, cost-effective, and energy efficient. You will have a decent sum on energy bills by employing LED solutions for your fountain. Furthermore, LEDs are flexible, so you will get various options to create a nice-looking design.
Environmental Factors
Environmental factors such as wind, water spray, and humidity levels will impact the durability and performance of the lighting fixtures.
Control System of Lights
Fountain lights are designed to improve the aesthetics of the landscape, which means you will want to tweak them every now and then to prevent monotony. You get control systems for traditional light types, including incandescent and halogen fixtures, and modern light, like LEDs.
You will get two types of control with halogen and incandescent fixtures. One includes adjustable intensity, which means you can control how bright the light looks. The second option does not offer much control besides allowing you to turn them on and off. These types of lights have not remained as popular as they used to be due to this lack of control.
In contrast, LEDs offer various controls based on the type of fixture you pick. For example, smart LEDs allow you to change the color, temperature, frequency, and everything in between. You can change how the fountain lights look whenever you want with a touch on a smartphone or the remote control.
Color of Fountain Lights
Adding colors to fountain lights will make the structure look even more appealing and give it an artistic touch. Thanks to the variety in LEDs, you can pick between a range of color temperatures which allows you to control how it influences the mood of the visitors. Let's take a look at some of the popular color temperatures and how they influence your mood.
White Lights
White lights are the most common because they offer a clean look. While using this light, you must ensure it is not too bright. Otherwise, it will distract the viewers from the fountains and strain their eyes. You must install it to complement the water flow, not overshine it.
Blue Lights
The common shades of blue lights used in fountains include light blue, blue-green, and deep blue. All these colors look great with fountains, so the choice comes down to personal preferences. While using these colors, you should practice caution about mixing them with the background. The lights should not be too bright to hide the background.
Otherwise, blue is an excellent color that offers a calming effect and enhances the ability to focus.
Orange Lights
Orange shades are not for everybody, but they are excellent options for people who want to make a bold statement. The popular shades of orange include red-orange, dark, and neon. Using these shades for your fountain lights will provide an energetic light, which is excellent if you hold many events in your landscape. Furthermore, this color also makes the people feel more alert and brighten up the surrounding areas, enhancing overall safety.
Maintenance Requirements
The maintenance requirements for the lighting fixtures must be taken into consideration to ensure long-term performance and reliability.
Budget
The budget allocated for the project will impact the selection of lighting fixtures, as well as the number and placement of lights required to achieve the desired lighting effect.
How To Appropriately Light Fountains?
Now that you know the basics of fountain lighting, let's take a look at some of the steps you need to take to light it appropriately.
Thorough Planning
While lighting fountains, you must plan thoroughly and understand each feature's role in a light. For example, the different shades of light can influence moods differently. You can select the right color only if you know the vibe you want to create around the fountain. Going with orange lights and wanting to have a calm atmosphere would not go well together.
Select The Effects
Provided that you pick the LEDs for the fountain lights, you will have three options which are mentioned earlier. Each of those fixtures creates a specific effect. For example, the spotlights will have much more focused and concentrated light, whereas pool lights will be mild. You have to pick the effect based on how you want the fountain to look.
Select The Right Color
Color plays a major role in influencing the mood of a place. You should pick the color based on the mood you want to create around the fountain. For example, if you host many parties in your landscape, going with orange options is an interesting prospect. However, if you use the landscape as your resting spot where you want to enjoy a moment of calm, the blue or white lights can be excellent options.
The best option is to use smart LEDs, which let you switch colors. However, these lights are expensive, which does not make them suitable for everybody.
Placement of Lights
The last step is to understand the dimension of fountains and install fountain lights accordingly. You must pick the fixtures according to the size and shape of the fountain. Remember, the lighting in fountains should be discreet because otherwise, it will not look as aesthetically pleasing. Furthermore, you have to be careful about the wiring too. Ensure that no parts of the wiring are visible and it does not endanger the people walking or sitting around the fountain.
How To Install and Maintain Fountain Lights
Installation and maintenance of fountain lights are not much different from landscape lights. The wiring should be underground, and the fixtures' components should be checked occasionally to ensure everything works smoothly. That said, there are some things that you should take into account while installing the fountain lights. These include;
Depth
Depth influences what type of fixtures you should use for fountain lighting. As the water gets deeper, it spreads the light beam and diminishes its effect. Thus, installing underwater lights in a fountain with a water depth of more than 4 feet would not make sense. You should instead go with options used around the fountains' walls. In contrast, underwater lights will work best for shallow waters.
Clarity
Clarity also influences the type of fixture you should use and the required maintenance afterward. If you have installed underwater lights, the water must be clean to produce the desired effects. However, if the fountain is particularly a magnet for debris, it is better to use options on its sides.
Movement
While installing fountain lights, ensure that its beam is not too strong to overpower the view of water flow. In simple terms, the light should not pass through it.
Fountain Lights In Public Spaces
Fountains in public spaces can be lit to attract more audiences. The fountain dance next to Burj Khalifa in Dubai is the perfect option for it. While you may not be able to install a fountain of such scale, it gives an idea of its effectiveness. You can install them in public spaces to improve the property's value and drive more audience, which is particularly helpful if the space is commercial.
Fountain Lights For Private Use
Lighting a fountain in domestic spaces also offers similar benefits. It will improve the property's value and make it memorable for visitors. You can also hold parties around it to charm the guests or use the space to relax at night after a hectic day at work.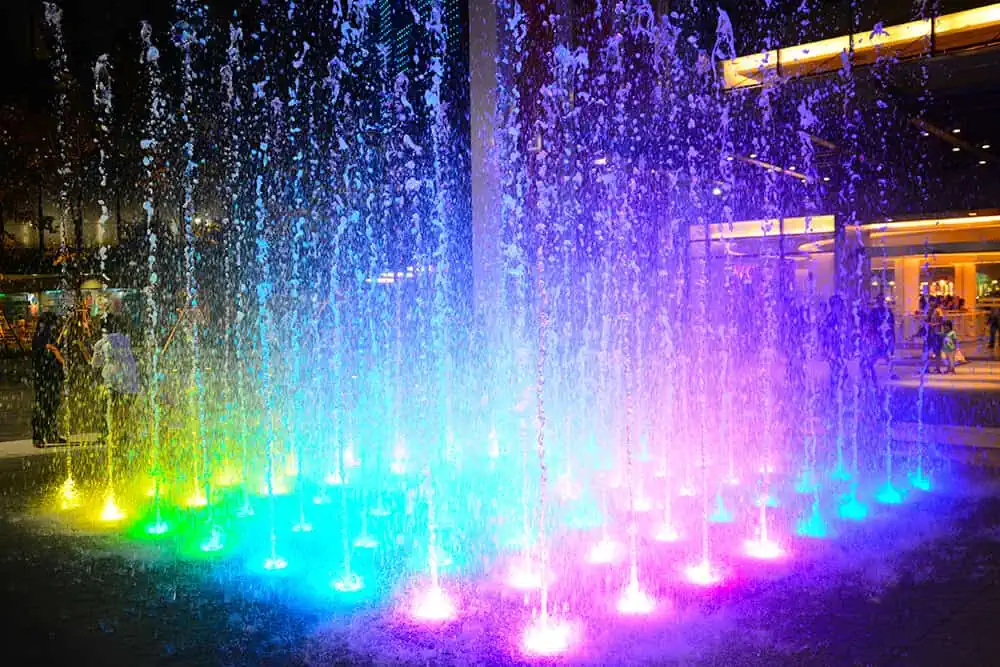 FAQs
Conclusion
Fountains lights have the potential to completely change the look of a landscape by bringing life to it. In addition to aesthetic benefits, the fountain lights make the property more valuable and add a layer of security. However, it is important to get the details right to get all these benefits. You will have to consider several factors, which hopefully have been explained in this article.
LEDYi manufactures high-quality LED strips and LED neon flex. All of our products go through high-tech laboratories to ensure the utmost quality. Besides, we offer customizable options on our LED strips and neon flex. So, for premium LED strip and LED neon flex, contact LEDYi ASAP!