Light fixtures are the only source of energy consumption in warehouses that are not temperature controlled. While it might not seem as much, a decent portion of the budget goes into paying electricity bills. It makes it vital to understand how different types of light fixtures can impact the energy consumption within a warehouse. You have to find a cost-effective solution that includes LED fixtures and certain types of fluorescent bulbs.
In addition to cost considerations, several other factors must be considered, especially when the warehouse receives little to no natural light. We have put this article together to help people who are looking for lighting solutions for their warehouses. Hopefully, it will answer everything that you are looking for. So, let's get to it.
The Basics of Warehouse Lighting
Before getting to the details of warehouse lights, there are some basic things that warehouse owners must be familiar with. You must consider all these factors before opting for any warehouse lighting solution.
1. Cut Down Energy Costs
The warehouses in the United States utilize about 6.1 kilowatts of energy on average. In warehouses that are not temperature controlled, lights are the major energy consumer. Considering that warehouse maintenance also falls under a business's operational budget, one would want to cut down the expenses that go into managing a storage facility. While there are methods to reduce energy consumption in temperature-controlled facilities, our focus here is to reduce the operational cost of lights within a warehouse.
By reducing the energy consumption of the lights, you will decrease the overhead charges and increase the overall profit margin. Thus, it should be one of the major factors when looking for a solution for a warehouse.
2. Improve Warehouse Safety and Ambiance
The fundamental purpose of warehouse lighting is to enhance utility and provide an ambiance that makes working in it easier. You would not want the staff to stumble upon a container full of delicate products. Furthermore, the ambiance of the lights in a warehouse should be such that it avoids lumen depreciation, lower initial cost, and improves the durability of the lights within the facility.
3. Increase Productivity
Let's face it, managing and working in a warehouse is not the most exciting job. Furthermore, if a warehouse has the wrong type of lighting, it can make the workers feel dizzy and drowsy at all times – thus diminishing their productivity. In addition to impacting the workers' moods, the warehouse lighting can also lead to a number of medical problems if they are not done right. For example, the flickering of traditional light is associated with headaches, nausea, and various other medical complications. You would want a lighting solution that prevents complications and offers workers a healthy working environment.
4. Reduced Maintenance Cost
Anyone who has set up a warehouse knows that managing it is a far more significant challenge than setting it up. You do not want a lighting solution that needs repair every couple of months. It must be durable and should not need a replacement for at least a few years. Hence, businesses should look for solutions that offer everything mentioned above and remarkable longevity.
Types of Warehouse Lights
Now that you know what to expect from a warehouse lighting solution, let's look at some solutions that can help you achieve all of them. It is important to mention that you will need a combination of the below-mentioned solution to light a warehouse appropriately.
1. Tube Lights
Tube Lights are probably the most common and popular lighting solution for warehouses. Such lights work best when installed in a specific location, such as ceilings at the right heights. There are different types of Tube Lights which include;
Type A Tubes work with the ballasts already installed in the warehouse.
Type AB Tubes work both with the ballasts and without them.
Type B Tubes bypass the ballast.
Type C Tubes require an external driver and do not work with the existing ballasts.
Tube Lights are quite versatile and can be used in different areas, including breakrooms, warehouse office spaces, and storage areas. The standard lengths of Tube Lights include 2, 4, and 8 feet, which can be selected based on your requirements.
2. High Bay Lights
High Bay Lights are the ideal solutions for storage facilities with ceilings as high as 20 to 45 feet and sharing direct lights with the floor. Like Tube Lights, High Bay Lights are also very versatile and come in a range of designs, including;
Linear High Bay Lights
Areas that need rectangular and tighter light distributions, such as shelves and aisles, will benefit from Linear High Bay Lights. You can mount them on the surface, suspend them from ceilings or even use a pendant to mount them. Typically, such lights are used in massive warehouses, manufacturing plants, airport hangers, and amphitheaters. Several types of Linear High Bay Lights differ in diameter and length. You can get such lights in diameter ranging from 10 to 13 inches and lengths ranging from 2 to 8 feet. Furthermore, even if the ceilings are lower than 20 feet, such lights can be used to provide the same results.
Round High Bay Lights
In contrast to Linear High Bay Lights, the round ones have wider beam angles and thus can cover large spaces. You can get them to increase visibility in the storage facilities. Furthermore, such lights have just one contact point, making installing them conveniently.
3. Troffer Lights
Also known as drop-ceiling lights, Troffer lights are ideal for spaces that need powerful light. These lights are installed in a clean line, and most have a very low-profile design. You can combine them with the diffuser to get the best effect. Toffer lights can create better visual results by combining indirect and direct light build-up. In addition to warehouses, these lights can be used in offices, retail spaces, healthcare facilities, and schools. The standard sizes of Toffer Light include 2' x 4', 2' x 2
4. Wall Pack Lights
As the name suggests, wall pack lights are mounted on the wall and feature box-shaped fixtures. Typically, they are used on the facade of warehouses to provide illumination to pedestrians and vehicles that are to be parked inside the facility. The different types of wall-pack lights include traditional, full-cut-off, and slim wall-pack lights.
The traditional wall-pack lights offer a wide beam angle and are suitable for areas where extra light is needed. Full Cut-off Wall Pack lights are ideal for skylights and prevent light pollution. Lastly, the slim wall pack allows you to adjust the beam angle according to your needs, such as increasing or decreasing the light projection.
5. Strip Lights
Industrial strip lights offer an incredible light pattern, low profile design, and a small footprint, making them excellent options for small-sized buildings. You can mount these lights on ceilings to get a very clean look. The best use of such lights is in areas such as factory floors, storage and utility areas, hallways, stairwells, and retail locations.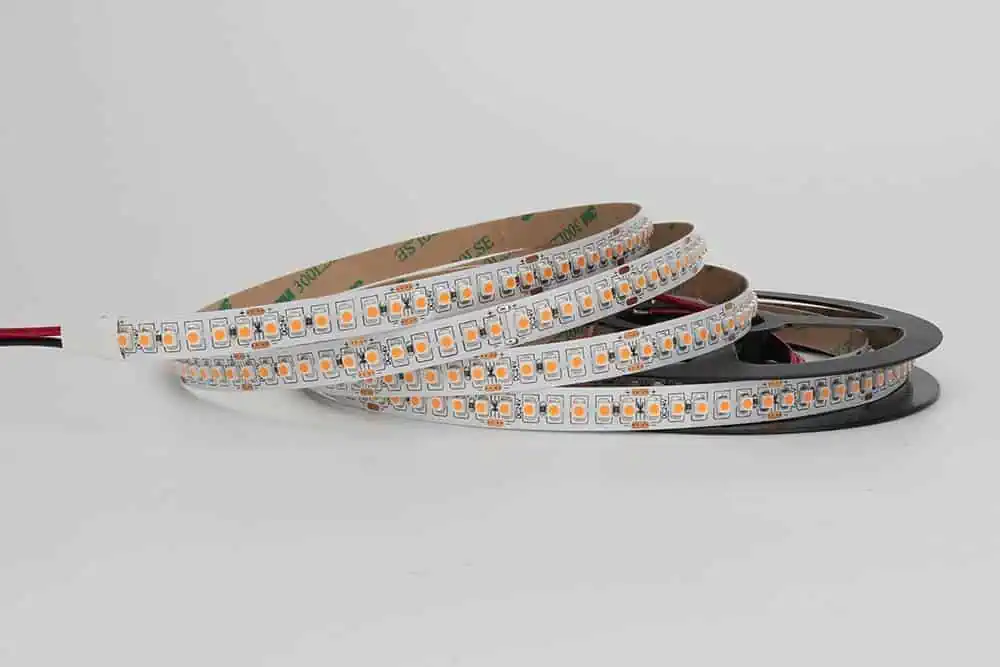 How To Light The Warehouse Right Way
After understanding the basics of what to expect from warehouse lighting and different available solutions, you must have drawn a sketch in your mind as to how you want to light your storage facility. Let's refine it by understanding other factors that must be considered while implementing a solution.
1. Brightness
The brightness of a LED depends on the number of lumens it produces; the higher the lumens, the brighter the light will be. You should select the lumens based on the size of space you want to light. Generally, around 10 lumens per square foot will be adequate to light a warehouse. However, based on the designs and ceiling height of the warehouse, the number can vary greatly.
2. Energy-Efficient Lights
As discussed earlier, energy efficiency should be the top priority while lighting a warehouse. You should look for a solution that consumes less energy without compromising on the utility of lighting. Smart LEDs are an excellent option as many of them are equipped with sensors that can prevent overuse of the LED lights. Furthermore, such lights are also more versatile as they allow you to control their brightness and color temperature, among other things.
3. Longevity
Lighting solutions for a warehouse should be durable. You should have to switch fixtures every once in a while. Typically, a commercial LED fixture lasts up to 8,000 to 10,000 hours. Hence, once you have installed such fixtures, you will be good for at least a few years.
4. Color Temperature
The color temperature of lights is measured on the Kelvin scale, which starts from 1,000K and goes all the way to 10,000K. It is essentially the measure of the color hue produced by a specific light. You should pick the color temperature based on the requirement of the area. For example, an area that needs more brightness will require a cool color temperature which starts at 4000K.
5. Beam Angle
The beam angle is the spread of light; the wider it is, the larger area it will cover. Different light fixtures have varying beam angles, which consequently determine their applications. Typically, 90 to 120 degrees is ideal for indoor lighting, such as in a warehouse.
6. CRI
CRI, or Color Rendering Index, determines the resemblance of light with natural light. A light with a higher CRI will mimic the natural light and show the same colors displayed under sunlight. You should pick the CRI according to the requirements of each area within a warehouse.
Why Should You Prefer LEDs over Traditional Lighting When Lighting Warehouse
We have discussed three important factors while lighting a warehouse: cost-effectiveness, durability, and utility. The LEDs check all three as they are the most cost-effective option for the warehouse. For perspective, LEDs consume about 75% less energy than incandescent bulbs and offer 10 times more durability. By using a LED solution for the warehouse, you are reducing 75% of the energy bills and also sparring yourself from the headache of having to replace them frequently.
That said, LEDs cost relatively higher upfront, but that should not be discouraging because, in the long run, they offer much better value. Furthermore, LEDs are also more flexible, with so many types. It makes them more versatile and thus allows you to enhance the utility of the warehouse by using them.
The most important type of LED is the smart light which allows you to control their brightness and color temperature and dim them when needed. Such lights reduce energy consumption and improve utility in different spaces.
For more information, you can read Advantages and Disadvantages of LED Lighting.
Tips For Maintenance of Warehouse Lights
After installing LED solutions for a warehouse, follow the below-mentioned tips to get the best out of them.
One key problem that makes the warehouse lighting unoptimized is the loose, burnt-out, and poorly performing fixtures. While you would not generally experience it with LEDs, nonetheless, when you do, replace them immediately to optimize the lighting.
Annual cleaning of fixtures can go a long way in preventing diminishing performance over time. You should schedule an annual clean-up to remove all the dust that collects over time. This simple cleaning will make a remarkable improvement in overall lighting condition.
Every dimmer has a pre-set factor which must be checked routinely to ensure it performs according to requirements.
Related Articles
Ambient Lighting: The Definitive Guide
Swimming Pool Lighting: The Definitive Guide
Retail Lighting: Definitive Guide
Landscape Lighting: The Definitive Guide
School Lighting: The Definitive Guide
FAQs
Conclusion
While lighting is important for every space, it is particularly important for workplaces like factories, warehouses, and offices. You need lighting solutions that are cost-effective, durable, and flexible.
Thus, LEDs check all the right boxes for warehouse lighting. You reduce your energy bills and prevent having to check up on them every once in a while without compromising the utility. While the LEDs are ideal for pretty much any space, the fixtures, and techniques to use them vary in different places. We hope this article has explained how to use them correctly in the warehouse.
LEDYi manufactures high-quality LED strips and LED neon flex. All of our products go through high-tech laboratories to ensure the utmost quality. Besides, we offer customizable options on our LED strips and neon flex. So, for premium LED strip and LED neon flex, contact LEDYi ASAP!