If you are from the Middle East, UAE is your best option to get electrical contractors for your dream project. They are technically sound and highly professional, which makes them the regional leaders. But are all electrical contracting companies in the UAE reliable?
Burj Khalifa can stand alone to prove the infrastructural advancement of the UAE. So, this shows the potentiality of the electrical contracting companies of UAE. But it doesn't necessarily mean all UAE companies are trustworthy. For this, you must research the background, previous projects, and services before choosing any of them.
In this article, I've listed the top 10 electrical contracting companies in the UAE. All of them are well known for their professionalism and flawless work. So, why wait more? Let's jump into the discussion-
What Is Electrical Contracting?
Electrical contracting is a field within the construction industry. It deals with installing and repairing electrical systems in buildings and infrastructure. In simple terms, electrical contractors ensure that the lights turn on and appliances work properly. Also, they can design electrical systems, maintain safety standards, and provide reliable electricity.
Moreover, these contractors work on wiring a new home or installing complex industrial electrical systems. Also, they troubleshoot electrical issues, ensuring that everything operates smoothly.
Furthermore, safety is paramount in electrical contracting. Contractors also follow strict regulations and codes to prevent electrical hazards and fires. They often collaborate with architects to integrate electrical systems into building plans.
Best 10 Electrical Contracting In UAE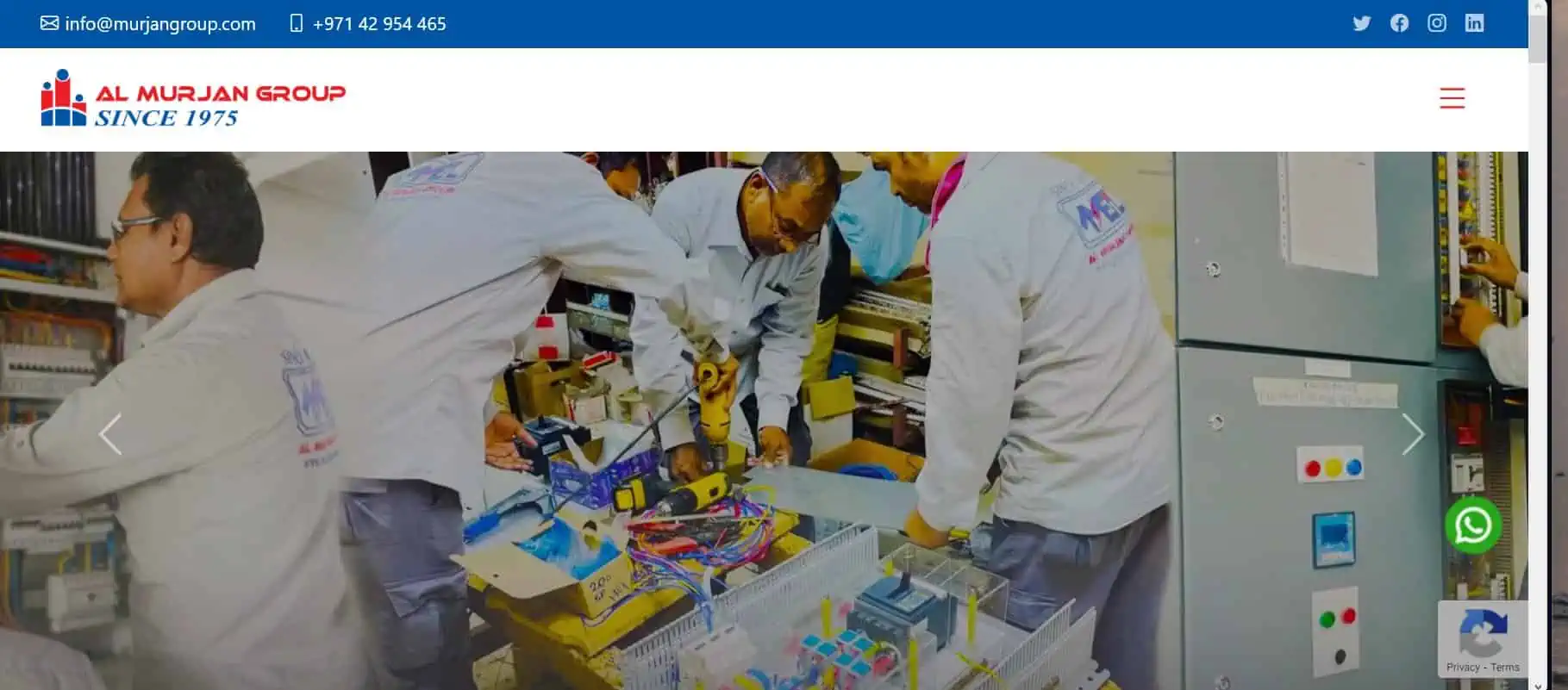 AI Murjan Group is a Dubai Electricity and Water Authority (DEWA)-approved electrical contractor. This company was founded in 1975. They offer a range of electrical installation services along with minor plumbing help. This company greatly emphasizes its commitment to honesty and a strong work ethic. Also, they care the most for their employee and customer satisfaction.
Moreover, They hold membership in the Society of Engineers in the United Arab Emirates. Also, AI Murjan collaborates with top-tier electrical equipment manufacturers and suppliers. They have established partnerships with companies such as KDK Japan, Furse, and Speedwell.
Service
Electrical Contractor
EV Charger Installation
LV Switchgear
DEWA Approved Contractor
EICR Reports
Electrical and Plumbing Supplier
Products
Switchgear Components
Wiring Devices
Enclosure box and distribution box
Earthing Accessories
Earthing Accessories
Accessories
Fans
Pvc Conduits & Accessories
Cable Management System
UPVC Grey Color Pressure Pipe Fitting
Projects
Additional 15000KVA Sub Substation
Office, Warehouse, Labor, Accommodation
Power Redistribution
Meter Installation
Multi Storey Car Storage Facility
LINK LIGHT is a DEWA-approved electrical contractor company operating in Dubai since 1994. They specialize in designing, installing, and commissioning electrical systems for many applications.
Over the years, they have built a strong reputation. Also, this company has executed several engineering contracts. They collaborate with respected consultants throughout the Emirates for better production. Besides, LINK LIGHT has certification from SGS, ITC, and more organizations. This makes them a reliable option for your project. Their expertise extends to designing, installing, and furnishing low-voltage switchgear. So, by hiring them, you can get a wide range of services.
Service
LV Switchgear Assembly And Installation
Electrical Fit-Out Works
Thermal Imaging And Power Logging
Solar PV Contactor For Shams Dubai Program
Power Upgrades For Existing Facility As Per DEWA Regulations
Electrical Design And Installation Works
Projects
2B+G+14+GYM Building @ AL BARSHA FIRST
B+G+6+GYM+Roof Building@ AL WARQA 1
2B+G+9 Building@ MUHAISNAH FOURTH
Nestle Food AND Beverages
Emirates Modern Poultry Farm
Dubai Petroleum Office Refurbishment
Batching Plant UNIMIX @ AL QUOZ
AGD Electromechanical LLC concentrates on specialized electromechanical ventures within the GCC (Gulf Cooperation Council). They have exceptional team experts with years of experience in cutting-edge technology projects. The portfolio of AGD bears many cost-efficient work and successful installations in Dubai.
Besides, they are well-known in desalination, infrastructure, and district cooling sectors. Over the past years, AGD has been implementing eco-friendly ultrasonic algae and biofilm control methods. This proves AGDs' awareness of environmental protection.
Service
Electrical Installations
Industrial and commercial power and control electrical installations
LV and MV (up to 33kV) distribution networks and panels
Power generating plants
Industrial and commercial cable management systems
Internal and external lighting design and installations
Control and Instrumentation Installations
Industrial Bus Networks
Motion Control & Variable Speed Drives
Soft Starters, DC Drives & PLC based control panels
Mechanical Installations
Industrial and commercial HVAC installations
Power-generating and desalination plants
Commercial plumbing systems
Building and erection of mechanical plants and equipment
Sewerage and drainage pumping station
Ultrasonic Algae and Biofilm Control Technology
Irrigation Basins and Sedimentation Basins
UV Chambers and Distribution Water Tanks
Lakes and Reservoirs and WasteWater Treatment Lagoons
Solar: Land or Pontoon based systems
Communication Networks And Services
Fusion splicing
OTDR testing
LAN/WAN premises cabling
Project management of structured cabling and fiber network installation
Installation, termination, and maintenance of external fiber optic networks
Fault finding
Projects
Etisalat HRB Office Building
35,000 RT District Cooling Plant
Shams-1 100 MW Solar Power Plant
Sewer Lifting stations PS1, 2 & 3 Dubai Marina Development
Ultrasonic Algae Control Systems
ASCOR has been providing top-notch services since 2003. They provide service for taking care of the electrical systems in buildings. Besides, they focus on doing the work efficiently and keeping communication clear with clients.
This company has done over 450 projects in the UAE. Thus, they have a lot of experience. They help provide services that match the client's needs. Also, they follow all the rules set by local authorities. The mission of the ASCOR is simple: they want to provide excellent services and do it on time. Moreover, their team makes sure to understand each project's unique needs. As a result, they provide a fantastic job.
Service
Civil
Governmental authority approvals
Architectural, structural, and MPE design development
Project management
MPE Systems Installation (electrical, HVAC, plumbing, firefighting, and ELV)
Civil Construction (substructure, and finishes)
MPE
Governmental authority approvals (Civil Defense, ADDC/DEWA, Etisalat, etc.)
Electrical, mechanical, and IT services design development
Electrical building services installation
Electrical power distribution systems
Air conditioning systems, including piping and ducting
IT solutions
ELV systems
Lighting systems
Industrial equipment electrical and mechanical provisions installation
AMPCORE is a DEWA-approved electrical company in Dubai. They work a lot on electrical systems, how to set, fix, and figure out what's wrong with them. Also, they have worked in different places like homes, offices, factories, and more in the UAE for 15 to 25 years.
Moreover, they have the proper licenses and insurance. And even it offers reasonable prices for high-quality work. In 2019, DEWA recognized AMPCORE as a top performer in their program.
Service
Electrical Maintenance & Renovations
Interior/Exterior Lighting
Lighting Control Systems
LV Switchgear & Distribution Network
Electrical Load Survey
Annual Electrical Maintenance
Electrical Design & Load Schedule Preparation
Electrical Earthing Systems
CCTV & Video Surveillance Systems
Projects
SAMSUNG @ Al Maryah Central, Al Maryah Island, Abu Dhabi
ENBD @ City Centre, Al Zahiya
Twitter Office, DIC, Dubai
The Place Business Center, One Tower, Dubai
Dubai Race School-2 Motor City, Dubai
White Arch has provided specialized services to the construction, interior fit-out, and services sectors since 2008. Over the years, they extend design and build solutions for commercial and residential facilities.
Besides, they encompass various building services. For instance, HVAC, firefighting, plumbing systems, and electrical works. These services span the entire process, from initial concept and design to procurement, setting, and handover.
Services
Electrical Services
Power installations of all types, SMDBs, DBs, Control panels
Air conditioning
Lighting installations of all kinds, including LED and fiber optic lighting
Power distribution units for computer rooms
UPS and Generator systems
Main Electrical panels, Sub Main panels, (LV)Distribution boards
PVC & GI Containment System
Testing, Inspection, and commissioning
Lightning Protection System
Upgrades, Renovation, Alterations & Expansions
Fire And Life Safety Services
Procurement as per the Approved Material List
Engineering (Design & Product Selection)
Taking Approval from the Various Authorities
Sprinkler system
Dry powder system
Installations of Fire fighting systems like
FM 200 fire fighting system
Design And Build
Electrical Lighting & Power System
Fire Fighting & Fire Alarm System
Hospital & Clinic Fit-out
Restaurant & Retail Fit-out
Mechanical, Electrical, and Plumbing Designs
Commercial Building Design
HVAC Services
Flushing and Cleaning of Chilled Water Pipe Work
Installation of Chilled Water Pipe Work with Insulation
Chilled Water Balancing in Pipe Network
GI Ducting & PI Ducting Systems
Projects
VRV Installation Works at Cambridge High School, Abu Dhabi
MPE Services & Equipment Relocation Works at Al Ghadeer, Abu Dhabi.
Mechanical Works for Bin Hamoodah Showroom, Abu Dhabi
Chiller Replacement Works for MPM Building, Abu Dhabi
AC Equipment Replacement Works for SEWA Layyah Plant, Sharjah
Elemec Group of Companies started their journey in 1993 in Dubai, United Arab Emirates. This company is one of the top companies in the UAE. They work with electrical and mechanical systems. Besides, Elemec is known as one of the leading companies in this field for innovative work and cost-effective service.
One of the most impressive facts about Elemec Group is that they have offices all over Asia. You will find branches of this company in India, Oman, Qatar, and UAE. In addition, they have earned international grades certification from ISO, EPSI, EASI, etc. So, when it comes to reliability, your project is in safe hands with Elemec.
Services
Electrical & ELV
Erection of Electrical Substations
Supply and installation of Diesel Generating Station
Low Voltage & Low Current Installations
Building Management System
Dimming/Lighting Controls for residential and commercial projects
Lightning Protection
Street Light Installations
Air-Conditioning
Ducted split unit system
Chilled water system
Package Unit System
Centralized or individual ventilation/exhaust air systems
Duct heater installations
Compressed air piping systems
Plumbing & Fire Fighting
Drainage system
Hot and Cold water supply
Pumping stations installations
Sprinkler installation
Sewage treatment plants
Fire Fighting installations
CO2, Halogen & FM 200 installations
Projects
Mazaya Q-Zone in Dubailand, Dubai
Merano Tower
Nikki Beach Hotel and Resort
Rixos Hotel – Dubai Marina
Car Showrooms & Workshop Complex
Roof – Residential Building
Pak Link Services LLC offers industrial, residential, and commercial electrical services, HVAC, and upgrades. They are well-suited for small to medium-sized projects related to networking installations. They are available 24/7 for emergency service calls. Also, They provide free estimates along with detailed bid proposals.
Pak Link Services Dubai places a strong emphasis on personal customer interaction. Plus, the execution timeline and the use of quality workmanship are quite affordable. They provide facility and annual maintenance contracts for electrical. Also, they offer AC maintenance services across the UAE.
Besides, all their MPE work complies with international standards. With sufficient notice, this company can also travel to other countries. So, if you are looking for strong customer service, Pak Line is an ideal choice.
Services
Electrical Services In Dubai
Interior and exterior Lighting maintenance
Electrical maintenance and wiring
Heating and ventilation system control
Earthing installation
D.B. Dressing & wiring
Electrical Wiring
Lighting timer installation
Home Electrical D.B. troubleshooting
Electrical find finding expert
Landscape lighting wiring and repair
Emergency Electrician Services in Dubai
Electrical Fit-out services
Lighting Installation
Street Lighting Installation Dubai
Garden Lights Installation Dubai
Solar panel Installation And Maintenance Dubai
Home Automation
Automated Gate Control system
Fire Pump Panel automation
Motion sensor installation
Water tank automation and integration with the Main water line Supply
Lighting and heat sensor installation
Guest Room Management
HVAC System Automation
HVAC Design for Villa
Central A.C. Installation
Temperature Sensors for air measuring.
In-House Duct Type Ac Installations.
HVAC Controllers
Temperature Control with PR-200
HVAC Humidity and Temperature Transmitter
Rooftop ventilating fan Automation
Chiller Pump Control and Automation
ELV Services Dubai
CCTV Cameras, Controllers Installation, and Maintenance Dubai UAE.
Public Address P.A System Installation and Maintenance Dubai UAE.
Pabx Systems Installation and Maintenance Dubai UAE.
Networking LAN/WAN Installation and Maintenance Dubai UAE.
Heat Trace Services
MAX Electromechanical has been providing services in Dubai, Ajman, Sharjah, and Abu Dhabi since 2016. They are best in Mechanical, Electrical, and Plumbing (MEP) building services.
From the outset, MAX Electromechanical has a distinctive approach to its clients. And offers its services to meet their specific requirements. The company is supported by professional employees dedicated to upholding the highest standards.
With a team of highly qualified, this company has secured a significant market share. The company is involved in work on projects across residential and industrial premises. Thus, you can contact them for any kind of infrastructural needs.
Services
Electrical Services
Lighting Control
Power Distribution Systems
Power Generation
Low Current Systems
Solar Power system
Home Automation
Telephone & Data Systems
MATV Systems
Access Control Systems
CCTV, P.A. Sound systems
Industrial Process Services
Plumbing Solutions
Water Filtration System
Hot & Cold water Supply system
Irrigation System
Drainage
Swimming Pool
Sanitation
Sewage Treatment
Rain Water
LPG/NG System
HVAC Solutions
Chilled Water Piping System
GI & PI Ducting Installation System
Ventilation systems
Package units, DX units, and Fan Coil Unit Installation
Ecology Unit Installation Systems
Chemical Flushing &3rd Party Testing Reports
Kitchen hood exhaust and fresh air system
Air Balancing System and Certifications
Fire Safety Solutions
Sprinkler Installation
Exit/Emergency Lighting System
Fire Alarm Installation
Aviation Lighting
Windsocks
Obstruction Lights
Inset helipad lighting
Helipad Perimeter Light
Solar Helipad Flood Lighting
Projects
Logo Lighting for McDonald's
Lighting solutions at Emirates NBD Bank
Solar Substation for Ducab Jabal Ali
Sharjah Mosque: Doom Light Installation
Electrical earthing work at air product and chemicals
Canim: pole light and cable ladder installation
Electrical earthing work at Enoc
SAQER Electronical has a 25-year track record of providing top-notch construction services. Their expertise lies in MEP work for buildings, villas, and warehouses. But they also provide services for painting and fix-up works.
The professional team delivering on time makes it a trustworthy company. So, if you are looking for a committed electrician, this company is your best option. Yet, they also provide general maintenance and MPE upgrades needed in homes.
Services
Maintenance Work
MPE Works & Contracting
Painting and Fix-Up
General Contact for Electricians
DEWA (Dubai Electricity and Water Authority) Approvals
Why Should You Choose Electrical Contractors From The UAE?
Let's see some of the main reasons for choosing electrical contractors from the UAE. For instance–
1. Experience in Diverse Projects
UAE is ranked 25th globally for its advancement in infrastructure. They deal with various projects and have experience in many fields. These include lighting installation, construction, electrical earthing systems, solar projects, and more. So, you can get a complete package of electrical and construction services from the UAE.
2. Use of Cutting-Edge Technology
The UAE companies are sound and focus more on renewable energy. Besides, they are highly conscious of maintaining international standards. So, having them for your project will ensure high-tech infrastructural facilities.
3. Multilingual Staff
As communication is the key to any international business, UAE companies often employ multilingual staff. So, interaction becomes much easier. Besides, these companies bring you the knowledge of different nationalities on a plate.
4. Global Hub for Business
The centralized location of the UAE makes it suitable for global business. This country is situated at the crossroads of Asia, Africa, and Europe. So, undoubtedly, it is the targeted location for commerce and trade. Besides, such a location also benefits the UAE electrical companies in sourcing expertise. So, you will always get the best out of them.
How To Find The Best Electrical Contractors In UAE?
To find the best electrical contractors in the UAE, you can first search online. Online research is simple and informative. After finding a website, go through their site to check out their services. Then, look for customer feedback, company insurance, and their certification.
Besides, you can ask your friends, family members, or neighbors for authentic information. Because they often know electric contractors in the UAE. After choosing a company, you need to email or call them; at this point, you can ask for details. Or any questions you have, such as how many projects they have done professionally. And ask if they provide any warranty about their work.
Keep in mind that don't settle with a company immediately after contacting them. Try contacting multiple companies, then do research and choose one. But, in the finding process, this guide may help you- 10 Steps to Find a Professional LED Strip Supplier In China. Though finding a niche is different, the basic steps are the same.
FAQs
Conclusion
UAE is an excellent option for hiring electrical conductors. They provide a wide range of services, including lighting, plumbing, construction, and other electrical work. If you are someone for whom experience matters the most, Al Murjan is the best electrical contracting company for you. They have been in this field since 1975, so you will see no compromise with professionalism. MAX EMC, ASCOR, and LINK LIGHT are also considerable options here.
But if you are looking for an affordable company for general electrical and maintenance work, contact SAQER Electromechanical. Nevertheless, whatever company you choose, ensure they have quality experience and stranded certifications.