In this article, we will take a look at the production process of LED strip lights. We will start with a brief overview of the manufacturing process, then we will move on to a more detailed description of each step in the production process.
I attached a production flow chart to give you a general idea of the process.
For easy viewing, you can download the PDF version.
Raw Materials be Put in Storage
After the raw materials arrive at our factory, they will be stored in our transit warehouse. After the raw materials are tested and passed, they will be transferred to our official raw material warehouse.
Raw Materials Inspection
Our raw material quality inspectors will conduct a complete inspection of the raw materials. If the raw material passes the inspection, it will be transferred to the official raw material warehouse, otherwise, it will be returned to the raw material supplier.
LED Dehumidification
Before the LED lamp bead is used in production, it needs to be dehumidified, otherwise, the LED lamp bead will be damaged by moisture when the LED lamp bead is reflow soldering.
First Sample Confirmed
Before mass production, we need to make a sample from raw materials. We will run various tests on this sample. Only if this sample passes these tests will this batch of raw material be used for mass order production.
Brush Tin on PCB, SMT
We will brush solder paste on the PCB, and then attach the lamp beads, resistors, and other components to the PCB.
Reflow Soldering Through Furnace
When the SMT is completed, the PCB with the lamp beads attached will be sent to reflow soldering. After reflow soldering, the lamp beads, resistors, and other components will be soldered to the PCB.
QC Inspection
Our inspectors will inspect the appearance of the PCB and light up the LEDs to ensure that the LEDs, resistors, and other components are properly soldered to the PCB.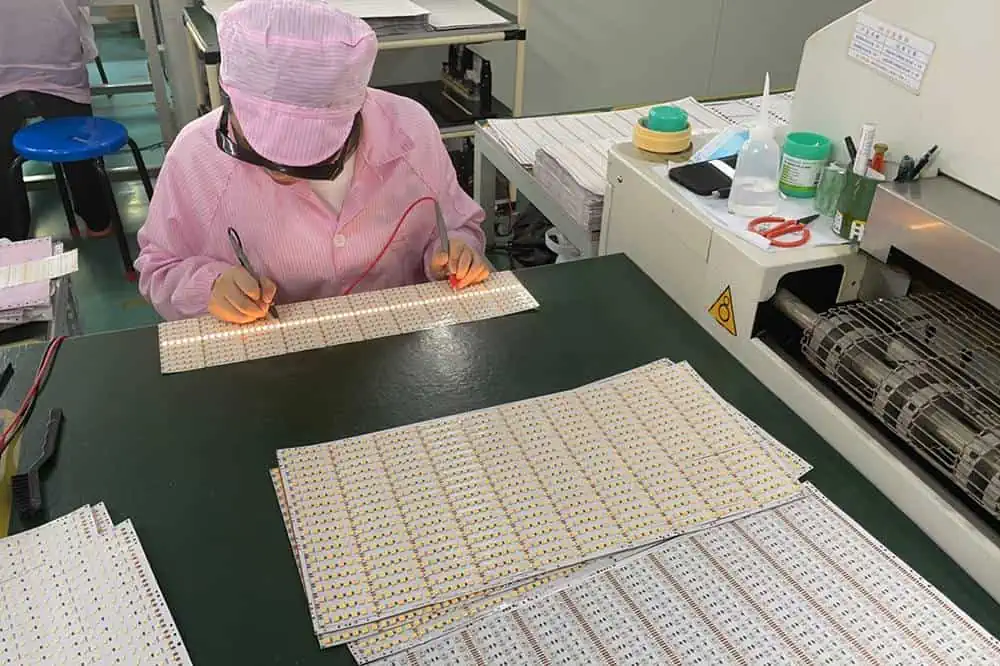 PCB Welding
After SMT is completed, our PCB is 0.5 meters each. The regular length of our product is 5 meters, so we need to solder the PCB to make it into a 5-meter roll.
This step, for small orders, we will do it manually, otherwise, it will be done by machine.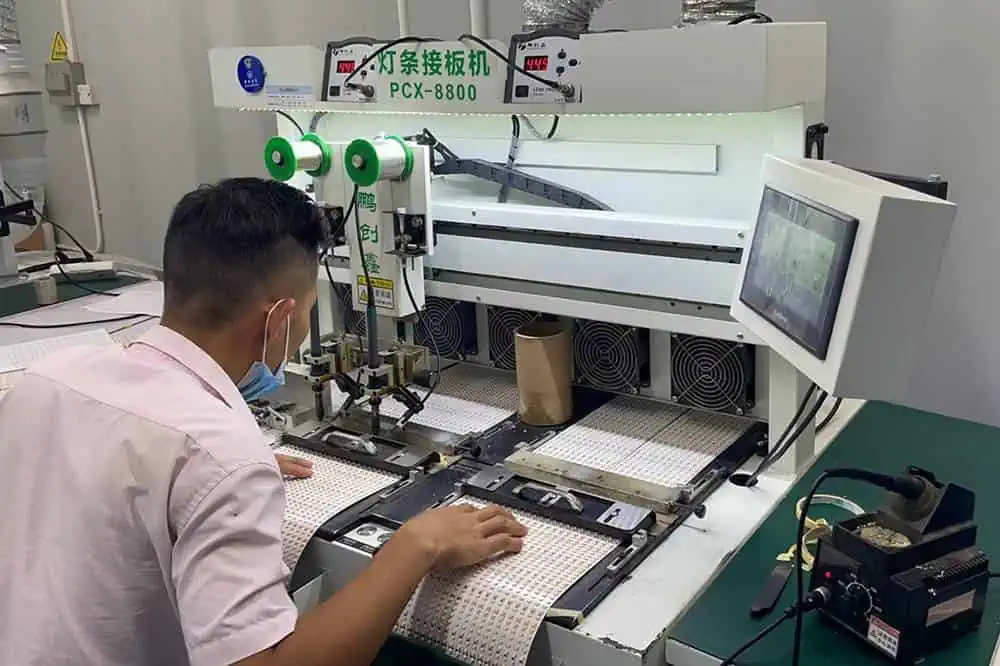 Clean PCB and Test
The soldering place of the PCB will be a little dirty, we need to clean the place where the PCB is soldered. Then we check and light up a 5-meter LED strip to make sure it's working properly.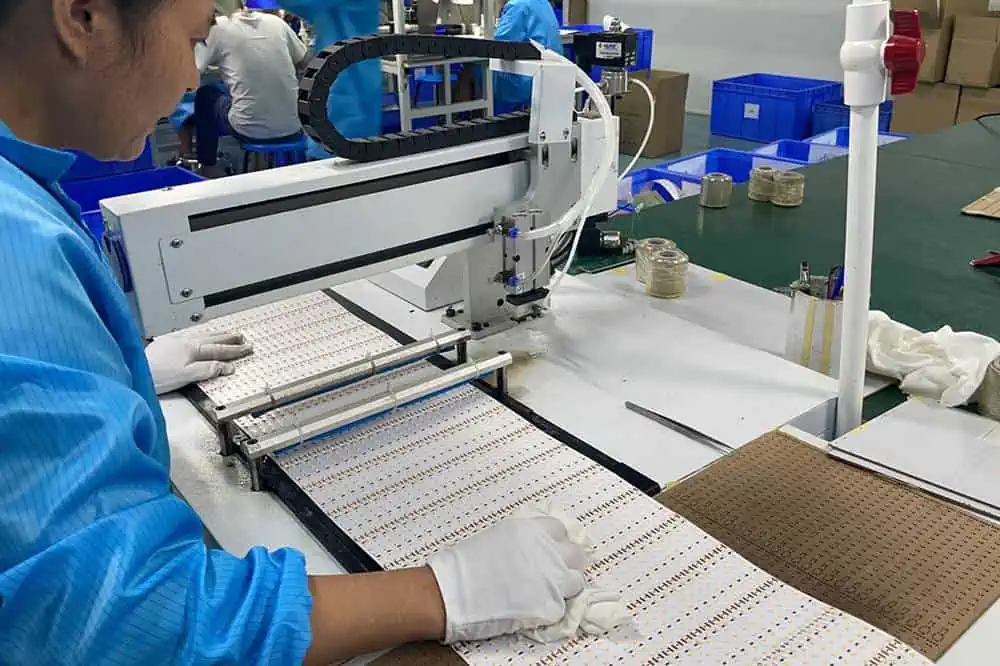 Paste 3M tape
In most cases, we will stick 3M double-sided tape on the back of the PCB.
Reel Strip
The LED strips are rolled onto a plastic reel. For non-waterproof LED strips, it is usually 5 meters rolled onto a plastic reel. If it is a waterproof product, it will be rolled onto a large reel, waiting to be transferred to the waterproofing treatment.
Waterproof Treatment
For waterproof LED strips, we use the most advanced silicone extrusion process.
Silicone integration extrusion is when the LED strip lights and solid silicone are extruded together through a mold and are shaped by high-temperature vulcanization.
Baking-Curing
After the LED strip light and the silicone are extruded together, they will pass through a high-temperature oven, and then the silicone will be cured by vulcanization.
For detailed information about silicone extrusion, please visit What is silicone integrated extrusion?
Laser Marking
We will use a laser to mark the model, production date, CCT, Voltage, Wattage, and other information on the product.
Inspection of Appearance
Our quality inspectors will check the appearance of the products to ensure that the label information and appearance of the products are correct.
Power-on Test
Our quality inspectors will light up each LED strip to ensure that they can work properly.
Finished Products Packed in Reel
The finished LED strip is rolled onto a plastic reel, usually 5 meters per roll.
Packing
Then each roll of LED strips will be packaged in an anti-static aluminum foil bag.
Paste Label
A label is attached to the outside of each anti-static bag.
Put in Storage
These packaged LED strips will be stored in our warehouse, waiting to be shipped.
OQC Spot Check
Before the LED strips are shipped, our quality inspectors will also randomly check them for quality. Only LED strips that pass the OQC spot check will be sent.
Shipment
We will send the LED strips according to the customer's shipping requirements (by express, air, or sea).
Conclusion
After reading this article, you should know about our LED strip production process. Because of this complete process, our lead time may be longer, but our product quality can be more stable.
LEDYi manufactures high-quality LED strips and LED neon flex. All of our products go through high-tech laboratories to ensure the utmost quality. Besides, we offer customizable options on our LED strips and neon flex. So, for premium LED strip and LED neon flex, contact LEDYi ASAP!