LED lights have replaced incandescent bulbs once and for all. These are multi-functional, cost-effective, and last much longer than traditional bulbs. Even within the LEDs, several variations have different applications. Naturally, the demand for LEDs is high, and importing them from China is the best way to cope with the market while earning a profit.
Importing from China offers a range of variety at much lower prices, improving profits. You have various vendors and suppliers to pick from. But you must keep some factors into account before making any decision. Let's know more about them in this comprehensive guide.
Step 1: Check For Import Rights
Import rights are the legal requirements to purchase goods from other countries and transport them to your country. Each country has different legal requirements. Some require an import license, while others only require clearance from customs services. The residents of the United States do not need an import license to purchase LED lights from China. You only have to follow the general guidelines provided by customs to make successful transactions.
Furthermore, the United States requires the residents to obtain custom bonds for imports exceeding $2,500. Goods subject to other regulatory agencies, such as FDA and FCC, also need custom bonds. Because LED lights also come under the regulations of other agencies, the importer will need custom bonds.
You can choose from two options while purchasing custom bonds. The single-entry bonds and continuous customs bonds. The former is valid for one-time transactions and covers every year's imports. You can pick between the two bonds based on the nature of businesses and the demand you are coping with. For example, getting a single-entry bond would be best if you have just started a business. Once the company begins generating a profit and you understand the market, proceed towards continuous bonds.
Step 2: Compare The Available Options
China is the largest manufacturer and exporter of LED lights in the world. You will have many options, but not all offer stellar products. Thus, you should browse the market and look for different options that you have. Once you narrow down the suitable options, compare them to pick the best. You must also familiarize yourself with the basics to get the best products.
For starters, you should know the different types of LEDs and their applications. There are three types of LED lights: Dual In-Line Package or DIP, Chip on Board or COB, and Surface Mounted Diodes or SMDs. All of these lights have different applications and purposes. Their fundamental differences include power output, brightness, and color temperatures. You must understand the different types' differences to make an informed and correct decision.
Furthermore, there are some specific LED lights as well. These include LED Icicles, steps, bays, and bulbs. So, if you have a demand for a particular LED light, make sure that you search for exactly that. Once you have found the vendors that offer the lights you are looking for, compare their offerings. Compare the price, warranty, and durability elements to get the best product.
Step 3: Review The Credibility of the Supplier
After finding suitable products, ensure that the vendor is credible and will live up to whatever it has described. There are several methods to confirm the credibility of a supplier, including;
Website
The first method to check for the credibility of a business is to check its website. If you have imported items from China or any other country before, looking at the website will immediately let you know whether the business is credible. The first thing to notice is the domain name and whether the site is secure. Chinese websites have standard domains of .cn. But vendors that export their products often use .com and.org as well. You should also check whether the website is secure, which is pretty simple. Just check whether the website has a "key icon" next to it when it loads.
Furthermore, look for the information on the website and compare it to what they have provided on other mediums. A credible website also uploads blogs regularly, which can be a great indicator of credibility.
Social Media Pages
Social Media Pages of businesses can tell whether a company is credible. You can look at the number of followers and their interactions on the posts uploaded by the page. The reviews can also help in understanding the quality that a business provides. However, ensure that the comments and reviews on the pages are organic. Sometimes companies hire PR firms to leave these comments. You can check the profile of the reviewers and the people who have interacted with the posts to know whether they are real.
Furthermore, it would be best to message the people who have reviewed their products. A conversation with someone with experience with the business will tell you exactly what to expect. It will also help in finding whether the comments and reviews are genuine.
Reviews
Besides checking the reviews from websites and social media pages, you can also ask them from companies with prior experience with the vendors. You must know other businesses that are in the same market as you. It would be best to ask for reviews from them. You should give more weight to these reviews because they are better positioned to tell you about the product from your perspective. We know that competitors would not want to let you in detail, but a conversation with multiple business owners will help you get to the bottom.
Furthermore, there are several groups on Facebook that you can use to ask other businesses' opinions. People in these groups are generally quite helpful and let you know vital details.
Sourcing Agents
Some companies hire a sourcing agent to import products from other countries. It spares them from the headache of going through all the trouble. These agents assist every step of the way, including finding suitable products and vendors to import to your native country. It is also crucial to check for their credibility as well. You have to follow the same steps that we discussed earlier to ensure their credibility. It will prevent headaches in the future. 
Step 4: Make The Budget
After finding the right product and vendor, ensure you have enough budget to import the LED lights. While making the budget, remember to consider your customers' spending power. You do not want to import too expensive products that most of your clients cannot even afford. And it is not the cost of the product that you have to factor in; there are other elements as well.
Cost of Product
The cost of the product will take most of the budget. Hence, it should be the first inclusion while making a budget for importation. You should know exactly how many units you need to import. And it is possible only if you have the correct projections for future sales. Only purchase extra if it gets you a little discount. Always procure according to the demand for a product.
Cost of Inspection
As discussed earlier, LED lights are subject to several regulations, and every batch undergoes an inspection when it reaches the United States border. You will have to pay between $80 to $1,000 depending on the number and the type of LEDs you import. Thus, remember to consider the inspection cost while making the budget.
Cost of Shipping
Importing from China comes at the cost of costly shipping. Furthermore, both the US and China are large countries, and the location of importers and exporters also plays a vital role. In simple words, the shipping costs of a business located on the western coast would vary significantly from the company situated on the eastern shore. Thus, it is essential to consider the shipping prices when drafting a budget to import LEDs.
Taxes and Custom Duties
All imports are liable to customs duties in all countries. You can find the amount due by looking for your tariff classification provided by the customs authorities. The amount of tax and duties vary based on the amount, type, and location of import.
Miscellaneous Costs
In addition to the abovementioned costs, other factors impact the overall budget. These include but are not limited to port charges, currency conversion, and unloading fees. When combined, these prices can pile up and significantly impact the budget. And you cannot anticipate the exact amount these factors will cost. It is best to allocate at least 10% of the budget to the miscellaneous cost while drafting a plan to import LEDs from china.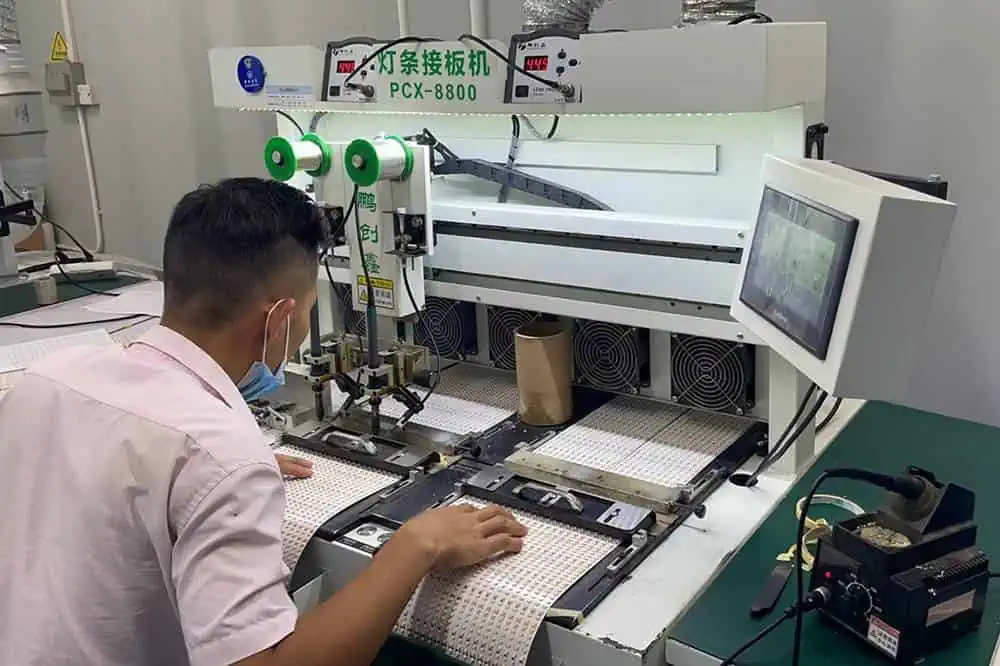 Step 5: Negotiate The Price
Vendors that export LED lights from China have different rates. Even if a company insists on it, there is room for bargaining. You can ask the vendors for a discount if the order size is bigger than the standard one. However, make sure that what you are demanding is reasonable. You may get a lower price, but the vendors will deliver cheap products, hurting your business. Hence, while it is essential to bargain, it is also crucial to make reasoned and sound arguments.
Step 6: Find The Appropriate Shipping Method
As discussed earlier, the shipping charges for LED lights from China are costly. And if you want to profit from the shipment, you must thoroughly research different shipment modes. Some of them are as follows;
Rail Freight
Rail freight is fast, affordable, and suitable for bulky items. But it is only used for the countries connected with China via land. Unfortunately, residents of the US cannot use this cheaper method of shipment. As for the residents of Europe, it would be the preferred method for most. However, the problem with this method is the time it takes. On average, the shipment arrives in about 15-35 days, depending on the country's distance from China.
Sea Freight
Sea Freight is an option for businesses not connected with China via land. The best part about this method is it does not put a cap on the weight limit. You can ship as large an order as you want. Furthermore, the way is cost-effective as well. However, the shipment will arrive a little later than other means. Hence, the businesses will have to order at least a month before when they want to get the LED lights at their warehouses.
Express Shipping
Express shipping is the fastest means to transport goods worldwide. You can use this method to import LED lights when the demand unexpectedly goes high. Furthermore, some businesses also use it to import a small volume of LED lights for testing before placing an order. The shipment via this method takes about 3-7 days to arrive, and various companies offer express shipping. Some popular ones include DHL, DB Schenker, UPS, and FedEx. The prices and the services of each company vary. Hence, comparing them before placing an order via them is better.
Express shipping prices are generally much higher than sea and train freight. Thus, most companies do not use it to transport bulk products. It works best only for small volumes when businesses need help to cope with the demand with available stock.
What Are The Shipping Terms and Conditions?
The shipping terms and conditions are also known as International Commerce Terms. These terms define the obligations of both suppliers and the importer while importing an item. You should set up communication lines with the exporter to ensure no unexpected delays or other inconveniences. The shipping terms can vary from country to country, but the standard Incoterms for China include the following;
FOB (Freight on Board/ Free on Board)
FOB describes the obligations or responsibilities of the suppliers while exporting an item overseas. It includes loading goods, inland transportation, port expenses, and customs clearance charges. The FOB ends once the suppliers transport the items from their countries. However, the importer can pick the preferred means of shipment. And whatever means you choose, the responsibility of suppliers will remain the same.
EXW (ExWorks)
EXW defines the responsibilities of suppliers when it comes to packaging products for transportation. The suppliers must prepare export documents, get relevant certificates and package the products in suitable packaging. In these terms, the importers are responsible for handling inland transport, port expenses, route of transportation, and mode of transportation.
CIF (Cost, Insurance, Freight)
CIF is the most convenient option for the importer because exporters are liable for most responsibilities with these terms and conditions. The suppliers' obligation is everything from documentation to unloading goods at the shore. Furthermore, the mode of transportation is also the discretion of the suppliers. However, importers can set deadlines for when they need the items.
The only responsibility of the importers with these terms and conditions is to handle customs clearance and clear the import charges.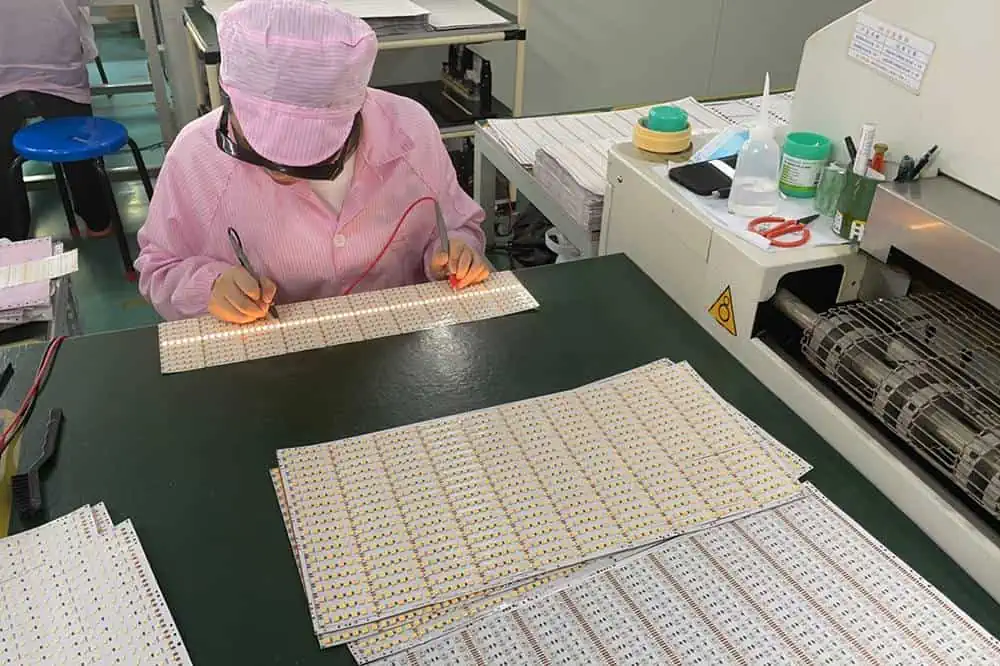 Step 7: Place The Order
After figuring everything out, you only need to place an order. But there are two essential things in this step as well that you should consider. These include lead time and payment methods.
Payment Method
Payment methods should be selected with a consensus between the suppliers and the importer. There are several options to pick from, including online bank payments, debit cards, credit cards, and even online wallets. You should choose the method that is most convenient and costs less. While the banking means are traditional options, there are new options like an online wallet that can be just as helpful. Furthermore, transactions with these means are quicker than the conventional banks. Thus, while selecting a payment mode, consider it as well.
Lead Time
The time an order takes to arrive at your warehouse is Lead Time. It is essential for businesses that have high demands for LEDs. You should select a supplier that has a shorter lead time. Obviously, it should not come at the expense of quality. You should understand the manufacturing scale of the suppliers and anticipate whether it is capable enough to deliver the order on time.
Furthermore, vendors' lead time during the deal is not always accurate. Sometimes suppliers lure you in with amazing offers only to disappoint later by not living up to their words. However, none of this will happen if you follow the steps we discussed earlier to ensure a company's credibility.
Step 8: Prepare To Receive The Order
After placing an order with a credible supplier, you must prepare to receive the order. You will need several documents to process clearance from customs, including proof of import, bill of lading, commercial invoice, certificate of origin, and commercial invoice. Furthermore, the importer must clear customs tariffs, including excise duties, value-added tax, import duties, and other miscellaneous charges.
Hiring a freight forwarder or customs broker can spare you the trouble. These professionals will care for everything once your shipment lands in your country. Businesses that have just started and do not know much about import would find them very helpful.
After getting the clearance from customs, there are some other steps that you have to take;
Transport Arrangement
While some shipping companies deliver the goods to your door steps, others do not. And latter is likely the case if it involves sea freight. Thus, you must arrange transport for these goods after getting all the clearances from customs. Depending on the distance of the warehouse from the port, you can use train, truck, or air transport. Each of these means has its benefits and shortcomings, which we have discussed in earlier sections.
Storage Facilities for LED Lights
Despite being more durable than traditional incandescent bulbs, LED lights are fragile. And it is a factor that you should never ignore. It should be considered while transporting to ensure they do not sustain any damage. And when the shipment reaches your doorstep, take the necessary precautions to keep it safe and secure. You should unpack the load and store the LED lights in unit containers that have the branding of your business on them. While packing the LED lights into new containers, ensure that the boxes are strong enough to endure accidental falls.
Furthermore, make sure to paste a fragile label when you ship the product to your customers. The storage facility for the LED lights should be manageable and moisture-free. You should keep the area's humidity in check to ensure it does not damage the circuit of the LED lights.
Step 9: Inspect The Order Thoroughly and File Claims For Damaged Items.
The last step in importing LED lights from China is to ensure everything checks out. It is critical, and you must do it as soon as the shipment arrives. You can check the consignment by making a copy of the invoice and matching the products in the shipment against it. You should receive the exact number of units that you ordered. Some manufacturers send some complimentary and test products as well. But it is best to check with the suppliers whether it is complimentary or a result of some mistake. Corresponding with suppliers on these matters will build a solid relationship you can leverage to get better deals next time.
If everything checks out, ensure that no product is damaged and matches the description agreed upon while placing the order. If the product differs from what you ordered and has flaws, immediately contact the suppliers and tell them about it. That said, the manufacturer will not cover all sorts of damage. Depending on the contracts and terms and conditions, there will be a guideline that you can use to file a complaint.
For example, if you agree that the suppliers would not be liable for the damage sustained during shipment, there will be no claim. But if the terms and conditions are otherwise, you can file a claim and get new products. But again, you can do all of it only if you check the shipment immediately when it arrives. Delayed claims are often not entertained and do not even hold in the legal battles if it comes down to it.
FAQs
Conclusion
The world is moving away from traditional incandescent bulbs for all applications. LED lights are the future and hence the demand. Businesses that sell LED lights would find importing from China a much better option to generate more profit from sales. It is the largest manufacturer and exporter of LED lights, offering a large variety. Furthermore, the competition between the suppliers is also fierce, which leads to affordable prices and better quality. But when you import LED lights from China, it is essential to understand the basics.
While most Chinese manufacturers are credible, the risk of scams always exists. You should only place an order after thorough research, especially when placing a large order. We have described the ways to check for credibility. Furthermore, ensure you know what it takes to import LED lights from China. It includes rules, regulations, taxes, duties, and best shipping methods.