China is now a significant player in the global electronics manufacturing industry. The Flexible Printed Circuit Board(FPCB) is crucial to many electronic devices. In this article, we'll talk about FPCBs and introduce you to China's top 10 FPCB manufacturers.
What is an FPCB?
Definition
A Flexible Printed Circuit Board (FPCB) is a printed circuit board made from flexible materials, usually plastic or polyimide. FPCBs are made to be more flexible and last longer than traditional rigid PCBs. They can be bent, folded, and twisted, making them great for uses where space is limited and weight reduction is essential.
For more detail information, you can read Everything You Should Know About FPCB.
Applications
FPCBs are often used in many industries, such as aerospace, automotive, consumer electronics, medical devices, and telecommunications. FPCBs are used in phones, tablets, wearables, cameras, and LCD screens, among other things.
Flexible PCB Production Process
The flexible printed circuit board (PCB) production process involves a series of intricate steps that combine technical expertise and state-of-the-art equipment to produce high-quality, durable, and versatile circuitry.
Step 1: Base Material Preparation
The flexible PCB production process starts with the preparation of the base material, usually a polyimide film. This material is chosen for its flexibility and heat resistance, which are essential for the PCB's performance.
Step 2: Conductive Layer Application
The next step involves applying a conductive layer, typically made of copper, onto the substrate. This is achieved through a process called electroless copper deposition, which ensures a uniform layer of copper.
Step 3: Circuit Pattern Transfer
The desired circuit pattern is then transferred onto the substrate using photolithography. This technique involves using a photosensitive material, UV light, and a photo mask to accurately replicate the circuit design.
Step 4: Etching
Following the pattern transfer, any unwanted copper is etched away, leaving behind only the intended circuit design. This is achieved through a chemical process that selectively removes excess copper from the substrate.
Step 5: Solder Mask Application
To protect the circuitry and enhance its durability, a protective layer called the solder mask is applied. This layer also provides electrical insulation and helps prevent potential short circuits.
Step 6: Inspection and Testing
Lastly, the flexible PCB undergoes a thorough inspection and testing phase. This ensures that it meets the required specifications and is ready for integration into various electronic devices. Quality control measures, such as visual inspection, electrical testing, and dimensional analysis, are employed to guarantee the PCB's reliability and performance.
Top 10 FPCB Manufacturers in China
Here is the table containing the websites of China's top 10 FPCB manufacturers.
Shenzhen Capel Technology was started in 2006 and focuses on designing, making, and putting together FPCBs. With a focus on producing high-quality products and ensuring customers are happy, Capel Technology has become a top supplier of FPCBs for many industries.
Rigao Electronics started in 2008 and offers a wide range of services for making PCBs, including FPCBs. The company is proud of its ability to make quick prototypes, low prices, and quick turnaround times.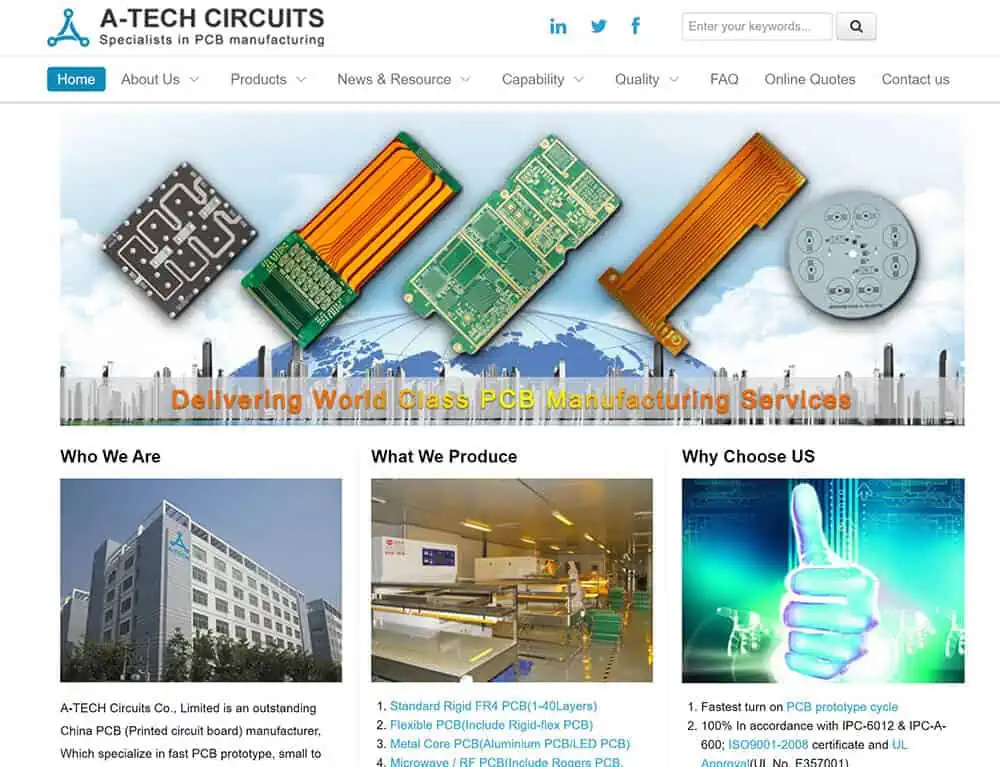 A-Tech Circuits Co. has been making PCBs for over 20 years and has built a strong reputation for quality and dependability. They are experts at making high-density interconnect (HDI) FPCBs used in many industries.
Since it started in 1996, Kinwong Electronic has become one of China's biggest FPCB manufacturers. The company has state-of-the-art production facilities and offers various FPCB solutions, such as single-sided, double-sided, and multilayer designs.
Since it opened in 2005, KingSong PCB Technology has focused on making high-quality FPCB manufacturing services. The company is known for its dedication to research and development. It invests in new technologies all the time to make its products better.
Since it opened in 2002, Zapon Electronic Technology has offered various services for making PCBs, including FPCB production. Their dedication to quality and customer satisfaction has made them a popular choice for clients in many different industries.
Elecrow Technology was started in 2011 and is a fast-growing FPCB manufacturer known for its innovative solutions and customer-focused approach. They offer many different FPCB services, such as design, prototyping, and mass production, to meet the needs of many industries.
Hemeixin Electronics has been making FPCBs since 2003. They focus on producing high-quality products and getting them to customers quickly. They offer various FPCB solutions, such as rigid-flex PCBs, single-sided and double-sided flexible circuits, and designs with multiple layers.
Shenzhen Yizhuo Electronics is a well-known FPCB manufacturer in China that has been in business since 2013. It is known for its dedication to quality, innovation, and customer satisfaction. They offer single-sided, double-sided, and multilayer FPCB designs to meet the needs of many different industries.
Q&D Circuits is a leading FPCB manufacturer that has been around since 2004. They put a lot of emphasis on quality and customer service. Their many years of experience in the field allow them to offer high-quality FPCB solutions, such as rigid-flex PCBs, single-sided and double-sided flexible circuits, and multilayer designs.
Factors to Consider When Choosing an FPCB Manufacturer
Finding a manufacturer with the proper quality certifications, like ISO 9001 and ISO 14001. These certifications show that the company follows international quality and environmental management standards. This makes sure that reliable FPCBs are made.
Quality Certifications
It's important to find a manufacturer with the right quality certifications, like ISO 9001 and ISO 14001. These certifications show that the company follows international standards for quality and environmental management. This makes sure that reliable FPCBs are made.
Lead Times and Delivery
Another critical thing to think about is the manufacturer's lead times and delivery schedules. When working with tight deadlines, it can be crucial to have quick turnaround times and prompt delivery. Make sure to talk to potential manufacturers about your project's timeline to make sure they can meet your needs.
Technical Support and Customer Service
When working with FPCB manufacturers, it is essential to have good technical support and customer service. A company that gives you quick and helpful support can help you figure out how to fix problems during the design and production process. Also, good communication and quick responses are needed to ensure the project runs smoothly.
Customization Capabilities
Depending on your needs, you may need FPCB designs and solutions made just for you. It's essential to choose a manufacturer that can meet your specific needs and offer solutions that fit your project's needs.
Pricing and Payment Terms
Lastly, consider how the manufacturer sets prices and makes payments. Even though price shouldn't be the only factor, it's essential to find a manufacturer whose prices are competitive without sacrificing quality. Before making your final decision, ensure you fully understand any extra costs, such as shipping and taxes.
You can choose an FPCB manufacturer in China with more knowledge by thinking about the things listed above. In the end, finding the proper manufacturer will help ensure that your project goes well and that the final product is quality.
Emerging Trends and Technologies in the FPCB Industry
As more and more people want flexible and light electronics, the FPCB industry is changing quickly to keep up with new trends and technological advances. Here are some recent trends and technologies that are changing how the FPCB industry will work in the future.
1. Miniaturization
With the growing demand for smaller and more compact electronic devices, FPCB manufacturers focus on developing miniaturized FPCBs with high-density interconnect (HDI) technology. HDI FPCBs have thinner conductive traces and smaller parts, which makes it possible to design more complex circuits in a smaller space.
2. Environmentally Friendly Materials
As people become more concerned about the environment, the FPCB industry is moving toward using better materials and methods for the environment. To reduce the damage that making FPCBs does to the environment, manufacturers are looking into other materials like biodegradable substrates and lead-free solder.
3. Rigid-Flex PCBs
Rigid-flex PCBs take the best parts of both rigid and flexible PCBs and put them together. This is done by putting flexible circuits together with rigid sections. This hybrid design gives designers more options and makes the product more reliable, especially in applications that bend or move a lot.
4. 3D Printing
The FPCB industry is starting to use 3D printing, making quick prototypes of custom FPCB designs possible. With this technology, manufacturers can quickly make functional FPCB prototypes, which saves time and money compared to traditional methods.
5. Internet of Things (IoT) and Wearables
IoT devices and wearables are becoming more popular, driving the need for flexible and lightweight electronic parts like FPCBs. As these devices continue to evolve more and more popular, FPCB manufacturers must develop new ways to meet the needs of IoT and wearable applications.
FAQs
Conclusion
In conclusion, China has many FPCB manufacturers with many skills and abilities. The top 10 manufacturers in this article are known for making high-quality products, developing new ways to solve problems, and ensuring their customers are happy. When looking for an FPCB manufacturer in China, it's essential to consider the company's experience, products, and reputation in the field.
Discover top LED products manufacturers in our resource, "Best LED Lights Manufacturers: A Definitive Guide." Gain valuable insights and make informed decisions when choosing the perfect LED lighting solution.