If you are looking for safety lights, tri-proof lights are your ultimate option. These fixtures are eco-friendly, durable, and more energy-efficient than other traditional lighting forms.
Different types of tri-proof lights are available with variations in shape, sizes, lumen ratings, and light colors. Before choosing tri-proof lighting, you must decide your wattage and lumen requirements. Also, check the IP and IK ratings to evaluate the degree of protection. Remember, all applications don't need the same level of robustness. So, be wise while selecting if you don't want to waste money.
However, in this article, you will find all about tri-proof light and a detailed guide to choosing the best one for your project. So, let's get started-
What Is Tri-Proof Light?
Tri-proof lights are a subclass of safety lights with three or more protection levels. The word 'tri' stands for three, which includes protection against dust, water, and corrosion. However, besides these three degrees, tri-proof light resists water vapor, shock, ignition, explosion, etc. Tri-proof lights use silicone sealing rings and special anti-corrosion materials to achieve such a resistance level.
These lights are suitable for areas with hazardous environments where fixtures can get corrosive or explore. These fixtures are in manufacturing factories dealing with water, chemical vapor, and flammable substances.
Types Of Tri-Proof Light
Tri-proof lights have various types based on their configuration and types of light sources used. These are as follows-
Fluorescent Tri-Proof Light
Fluorescent tri-proof lights are the first generation of tri-proof lights. They were quite popular before introducing LED lighting technology in security lighting. Fluorescent tri-proof light 1-4 fluorescent lamps and strongly seals the outer covering. These types of lights were used more in the harsh environment. But with the development of better and more energy-efficient light sources, the popularity of this tri-proof light has been affected.
Pros
Cons
Cheap
High maintenance costs
Lower water resistance
Environment pollution
Tri-Proof Fixture with LED Tubes
Tri-proof fixtures with LED tubes are more efficient than fluorescent variants. You can quickly open the casing and replace the tube lights when required, but the wiring is challenging. There are diffusers in the endings of the fixture protecting it from water and dust entrance.
| | | | | | | |
| --- | --- | --- | --- | --- | --- | --- |
| Type Of LED Tube | Length of Tube | Dimension | Power | Lumen | Power Factor(PF) | IP Degree |
| LED T8 | 2ft 600mm | 665*125*90mm | 2*9W | 1600lm | >0.9 | IP65 |
| LED T8 | 4ft 1200mm | 1270*125*90mm | 2*18W | 3200lm | >0.9 | IP65 |
| LED T8 | 5ft 1500mm | 1570*125*90mm | 2*24W | 4300lm | >0.9 | IP65 |
These values may change for different brands and manufacturers' specifications.
Usually, T8 LED tubes are used in tri-proof fixtures; in some cases, T5 is also used, but it's very rare. The length of these tubes varies with brightness requirements. Some big fixtures can hold up to 4 psc of LED tube. And the power usage increases with the increase of lumen values.
Pros
Cons
Cheap
Easy maintenance
Replacement light source
Complicated wiring
Single function
Limited wattage and light output
Out of date
LED Tri-Proof lights – PC Integrated Type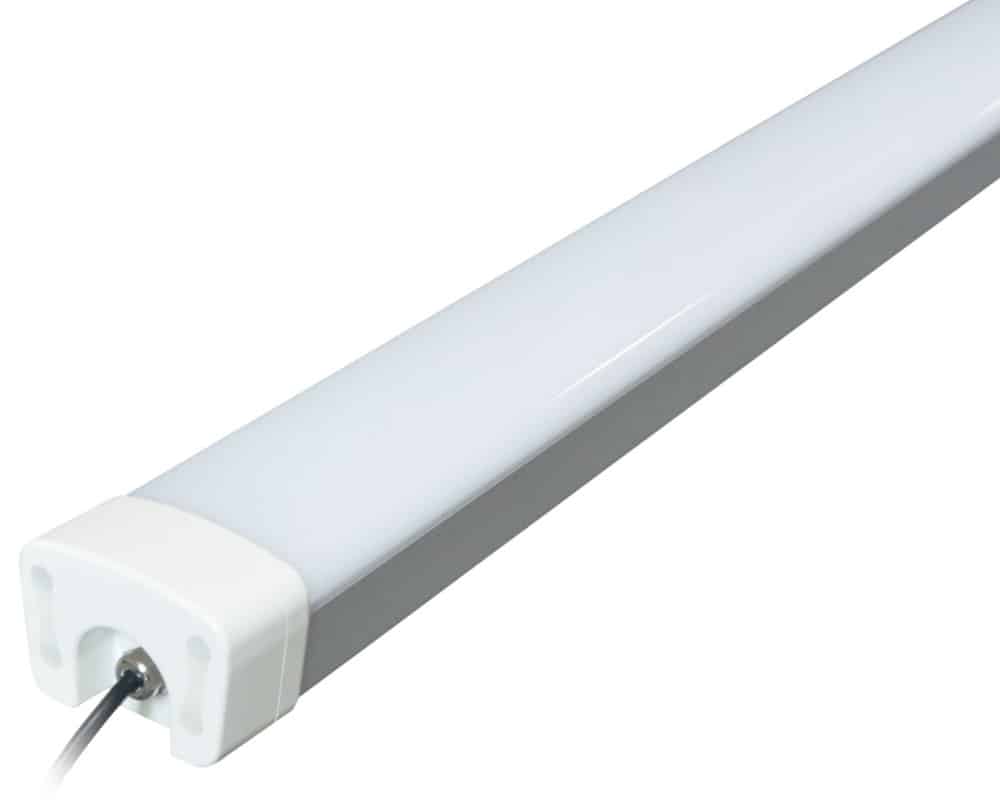 PC-integrated LED tri-proof lights use an LED board and driver to integrate with the fixture as a single unit. These categories of tri-proof lights are upgraded versions of traditional water-proof light fixtures.
With integrated LED tri-proof lights, you get many advanced features like an on/off sensor, DALI dimmable, higher wattage up to 80W, emergency backup, and more. And all these features make PC-integrated LED tri-proof light better than the predestinate variants.
Pros
Cons
More brightness level
Higher wattage
DALI dimmer
On/off sensor
Emergency backup Affordable
Hard to wire
Low-end profile
The product material is PC (plastic); not environment friendly
LED Tri-Proof Lights – Aluminum Profile
LED tri-proof lights with aluminum profiles bring a modern approach to PC-integrated tri-proof lights. These fixtures have end caps that seal it entirely and give a more appealing appearance.
Using aluminum alloy expands the fixture's durability and provides an improved heat dispersion system. Besides, it offers higher wattage than PC-integrated ones of the same size. Additional features like- an on/off sensor, DALI dimmer, and emergency backup are also available in these fixtures. So, you can say it is a better version of PC-integrated tri-proof light.
Pros
Cons
Aluminum profile
Better heat dispersion
High-end quality
On/Off sensor
Emergency backup
DALI dimmer
Higher wattage
More length options, up to 3 meter
Expensive
LED Water-Proof Lights – Slim Profile
Slim profile LED waterproof lights are another category of tri-proof lights commonly known as batten lights. These fixtures have a slim-fit design of just 46mm in height. Such structures require less space, making them ideal for lighting small or narrow areas. Besides, it is equipped with fewer materials in the diffuser and a heat sink making it suitable for low-budget projects.
Petite is the biggest drawback for these slim profile lights as they limit the lighting area. This also limits the power of the fixture resulting in low light efficiency. 110 lumen per watt is the highest efficiency for these bulbs, which is far less than other variants. But in terms of pricing, slim profile tri-proof lights are more affordable than aluminum tri-proof lights.
Pros
Cons
Ideal for lighting narrow space
Affordable pricing
Has good heat dispersion
Limited lighting space
Low light efficiency
Alu Tri-Proof lights – Detachable End Cap
Alu tri-proof lights with detachable end caps are an improved version of aluminum profile tri-proof lights. In the end, The detachable caps help you wire the fixture and install them quickly. You can also link them together to light a large area. Depending on its wattage, it can link up to 10-15 pieces of fixture.
Ease of wiring is the foremost advantage of these fixtures, thanks to their detachable end caps. In areas where hiring electricians is very costly, going for tri-proof lights with detachable end caps is the ultimate solution. But the price of the fixtures is high though you can save on the installation cost.
Pros
Cons
Easy wiring
Linkable
Quick installation
On/Off sensor
Emergency backup
DALI dimmer
Expensive
IP69K Tri-Proof Lights
Most of the tri-proof lights are IP65 or IP66 graded. But continuous hygiene is maintained for industrial usages like food processing and pharmaceutical production. That is why throughout washing of the light fixture is done to keep it dust, dirt, and oil-free. And so arrives IP69K tri-proof lights. These fixtures provide more intensive protection than the other tri-proof light variants. IP69K lights easily withstand high pressure, high temperature, and water. They are usually round in shape and have an IK10 rating. In contrast, most other tri-proof light variants only have IK08 standards.
Pros
Cons
Withstand high pressure
Resist high temperature
Completely waterproof
Lower lumen rating
Not so popular variant
Best Applications For Tri-Proof Lights
Tri-proof lights are used in different fields; the most common applications are as follows-
Industrial & Warehouse Facilities
Industries, mills, and factories deal with manufacturing and bulk production. This environment faces dust, oil, moisture content, and vibration. So, in choosing light fixtures for industries and workshops, you must remember these facts. And here come tri-proof lights. They are water-proof, vapor-proof, and rust-free, making them ideal for industrial use.
Food Processing and Cold Storage
As tri-proof lights are water-proof, vapor-proof, and can withstand heavy moisture, they are used in the food processing industry and cold storage. You will find them in the freezer, walking refrigerator, or other cold shortage facilities. Besides, continuous washing goes on in the food processing industry to keep the area clean. These lights are washable, and so fit the hygiene maintenance policies perfectly.
Parking Garages and Car Washes
Light fixtures in the parking lot are always in danger of being hit by vehicles. And so, there is a need to install a robust fixture in the garage. Tri-proof light meets the lighting requirement here. It has an IK08 rating or more that protects the lighting from strong impacts. Besides, washing cars in the garage directs wash splash in the fixtures. As tri-proof lights are water-proof, they can easily resist water splash.
Sports Facilities and Outdoor Areas
You will find tri-proof lights on sports courts like football, basketball, or tennis. As these lights resist high impact, the ball's hit will not crack the fixture. Thus, you can get sufficient lighting at night and play without worry. Again, they can resist extreme weather conditions like- snowfall, rain, scorching sun, wind, or storm. These features make them suitable for any type of outdoor lighting.
Hazardous Environments
Tri-proof lights are suitable for areas where there is a high risk of explosion or the presence of toxic chemicals and flammable gas. These lights are designed to withstand hazardous environments, making them ideal for oil refineries, chemical plants, and mining operations.
Other Application
Besides the above-described application, there are many other uses of tri-proof lights. These include-
Supermarket
Swimming pool
Pedestrian bridges
Commercial kitchens and washrooms
Clinics and laboratories
Tunnels, railway stations, and airports
Advantages Of Tri-Proof Light
Tri-proof lights have numerous advantages. These are as follows-
Less Energy Consumption
Energy consumption is a major factor as tri-proof lights are mostly used in industrial areas or outdoors where lighting is required 24X7. But the good news here is that tri-proof lights are highly energy efficient. Compared to traditional light sources, they use 80% less energy, saving your electricity bills!
High Illumination
Compared to other forms of safety lights, tri-proof lights produce brighter illumination. For instance, aluminum profile tri-proof lights with detachable ends can be as bright as 14000 lumens.
Diverse Range of Applications
Tri-proof lights are suitable for multiple applications. You can use them on refrigerators, swimming pools, manufacturing projects, or areas with hazardous environments. The design of the light fixtures prevents sparks or electric arcs that may cause an explosion. That is why you can use these lights in areas where there is the presence of combustion gas.
Easy Installation
Most of the tri-proof lights have a slim-clip-on or screw-on mechanism. This makes the installation process much more convenient. And having tri-proof lights with detachable end caps makes your task easier. You can install these fixtures on your own without any professional help. This will further save your installation cost.
Uniform Diffused Lighting
If you look at the lights in the refrigerator, you will find a frosted casing over it that ensures uniform diffused lighting. These fixtures are mostly tri-proof lights. The diffuser used in it prevents direct light from glaring and provides you a smooth working environment.
Low Maintenance Costs
Tri-proof lights are built with durable materials that can prevent extreme environmental conditions. They are dust-proof, water-proof, corrosion-proof, moisture-proof, and have many other resistance levels. All these features aid in easy maintenance. You do not need to repair these fixtures often. This eventually saves your maintenance cost.
Eco-Friendly
Where traditional light sources produce harmful gasses, tri-proof lights don't. The LED technology used in tri-proof lights consumes less energy. These fixtures further emit less heat and reduce carbon emissions. And so, tri-proof lights are rightly considered eco-friendly fixtures.
Can Withstand Adverse Environments
As tri-proof lights belong to the safety-light category, they have the potential to withstand extreme weather conditions. You can use them in extremely hot or cold temperatures, areas with combustion gasses, or places prone to explosion.
Long Lasting
Tri-proof light fixtures can run for 50,000 to 100,000 hours, far more than traditional light sources. So, installing these fixtures will save you from frequent repairs and replacements. This will not only save you money but also time.
How To Choose Tri-Proof Light? – Buyer Guide
All tri-proof lights don't have the same level of robustness, and all types are not suitable for every application. But how to know which tri-proof light is ideal for your project? Below I've listed some facts that you must consider to choose the right kind of tri-proof light-
Environment Consideration
Tri-proof lights are designed to support extreme weather conditions. But to get the best outcome and select the ideal product, you must consider the environment where you will install it. For example, if you install the fixture in an area with high temperature, avoid plastic-based tri-proof lights.
IK Rating
IK rating stands for Impact Progress. It measures the level of protection of any electric enclosure against impact. It is measured in IK00 to IK10 grading. Higher the IK grade better protection it provides. Usually, tri-proof lights are of IK08 grading, but higher grades are also available. For instance, if you are looking for safety lights for oil refineries or mining projects that deal with the risk of impact or collision, go for IP69K tri-proof lights. They have IK10 ratings that protect the fixture from heavy strikes. That is, if a 5 kg object falling from 400 mm height hits the light fixture, it will still stay protected. To learn more about IK rating, check this article- IK Rating: The Definitive Guide.
IP Rating
The degree of protection against liquid and solid ingress is measured by IP rating. Though all tri-proof lights are water and dust-proof, the extent of resistance is a matter of consideration. Not all applications will not require the same water-proof level. However, tri-proof lights have a minimum IP rating of IP65. Yet, there are higher ratings available for extreme protection. For instance, if you install a tri-proof light in a supermarket, a lower IP rating will work as it will not have direct contact with water or others. But if you install the light outdoors, a higher IP rating is mandatory. This is because the fixtures face extreme weather conditions like heavy rainfall, wind, dust, and storm. But don't waste your money getting higher IP-rated tri-proof lights where it's not necessary. To know more about IP ratings, check IP Rating: The Definitive Guide.
IP Ratings For Tri Proof Light
IP Rating
Degree Of Protection
IP65
Dust-proof + Protection against water jet
IP66
Dust-proof + Protection against powerful water jet
IP67
Dust-proof + Protection against being immersed in 1m water
IP68
Dust-proof + Protection against being immersed in at least 1m of water or more
IP69
Dust-proof + protection against powerful water jet with high temperature
Decide Shapes and Sizes Of Light Fixtures
Tri-proof lights are available in different lengths and shapes. They can be round, oval, tube-shaped, or have a slim-fit design. You can choose the one that fits your area. If you have a narrow space, go for a batten tri-proof light. They are small and slim in size that can light any corner of your project. However, regarding sizes, tri-proof lights can be of different lengths. With the increase in length, brightness and power consumption also varies. So, check the specification and compare these facts before choosing the ideal tri-proof light size for your area.
Calculate Wattage Requirement
The brightness, electricity bill, and power load depend on the wattage value of the light fixture. That is why you must consider the wattage while purchasing tri-proof light. Going for higher wattage will consume more energy, raising your electricity bills. Again, for higher brightness, a higher wattage value is essential. So, considering this fact, choose high wattage only where it is required. Besides, if your light fixture consumes more energy than the space limit, it can cause an electrical load. Therefore, calculate your requirement before purchasing; don't waste your money on the wrong wattage.
Color Of LED Tri-Proof Lights
Tri-proof lights can be in different color temperatures. You can choose the one that suits your project the most. The below chart will help you in deciding the correct color temperature-
| | |
| --- | --- |
| Light Color | Color Temperature |
| Warm White | 2700K-3000K |
| Neutral White | 4000K-4500K |
| Cool White | 5000K-6500K |
Lumens Requirements
The brightness of the light is measured in the lumen. So, if you want more bright illumination, go for higher lumen ratings. But remember, with an increased lumen rating, and energy consumption will also increase. So, calculate the area of your space and the number of fixtures you require, and then decide on the lumen rating. For more information, you can read Candela vs Lux vs Lumens and Lumen to Watts: The Complete Guide.
Check Functions and Features
You will find tri-proof lighting with advanced features like- motion sensors, emergency backup, and dimming facilities. Look for these features while purchasing tri-proof lights. Having these features will make your maintenance much easier.
Customization Options
You can get your customized tri-proof light fixture by contacting a manufacturer directly. Here you can choose the wattage, beam angle, and brightness according to your requirements. Besides, you can also transform any fixture, like- a spotlight, floodlight, or LED strips, into safety lights.
Additional Costs
Tri-proof light fixtures are usually more expensive than regular lighting as they offer a better protection level. Besides, you need to take some additional costs for installing. Don't compromise the cable quality. A low-quality cable or wiring can damage the circuit hampering the workflow. So, invest in better cable connections and hire a professional for proper installation.
Warranty
Tri-proof lights are durable and have a robust design. These fixtures usually come with a warranty of three to five years. It would be best to compare the warranty policies of different brands and then decide on purchasing.
How To Install Tri-Proof Lights?
You can install the tri-proof lights in two ways; these are as follows-
Method#1: Suspended Installation
Step-1: Choose the location and drill holes on the ceiling point where you want to install the tri-proof light.
Step-2: Screw a steel cable into the drilled ceiling. Make sure to turn off the main power supply before starting the procedure.
Step-3: Hang the fixture and use a steel cable to fasten it.
Step-4: Move the fixture around until it is level. Next, attach the wiring of the light to an electrical outlet and turn it on.
Method#2: Ceiling Surface Mounted
Step-1: Select the location and drill holes in the ceiling.
Step-2: Set clips on the drilled holes using screws.
Step-3: Insert the tri-proof light into the clips and position it until level.
Step-4: tighten the screws and do the wiring. Your tri-proof lights are ready to use.
Other Safety Lighting Options
Besides tri-proof lights, there are many other safety lighting solutions. These are as follows-
Water-Proof Lights
Water-proof lights are designed to resist water splash or submerged water. These light fixtures have silicone coating that seals them. Most of the water-proof lights are also marked as vapor-proof. Water-proof lights are completely sealed and don't let water enter, so they can somewhat prevent rusting. However, water-proof lights cannot handle acids, bases, and other fuel-based chemicals.
Vapor-Proof Lights
Vapor-proof lights are similar to water-proof ones but have a more robust sealing. Vapors flow in the air, and the moisture content is captured inside the light fixture despite the tiniest opening. You will need these lights for extra humid areas near the sea or other tropical regions.
Shock-Proof Lights
Shockproof lighting solutions—as the name implies—are designed to guard against impact damage. Shockproof equipment light fixtures are designed with durable materials that won't shatter or split under pressure. They can resist bumps, hits, and all falls of objects on it. Besides, these are also covered in cushioning material, such as foam or soft rubber, for better protection against impact.
Commercial lights usually don't come with shockproof features. You will find these lightings in factories, where many little parts fly around, or large machinery is transported. These lights are frequently custom-made to meet the needs of the client. However, all tri-proof lights may not be shockproof. So, if you need more protection against impact, get a shockproof light rather than tri-proof light.
Corrosion-Proof Lights
Water-proof light fixtures claim to be corrosion-proof – which is true, but up to some extent. Besides water, corrosion can occur due to the contact of many other chemicals. So, you need to consider the sealing material of the fixture and the gasket to ensure the fixture is corrosion-proof. For instance, silicone rubber seals can withstand heat, ozone, and water damage, but most industrial chemicals will cause them to swiftly corrode. Nitrile rubber seals, on the other hand, are chemical resistances and corrosive proof.
Intrinsically Safe (IS) Lights
Intrinsically safe LED lighting has a robust construction that can withstand rust and damage. IS lights use lower wattages and thicker safety wires to avoid all potential sources of ignition and combustion. High-performance gaskets and seals are used to accomplish this exceptional level of safety. This also provides them with outstanding water, dust, and vapor protection.
The lack of combustion resistance is the only distinction between IS and tri-proof lights. IS are designed for high-risk settings with many flammable liquids, combustible materials, and ignitable fumes? These lights are frequently employed in mine shaft lighting to avoid the unintentional igniting of natural gas pockets. Whereas tri-proof lights have limited combustion resistance, by customization, it is possible to enhance the degree. However, in terms of brightness, tri-proof lights can illuminate brighter than IS lights.
Explosion Proof (EP/Ex) Lights
Explosion-proof lights are a subcategory of Intrinsically safe lights. The main difference between these lighting systems is that EP lights consume more energy and produce brighter illumination than IS lights. And this is the reason the term "explosion-proof" and "intrinsically safe" are often used interchangeably. Because EP lights require a lot of power, the light fixture is built to keep the explosion inside the housing and stop further damage. These fixtures are suitable for areas where brightness is a top concern.
Comparison Chart: Tri-Proof Light Vs Other Safe Lighting Options
Safety Lighting Solutions
Protection level
Water
Dust
Water vapor
Chemical Vapor
Shock
Corrosion
Ignition
Explosion
Tri-proof light
✅
✅
✅
Limited
Possible
Limited
Possible
Possible
Water-proof light
✅
Limited
❌
❌
❌
❌
❌
❌
Vapor-proof light
✅
✅
✅
Possible
❌
❌
❌
❌
Shock-proof light
❌
❌
❌
❌
✅
❌
❌
❌
Corrosion-proof light
✅
✅
✅
Limited
❌
✅
❌
❌
Ignition-proof light
✅
✅
✅
Limited
Limited
✅
✅
Possible
Explosion-proof light
✅
✅
✅
Limited
✅
Possible
Possible
✅
Maintenance Of LED Tri-Proof Light
Although tri-proof lights are durable and suitable for challenging environments, you should keep some basic maintenance in practice. This will help you to extend the life span of the fixture and use it for longer-
Regular cleaning: Clean the fixture regularly as it gets dirty. Excessive dust or dirt accumulation on the casing lowers the bulb's brightness.
Look for cracks: Tri-proof lights are water and moisture-proof. But if there are any cracks in the fixture, moisture or water can get into the circuit and damage it.
Electrical safety: each time you clean the fixtures or touch them for any reason, ensure they are switched off. Touching the fixtures while they are turned on can cause unexpected accidents.
Check for water ingress: the casing or gasket of the tri-proof lights can wear out over time. This can result in water or moisture accumulation inside the fixture. In this case, the tri-proof fixture is not as effective as earlier.
FAQs
The Bottom Line
Tri-proof lights ensure the fixtures' safety in adverse environmental conditions. These lights are suitable to install in hazardous places surrounded by chemicals, water contents, heavy dust, or risk of explosion.
When purchasing a tri-proof light, you must consider the environmental condition of your installation area. Tri-proof lights are available in different shapes and sizes; decide on your lighting requirements and select the one that suits your project best. You should also consider the IK and IP rating. I've covered all these facts in this article, yet if you can't choose the best, seek professional help.