The LED strip light industry is developing rapidly, and COB LED strip lights have just appeared. Now there is a new technology, CSP LED strip. You may ask, what is a CSP LED strip? What are the advantages of CSP LED lights? I will answer these questions for you in this article. So, let's get started.
What is CSP LED?
CSP, or Chip Scale Package, refers to an LED package that is the size of an LED chip, or no more than 20%. CSP products feature integrated components that do not require solder wire connections, resulting in lower thermal resistance, fewer heat transfer paths, and fewer possible points of failure.
CSP LEDs were initially used in mobile phone screen backlights and tablet computers and were improved by the industry and applied to flexible board light strips.
What is a CSP LED strip?
CSP LED strips are similar to conventional ones, except that CSP LEDs are used, attached to a flexible PCB, and covered with translucent fluorescent glue.
What is a COB LED strip?
COB stands for Chip on Board in the LED field, which means that the LED chip is packaged directly on the circuit board (PCB). "Chip on Board" LEDs for flexible strip lights are sometimes called flip-chips.
The COB led strip consists of chips encapsulated on a flexible board. The chips are primarily flip-chips, which are linearly fixed on the PCB board, and then a layer of encapsulation glue mixed with phosphor is directly dropped on the surface of the chip. The light emitted from the chip is refracted, reflected, and interacts with the phosphor, and the glue emits different colors and color temperatures of light evenly.
For more information, please read the All you need to know before buying COB led strip.
Comparison of CSP LED strip and COB LED strip
Appearance
The glue of the COB LED strip is yellow because the glue is mixed with phosphor.
The glue of the CSP LED strip is translucent milky white, and no phosphor is mixed in the glue.
Color tolerance
CSP LED strips have better color consistency, which is the most significant advantage compared to COB LED strips.
Because CSP LED is essentially a lamp bead, the size is very small. This way, the machine can divide the CSP LED into BIN.
The chip is directly attached to the flexible PCB for COB LED strips, and then the PCB is covered with glue with phosphor powder. The white light is emitted by the blue light chip together with phosphor. There is no way for COB LED strips BINNING through the machine.
CSP LED strips can achieve 3-step Macadam color tolerance, while COB LED strips can only achieve 5-step Macadam color tolerance.
For more information on LED BINNING, please check the below video.
Light efficiency
CSP LED lights to come with higher luminous efficiency. Because the surface of the CSP LED strip is covered with translucent milky white glue, it has higher light transmittance.
The glue covering the chip is mixed with yellow phosphors for COB LED strips, so the light transmittance is relatively low.
Light uniformity
COB LED strip has better light uniformity.
COB LED strips are more likely to have no light spot effect with the same LED density as CSP LED strips.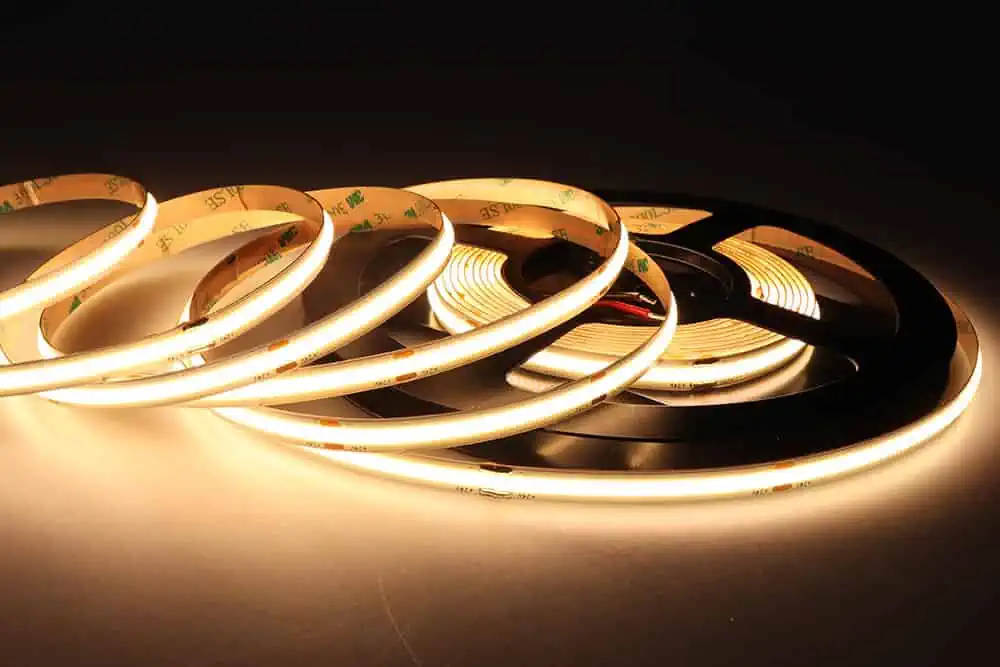 Conclusion
CSP LED strips and COB LED strips have their advantages and disadvantages. After reading this article, I believe you already know how to choose between CSP LED strips and COB LED strips. For more detail information about CSP led strip, you can read The Ultimate Guide To CSP LED Strip.
LEDYi manufactures high-quality LED strips and LED neon flex. All of our products go through high-tech laboratories to ensure the utmost quality. Besides, we offer customizable options on our LED strips and neon flex. So, for premium LED strip and LED neon flex, contact LEDYi ASAP!